Moses Lake, Royal FFA teams find success at state competitions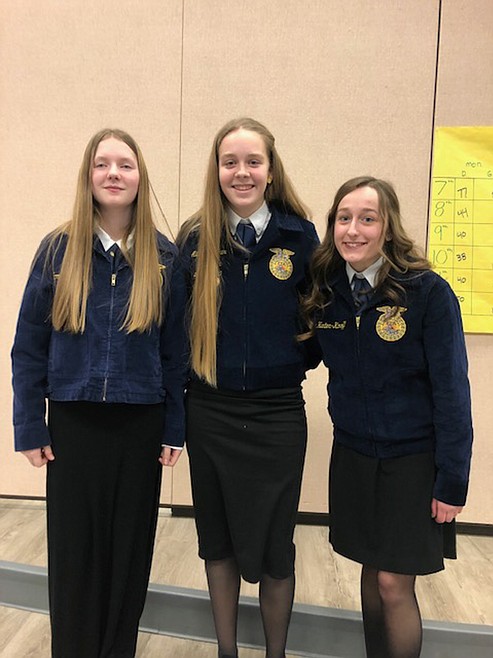 Moses Lake FFA members, left to right, Brittany McLerran, Alissa Whitaker, and Kyia Hunter-Kanoff pose together at the last district contest this spring.
Courtesy photo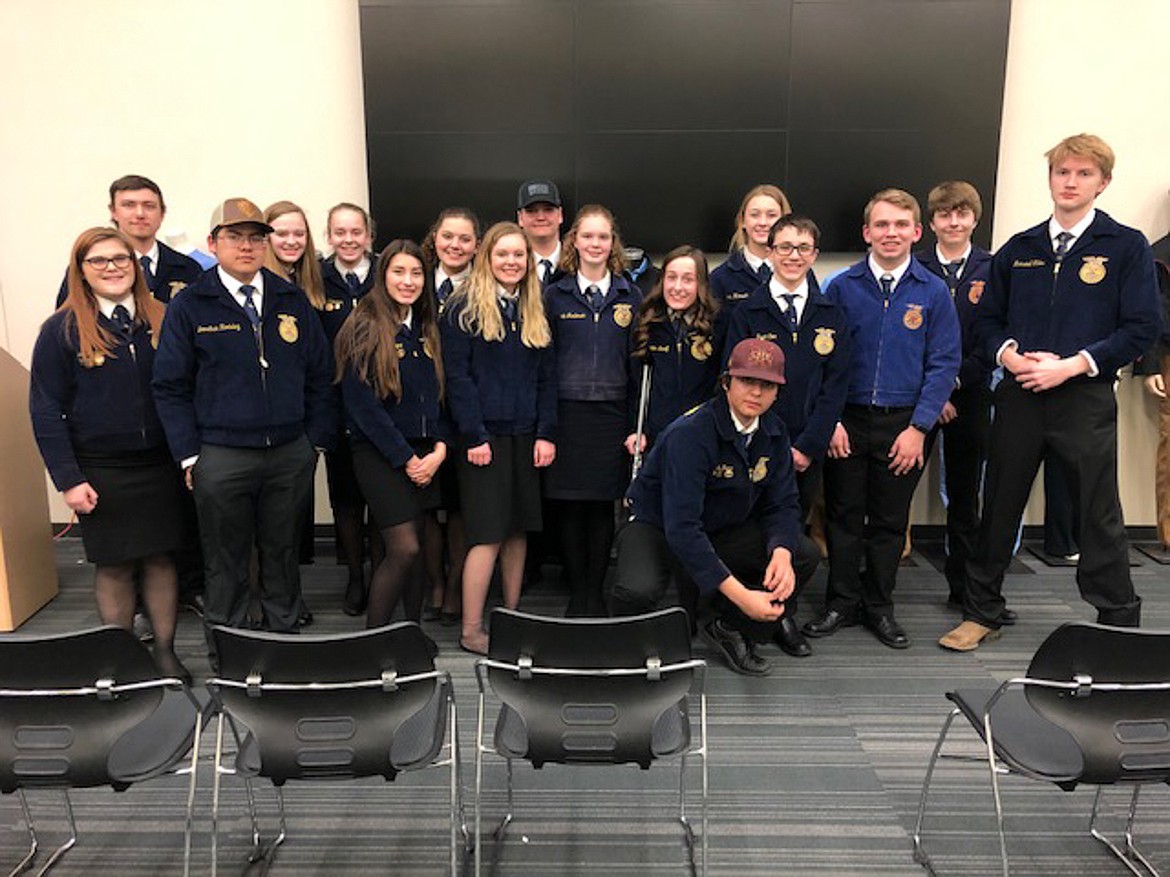 Moses Lake FFA members pose together at the final District IX competition that was held before competitions and contests started to be canceled this spring.
Courtesy photo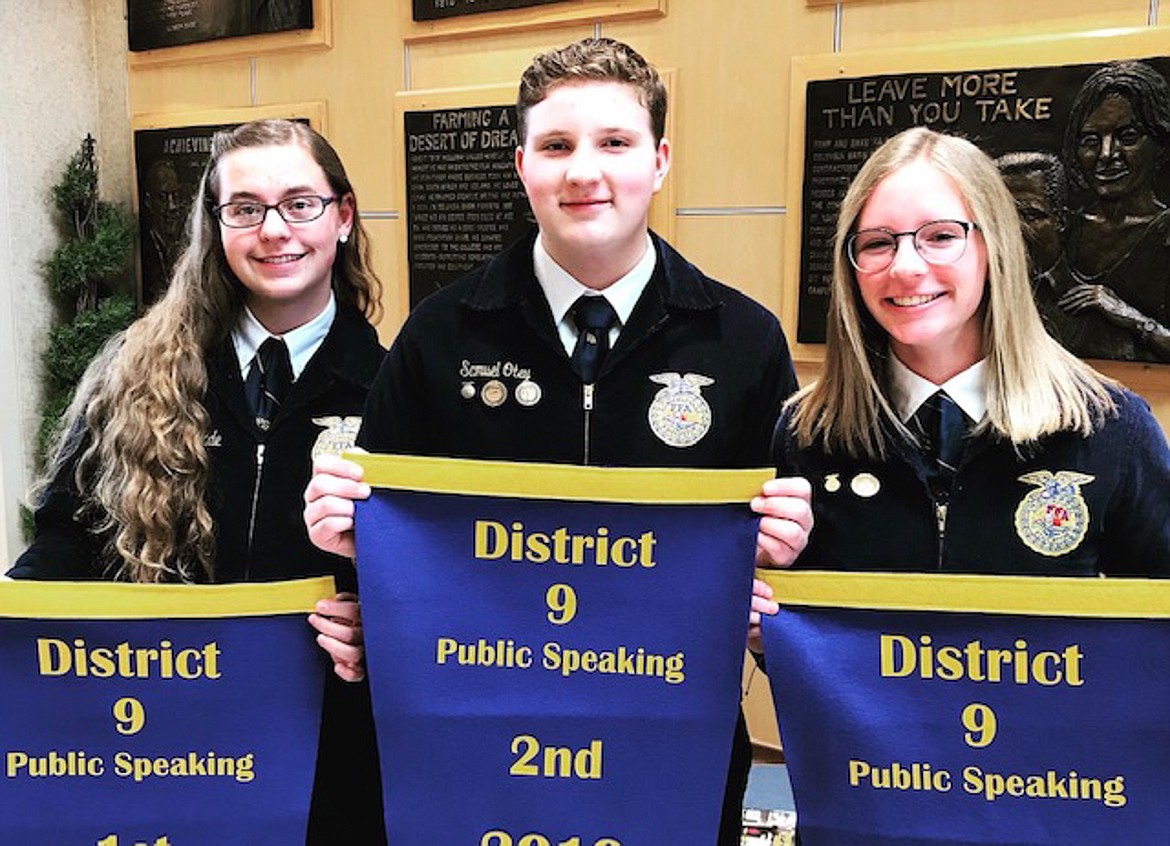 Left to right, Elisha Wade, Samuel Otey, and Maci Loutherback hold up their awards for the Public Speaking contest at the District IX competition in the spring.
Courtesy photo
Previous
Next
by
CASEY MCCARTHY
For the Basin Business Journal
|
August 21, 2020 1:00 AM
MOSES LAKE — Moses Lake and Royal High School FFA members didn't let the lack of a traditional state competition this spring keep them from finding success in the annual event.
Moses Lake FFA finished first overall as a team in the Milk Quality and Products and Agronomy contests, with individuals from Moses Lake taking the top honors in both as well. Samuel Otey took first as an individual in Milk Quality, while Tressa Wade took the top spot in Agronomy.
Otey also nabbed third place as an individual in Agronomy.
The Moses Lake FFA teams in Poultry Evaluation and Vet Science both finished fifth overall, while a second Moses Lake team took sixth in Agronomy as well.
Individually, Alissa Whitaker finished sixth overall in the Employment Skills contest, which entails all the steps of the hiring process. FFA Club Advisor Tony Kern said the contest is typically very competitive.
"She also is a new state FFA officer, which is pretty exciting," Kern said. "She's only our 10th-ever state officer we've ever had from Moses Lake, so it's definitely a pretty rare honor."
Whitaker finished fifth as an individual in the Agronomy contest as well. Freshman Kyia Hunter-Kanoff placed fifth as an individual in the Creed Speaking contest. Jenna Whitaker place fifth as an individual in Milk Quality and Products, and finished sixth in Agronomy.
Tony Kern said about half of the state-level competitions were canceled, but he felt they had a great spring with the ones they were able to compete in.
"Washington state is very competitive, and it's really hard to win contests," he said.
Much of the credit, Kern said, goes to the great group of kids who stuck with their commitments to these competitions. Once national FFA competitions were canceled for the year, Kern said, that could have taken some of the drive away from the state level.
"Not that all the kids are doing contests to win state, but it takes some of the air out of the sails," he said. "Okay, what am I working for? I don't get to go to the state convention up in Pullman, I'm not going to get on the stage."
Kern said the fact that so many kids stayed engaged was awesome for him to see. The next challenge was finding a way to prepare for the virtual competitions.
Kern said they held virtual practices, virtual warm up performances, but he added that a lot of the success came from kids working together on material by themselves.
When it came to the actual state competitions, Kern said, the Washington state FFA couldn't have done a better job of setting things up for the participants. "It's not the same, and not as exciting, doing it from your bedroom as it is being there and doing it in the moment, but they stayed engaged," Kern said. "I couldn't be more proud of how they stuck with it, and they did it."
Victoria Ulrey, a first-year teacher and FFA advisor for Royal High School, helped set up a virtual district contest for some of the contests. Five of the District IX teams that competed in the practice competition would go on to place at the state event in Agronomy.
"A lot of our teams did really well, and a big part of that, I know, is that they had that practice district contest," Kern said. "They kind of got that experience of doing it virtually and how that would work."
Royal's Agronomy team of Rafael Sabalsa, Esperanza Guiterrez, Zoe Noftle, Samantha Fitzhugh and Maria Salas, finished fourth in the state FFA contest under their new FFA advisor. Victoria Ulrey said she was proud of her team, who were competing in the event for the first time in a while.
"I'm just proud of them that they still preserved, and studied and practiced in order to achieve that goal," Ulrey said. "And it's really a high accomplishment for them, being a first-year team and placing fourth in state."
Ulrey, a former Agronomy contest participant at Moses Lake herself, said most of the kids in the Columbia Basin perform strongly because they've grown up around it all.
Ulrey said it's been a joy to share her passion with her students, encouraging them as explore the opportunities that agriculture can provide.
"They think the traditional, you have to be a farmer in order to do FFA," she said. "In reality, there's so many opportunities that can happen, given an agricultural background or being involved in FFA."
For their seniors, Kern said he feels bad knowing how much they lost out on this spring, especially those seniors looking to make a return to the National FFA competition in Indianapolis, Indiana.
After placing eighth nationally as a team in Agronomy, Moses Lake's team, and its two seniors this year, were looking for one final shot.
"They fully expected to win Agronomy and be going on to National FFA competitions in October, and they missed out on that," Kern said.
Throughout everything that was going on this spring, Kern said, he and his fellow advisors, Jessica Homesley and Erik Nielsen, just tried to focus on keeping the kids moving forward, continuing on.
"Really, all of us recognized how important it was for us to stay engaged with these kids and make sure they continued, because they need it," he said. "They've missed out on so much, and they need it.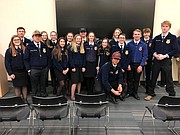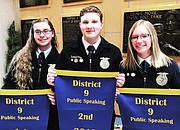 ---