Woodinville Whiskey going strong in Quincy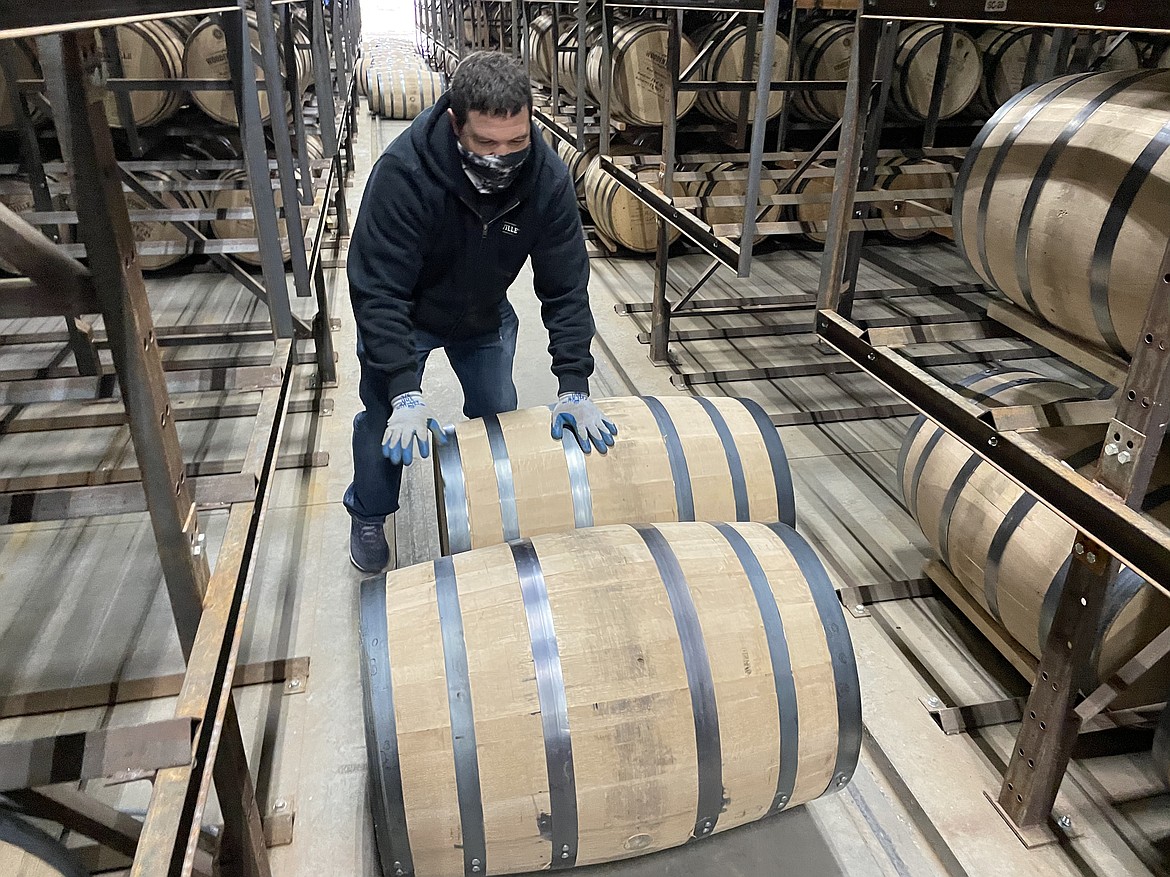 Elijah Gregg rolling barrels at one of Woodinville Whiskey Co.'s Quincy warehouses.
Charles H. Featherstone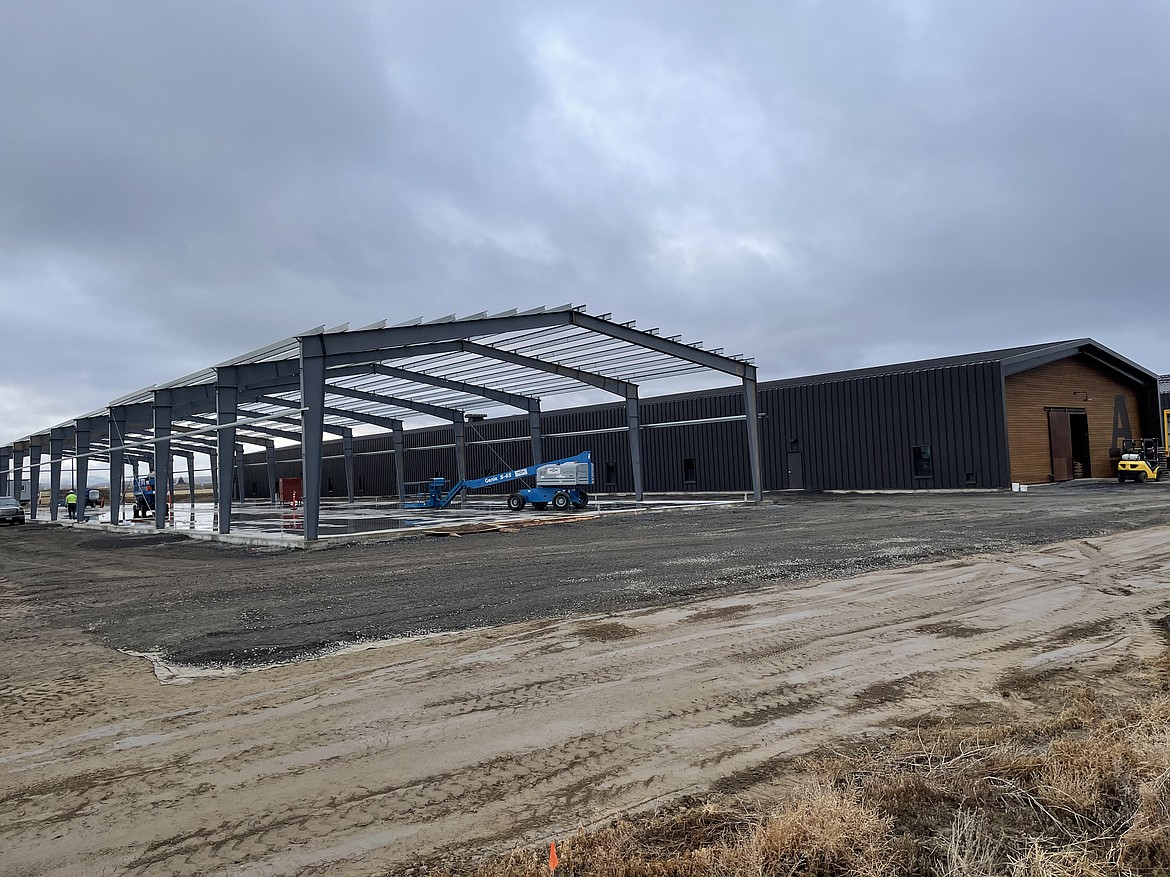 Woodinville Whiskey Co. is building a third warehouse to age bourbon and rye whiskey southwest of Quincy.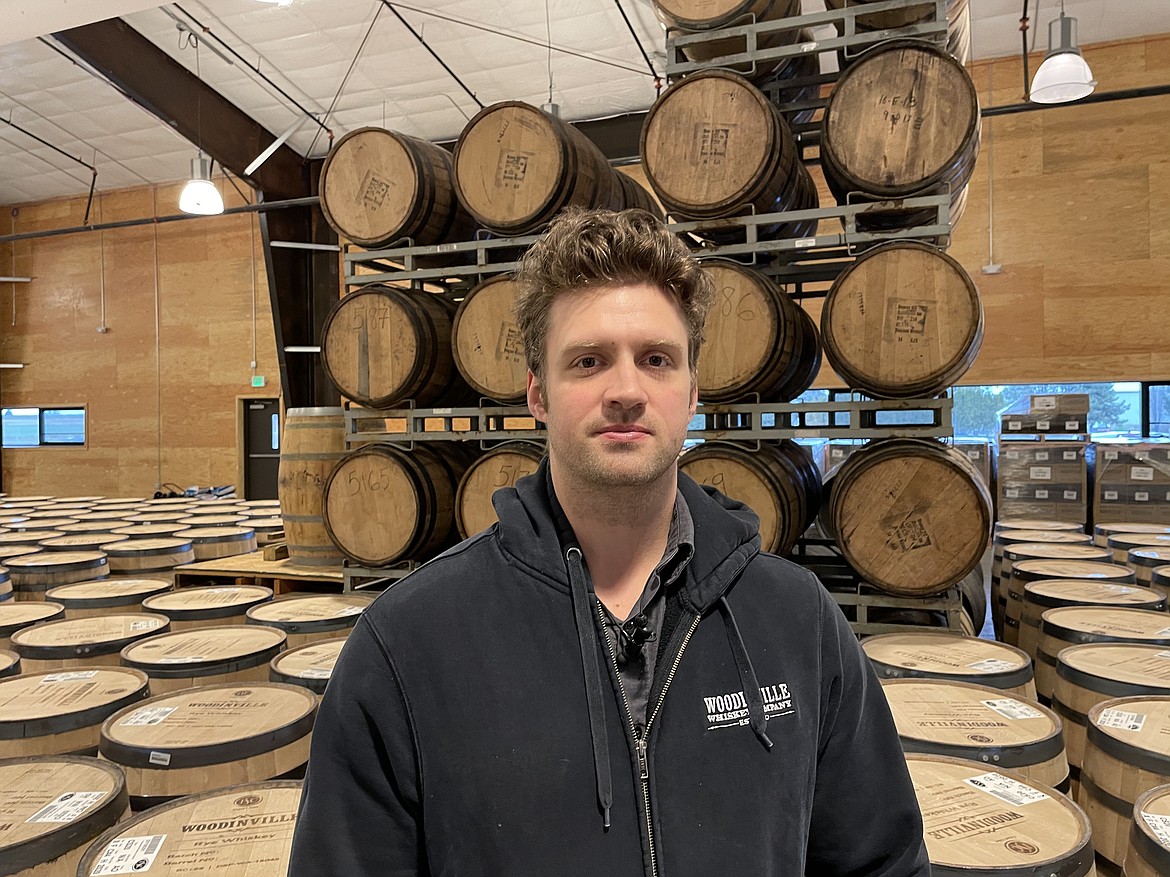 Jim Bailey, general manager of Woodinville Whiskey Co.'s Quincy facilities, where the company barrels, ages and bottles the whiskey it distills in Woodinville.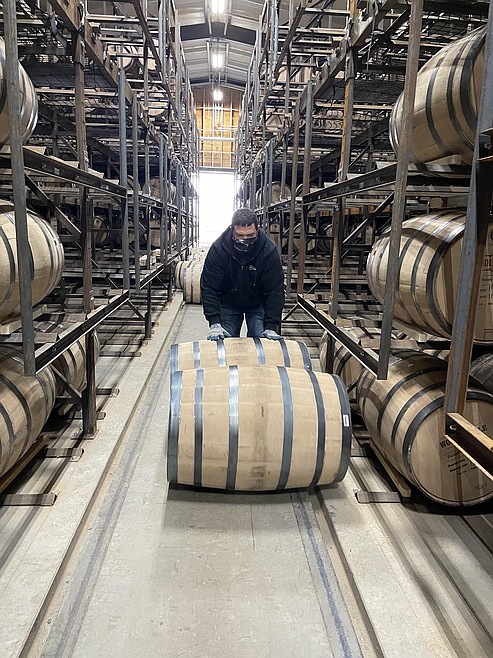 Elijah Gregg rolling barrels at one of Woodinville Whiskey Co.'s Quincy warehouses.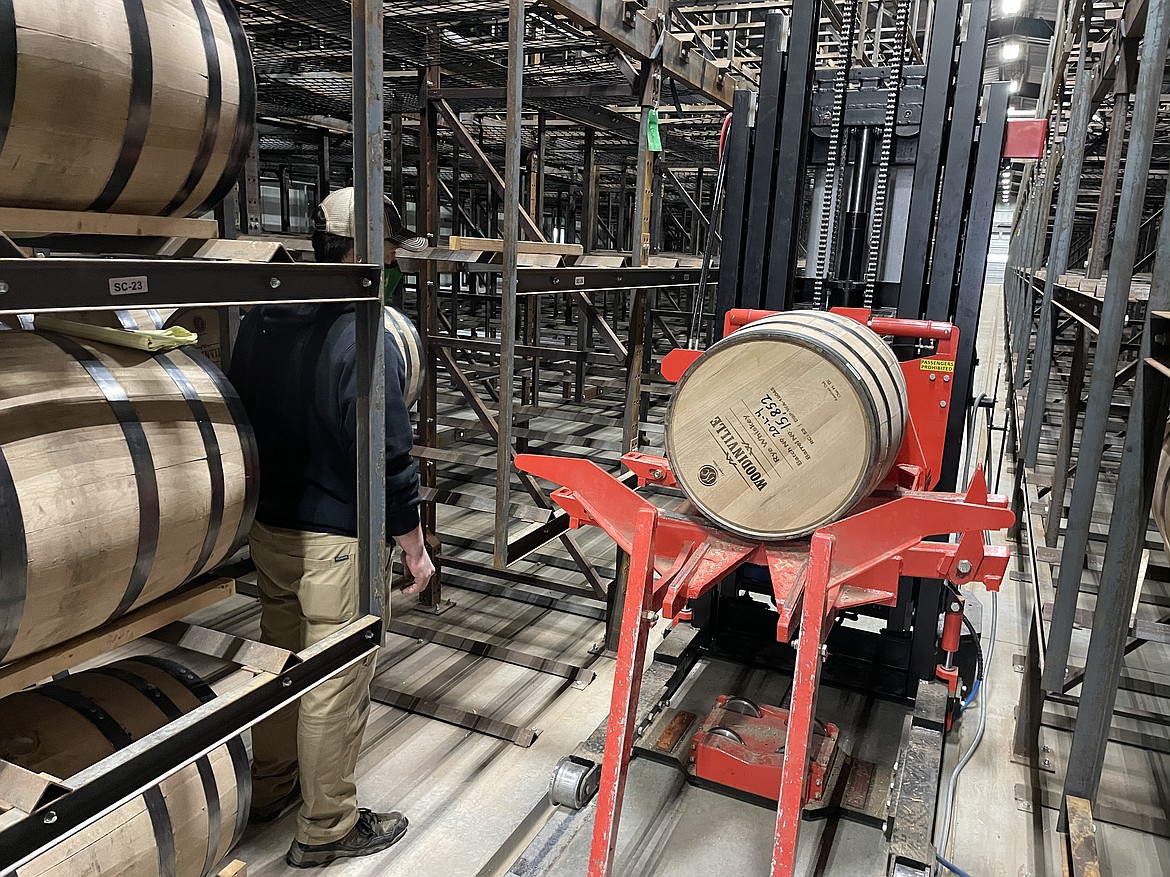 Elijah Gregg racking barrels at one of Woodinville Whiskey Co.'s Quincy warehouses.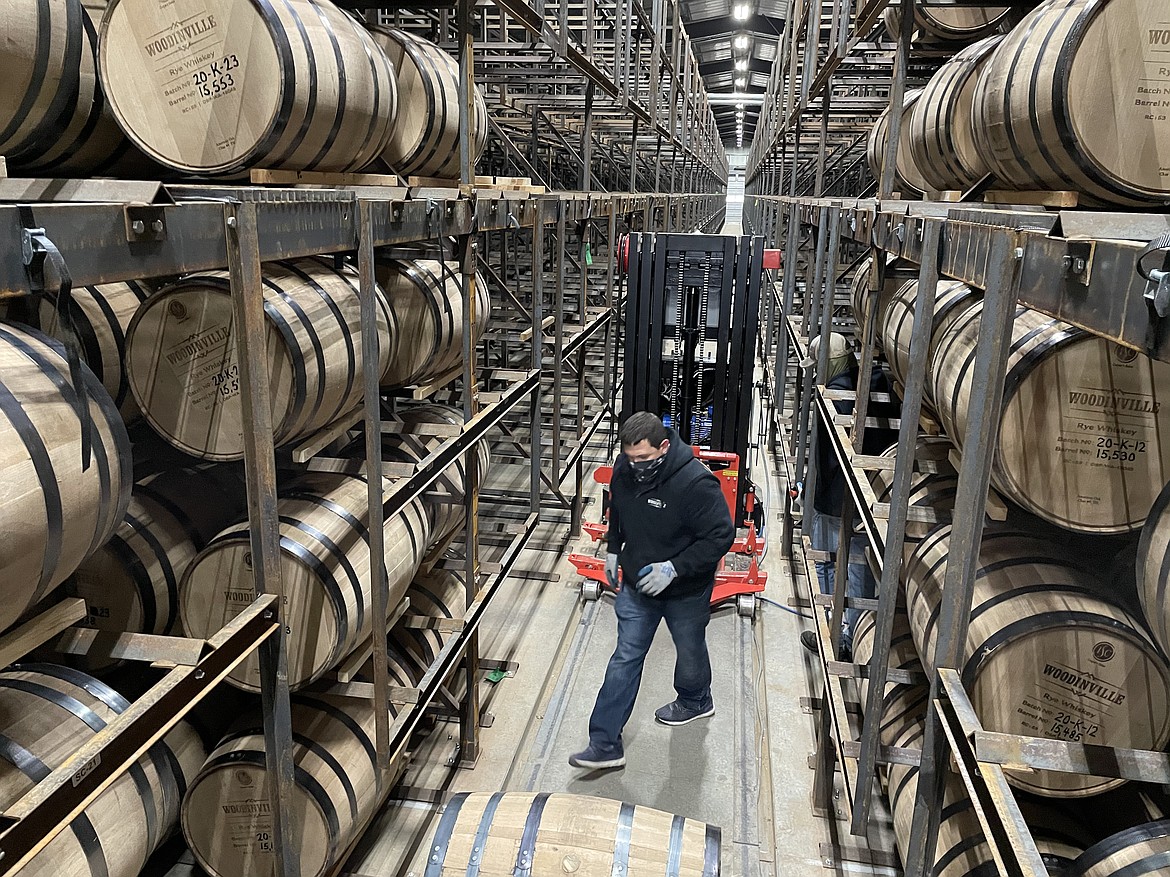 Elijah Gregg racking barrels at one of Woodinville Whiskey Co.'s Quincy warehouses.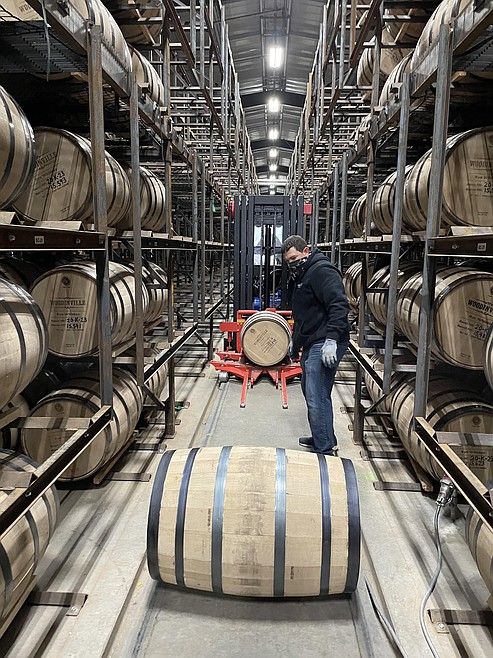 Elijah Gregg racking barrels at one of Woodinville Whiskey Co.'s Quincy warehouses.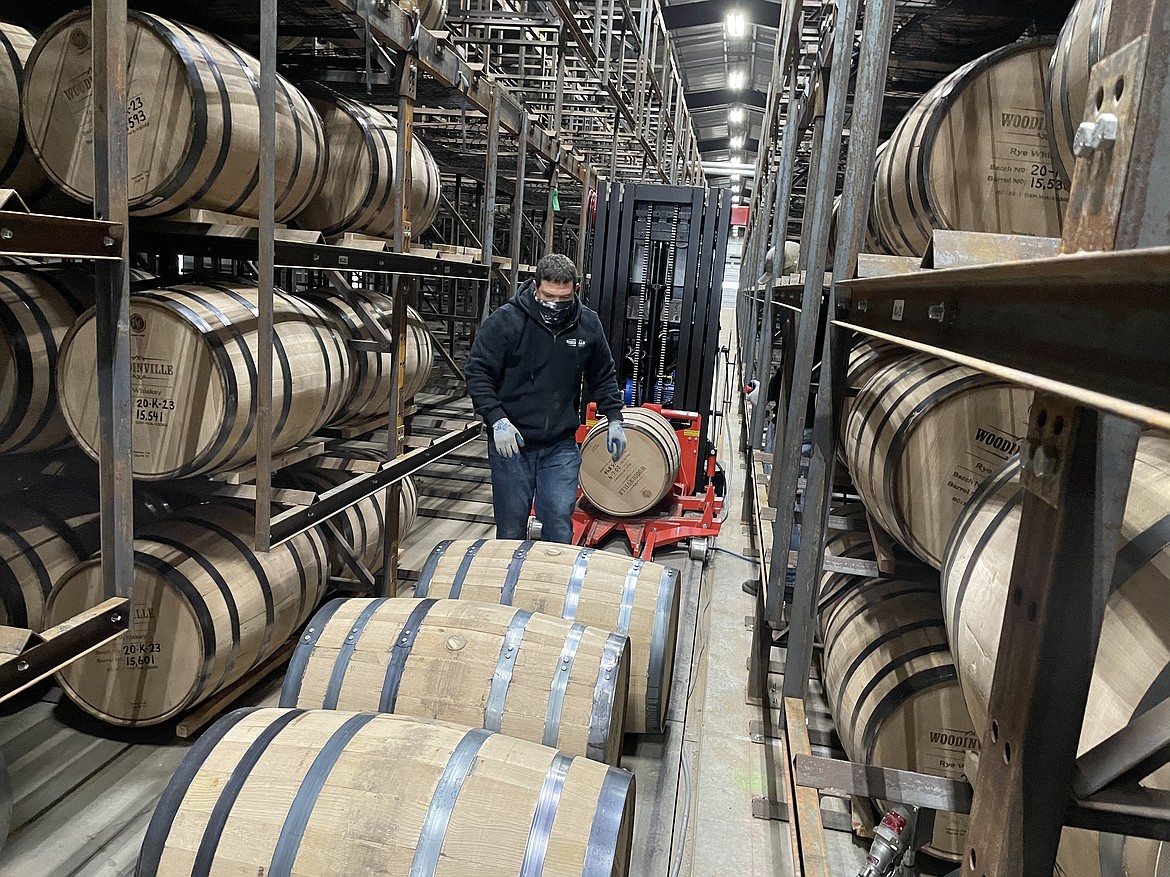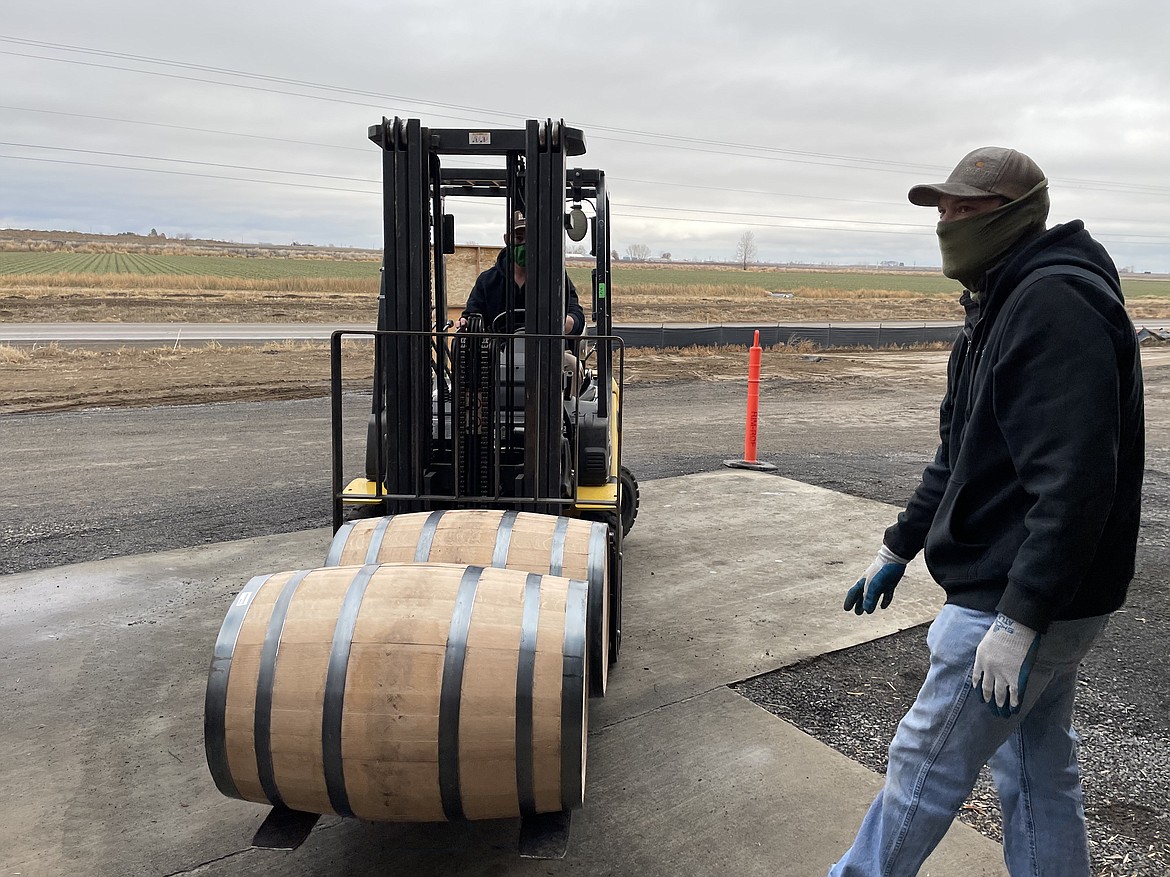 Woodinville Whiskey Co. warehouse workers load barrels of whiskey.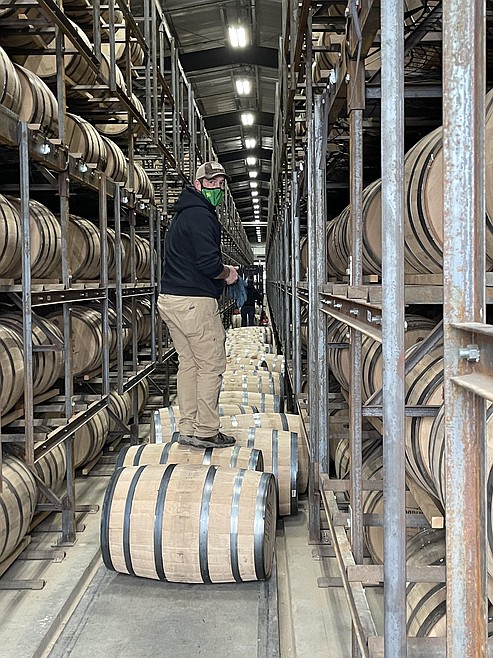 A Woodinville Whiskey Co. warehouse worker stands on a whiskey barrel.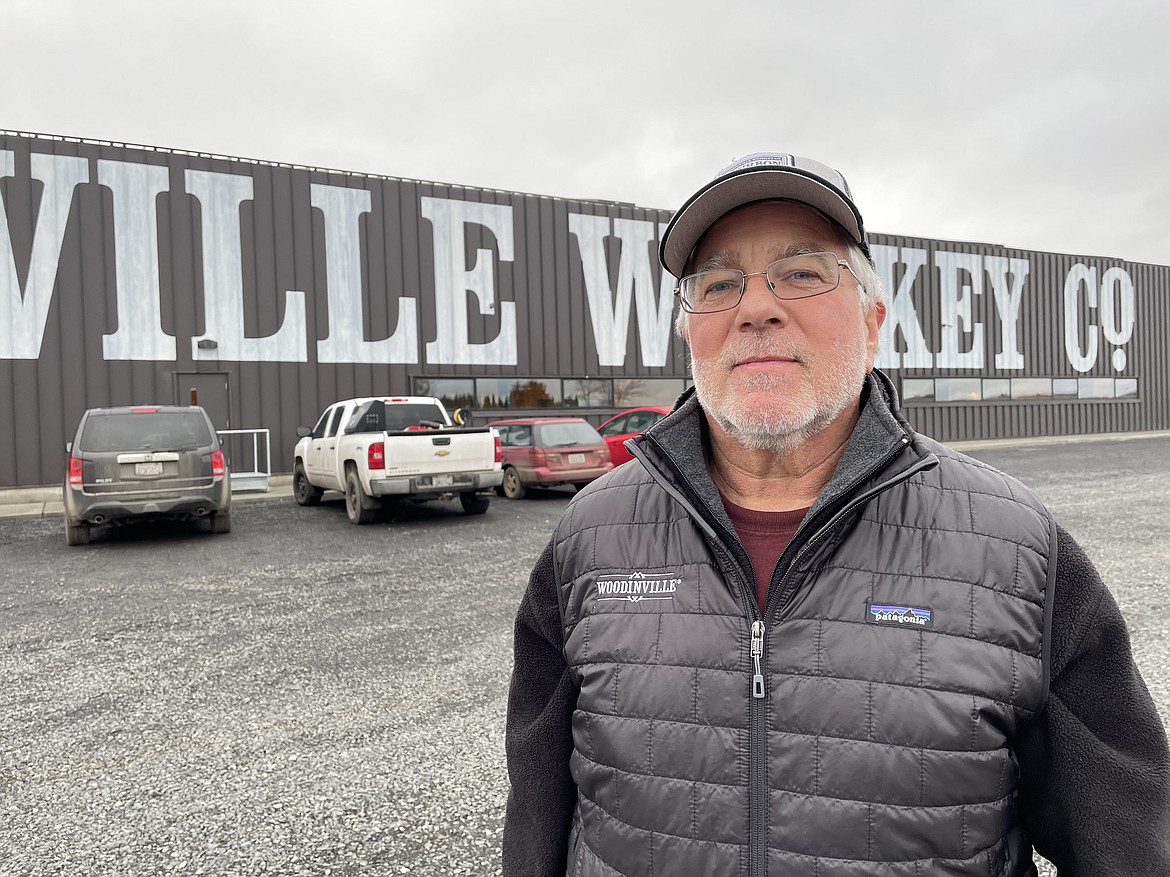 Quincy-area farmer Arnie Omlin grows rye and corn for Woodinville Whiskey Co.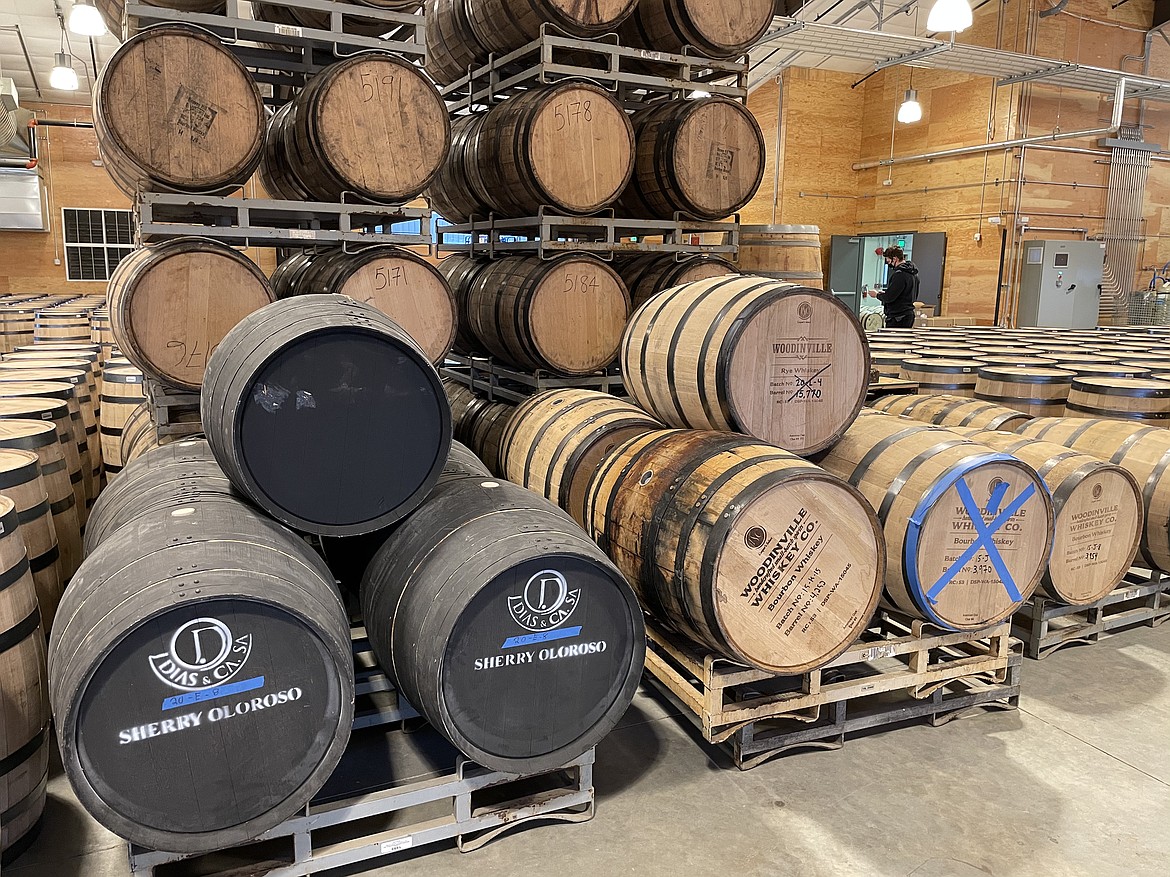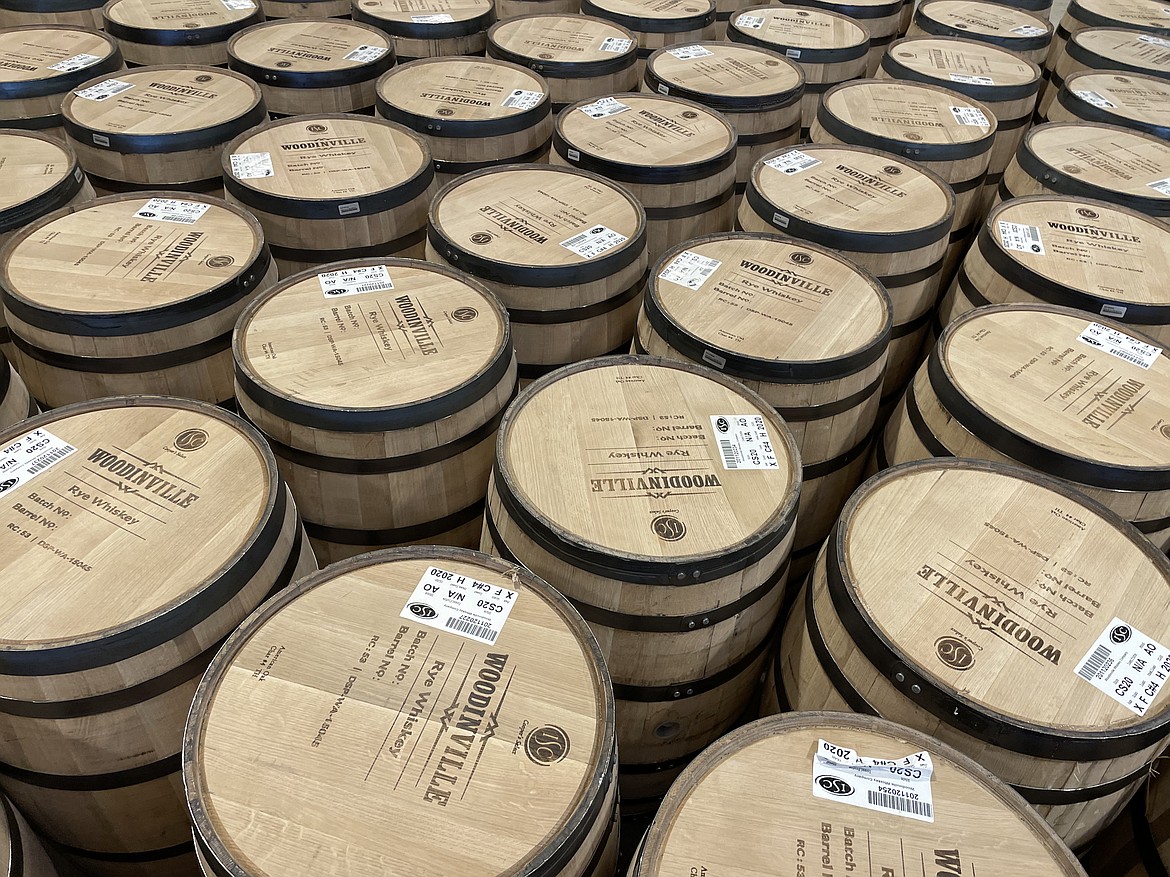 Oak barrels ready to be filled.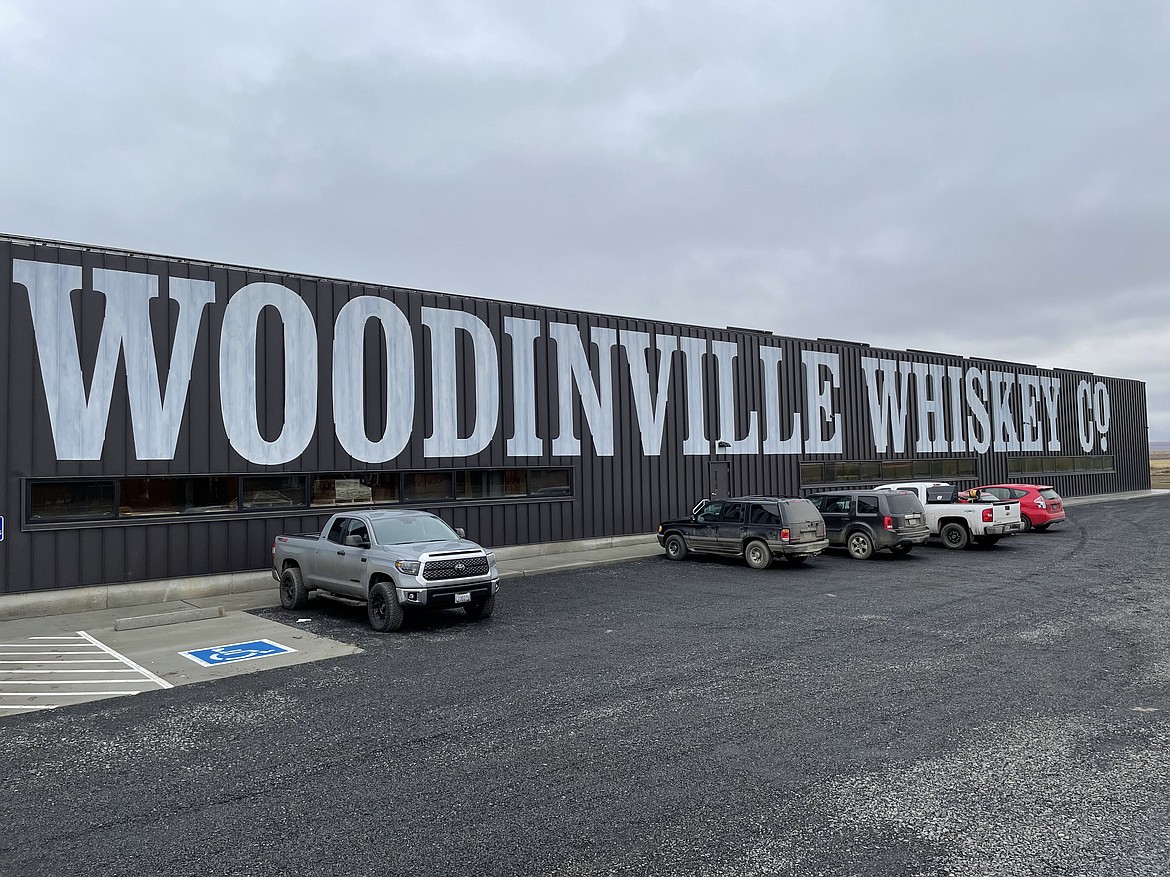 One of Woodinville Whiskey Co.'s Quincy warehouses.
Previous
Next
by
CHARLES H. FEATHERSTONE
Staff Writer
|
December 28, 2020 1:00 AM
QUINCY — The 53-gallon oak whiskey barrels being racked in the warehouse this day won't see the light of day until sometime in late 2024.
They're heavy, these barrels, weighing about 500 pounds each when full, and as Elijah Gregg rolls them along a track between tall stands of oak barrels, he looks like someone out of a bygone era, a time of steam locomotives and giant sailing ships.
Of course, the sophisticated machine that rolls the barrels so they are "bung up" (the stopper used to plug the hole drilled in the side of each barrel to fill and later drain it) when they get to their position on the rack, is a very modern touch, and not something you'd have seen in a 19th-century warehouse.
"I've been working here for about four months," Gregg said. "I like working here, yes I do. I do various things, and that's why I like it."
It's not all rolling and stacking barrels at the Woodinville Whiskey warehouse, Gregg said.
"We get to bottle, we get to fill the barrels, we get to dump barrels," he said.
And he gets back to it. There are a lot of barrels to move and rack.
The air in this warehouse, located along a lonely stretch of Road S southeast of Quincy, is heavy with the sweet smell of rye and bourbon slowly aging in oak barrels, and some of those barrels are stained dark in places where whiskey leaked as it aged. Taking a breath all by itself is almost intoxicating.
"Especially when we start having the bourbon coming in, it smells really, really sweet, because of the corn," said Jim Bailey, general manager of Woodinville's Quincy facility.
Having won a hogshead of awards over the last few years for its bourbon and rye whiskeys, Woodinville Whiskey Co. was started in the Seattle suburb of Woodinville about a decade ago when two friends, Orlin Sorenson and Brett Carlile, had a dream of starting a craft distillery in a state full of small brewers and vintners.
"I was a commercial airline pilot, and Brett and I would always get together. We enjoyed bourbon whiskey," Sorenson said.
Sorenson said he and Carlile cashed out their 401(k)s, did their research, experimented with distilling techniques, and sold the vodka they made while the whiskey they were distilling slowly aged.
"We leveraged everything we had," he said. "Whiskey takes years to age, so we did anything to keep the cash flow going."
While they brew and distill in Woodinville, Sorenson said their connection with Quincy dates from the very beginning when they were looking for someone to grow the rye and corn.
"We called a facility in Quincy, looking for a farmer to grow and bag and process," he said.
"My partnership with the company was pretty much from three months of their inception, just by chance we hooked up through a corn broker," said farmer Arnie Omlin. "After a five-minute conversation I sold them the first four tons of corn that I sold them."
Since then, Omlin has become Woodinville's sole supplier, growing roughly 300 acres each of rye and corn, with another 300 in beans as part of his crop rotation. In 2012, he said he applied for and received a permit to build a "shed" to store 2,000 barrels of whiskey, the first-ever permit of its kind issued in Grant County.
"At the time we thought that was huge. Two thousand barrels of whiskey seemed like a big undertaking," Omlin said.
Since then, Woodinville has expanded its Quincy operations, building two more giant sheds capable of holding more than 10,000 barrels of whiskey. A third giant warehouse is under construction as well, to add to the company's capacity.
Bourbon isn't simply a matter of custom and culture. In 1964, Congress passed a law precisely defining whiskey as any spirit produced at no more than 160 proof (80% alcohol) containing at least 51% corn and stored at "not more than 125 proof in charred new oak containers."
Omlin said the grain he grows for Woodinville is ordinary rye, and no different than what would be used for baking bread.
"What I'm growing is cereal rye, that would be the same rye that goes into rye bread, so it's common. It's not a big thing happening in Washington state," he said. "I've been doing it long enough now I kind of have a program. We're pretty comfortable with the varieties we use, and the expectation of what the yield will be."
But Omlin said working with a distillery that won't sell what it makes today for another five years takes a lot of very careful planning and sometimes even some nail-biting uncertainty.
"I have to try to plan about a year ahead of time, so that I make sure I have enough product for them," he said. "We may be planting some spring rye this year to make sure we have plenty for the rye production."
"They have to project the market five years out from when we actually produce the crop," Omlin said. "So we will re-evaluate at the last moment for production needs in 2021 and have an opportunity to add acres with spring rye in March if deemed necessary."
"Not to worry, bourbon fans, there will be more of everything," he added.
Sorenson said his bourbon is about 72% corn, 23% rye and 6% malted barley. Woodinville then ages its whiskeys five years, Sorenson said, and the climate in Grant County makes the region a much better place to age whiskey than the West Side, where they brew and distill.
"Eastern Washington is better to mature whiskey," he said. "You want four distinct seasons. Spring and summer warms the whiskey. When the temperature is 80 to 100 degrees, that pushes it into the wood. Then it drops, and it pulls the flavor out of the wood."
Bailey said Woodinville's whiskeys come off the still at about 140 proof, and they mix it down to around 110 proof before they barrel it for aging. Major distillers that produce whiskey in vast quantities, like Jim Beam, will age their whiskeys at 125 proof, meaning they can get up to 66 gallons of product out of a 53-gallon barrel, Bailey explained.
"They actually use fewer barrels but then they add tons and tons of water at the end to get their product down," he said. "This is a little bit more expensive way to do it, but it works for us."
And by law, those oak barrels can only be used once. So, once they are emptied, the whiskey bottled and shipped to distributors across the country, Bailey said they collect them and then ship them to whisky makers in Scotland, who will reuse them to age Scotch whisky.
"Good Scotch comes out of used bourbon barrels," he said.
Charles H. Featherstone can be reached at cfeatherstone@columbiabasinherald.com.
---