Cold chain makes China cherry exports possible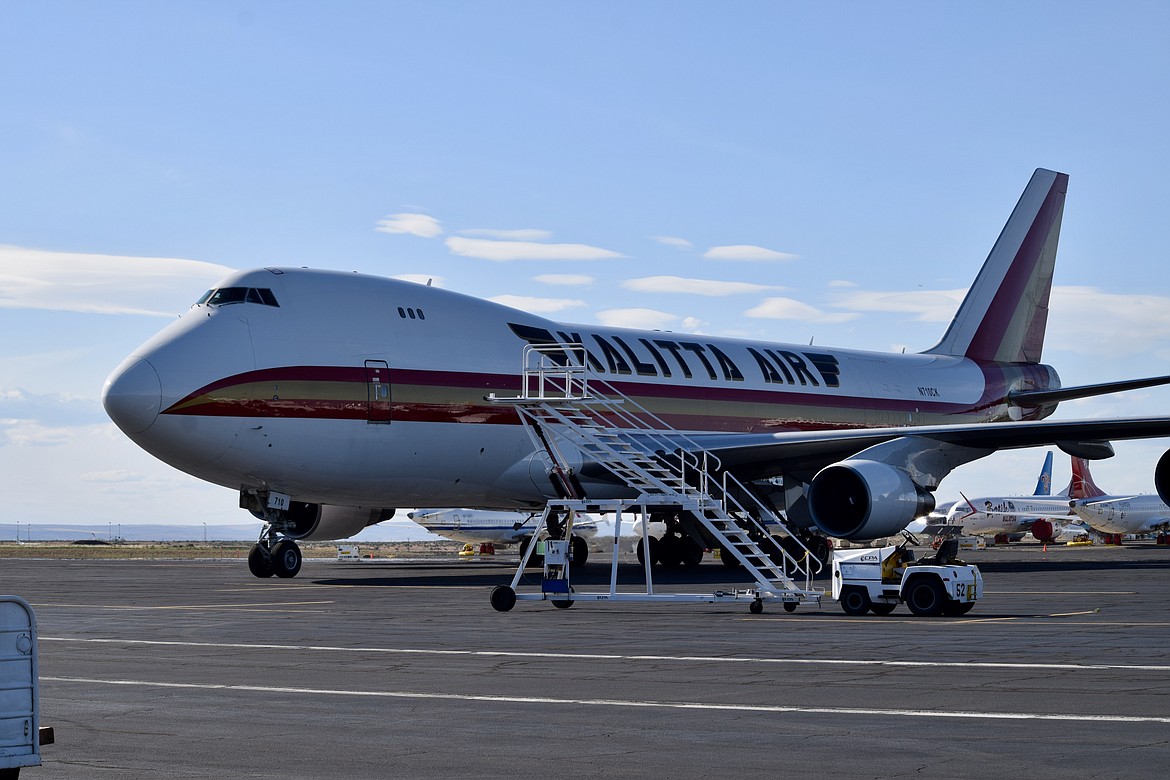 Charles H. Featherstone/Basin Business Journal A Kalitta Air 747 freighter just after landing at the Grant County International Airport to take on 80 tons of Washington cherries bound for China.
by
CHARLES H. FEATHERSTONE
For the Basin Business Journal
|
July 28, 2020 4:17 PM
MOSES LAKE — It may very well be the coldest room in all of Grant County. At least in July.
"So, we've temperature monitoring that goes on here, and we're targeting about 34-36 degrees," said Michael Stein as he opens the door to what is normally an airplane hangar.
Stein, general manager for Columbia Pacific Aviation (CPA) in Moses Lake, steps lightly in between giant pallets piled high with silver-wrapped boxes and securely tied or netted to the pallets. Each holds anywhere from 1,500 to 7,000 pounds of Washington State cherries, and within a few hours, these pallets will be loaded onto a 747 and flown to Shanghai.
Two giant air conditioners sit roaring inside each converted hangar, pumping out cold air. The setup is designed to keep the rooms at an even 34 degrees even if one unit in each hangar fails, Stein said.
And all because cherries, unlike apples, don't keep very long once they are picked. It's a race against nature to get them reasonably fresh from Central Washington across the Pacific to East Asia.
"The idea was hatched about three years ago," Stein said. "The growers approached the Port (of Moses Lake), the port asked us if we could help flesh this out. We've done large airplane charters in the past, and air freight, so we're familiar with this."
"But cherries were a whole different thing," Stein added as he tugged at his black face covering in the cold air.
For that, CPA needed to temporarily convert two hangars normally used for aircraft maintenance and storage into giant cold rooms. They also needed to build a third cold storage warehouse to properly stack and secure air cargo pallets for the long flight to China.
For growers, however, it appears to be worth it.
"We have quite a customer base in Asia," said Tim Evans, general manager at Chelan Fresh Marketing, which promotes Central Washington apples, pears and cherries. "By using Moses Lake, we avoid issues with Seattle and Portland, though we still use them too."
While Evans would not give any exact figures about international sales, he said Chelan Fresh exports about 25-30 percent of its annual production, and that China accounts for "at least half" of that demand.
This year's crop is significantly smaller, roughly 210,000 tons of cherries for Washington and Oregon combined, a nearly 20 percent decline from 2017, thanks largely to something called little cherry disease. It's caused by a virus and can devastate an entire orchard, proof that the protein-covered strands of RNA don't just plague human beings.
However, along with reduced tariffs in the partially settled but still simmering U.S.-China trade war, it means cherry producers are going to get higher prices, both at home and abroad, Evans said.
"Growers are experiencing a banner year," he said. "We're very positive about both domestic and export markets."
But in order for those cherries to have value when they reach Asia, they have to get cold and stay cold. Both Evans and Stein say "the cold chain," the way cherries and handled after they are picked, is very important.
"The cold chain is everything when it comes to cherries," Evans said.
Stein explained that when cherries are picked, they are packed and cooled to 34 degrees. Cherries bound for Asia out of the Port of Moses Lake are then shipped here, almost always within a day, where they are stacked into pallets, and kept cold in CPA's two temporarily converted hangars for a few hours until they tightly secured pallets can be packed onto a Kalitta Air 747 freighter, which is itself one giant refrigerator on the inside.
In case the plane isn't cold enough, Stein said, CPA has "a big air conditioning unit" they can hook up to the cargo plane to keep it cold on the inside.
"The exposure (of the cherries) to the elements is extremely small," Stein said.
A single flight can carry more than 100 tons of cherries, Stein said, with CPA handling up to three each week during the late June to early August harvesting season.
"We're hoping to add another couple of weeks for Canadian cherries as well," Stein said. "That remains to be seen, but it's on the table right now."
Stein said it takes his crew about three hours to load the giant 747, and care must be taken to arrange the pallets by weight — the heaviest ones in the center of the plane, and the lightest pallets toward both the nose and the tail. One of the services CPA offers both its clients and the air cargo companies it contracts with is properly balancing the cargo load.
"It's like working with big Legos," he said. "It's a combination of heavy and light to make up the load for the airplane."
It's a long way from CPA's somewhat more humble start in 1993, when the company began as an aircraft service and charter company, Stein said, helping pilots who fly into Moses Lake, typically for business.
"We take care of the pilot and the plane, do all the ground handling for them. We've not strayed from that," Stein said.
However, they soon added a flight school and eventually started servicing air freight haulers like FedEX, DHL and UPS, Stein said.
So hangars turned into temporary cold rooms full of cherries probably aren't really all that much of a stretch.
"We've been doing air cargo since the beginning," Stein added.
---