Ephrata rancher named Grant County Cattleman of the Year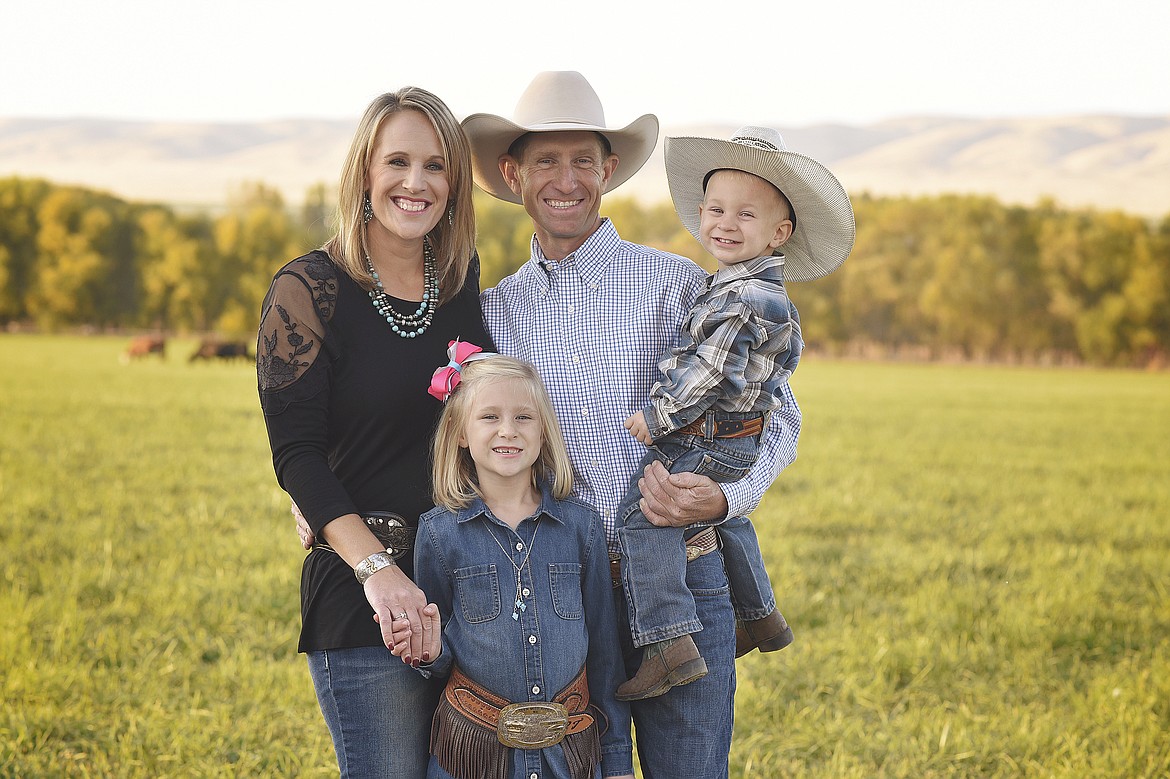 Courtesy Photo Ephrata-area rancher Brett Tonne, shown here with his wife Jill and daughter Cora, 8, and son Owen, 3, was named Grant County Cattleman of the Year for 2020 by the Grant County Cattlemen's Association.
by
CHARLES H. FEATHERSTONE
For the Basin Business Journal
|
July 31, 2020 1:00 AM
EPHRATA — Brett Tonne likes his job, mostly.
"I enjoy the freedom this occupation gives me," the Ephrata-area cattle rancher said. "There are days where it is no fun at all, but all occupations have that."
Tonne, however, likes his job enough and is good enough at it to run the Tonne Cattle Company and have been named Grant County Cattleman of the Year by the Grant County Cattlemen's Association for 2020.
Born and raised in Montana, Tonne has worked with cattle almost his entire life, even as he attended Walla Walla Community College and eventually transferring to Washington State University, where he graduated in 2003. Tonne currently runs a heard of mostly registered Black Angus, along with some Herefords, Simmentals and Charolais, on his ranch southwest of Ephrata.
"We sell bulls to commercial ranchers throughout the state and also market bull in Montana," he said. "We have been involved with the Treasure Bull Test in the Great Falls, Montana, area for many years. We have also started to breed some 'show calves' for our kids to show and to sell to other juniors."
Tonne has won awards at the Treasure Bull Test — High Weight per Day of Age, High Average Daily Gain, and High Gaining Sire Group — and shows his cattle across the Columbia Basin as well.
But being good at what you do is not the sole requirement for being named Grant County Cattleman of the Year. It also recognizes involvement in state and local ranching organizations, something Tonne and his wife Jill have always tried to be a part of.
Tonne is currently the treasurer of the Grant County Cattlemen's Association, secretary for the board of directors of the Washington Cattlemen's Association, and one of several ranchers representing cow-calf operations on the Washington State Beef Commission.
"My involvement with WCA has been a good experience. It has given me an insight to what issues ranchers across the state are dealing with. It has created great relationships with fellow breeders," he said.
"Brett has been very involved," said Floyd Lewis, president of the Grant County Cattlemen's Association. "Because of what he is doing in the industry, we decided to bestow this honor on him."
According to Lewis, the association has 62 members in Grant County and around a dozen from Douglas County where the local ranchers association "effectively ceased to exist."
Tonne said his wife Jill, a former Miss Rodeo Washington, is also involved with the Moses Lake Roundup as a queen advisor and is a member of the Washington State Tree Fruit Research Commission's crops protection committee — something that reflects her current job as an orchard and vineyard crop consultant for Simplot Growers Solutions.
While Tonne, who just turned 40, said he plans "to partially step away" from his industry activities to spend more time raising his kids, he believes it's important for farmers and ranchers to be involved in their organizations. Especially "young" ranchers like himself.
"People always say they don't have time to be on these boards, and I understand that, but it is a poor excuse for not getting involved," he said.
Ranching, however, for Tonne comes down to a matter of love.
"Growing up in Montana, it gets in your blood. It's a good lifestyle, but it's got to be profitable," he said. "It's hard in our area to maintain a profitable cow herd, but we do, and it's good for our kids."
"Just like anything, you do the job that you love to do," Tonne added.
Charles H. Featherstone can be reached at cfeatherstone@columbiabasinherald.com
---