Mesa dairyman gives back during National Dairy Month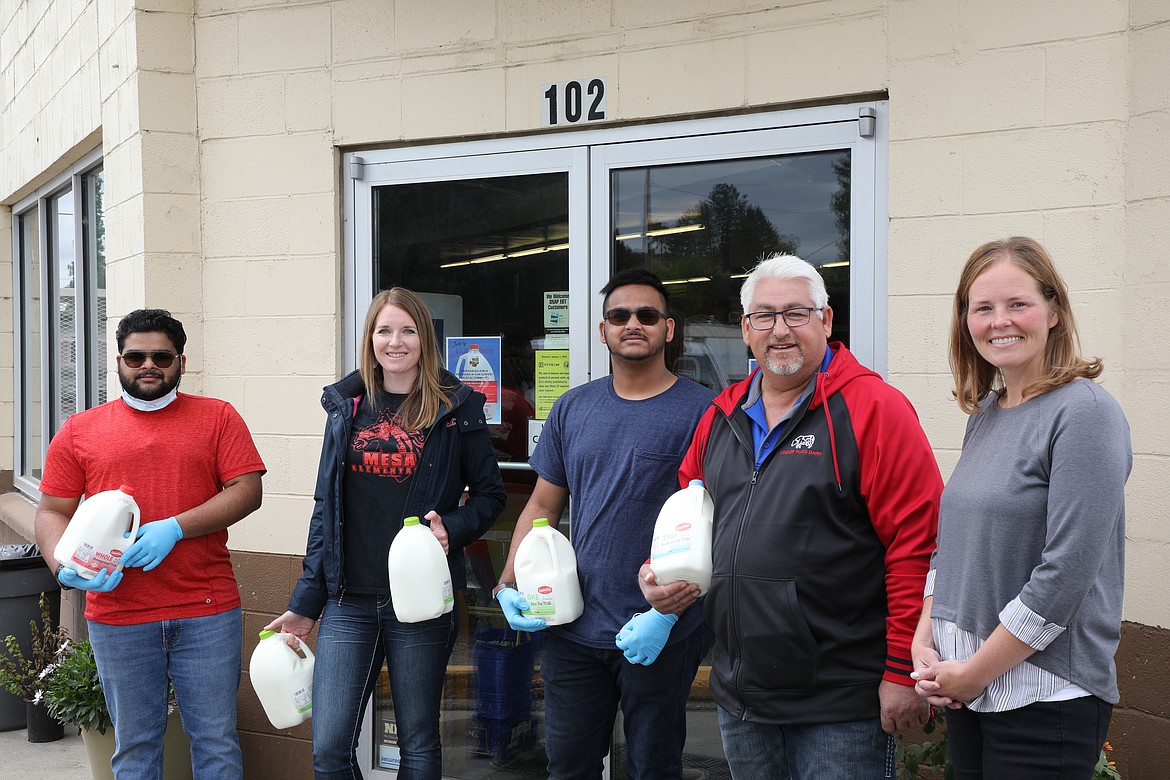 Courtesy photo Left to right: Alex Dogra, JC's Mesa Grocery; Emily Gibbons, Mesa Elementary CPT; Jerry Dogra, JC's Mesa Grocery; Case Vander Meulen, owner of Coulee Flats Dairy and Cara Morrill, principal of Mesa Elementary.
by
RACHAL PINKERTON
For the Basin Business Journal
|
June 26, 2020 1:00 AM
MESA — One Eastern Washington dairyman has a special way of celebrating June as National Dairy Month. For every gallon of Darigold milk that his local grocery store sells, he donates $1 to the local PTA organization at Mesa Elementary School. Each customer also receives $1 off that gallon of milk.
This unique celebration started several years ago when Case VanderMeulen, owner of Coulee Flats Dairy outside Mesa, partnered with JC's Mesa Grocery in Mesa.
"Our goal is to give back to the community," VanderMeulen said.
In June of 2017, JC's Mesa Grocery sold 3,256 gallons of milk. But then the store changed hands and the new ownership wasn't interested in continuing the tradition.
A few months ago, the store changed hands again and the new owners were willing to revive the celebration. Darigold, to whom VanderMeulen supplies milk, also got on board and offered a discount of $1 off per gallon, according to Bridget Coon, who is in charge of VanderMeulen's website and media promotions.
In the past, the money that VanderMeulen has donated to the school has gone to various projects, most recently new playground equipment. This year the PTA organization, known as Caring Parents and Teachers, wants to raise money to buy Chromebooks for the students, who currently have none. The money that VanderMeulen is donating will go for that project.
Coulee Flats Dairy came to Mesa in 2008. VanderMeulen began dairy farming in Washington state in 1991 when he rented a dairy facility in Grandview. In 1994, he moved to Sunnyside, where he rented a larger dairy facility. After purchasing that facility and a second dairy facility, VanderMeulen decided to consolidate the two into one. In 2007, he began construction on the facility at Mesa. Today, the facility milks approximately 7,000 cows three times a day.
"We're considered a pretty good-sized operation," VanderMeulen said. "We're a member/owner of Darigold."
VanderMeulen said that he has been "completely tickled" about his move to Mesa.
"It is the best place on earth," VanderMeulen said. "There are less people to annoy. There is a lot of ground and a lot of feed."
This year's National Dairy Month promotion was organized in just a couple of weeks. Coons said that the president of Caring Parents and Teachers, Emily Gibbons, has jumped on board and helped alert the students and their parents of the promotion.
"It is always cool to see a small community get together," Coon said. "It speaks to what you can do. Mesa is a small town. There are kids that can use the extra boost."
Coon commented that getting Chromebooks for the students "seems more relevant than ever" in light of the schools being closed this spring.
Besides VanderMeulen, the owners of JC's Mesa Grocery have also said that they will give $1 toward Chromebooks for each gallon of milk sold. As of June 15, over 400 gallons have been sold.
"Everyone is looking for ways to help," Coon said. "Dairies are not making money. To see him (VanderMeulen) jump in and really fire this program up says a lot about him."
---