Researcher specializes in plant, seed diseases
by
CHARLES H. FEATHERSTONE
For the Basin Business Journal
|
November 11, 2020 1:00 AM
MOUNT VERNON — It was a fascination with land grant universities and associated cooperative extension services that brought Lindsey du Toit to the United States.
So it makes sense that du Toit, a native of South Africa who graduated from the University of Natal-Pietermaritzburg with a bachelor of science in plant pathology, is now herself an extension researcher, a specialist in plant diseases and especially diseases that are passed on through seeds.
Even after earning a Ph.D. at the University of Illinois and working 20 years at Washington State University's Mount Vernon Research and Extension Center, du Toit said she's still very impressed with cooperative extension and the way it connects researchers, industry and farmers.
"It's a two-way street of learning," du Toit said. "I didn't grow up on a farm. Extension is about connecting with growers, and the most gratifying part is the mutual exchange of ideas."
Du Toit said she needs that "mutual exchange" because not having been raised on a farm, what she knows about farming she has learned from the growers she has worked with.
It must have worked, because du Toit will be giving or participating in four separate presentations at the upcoming Pacific Northwest Vegetable Association annual conference, which will be held online this year on Wednesday, Nov. 18, and Thursday, Nov. 19.
Du Toit is scheduled to speak on onion bacterial diseases and the use of soil fumigant metam sodium during the onion session during the first day of the conference, and then is set to speak twice about different aspects of fungicide during the pest management session on the conference's second day.
All sorts of diseases – viruses, bacteria, fungi – can infect plants and then get passed on to and through their seeds, Du Toit said, though farmers in the the eastern and western portions of the state struggle with diseases and pests that affect different crops. On the west side, the focus is on things that infect spinach and cabbage, while in the Columbia Basin, it's on diseases that plague carrots, onion, radishes and coriander grown and cultivated for seed.
"There are not a lot of folks who work in seed pathology. But it's pretty important, producing healthy seed," she said. "We work with seed growers to to produce clean seed."
There are a number of ways to help farmers produce that clean, disease-free seed, du Toit said. However, she said it's easier to prevent plant diseases in the first place than it is to try and cure them once they hit a field or a crop.
Du Toit said companies often breed for resistance to pathogens, and often start that process by looking at traits in wild varieties to identify resistance and see if that can be bred into related plants that lack it.
Farmers also have a number of chemical means to battle plant diseases, du Toit said, though it's important for growers to properly diagnose whatever problems their crop might have, make sure the chemical they want to use is approved for that use, and understand how any chemical will act with their crops, irrigation methods and even their soil.
"If not used correctly, they might not get any control, and they are wasting their money," du Toit said.
Finally, the state of Washington has the power to create quarantine areas to try and ensure that infected seeds don't move from one area of the state and establish themselves in another.
Because once some plant diseases get established, it can be hard on farmers trying to grow a crop and make a living. In fact, du Toit said in some parts of the state where some plant diseases have become common, destroying crops is too.
"Since about 2009, we've seen bean pathogens show up in the Columbia Basin, and when that happens, the crop must be destroyed," she said. "That can have a very, very big financial impact."
Charles H. Featherstone can be reached at cfeatherstone@columbiabasinherald.com.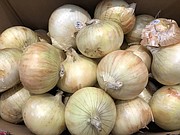 ---