Growing cotton in the Columbia Basin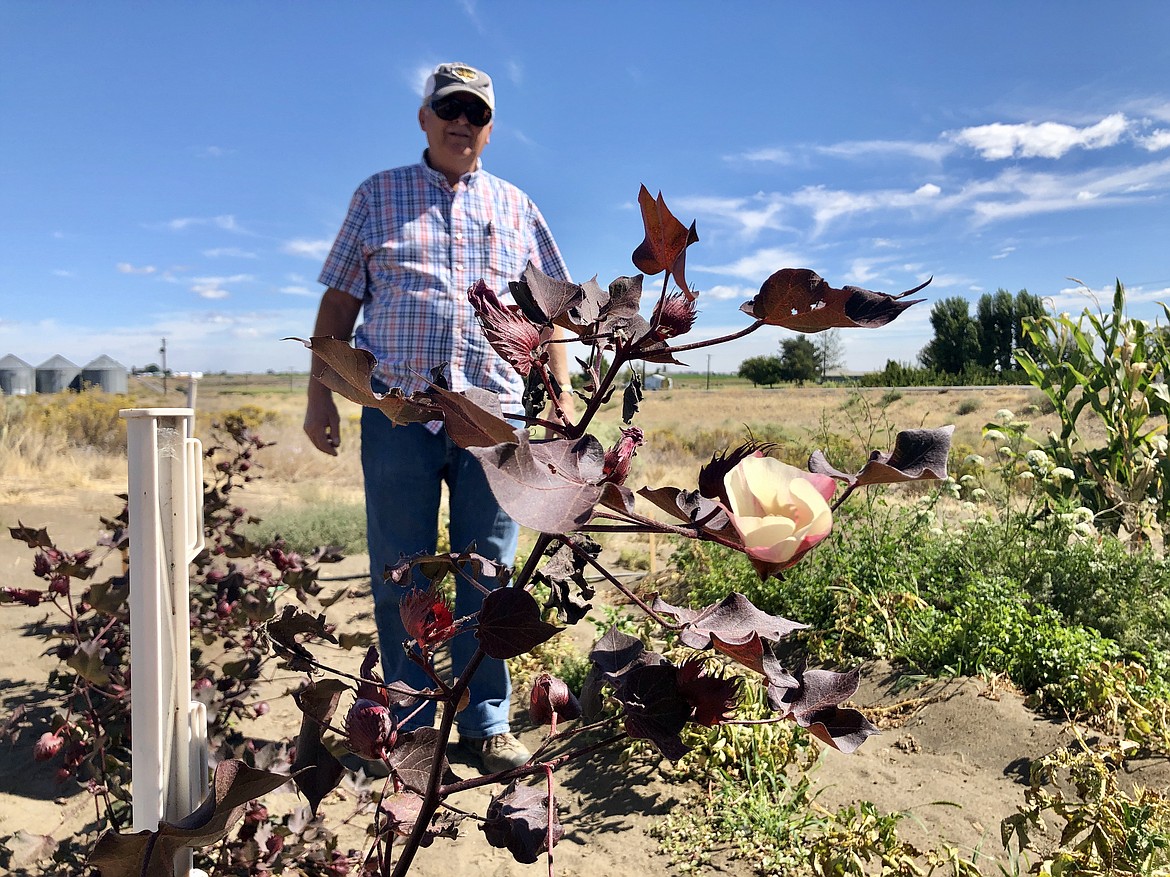 Augie Kooistra of Augie's Ag Sales in his experimental field with his last test crop, red foliated cotton.
Charles H. Featherstone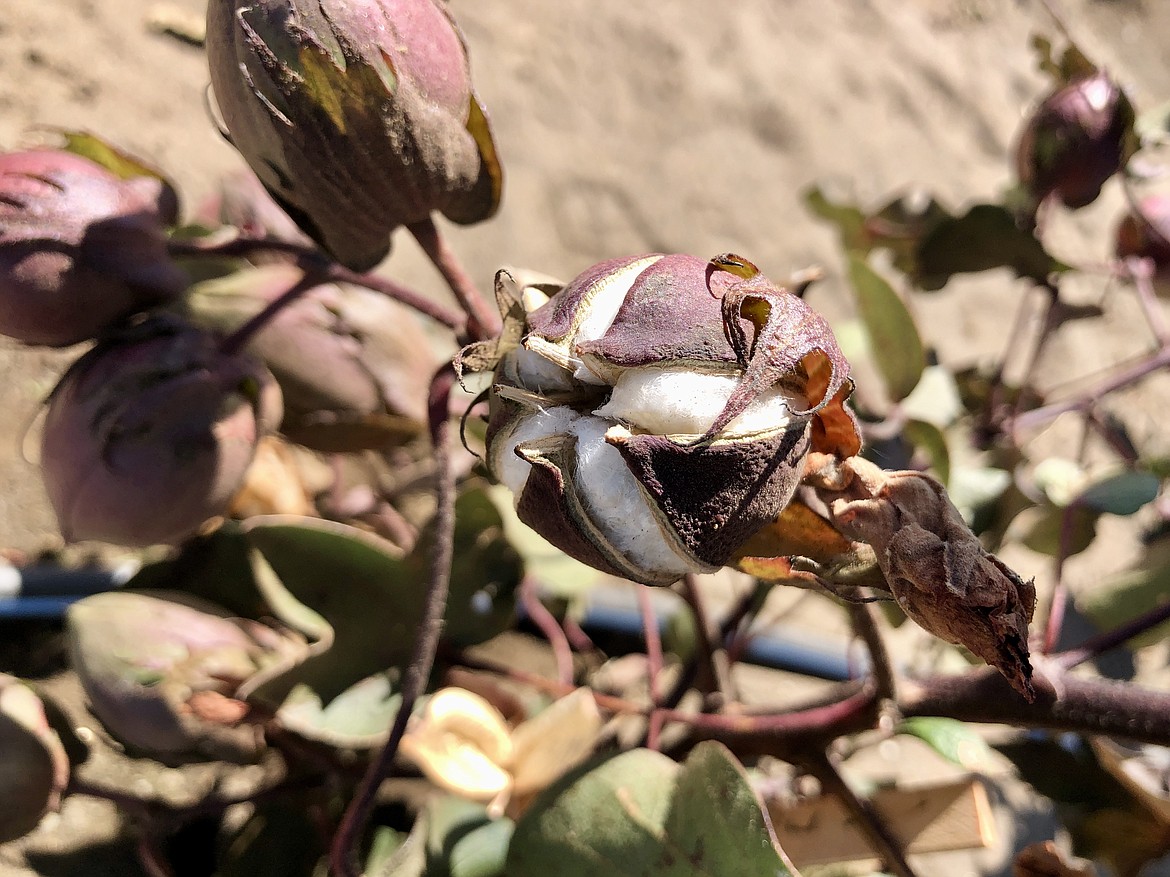 A cotton boll nearly ready to be harvested.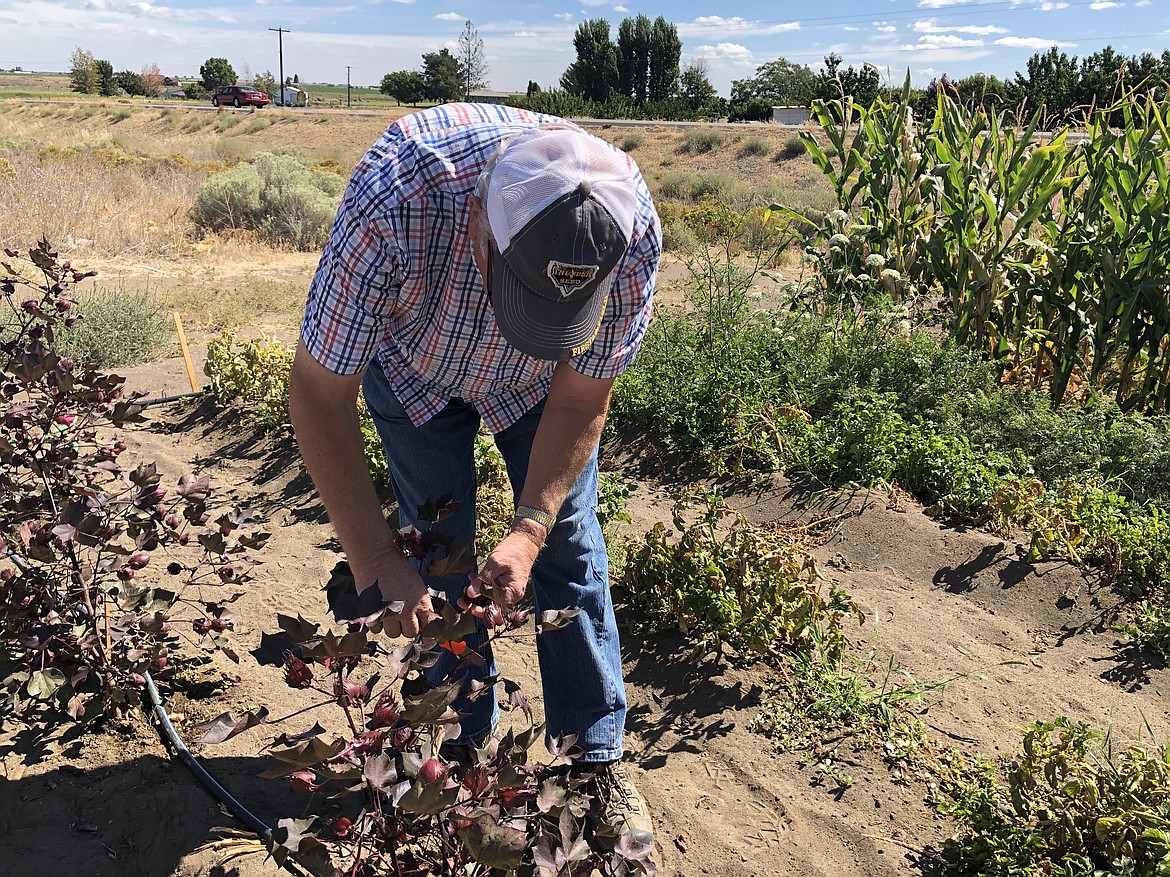 Augie Kooistra of Augie's Ag Sales in his experimental field cutting the boll off one of his cotton plants.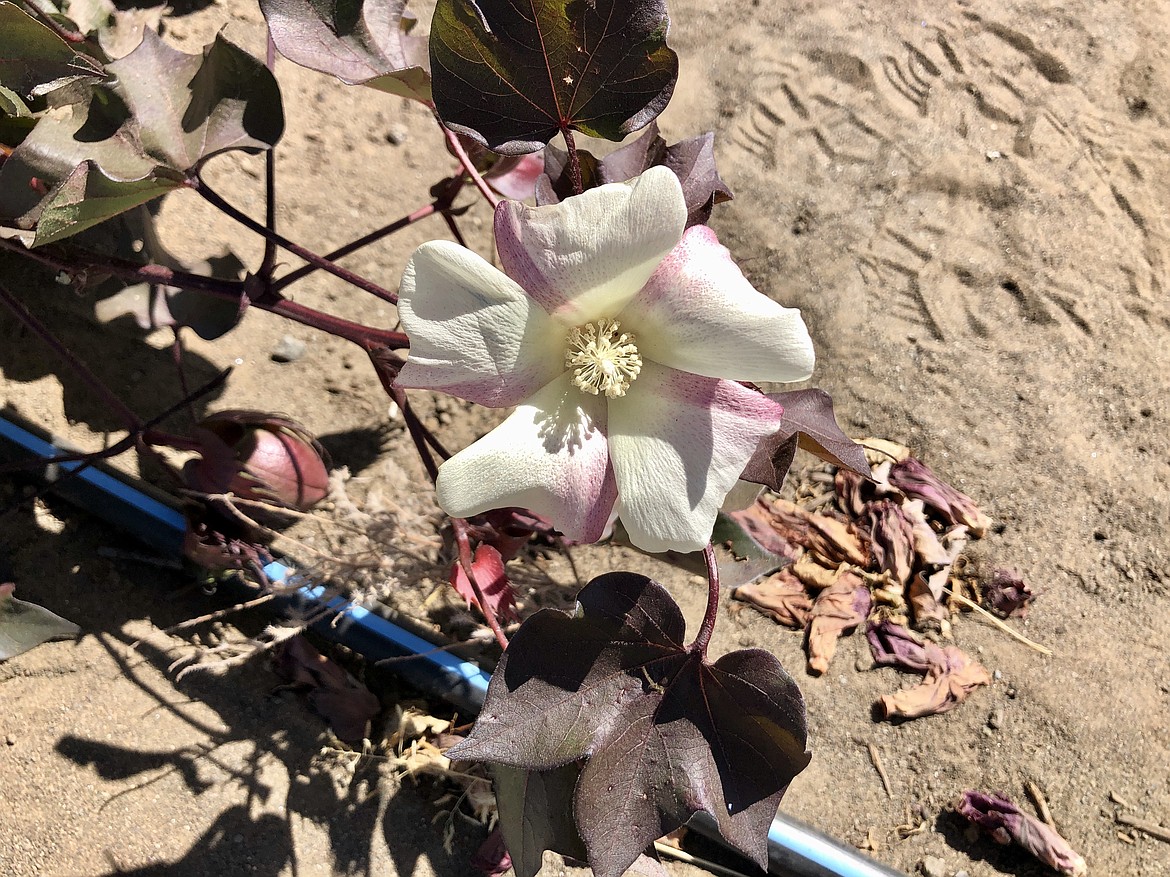 A red foliated cotton flower.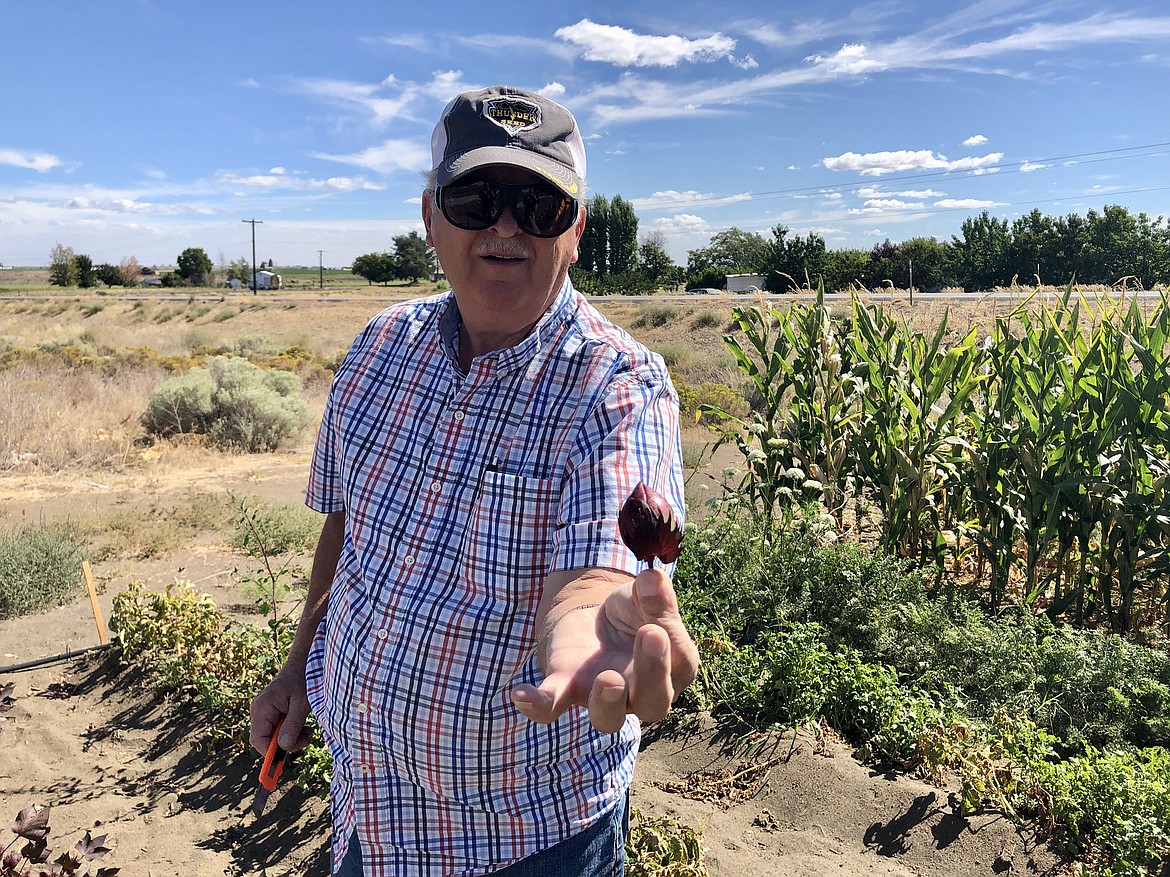 Augie Kooistra holds out a cotton boll, cut from one of the dozen or so cotton plants he's growing in his test field south of Ephrata.
Previous
Next
by
CHARLES H. FEATHERSTONE
For the Basin Business Journal
|
October 2, 2020 1:00 AM
By CHARLES H. FEATHERSTONE
For the Basin Business Journal
QUINCY — Augie Kooistra is not a man who takes "no" for an answer.
"I was on a trip to North Dakota and Texas, and somebody told me about a seed company in Texas I should talk to," he said as he walks between the rows of plants in his experimental field.
He stands in front of a purple-red plant growing about waist-high with thick red bulbs at the end of some stalks.
There are about a dozen of these purplish plants, taking up half a row in what is otherwise a field full of corn, vegetables and herbs. Kooistra grabs one of the bulbs and cuts it off.
"I called, they wanted me to stop in, and we talked business for a couple of days. I toured their farm, I saw milo, rice, corn and cotton. First time I ever saw cotton in my life," he said. "I got excited about the possibility of growing cotton here."
A lot of things are grown in the Columbia Basin, but until Kooistra sowed his dozen or so seeds, red foliated cotton wasn't one of them. The growing season in the Columbia Basin simply isn't long enough for most cotton, which needs around 150-180 days to mature — the longest of any regularly planted crop in the United States, according to data from the Cotton Institute.
Because of that, Kooistra said his first attempt to secure cotton seed — from a seed company in Texas — was a bust.
"They said 'you can't grow cotton over here, so we're not interested in doing business with you,'" Kooistra said.
Of course, that just increased his determination to plant some. Kooistra contacted a mail order seed company — Virginia-based Southern Exposure Seed Exchange sells packets of 16-20 red foliated cotton seeds for $4.80 — and bought several packets. Red foliated cotton has a much shorter growing season, 118-120 days, something that can yield a crop in Central Washington.
If you've a mind to grow cotton in Central Washington.
"It's the equivalent of 118-120 day corn, which we can grow for silage here but it will never make dry corn," he said. "Down in Pasco, it will."
Cotton is native to the tropics in South Asia, Africa and the Americas, but 90 percent of the world's cotton is derived from the upland cotton indigenous to Mexico and Central America, of which Kooistra's red foliated is a variety.
Kooistra and his wife Pam started their cotton indoors, transplanting them into his experimental field in March. Normally, Kooistra said, the field would be full of corn — "50 to 60 different hybrids" — but a disaster with leaf composting left much of the soil with too much nitrogen to grow anything successfully.
"Now I've got room for other things," he said.
As the bolls — the name given to the fertilized flowers that ripen into the "fruit" that is the cotton — ripen, they dry up and pop open. Kooistra said his family has been going down the row of cotton plants harvesting every weekend for the last two weeks.
"There's a lot of bolls on just one plant, and they are very pretty when they're flowering," he said. "They really grow."
"All of it will yield," Kooistra added. "It's really growing good."
But right now, it's mostly a novelty. Kooistra said the Columbia Basin simply does not have the infrastructure of gins and warehouses and processors to make a go of cotton.
"Obviously, there's no commercial infrastructure here for growing cotton, but there was a beginning for all the crops we grow here," he said.
There is, however, a variety of cotton that grows to maturity in 100 days, Kooistra said — the equivalent of the 100-day corn grown widely across the basin.
"If this'll grow, obviously 100-day cotton will grow here easy in Ephrata or Grant County," he said.
He's planning on planting more next year. A whole row, when he sows his corn next April.
"This proved the point," Kooistra said. "It will grow.
Charles H. Featherstone can be reached at cfeatherstone@columbiabasinherald.com.
---