Royal Slope receives viticultural area designation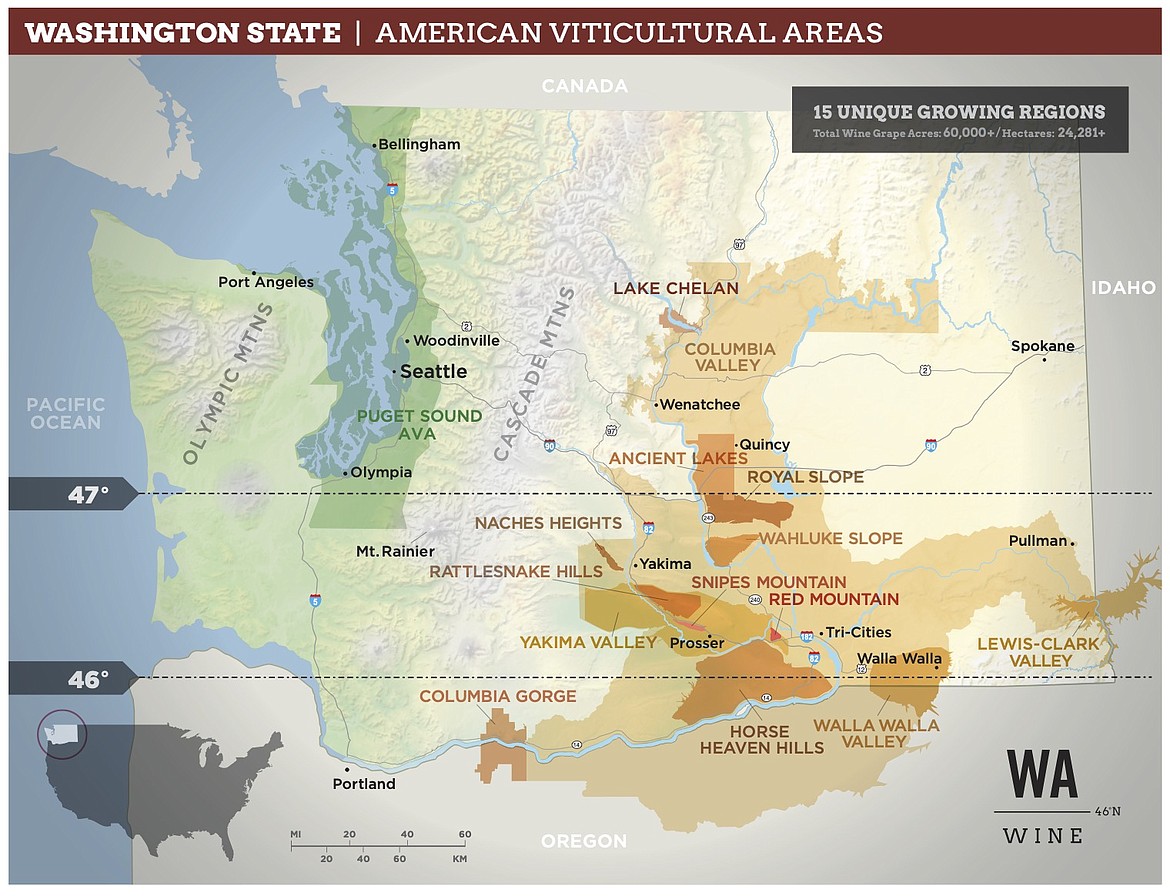 A map of viticulture areas in Washington.
Courtesy Photo Washington Wine Commission
by
CHARLES H. FEATHERSTONE
For the Basin Business Journal
|
October 3, 2020 1:00 AM
It's official — the Royal Slope is now its very own designated wine-producing region.
The Alcohol and Tobacco Tax and Trade Bureau, a division of the U.S. Treasury Department that oversees the imposition and collection of taxes on guns, alcohol and tobacco products, has declared the Royal Slope area an American Viticultural Area (AVA), unique enough as a place to grow grapes to merit the designation.
That makes it the 15th viticultural area in Washington, and the third very specific designation — along with Ancient Lakes and Wahluke Slope — in Grant County.
Nearly all of the state's viticultural areas are located in the Columbia Basin and Yakima area, though an overall Columbia Valley AVA stretches from parts of Oregon in the south to Wilbur and Grand Coulee in the north, and from Pullman in the east west along the Columbia River to the Columbia Gorge.
"It's part of the whole AVA system," said Steve Warner, president of the Washington Wine Commission. "To be designated, you have to be able to say what makes it unique."
Around 1,900 acres of grapes of 20 different varieties are currently grown in the 156,000-acre viticultural area, the Wine Commission said. Wine producers within the viticulture area, or who use the area's grapes, will be able to apply for a Certificate of Label Approval from the Alcohol and Tobacco Tax and Trade Bureau beginning in October.
According to the Washington Wine Association, what makes the Royal Slope unique is its south-facing slopes — which comprise 90 percent of its area — as well as cooler overall temperatures when compared with the Wahluke Slope or other AVAs because of both its latitude near the 47th parallel and the fact that much of the Royal Slope sits around 1,300 feet above sea level.
"It's almost perfectly situated with a south-facing slope, a good growing season, and a few vineyards that have been doing some amazing things," Warner said.
"The AVA is something of an island geographically that is surrounded on all four sides by very different lands," said Alan Busacca, a soil scientist and agronomist who consults for wineries. "The area of the AVA is large enough that the variation in soils, slopes and aspect allows for a wide range of grape varieties to be matched by specific sites, soils and training methods, producing wine grapes of exceptional quality and direction."
"In a short period of time, vineyards like Stillwater Creek, Lawrence, Frenchman Hills and more have been producing wines that are absolutely rocking people's worlds," Busacca added.
Warner spoke of Royal Slope's terroir, the combination of all the things like soil and climate that go into producing a quality wine, and said that the Royal Slope's wines are identifiable when compared with similar wines from the Yakima Valley or Walla Walla areas.
"You can really taste the difference," he said.
Ed Kelly, the director of vineyard operations at Stillwater Creek, shows just how unique Royal Slope wines are. The designation will now allow wineries that produce wine from Royal Slope grapes to market them that way — something they could not do prior to the designation.
"We have a lot of really good wine growers here," Kelly said. "It's a great grape-growing region."
Stillwater Creek doesn't produce its own wine but grows and sells grapes to roughly 45 wineries across the region, Kelly said.
Kelly said he's worked for wineries and viticulturists for 20 years, beginning in the wine growing regions of Napa and Sonoma in 1980. But he's partial to the grapes he grows — and the wine that gets made from those grapes — on the Royal Slope.
"I've never been able to grow so many varieties that produce such excellent quality," he said. "We really produce such delicious grapes."
Charles H. Featherstone can be reached at cfeatherstone@columbiabasinherald.com.
---