Yakima wineries struggle with COVID-19 closures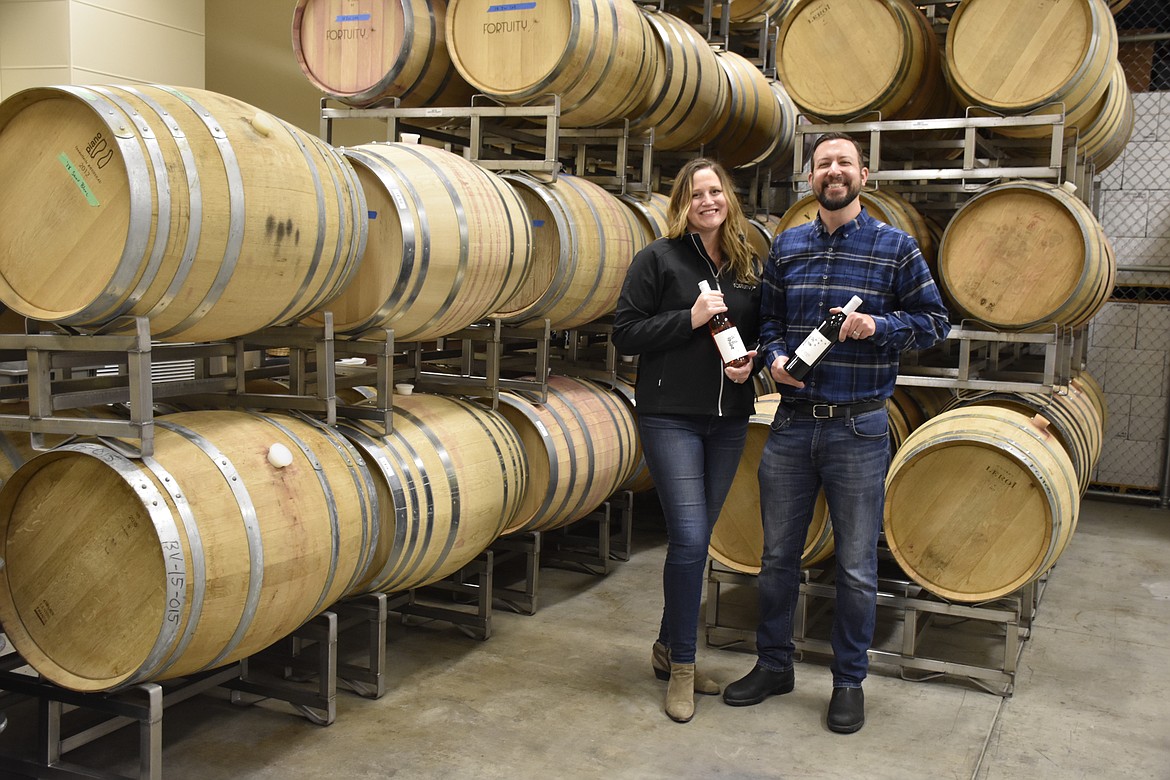 Emily and Lee Fergestrom of Fortuity Cellars, a small Yakima Valley winery that found itself unable to open its tasting room because of the COVID-19 outbreak.
Courtesy Photo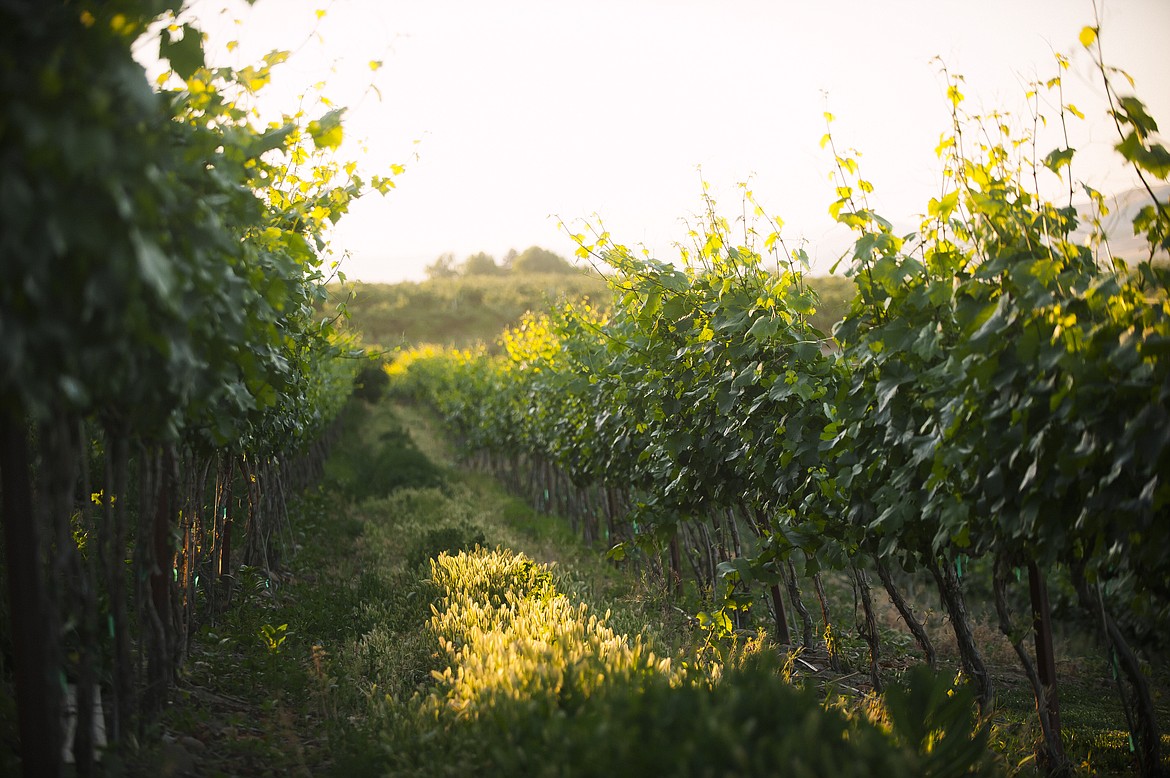 A view of the vineyard at Gilbert Cellars.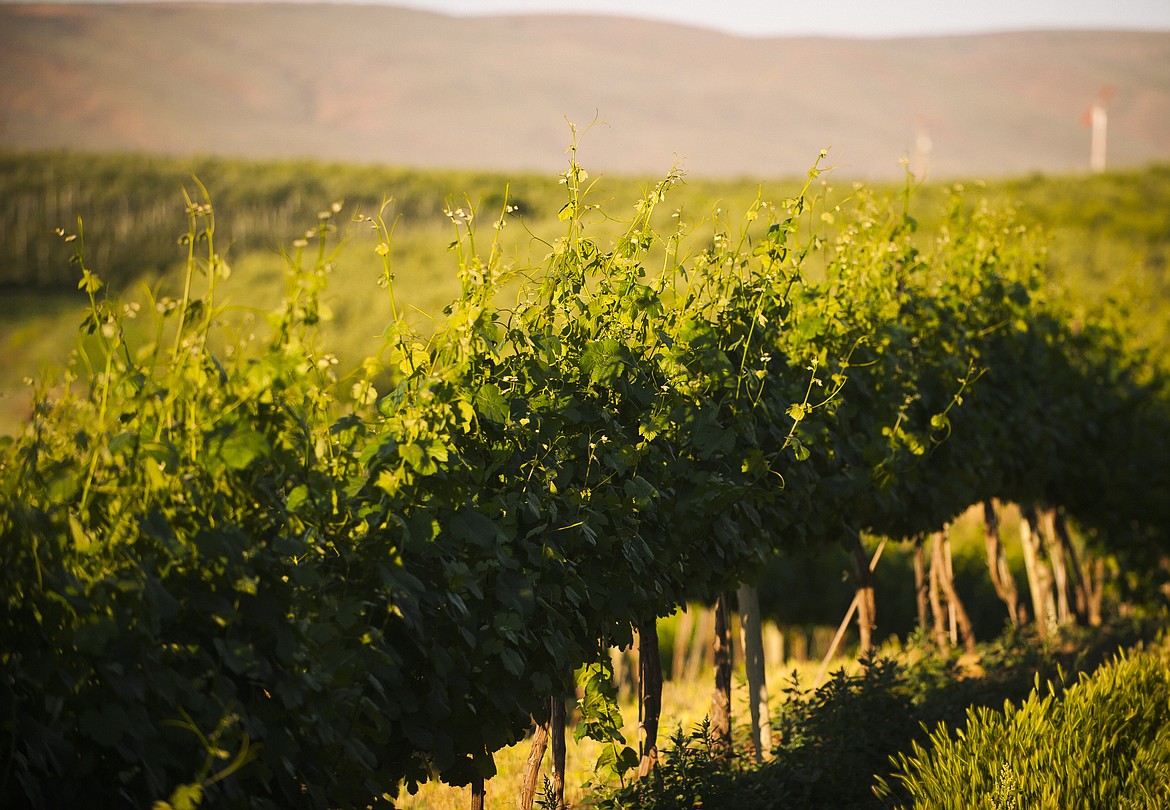 A view of the vineyard at Gilbert Cellars.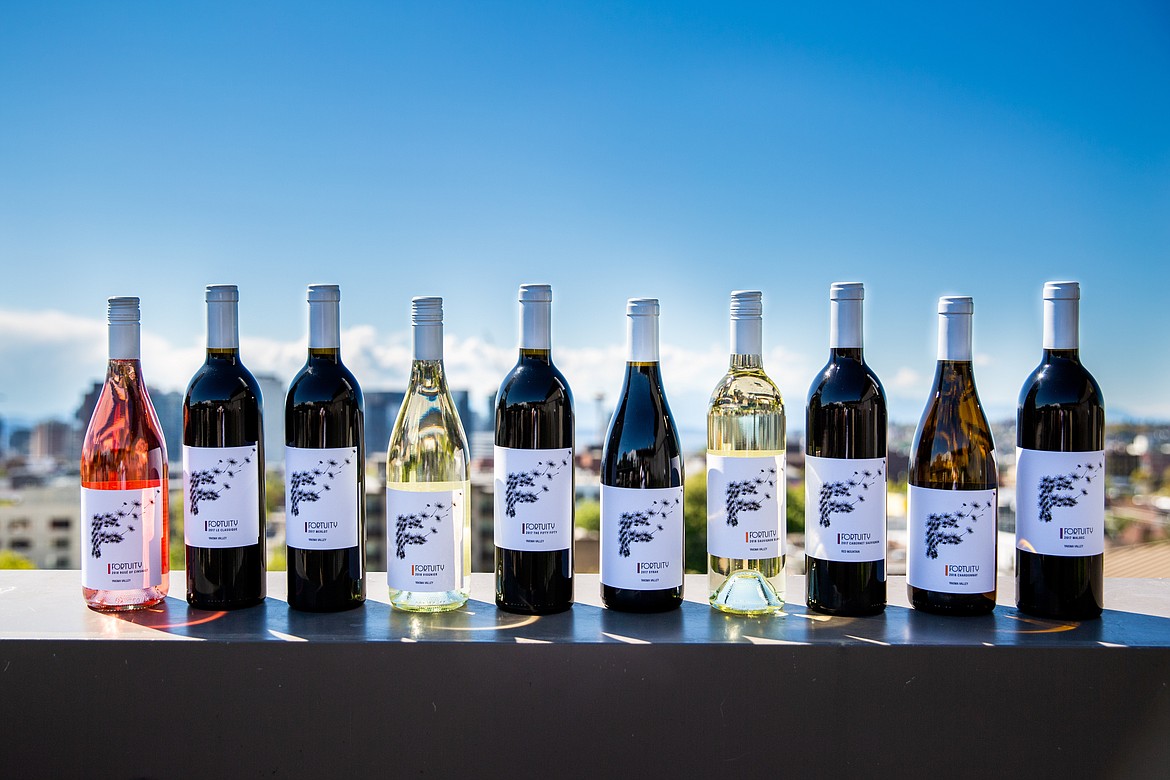 Bottles of Fortuity Cellars wine.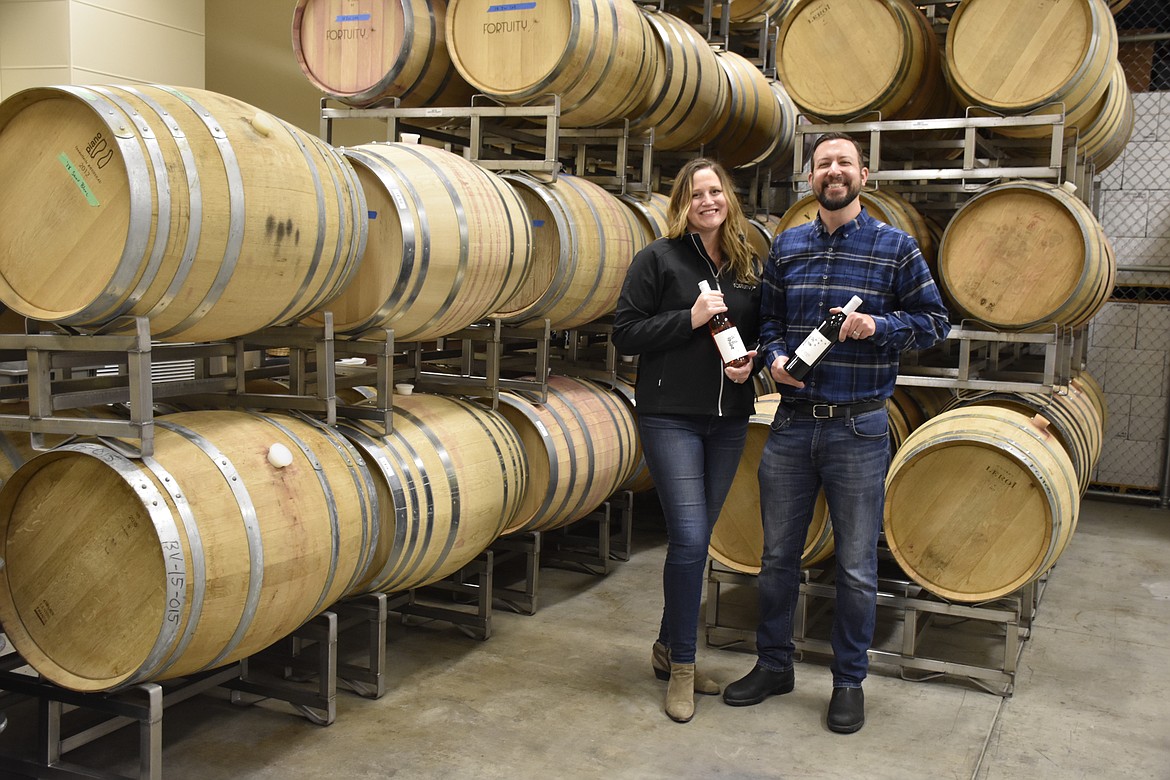 Emily and Lee Fergestrom of Fortuity Cellars, a small Yakima Valley winery that found itself unable to open its tasting room because of the COVID-19 outbreak.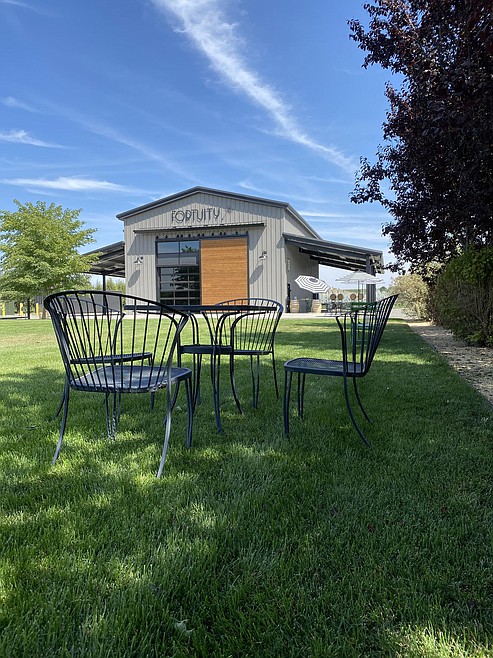 Fortuity Cellars on a clear day.
Previous
Next
by
CHARLES H. FEATHERSTONE
For the Basin Business Journal
|
October 14, 2020 1:00 AM
YAKIMA VALLEY — The sawdust was still settling on Fortuity Cellars' new tasting room when the COVID-19 pandemic hit.
"We set our opening for April 10," said Emily Fergestrom, co-owner and marketing manager for Fortuity Cellars, a startup winery in the Yakima Valley. "We all know what happened in mid-March, so we had a virtual opening."
A virtual opening is not quite what Emily and her husband, Lee, had in mind when they started making wine in 2017. Fergestrom said they started gathering grapes and fermenting their wine at a small Yakima Valley College start-up incubator as they sought their own place.
"It was a great way to get started," she said.
So Fergestrom said she wasn't going to let something like a virus — and all the closures — keep them from doing business.
"We come from a startup culture," she said. "We're scrappy, persistent and adaptable."
Adapting to the pandemic, which closed tasting rooms across the state, meant improvising, according to Jennifer Martinkus, director of marketing for Yakima Valley Tourism. Each of the Yakima Valley's 100 wineries has been affected by the COVID-19 pandemic, and related closures, a little bit differently.
"Up to this point, bigger operations had retail sales," Martinkus said. "But there was no in-person tasting, so some wineries got really creative."
By creative, Martinkus said a number of wineries did expanded mail order and curbside delivery, opened up their outdoor areas as soon as they possibly could, and early on in the pandemic closures, expanded online virtual tasting events.
Some of the region's larger wineries like Gilbert Cellars and Trevor Cellars continued to sell their wines in retail stores like Safeway and Costco, Martinkus said. But smaller vineyards, like Fortuity, didn't have that option.
"Small or boutique operations have been hardest hit," Martinkus said. "Fortuity is our newest winery, and they had to do their grand opening virtually during COVID-19."
Martinkus said she doesn't know how much the closures and the subsequent fall in sales and revenue have hurt the Yakima area economy.
"We can't put dollar figures to it," she said. "It's a very significant part of the economy that has grown substantially over the years."
Fergestrom said Fortuity created an online wine club, staged several online "tasting" events, created partnerships with other struggling small businesses to sell their wine, delivered wine curbside to customers and expanded mail order sales.
"We'll deliver wine, no matter where you live," she said. "We made it easy to get, and people appreciated that."
"Small businesses need each other," she added.
Laura Schlect, marketing director and senior partner with Gilbert Cellars, said she's been impressed by how the region's wineries have adapted to the conditions created by the COVID-19 closures, and that a number of wineries — including her own — have found themselves re-evaluating both the way and reason they do business.
"It's a tough time for everyone," Schlect said. "We're all living in a brand-new world."
Gilbert Cellars started growing grapes in 2001 and produced its first wine in 2004, and sold 6,000 cases of wine — or 72,000 bottles — in 2019, Schlect said.
"We're not big, but we're not teeny either. Our goal is really making the best Washington wine we can," Schlect said.
Schlect said Gilbert went online and offered curbside delivery as well, especially important since the winery's downtown Yakima tasting room was closed in March. That, however, was something of a blessing, as it gave Gilbert Cellars the incentive to invite people to visit the winery, located about 20 minutes southwest of town.
"Ramping up online sales really helped. We did a lot of delivery, and that still keeps that customer relationship," she said.
Both Schlect and Fergestrom said close relationships with customers — maintaining them in the case of Gilbert Cellars and creating them in the case of Fortuity — are essential to keeping some kind of business going as long as tasting rooms are closed to the public.
Schlect said that while sales dropped in the aftermath of the closure, the mixture of sales also changed, with Gilbert Cellars selling more wine online directly to consumers and less in other retail venues.
"It's leveled out a bit," she said. "There's not as much of a surge (in online sales) now, but people are still shopping online."
However, Schlect said she's seen that wine has become more important for some people since the COVID-19 outbreak.
"We're living in a brand-new world, and wine fits in in a more positive way now," she said. "People are still exploring and discovering wine."
Fergestrom said Fortuity, which also rents itself out as a venue for events such as weddings, opened its outside portion in August. The weather was hot, but generally cooperated up until the smoke poured in from wildfires north of Yakima.
"That's been really great," she said. "It gives people a place to talk about and share wine. That's why we do what we do."
Charles H. Featherstone can be reached at cfeatherstone@columbiabasinherald.com.
---