Ritzville student uses COVID closure to start business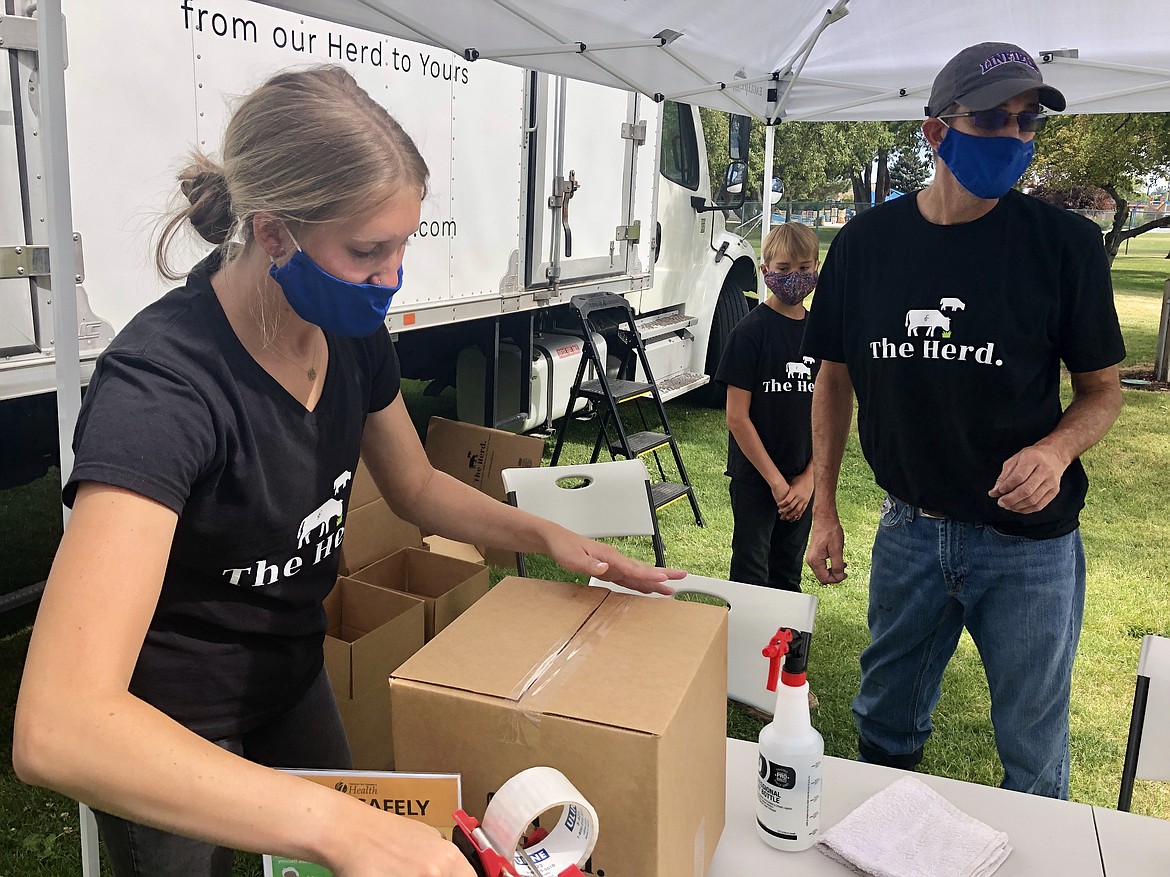 Charles H. Featherstone/Basin Business Journal Peyton Curtis, 20, founder of the Ritzville-based mail order beef business The Herd, tapes up a box for a customer at the Moses Lake Farmers Market the in early August.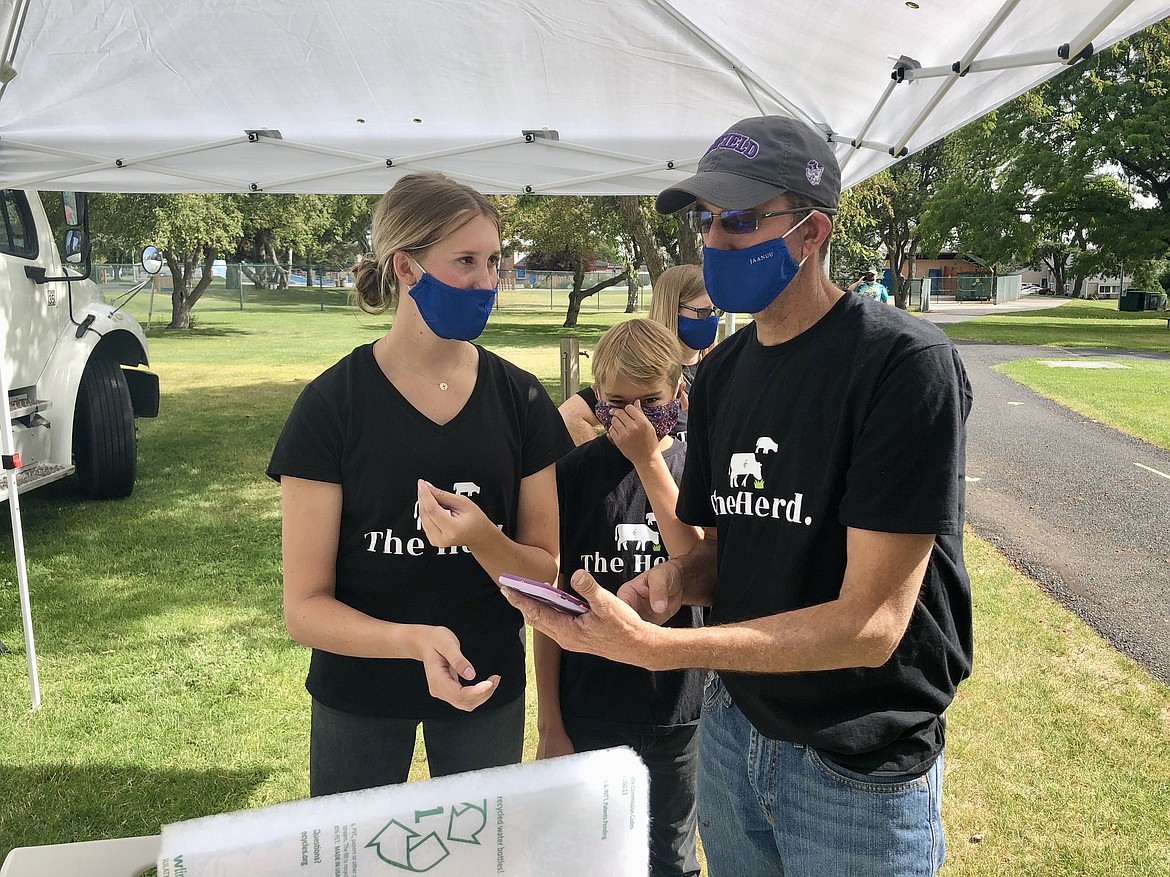 Charles H. Featherstone/Basin Business Journal Peyton Curtis, 20, founder of the mail order beef business The Herd, shows her father Miles how to ring up an order on a cell phone at the Moses Lake Farmers Market on Saturday, Aug. 8.
Previous
Next
by
CHARLES H. FEATHERSTONE
For the Basin Business Journal
|
September 3, 2020 1:00 AM
RITZVILLE — When the COVID-19 pandemic hit earlier this year, Peyton Curtis really didn't think it would amount to much.
She certainly didn't think it would affect her animal science studies at Cal Poly San Luis Obispo.
"I remember me and my roommate were sitting in biology class and saying, 'There's no way they're going to send us home, this is not going to be a big deal,'" Peyton said. "And within 24 hours our school said, 'Everyone pack up and go home.'"
So the 20-year-old Peyton got up early the next morning, packed her car and drove 17 hours straight home to her family's cattle ranch near Ritzville.
"The joke in my family is that I always had to go somewhere far enough away so that I didn't have to come home and feed cows on the weekend," Peyton said.
But there she was, in the middle of March, back at the family ranch, feeding cows and staring at a laptop screen. So when faced with an academic quarter of online studies, Peyton did something not many other college students probably did when pandemic closures ground life to a halt.
She started a business.
"When COVID-19 hit in March I was doing online school and working on the ranch and my dad was working on the ranch and we looked at each other when the meat shelves were empty and said, 'We've got to do something,'" Peyton said.
That something is The Herd, a small mail-order beef business that markets the family's grass-fed and range-grown beef both online and at small, pop-up shops at farmers markets across the region.
Key to the company is the small defunct abattoir the family purchased in Odessa in late March to process its own cattle, making the Curtis family one of the few ranch families in the country to control every aspect of their beef operation.
According to Peyton, the family runs about 1,200 head on its Ritzville-area cow-calf operation. They calve twice a year, in late summer and then again in the winter.
"We do all of our own alfalfa and harvest all of our own grass hay from blue grass. The kind of cool thing about our ranching operation is that we are 100 percent vertically integrated; that means from birth to harvest we're controlling every aspect of the supply chain," Peyton said. "There's probably less than two handfuls of people in the nation that can do this."
Peyton's father and third-generation cattle rancher Miles said the family moved quickly once they decided to buy the slaughterhouse and sell their own beef. The plant, named LimitBid Packing, is U.S. Department of Agriculture-inspected and makes it possible for them to sell their own beef.
"We've toyed with this idea for probably five or six years now. Ever since she got into high school, she wanted a project," Miles said. "We got it up and running in seven weeks, which is fairly unheard-of to get that done."
"As a cattle rancher, as a generational cattle family, it kind of gives us a little bit of pride to say we can do that," he said.
However, Dad says Peyton "is the most important rung in the ladder," because while anyone can process beef, it takes someone special to be able to sell it.
Peyton said it's important to her, and she hopes it's important to the family's customers, to know where their beef comes from and how it has been raised.
"You have to be knowledgeable," she said. "I like to think that I kind of know what I'm talking about, I like to share with other people. They go to the grocery store, they'll buy some beef, but they don't know where it's coming from, they don't know how that animal was raised, they don't know what it was fed. So I think that's kind of what I bring to the table."
"I can educate consumers and allow them to try our product," she added. "Our product is as good, if not better than those grocery store products. At basically the same price."
Through its website — which Peyton created and maintains — The Herd sells three different boxes: the 10-pound Cowboy Box for $90, which should feed a family of two to three for a month; the 15-pound Rancher Box for $120, which should feed a family of four for a month; or the 20-pound Cattle Baron Box for $150.
Peyton said each box is lined with an insulating layer made from recycled plastic bottles, packed in dry ice, and shipped to destinations as far away as California and Montana in 2-3 days.
"So why would you go to the grocery store when you know where your beef is coming from and we'll deliver it straight to your door," she said.
At the Moses Lake Farmers Market on a recent Saturday morning, Peyton said the family — and it is a family operation with dad Miles, mom Bren, and her younger brothers Brix and Finley — brought a mix of 70 Cowboy Boxes and Rancher Boxes with them and were well on their way to selling them all.
"We're going to sell out today," she said. "When I started this, I thought 'It'll be fine, I get to share my meat with some family friends, maybe a couple of people I don't know.'"
"But our online store has just been," she makes a "poof" sound and motion with one of her hands. "It has exploded."
The mail order business has not completely changed how the Curtis family ranches, Miles said. They still have to sell some cattle to major meat packers like Washington Beef and Tyson Foods. He said he has historically gotten a premium price for his beef over the last five years, and they continue to track the genetics of every animal they raise and sell to see what genes make for better-tasting beef.
"Until Peyton can get every single head sold, we still have to go through Washington Beef or Tyson to get our cattle processed, but this has been a fantastic outlet for us," he said.
Even though she dropped her studies for the quarter, something she sheepishly admits she probably shouldn't have done, to focus on creating the business, Peyton hopes to eventually get back in the classroom and become a veterinarian.
"I'd love to go back down to California because Cal Poly's motto is "Learn by doing" and it's really hard to learn by doing when you're sitting at your kitchen table in your pajamas doing classes," she said.
But right now, she's got boxes of family-raised ground beef, steaks and brisket to sell.
"With the success of this company I may take a quarter off," she said. "My main focus is still building this company and delivering a good quality product to consumers around the Pacific Northwest."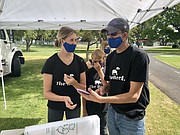 ---