Design work finished on Connell rail improvement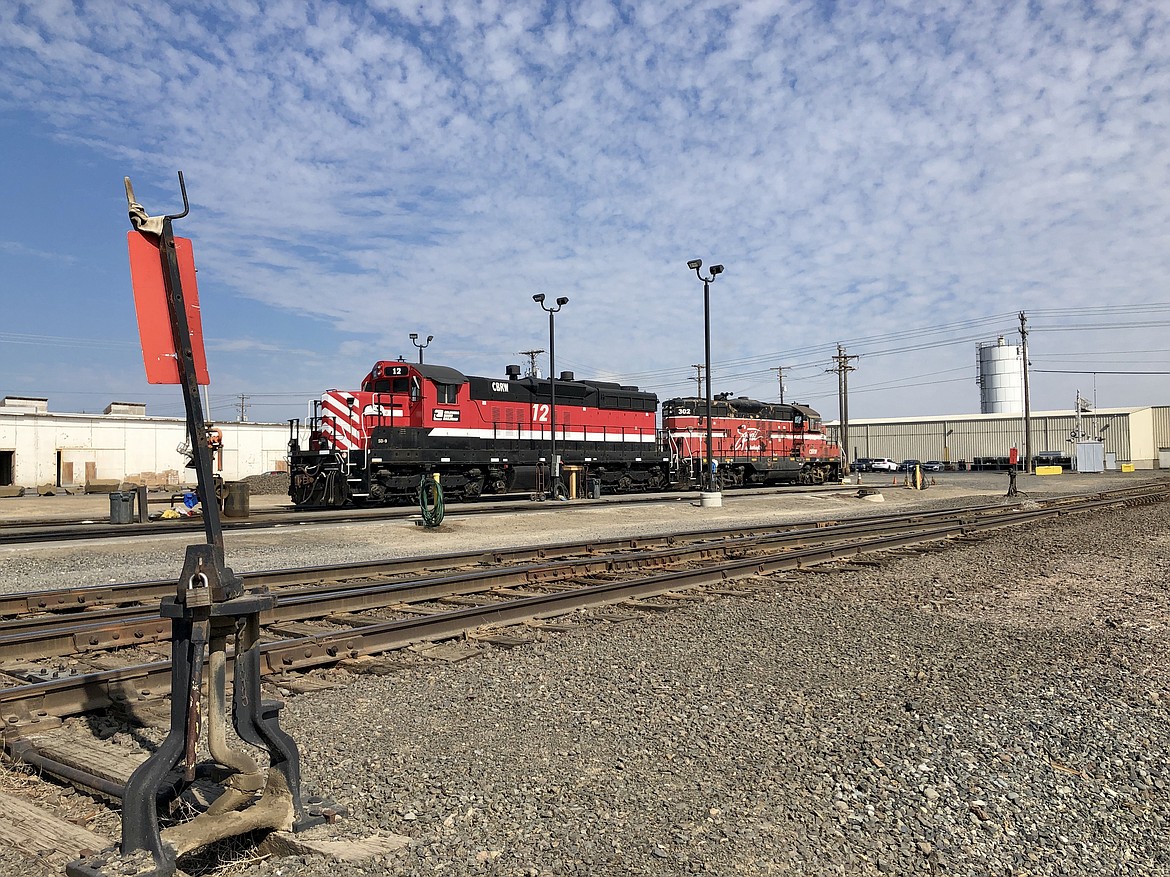 Charles H. Featherstone/Basin Business Journal A pair of Columbia Basin Railroad engines sitting in the company's switching yard in Warden.
by
CHARLES H. FEATHERSTONE
For the Basin Business Journal
|
September 22, 2020 1:00 AM
Design work on the proposed Connell Rail Interchange is finished, according to an announcement from the group backing the project.
According to the Connell Rail Interchange Coalition, the completed design work is needed to secure the bulk of the $28.7 million needed to add several additional parallel tracks a little more than 1.5 miles long each to a curve in the Burlington Northern Santa Fe (BNSF) track as it goes through Connell.
Currently, project backers have $10 million in funding from the Washington State Department of Transportation. The remainder is expected to come from federal and state grants.
"The Connell Rail Interchange was built nearly 100 years ago, and the configuration of the interchange is outdated and inefficient," the group said in a news release. "Consequently, the Connell Rail Interchange needs to be upgraded and improved to accommodate the tremendous growth in rail cargo that is flowing to and through Connell."
The goal of the project is to make it easier to handle long trains in Connell and hand them over to the Columbia Basin Railroad (CBRW) without breaking the trains apart, according to a description of the project from the city of Connell.
Because of the growth in rail traffic, the coalition said the CBRW — which operates around 230 miles of track in Grant, Adams and Franklin counties — is the busiest short-line railroad in the state of Washington, hauling 10,000 rail carloads of agricultural and industrial goods from around 60 Columbia Basin companies to the wider world beyond.
Coalition members include the Washington State Department of Transportation, Grant County Economic Development Council, Adams County Development Council, Port of Moses Lake, Port of Warden, Port of Othello, Port of Royal Slope, Port of Pasco, city of Othello, city of Connell, Moses Lake Chamber of Commerce, BNSF Railway, Columbia Basin Railroad, Washington Royal Line, and Lamb Weston.
Charles H. Featherstone can be reached at cfeatherstone@columbiabasinherald.com.
---