Newhouse farm workforce reform measure passes House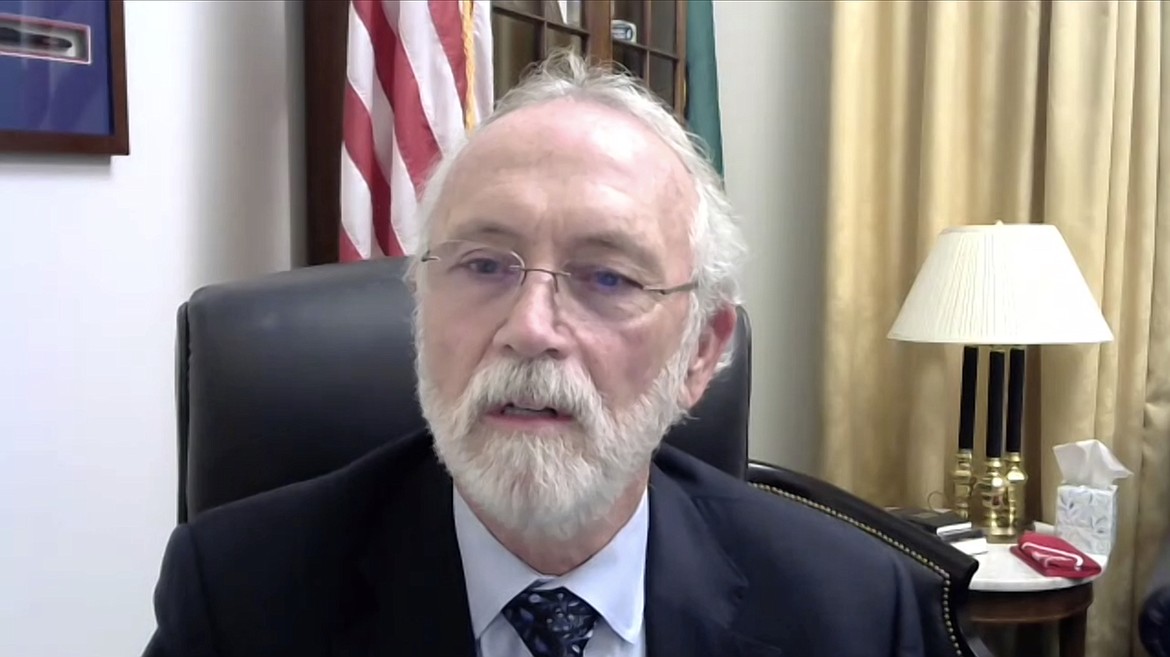 A screenshot of Rep. Dan Newhouse, R-Yakima, during an online press conference in mid-March to celebrate the passage by the U.S. House of Representatives of the Farm Workforce Modernization Act, the first major change to U.S. immigration law since 1986. the measure now goes on to the Senate for consideration.
Charles H. Featherstone
by
CHARLES H. FEATHERSTONE
For the Basin Business Journal
|
April 2, 2021 1:00 AM
WASHINGTON, D.C. — The U.S. House of Representatives in mid-March voted to approve a bill designed to streamline and modernize how farmworkers obtain visas to work in the United States and gives those who can show they have worked for 10 years the ability to apply for permanent resident status.
At a joint press conference following the vote on March 18, Rep. Dan Newhouse, R-Yakima, and Rep. Zoe Lofgren, D-California, joint sponsors of the Farm Workforce Modernization Act, celebrated the measure's passage by noting the measure's bipartisan compromise was the result of years of intense work between legislators, as well as representatives of farm organizations and farm laborers.
"This bill is a labor of love," Newhouse said. "It was negotiated over months, years we should say, and it truly was a bipartisan effort."
Lofgren said the bill, which now goes on to the Senate for consideration, will ensure "stability and dignity" for farmworkers as well as "peace of mind" for the growers who employ them.
"It's been a hard year because of the pandemic, but the food supply was never disrupted. We owe our farmers and farm workers thanks for that," she said.
Among its provisions, the bill will provide farmers already here illegally the ability to obtain work visas if they can show they have worked initially for at least 180 days in agriculture during the prior two years. Qualified applicants will be allowed to apply for five-year renewable work visas, and for those who have worked at least 10 years will have the option of applying for permanent legal status.
The bill will also modernize the H-2A visa program for farm workers, making all filing electronic, expanding the program to year-round farm work, such as dairies, allowing employers to apply once even if they are staggering hiring over several months, and changing how farm worker wages are calculated.
In addition, the bill will provide $1 billion to refurbish existing farmworker housing, expands U.S. Department of Agriculture loan and rental assistance programs, and mandates an electronic verification program "to ensure a legal workforce" in agriculture.
Lofgren said should the bill pass, most of the details — especially how farm workers will show they've been working in the U.S. for 10 years — will be worked out during the agency's rule-making process.
Newhouse said the measure was necessary because many farmers, particular those who grow labor-intensive specialty crops like grapes and apples, simply cannot find enough people in the United States.
"I know growers who would like to hire U.S. workers, but there simply aren't enough people with an interest to work," he said.
Newhouse also said he believes that ensuring there is a legal way to hire immigrants for farm work is "one of the best tools we have to deter illegal immigration."
"This strengthens our national security and food supply chain," he said.
Both Newhouse and Lofgren said the bill's passage would not have been possible without all the support the measure had from both growers and labor groups.
"They have, through their hard work, earned the right to a stable future in the United States," said Teresa Romero, president of the United Farm Workers.
Dave Puglia, president of Western Growers, which represents fruit and vegetable growers in California, Arizona, Colorado and New Mexico, said both farm workers and farmers "deserve better than to live in fear" and demanded quick action on the measure as it goes to the U.S. Senate.
"Inaction is not acceptable. The status quo is not acceptable. The Senate has a duty to take this up," he said.
Newhouse said while "quite a few senators" are interested in the measure, he's going to let the Senate make its own announcements as to who will sponsor their version of the legislation. But both Lofgren and Newhouse said the bill was the product of a long struggle and a lot of compromise, and would be the first major change in U.S. immigration law since the 1986 Immigration Reform and Control Act.
"And that's a signal to the Senate, to farmers and ranchers, that we're ready for real reform," Newhouse said.
Charles H. Featherstone can be reached at cfeatherstone@columbiabasinherald.com.
---