U.S., Canada committed to waging war against Asian giant hornets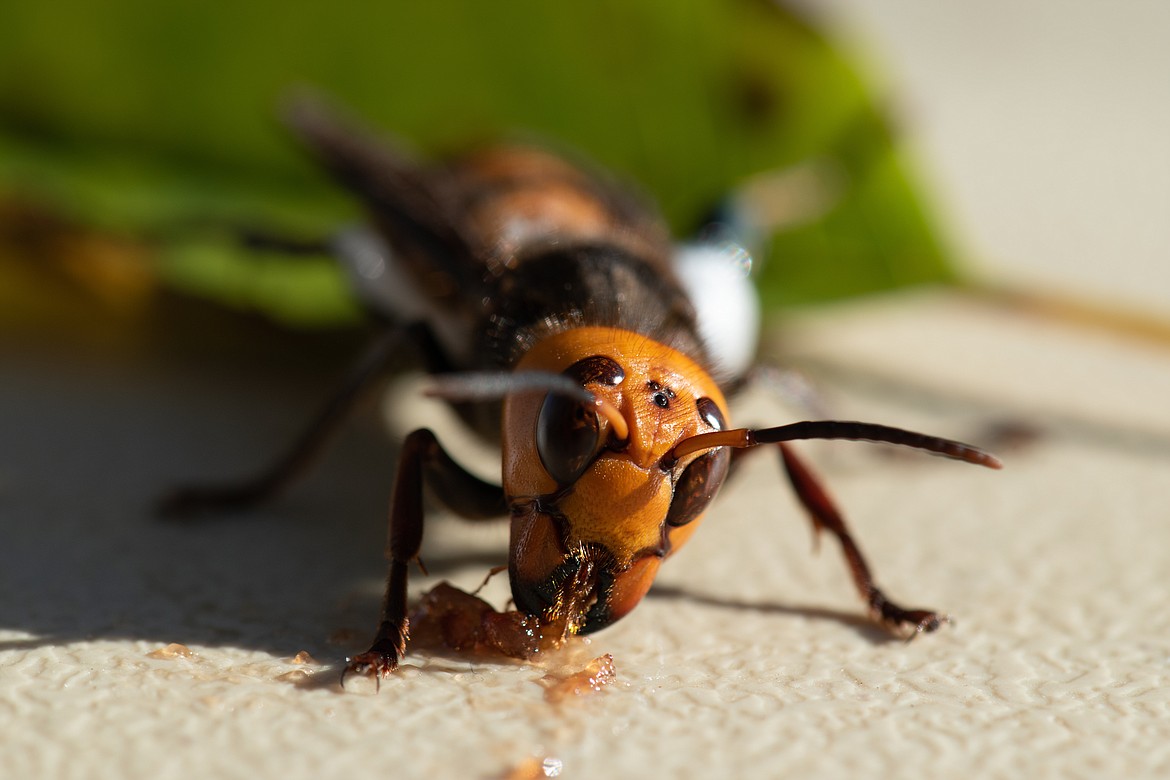 A tagged Asian giant hornet lapping up a fruit mixture last fall as entomologists from the Washington State Department of Agriculture prepare to track it to its nest last fall, which they found and eradicated in late October.
Courtesy Washington State Department of Agriculture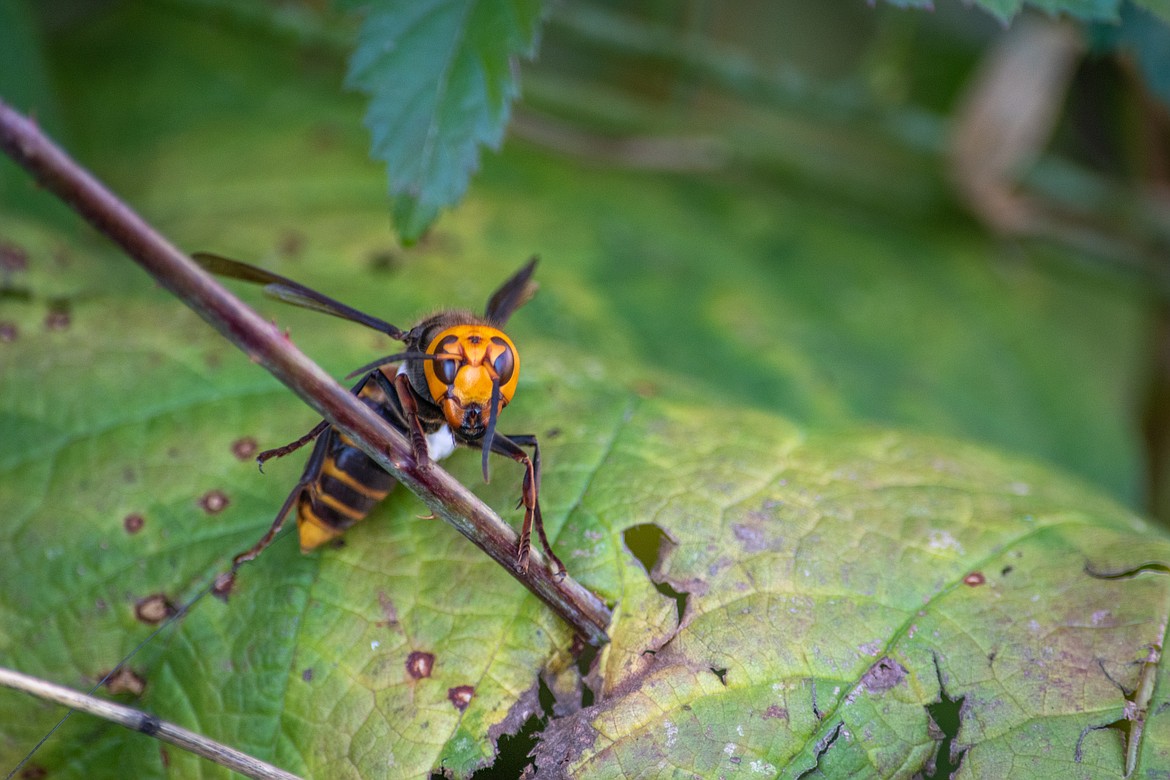 Previous
Next
by
CHARLES H. FEATHERSTONE
For the Basin Business Journal
|
April 9, 2021 1:00 AM
OLYMPIA — As spring approaches, researchers with the Washington State Department of Agriculture (WSDA), the U.S. Department of Agriculture and the British Columbia Ministry of Agriculture, Food and Fisheries outlined some of their battle plans to deal with the Asian giant hornet.
"Every suspected Asian giant hornet sighting should be reported to the WSDA and our Canadian equivalent," said Sven-Erik Spichiger, a WSDA managing entomologist, during an online press conference on March 17. "That cannot be overstated."
The Asian giant hornet, which is endemic to large parts of Asia, lives in hives of several hundred individual hornets and can prey upon hives of bees, which the hornets decapitate before stealing the hive's still-maturing young to feed to their own growing brood. This behavior has earned the Asian giant hornet the nickname "murder hornet," and last October, WSDA researchers (with a little help from the USDA) eradicated a nest near Blaine.
Spichiger said WSDA was going to blanket portions of Whatcom County near Blaine, Birch Bay and Custer with around 1,500 traps — one every square kilometer — and has received offers from local residents who want to put up another 1,200 traps in the area.
"We will add them as needed," he said.
The traps will mostly be baited with orange juice or rice wine, something sweet to attract the hornets. However, Spichiger said researchers dealing with a different infestation in the eastern United States have suggested a 1:1 mixture of brown sugar and water as potential bait.
Spichiger also said the WSDA has finally acquired a good supply of VHF tracking devices, which it will use in place of the Bluetooth trackers the agency used last fall because they have a longer range. And hornet hunters will not use dental floss this year to secure radio trackers to the two-inch-long hornets.
"We will be using radio tags with Kevlar thread," he said. "One hornet chewed right through the dental floss."
It matters, Spichiger said, because no one knows how many queen Asian giant hornets may have survived the winter. Any nest not found would have died out over the winter, with surviving queens absconding to find places to hibernate and then start their own nests in the spring.
In the nest found last fall, Spichiger said there were 500 individual hornets, but around 200 queens.
"We don't know if we got all the queens," he said.
According to Anna Childers, a researcher with the USDA's Agricultural Research Service (ARS), USDA is working with Japanese scientists to look at different kinds of chemical lures and pheromones to draw Asian giant hornets into traps.
ARS is also looking at the way hornets nest, mapping the genomes, and even their gut microbiome to see if there is a possible way to biologically control or eradicate the pests in North America.
"We're trying to understand the diversity within the Asian giant hornet and see if there are any sub-populations in order to know their origin, range and nesting habits," she said.
In fact, the Smithsonian Museum of Natural History is looking at putting up a display on the Asian giant hornet, including a portion of the "nest zero" extracted last fall, Childers said.
While the first Asian giant hornets were found in Vancouver, British Columbia, in the summer of 2019, Provincial Apiarist Paul van Westendorp said there have been far fewer sightings in British Columbia — six, as opposed to 31 — than there were in Washington.
Van Westendorp said those sightings were limited to the Fraser Valley, just north of the border, and the Asian giant hornet would have a hard time finding acceptable habitat if it tried to move into the region's thick pine forests, far from sources of easy food like the valley's beekeepers.
However, van Westendorf noted hornets do have one serious threat — human beings, who on both sides of the border are committed to hunting them down and making sure they don't establish themselves on the continent.
"The pressure of human predation is substantial," van Westendorf said. "I have a high level of confidence we can control this invasive species."
U.S. and Canadian officials are also looking at the possibility two unrelated groups of Asian giant hornets may have arrived in the U.S. and Canada.
Spichiger said a recent genetic study of hornets caught last year near Blaine, Washington, and Nanaimo, British Columbia, in 2019, found the U.S. specimen was more genetically related to hornets found in South Korea while the Canadian hornet was genetically similar to those found in Japan.
And this possibility highlights a problem van Westendorf said the U.S. and Canada will continue to face in a world of global trade. Van Westendorf noted a large hornet found in Vancouver was not an Asian giant hornet but a cousin, and the smaller Asian hornet that has found a secure foothold in Western Europe is a "far more ominous threat."
"What's really important is not to focus on the genetics of hornets, but the separate introduction of the hornets into the region," he said. "We are prone to the future introduction of these kinds of invasive species."
Childers said the genetic differences may not mean very much anyway, since the hornets are a "commodity" in parts of Asia, deliberately cultivated and eaten as a delicacy.
"We need more data to better understand the variation," she said.
But the end goal, Spichiger noted, is the eradication of the Asian giant hornet, which poses a threat not just to honeybees, but also to other pollinators, like native wasps and hornets. And that should be possible, he said, since they will be hard pressed to cross the Cascades or move farther south into Oregon or California. Any giant hornet trying to make a home between Blaine and the Mississippi River would, according to Spichiger, have "a rough life."
"Every year that goes by, we risk losing control," he said. "We may not get them all, but we will get as many as we possibly can."
Charles H. Featherstone can be reached at cfeatherstone@columbiabasinherald.com.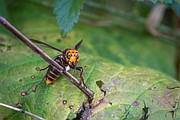 ---