Wenatchee art teacher awarded Apple Blossom commission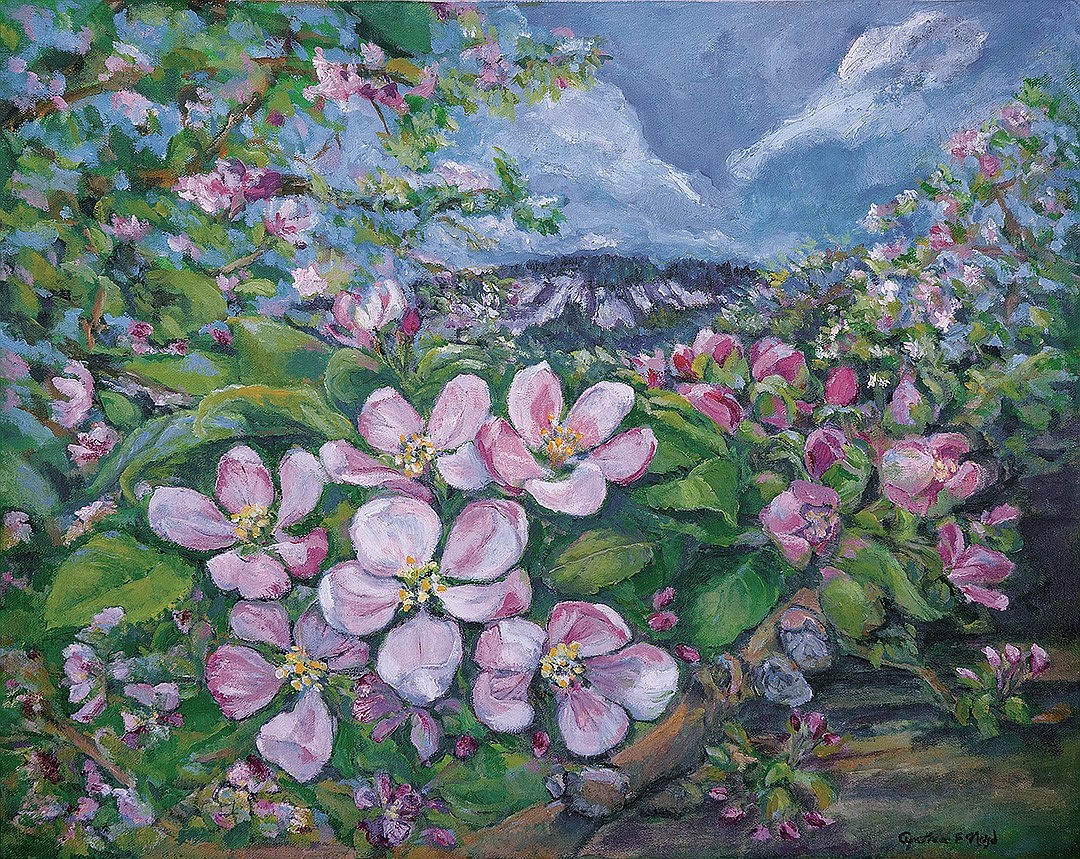 Cyndi Noyd's original poster for the 2022 Washington Apple Blossom Festival.
Washington Apple Blossom Festival/courtesy image
|
December 21, 2021 1:00 AM
WENATCHEE — For Cyndi Noyd, one of the joys of being commissioned to paint the official poster art for the 2022 Wenatchee Apple Blossom Festival was the opportunity to simply be out in the middle of an apple orchard in early spring.
"Basically, I was really excited," Noyd said. "We talked to Stemilt, and I spent 10 hours painting their orchard over three weeks. It was beautiful, the blossoms were red and pink and some were not quite open."
Noyd, an art teacher at The River Academy in Wenatchee and a longtime painter, said the color of the sky in spring is just a little bit bluer and a little bit more intense than it is at other times of the year.
And then there were the bees busy working the apple blossoms that made the whole orchard buzz.
"I was standing not far away and they wanted nothing to do with me," she said. "It was a nice sound."
What Noyd painted was a work that shows Mission Ridge through the branches of an apple tree that reflects the "beautiful landscape" of the family-run Stemilt orchard and gives the viewer a chance to consider all the work involving people, plants and insects that goes into making just one apple.
"This is wrapped up in the whole experience of what's happening there," she said.
Darci Christoferson, the administrator of the Washington State Apple Blossom Festival scheduled to run from April 28 through May 8, 2022, said Noyd was commissioned to paint the work based on her previous work.
"It was up to her what she wanted to do," Christoferson said.
Every year, festival organizers pick a local artist to paint a new post for the festival — a process Noyd said she was involved in for a few years in the early 1990s.
"We looked for local artists to create original pieces of art, fresh work not yet seen," she said.
Prints of Noyd's work are available on canvas at the Apple Blossom Festival website, www.appleblossom.org/artprints, in sizes 8 x 10, 11 x 14 and 16 x 20. In addition, festival organizers are also selling a 500-piece puzzle version of Noyd's work.
"Prints onto canvas look so much better," Noyd said.
---