Cover crops the subject of WSU research project
by
CHARLES H. FEATHERSTONE
For the Basin Business Journal
|
December 26, 2021 1:00 AM
MOSES LAKE — Winter is coming, and another growing season is done.
Wheat fields have long since been scythed and threshed. Potatoes and onions have been carefully stowed in great piles in climate-controlled sheds. Apples and pears sit in bins, alfalfa has been swathed several times and baled, and by the end of the month, combines will have cut the last of the region's corn for feed and for silage.
In fact, it's late enough in the year that even a few of the cover crops will have been plowed under, allowing stubble-covered fields to await spring planting.
According to Andrew McGuire, an irrigated cropping systems agronomist with Washington State University Extension in Moses Lake, cover crops are important for a lot of growers, and they help prevent wind erosion, improve essential soil nutrients like nitrogen, generate additional fodder for animals, and can even control weeds and soil pests like nematodes.
"Most cover crops going in are for wind erosion control," McGuire said.
Which means farmers will often opt for the least expensive seeds of a crop they don't have to manage much, such as winter barley, wheat or triticale. Especially if the goal is to just hold the soil down over the fall and winter, as our sometimes fierce winds whip across the Columbia Basin.
But not always.
McGuire said mustard is popular with potato farmers looking to add nutrients and nitrogen to the soil and as a hedge against nematodes. In fact, McGuire called mustard "green manure," given that it's tilled right back into the soil before potatoes are planted, typically in rotation with wheat.
"After harvesting wheat, nitrogen is low, so you need to fertilize," he said. "Potatoes are the most profitable crops in the Columbia Basin most years."
Doug Collins, a soil scientist and extension specialist with WSU, said he had just finished overseeing a series of three experiments with cover crops on organically grown onion fields near Ephrata, Royal City and Connell. Collins, who is scheduled to talk about the experiments at this year's annual Pacific Northwest Vegetable Association annual conference, said the experiments looked at the differences between planting sorghum x sudangrass — a hybrid of standard Sudan grass — and mustard and which planting dates — Aug. 1 or Aug. 13 — would result in better onion yields the following season.
The goal of the experiment was also to see which cover crop yielded the best animal fodder, Collins said.
"We were feeding goats in Ephrata," he said.
Collins said the sorghum x sudangrass planted on Aug. 1 resulted in a higher onion yield the following year, but also more weeds, while the mustard field grew with such "an amazing canopy" that nothing else was able to grow very much.
The cover crop sown on Aug. 1 also had about 25% to 30% more biomass than the Aug. 13 crop despite only two weeks difference between plantings, he said.
"The late planting was even worse for the sorghum x sudangrass," Collins said.
Collins said he does much of his cover crop research on the west side of the state, where the growing season is longer and where part of the work of a cover crop is to help keep the soil loose and prevent it from being compacted by rainfall.
But Collins said he is looking forward to doing more research on cover crops on organic farms in the Columbia Basin, and is hoping to find some larger farms to work with.
"We're dipping our toe in the water, and there's a lot more interest in more research," he said. "We're talking about some next steps."
Charles H. Featherstone can be reached at cfeatherstone@columbiabasinherald.com.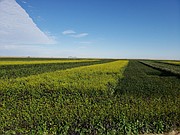 ---