Northwest Hay Expo coming to Kennewick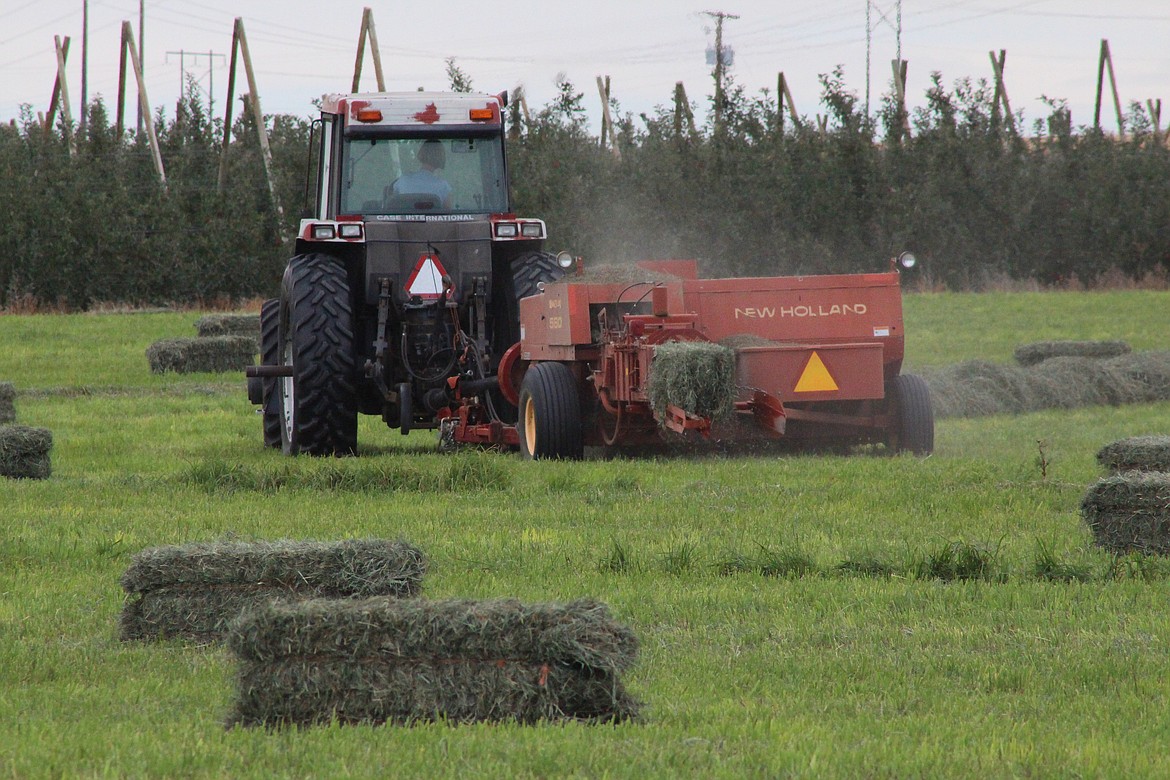 A baler spits out neat bales in a field near Ephrata. The Washington State Hay Growers Association Northwest Hay Expo is scheduled for Jan. 19-20, 2022, at the Three Rivers Convention Center in Kennewick.
File photo
by
CHARLES H. FEATHERSTONE
For the Basin Business Journal
|
December 31, 2021 1:00 AM
MOSES LAKE — The Washington State Hay Growers Association has scheduled its annual conference, the Northwest Hay Expo, for Jan. 19-20, 2022, at the Three Rivers Convention Center in Kennewick.
This year's in-person, two-day conference includes presentations on the state of the hay growing industry, the international trade situation, coping with high fertilizer prices, pest control, and improving soil and plant health, as well as a trade show.
"That's the plan so far, so long as nothing changes. We did not do anything last year," said Andrew Eddie, president of the Washington Hay Growers Association and himself a hay grower north of Moses Lake.
Eddie said this year the conference will focus on trade — much of Washington's hay crop is exported as feed to Asia — and the major increase in input prices for farm chemicals, especially fertilizer, all growers are facing right now.
"And we're going to have to figure out the best way to manage those and see how we can minimize costs while growing the best crop that we can," Eddie said.
Eddie said he expects a lot more corn, wheat and dried beans to be sown in the Columbia Basin given current prices — corn futures for March delivery on the Chicago Board of Trade (CBOT) were hovering around $5.90 per bushel in mid-December, while wheat futures for March delivery were around $7.60 per bushel — and not so much alfalfa or grass hay.
"It's going to be a challenging year," Eddie said. "Hay prices are moderately decent, but there's short supply, so we will see what transpires over the year."
The agenda for the expo's first day, Wednesday, Jan. 19, begins at 8:30 a.m., and consists of the following presentations:
• Paraquat Dichloride – Exploring the New Label, Christopher Sutherland, Washington State Department of Agriculture Compliance Investigator.
• Burn Down Strategies for Alfalfa Weed Control, Earl Creech, Utah State University, Logan, Utah.
• The Blue Alfalfa Aphid (and other aphid pests of alfalfa), Michael Rethwisch, University of California Agriculture and Natural Resources.
• Improving End Use Quality and Tonnage in Hay by Focusing on Plant Health, Cat Salois, The McGregor Company.
• Weed Control in Tiomthy, Earl Creech, Utah State University, Logan, Utah.
• Improving Phosphorus Fertilization When Fertilizer Prices Are High, Dr. Steve Norberg, Washington State University Extension.
• How Much Do I Decrease Potassium Rates When Fertilizer Prices Are High? Dr. Steve Norberg, WSU Extension.
• Pocket Gopher Control Tactics, Dr. Stephen Vantassel, Montana Department of Agriculture.
• Alfalfa Variety Trial Results in 2021, Dr. Steve Norberg, WSU Extension.
• Sensible Soil Health, Andy McGuire.
• Alfalfa in Western Dairy Diets, Mike Brouk, Kansas State University.
The agenda for Thursday, Jan. 20, includes the following:
• Status of Western Forage Industry, Josh Callen, The Hoyt Report.
• International Export Conditions, Jon Paul Driver, Hay Kings.
• Fuel Update, Tina Hampton, Christensen.
• International Trade Dynamics in Hay and Impacts on Markets, Dan Sumner, University of California Davis.
• Markets and Current Supply Chain Issues, Scot Courtright, Courtright Enterprises.
For more information on this year's Northwest Hay Expo, or to register for this year's event, contact Sheri Nolan at the Washington State Hay Growers Association at (509) 585-5460 or snolan@agmgt.com.
Charles H. Featherstone can be reached at cfeatherstone@columbiabasinherald.com.
---