Slow but steady progress in Odessa aquifer replacement work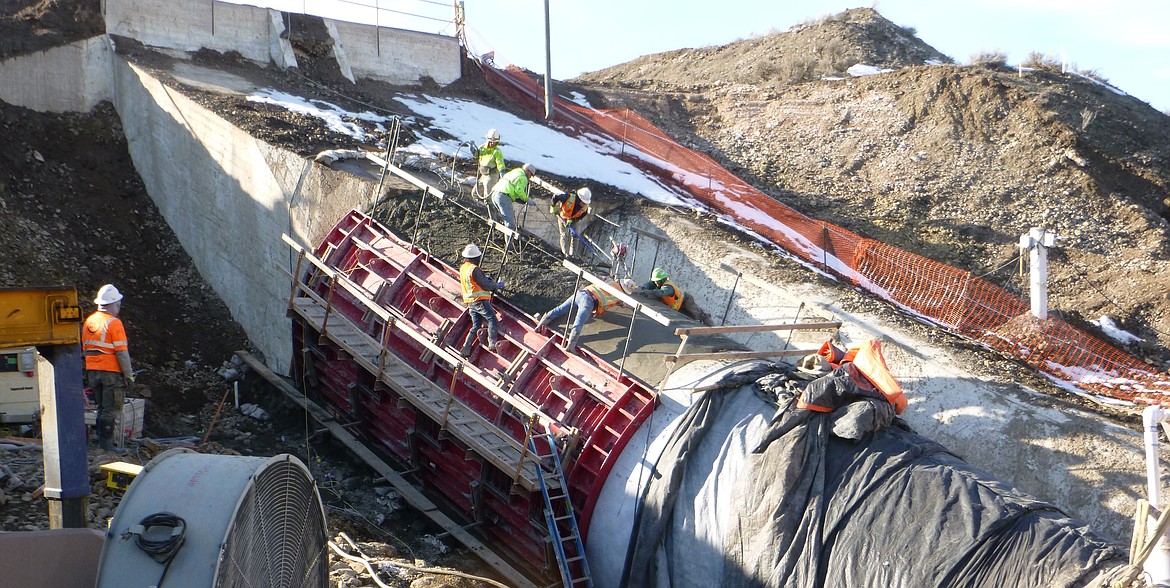 Workers build the massive siphons that will move East Low Canal water into pipes served by the EL 47.5 system.
Courtesy photo
by
CHARLES H. FEATHERSTONE
For the Basin Business Journal
|
February 3, 2021 1:00 AM
SCHRAG — Roberta Hodgson has a simple rule.
"Never turn down water."
It's why the family farm, located a little way south of what was, once upon a time, the town of Schrag, has bought into the EL 47.5 water system. Named for its distance from the start of the East Low Canal, the EL 47.5 system includes over seven miles of pipes, six pumps and a dedicated pump house. It is designed to deliver water to around 8,500 acres of what is now either dryland or well-irrigated farmland.
Deliveries, after some delays, are expected to begin in April 2021.
"They've tested the system, and worked the kinks out," Hodgson said. "We made sure our own pumping station worked, so I'm pretty confident we will get water in 2021."
The goal is to replace the groundwater drawn from wells sunk deep into the Odessa Aquifer.
"Our farm is in a very dry area of the state, and we're dependent on rain to grow anything, so any water is welcome," she said.
Hodgson said her family farms about 5,000 dryland acres and another 900 acres in five irrigated circles. With the recent retirement of a farm manager, Hodgson said the family is basically going to lease out most of its land. But the expectation that EL 47.5 water is going to flow this spring means that some different things — potatoes, bluegrass — can be grown in those irrigated circles, she said.
The EL 47.5 is the first of nine tributary irrigation systems being built to deliver water to 87,000 acres across Grant, Adams and Lincoln counties. It's an area that was originally included in, and still formally is part of, the 1.1 million-acre Columbia Basin Project. But the area was left high and dry after Congress canceled federal funding for the East High Canal in the early 1970s.
Tired of waiting for the water, farmers in the region got permits and drilled the first irrigation wells in the 1960s. But with every turn of a pivot, water in the Odessa Aquifer dropped, forcing wells deeper, making it more costly to pump water and endangering the water supplies of a number of small towns and cities reliant on Odessa Aquifer water to slake the thirst of their residents.
"The power costs of deep irrigation are substantial," said Steve Connors, president of Skone and Connors, a major grower of potatoes and onions in the area being served by the EL 47.5. "The drawdown of water really affects population centers. All of this water that people drink comes out of the aquifer."
Columbia River water delivered through canals and pipelines is also more reliable and will allow for better crop rotation patterns, Connors added.
According to Craig Simpson, secretary-manager of the East Columbia Basin Irrigation District (one of three big irrigation districts that distribute Columbia Basin Project water to farmers and others across the region), the projects are intended to get water to places that would have been served by the East High Canal had it been built.
"Everything we're doing is coming off the East Low Canal," Simpson said.
In order to make sure there would be enough water for everyone who needs it, Simpson said that 44 miles of the East Low Canal had to be widened, a number of siphons to pull water out were replaced, two new siphons were built, and a number of bridges across the canal were or will have to be replaced.
Paying for it has been another matter, however. With the Columbia Basin Project, the federal government paid for much of the infrastructure up front, with many of those costs recouped as farmers bought water for irrigation.
"This is not without controversy," Connors said.
However, with the new tributary systems, studies and engineering work are funded by state or federal grants, bonds floated by the irrigation district, or directly by the farmers themselves.
"The upfront cost to us was putting in the pumping station to get water to our circles," Hodgson explained, noting that her farm also had to modify its distribution system.
However, Hodgson said delays in the canal meant that the family had to wait to the last minute to decide what to plant in spring of 2020, and literally sink $10,000 into drilling a well deeper because it was "pumping sand."
"It cost us a lot that it's been delayed as much as it has been," she said.
Currently, the 47.5 system is complete, and money has been included in the Washington state capital budget to fund a study for the 22.1 — which is planned to deliver water to farmers northeast of Moses Lake — and the 11.8 systems. Simpson said systems are also planned at canal "mileposts" 40.2, 54, 73.3, 86.4, and a double-branching tributary system at 79.2.
In fact, farmers along the proposed 79.2 system are circulating a proposal for a two-pipe system that will deliver East Low Canal water to 11,180 acres on 17 farms, allowing local farmers to retire 22 wells. The system would cost roughly $35 million for both the pipe system and farm distribution, with the bulk coming from the East Columbia Basin Irrigation District.
The EL 47.5 cost $45 million, "give or take," Connors said, with the total cost of everything envisioned estimated at around $205 million.
But Simpson said it really is up to the landowners to determine what the tributary systems will look like. Or even where they will be.
"What we've envisioned right now is really dynamic," he said. "Landowners could propose where they want to receive a service, and we leave that open to the landowners."
Even as these lands to the east of the East Low Canal are added to the Columbia Basin Project, Simpson said the total under irrigation will top out at only 750,000 acres — well short of the 1.1 million acres allowed for the whole project.
Which means that despite losing congressional funding 50 years ago, there's still a possibility that the East High Canal will someday be built.
"The East High Canal is not dead, not really," he said. "Ultimately, we will need more domestic food supply. We have ample land and water in the Columbia River."
---