Moving potatoes a labor of love for Othello company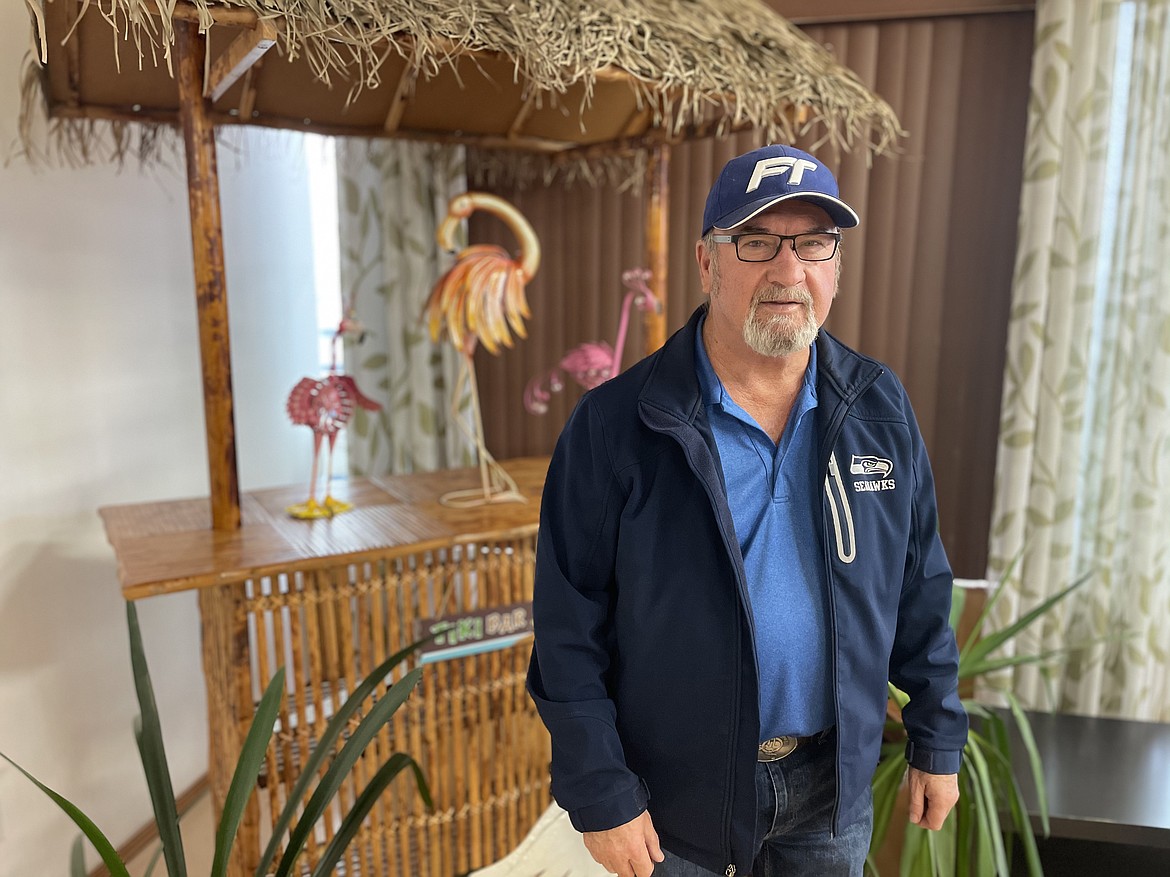 Hector Garza, founder and owner of Flamingo Trucking, at the little "Tiki Bar" in the company's lobby.
Charles H. Featherstone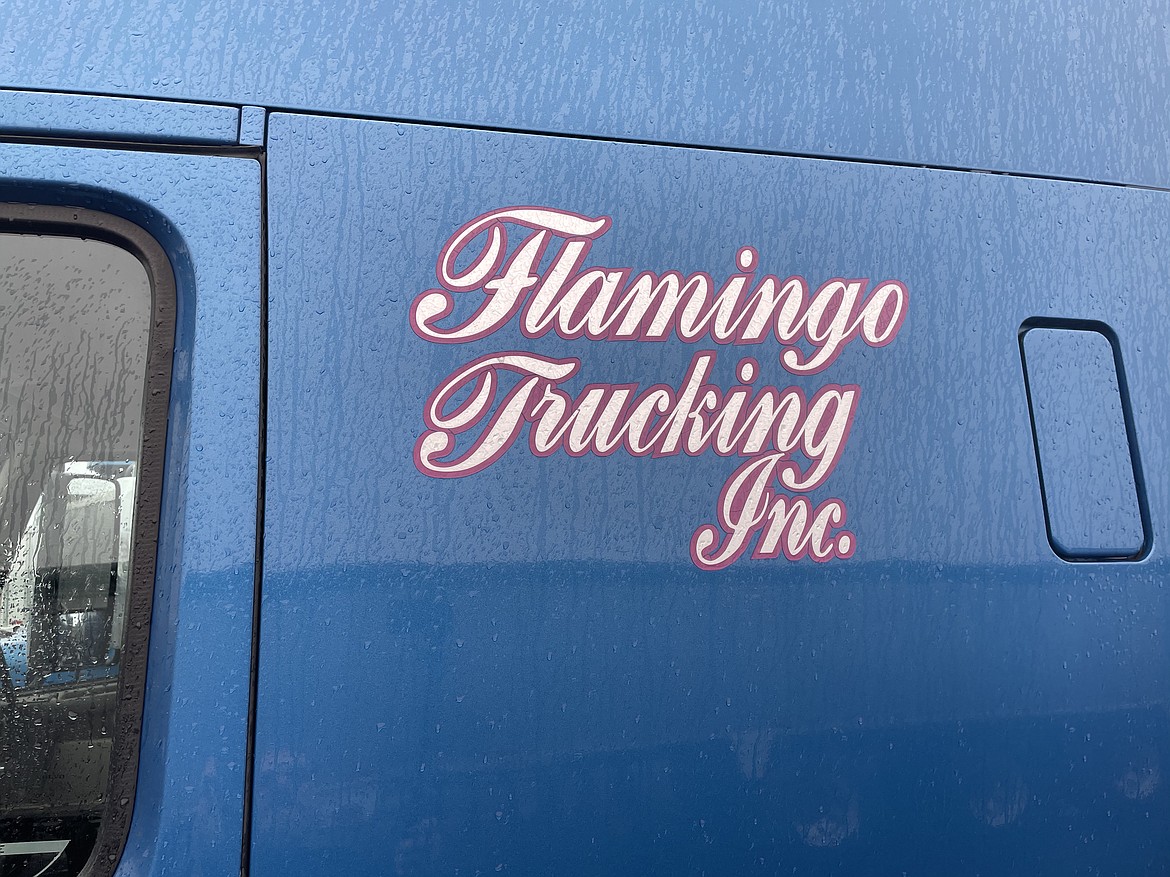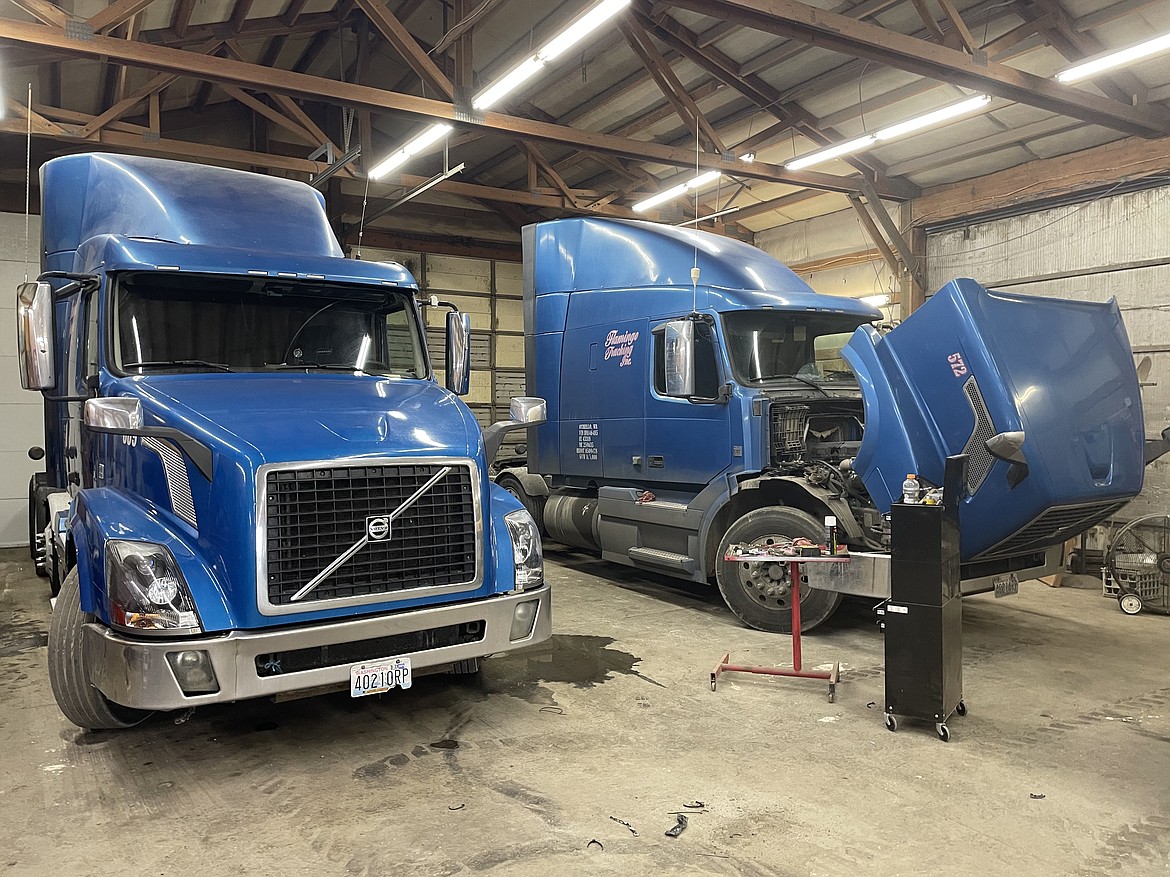 Trucks sitting for repair work inside Flamingo Trucking's repair bay.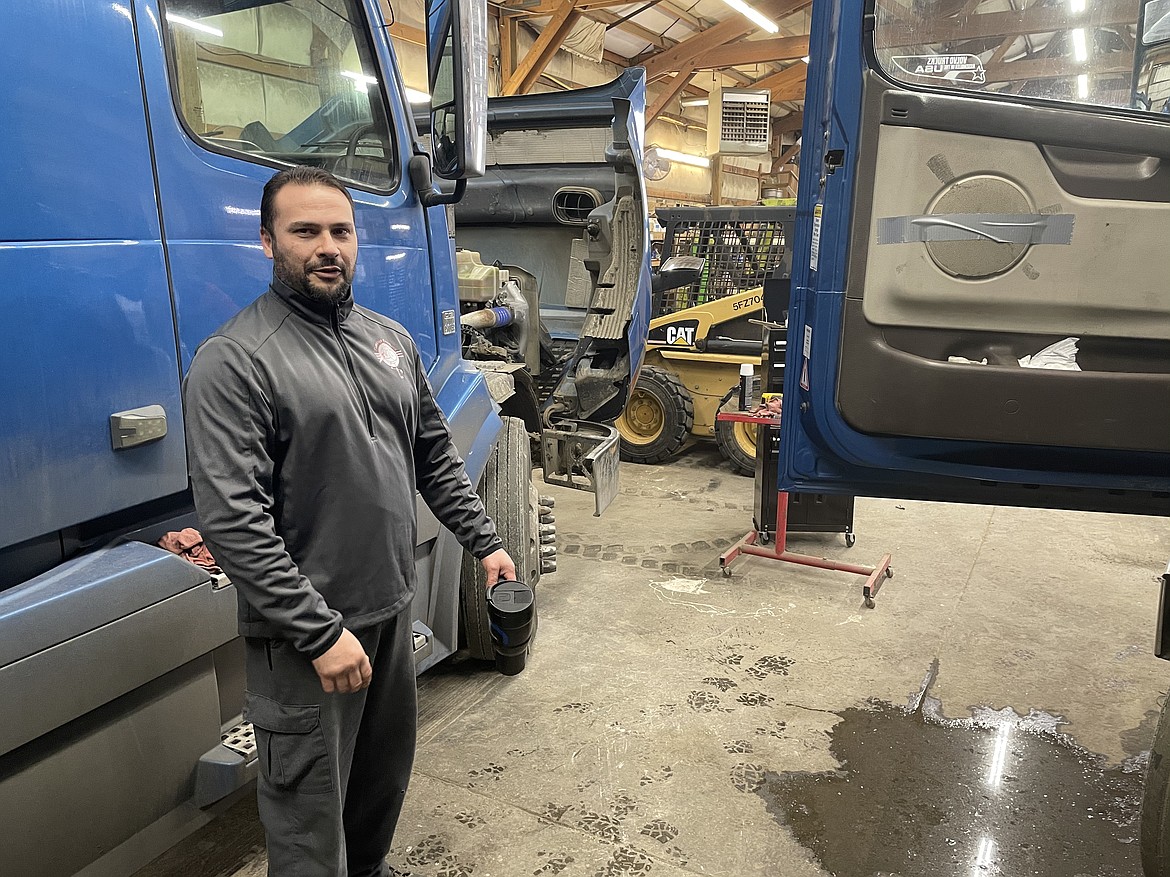 Pete Garza, fleet manager of Flamingo Trucking, showing of the inside of one of his truck cabs.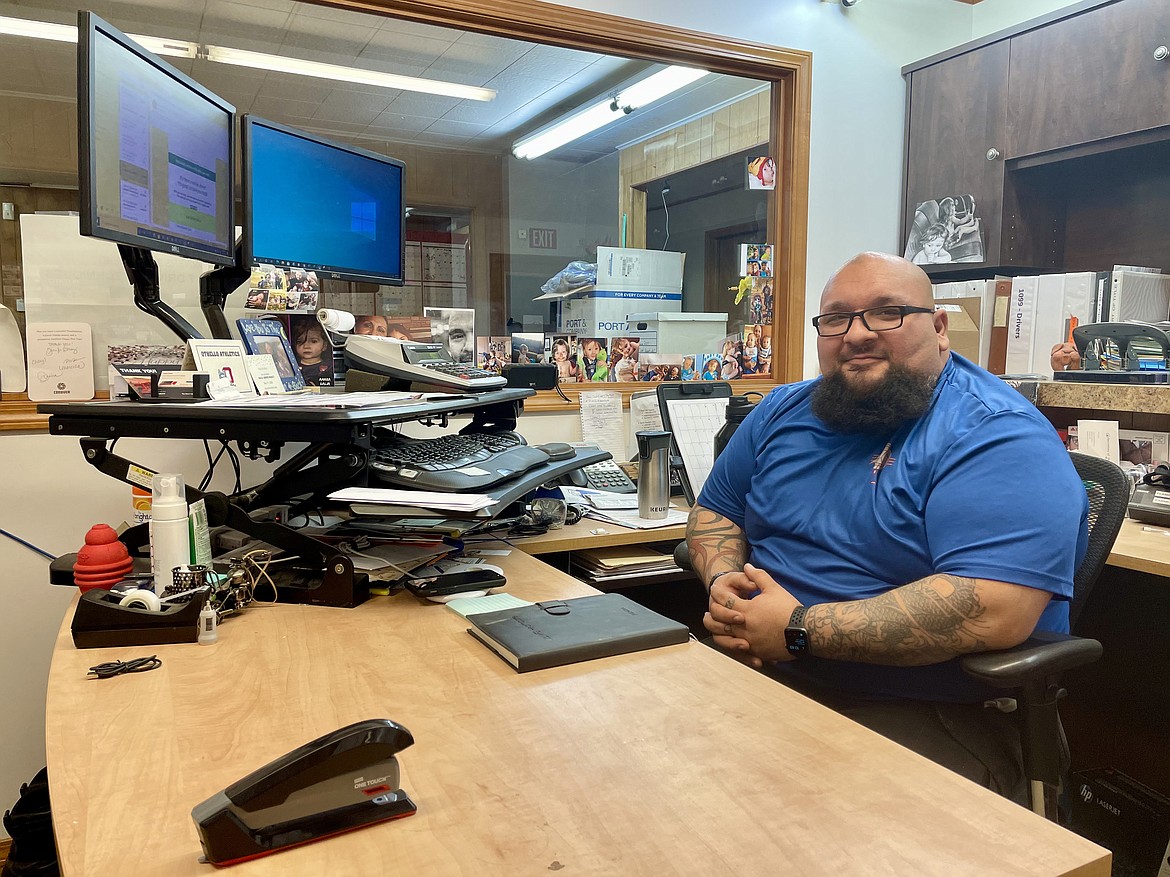 David Garza, operations manager of Flamingo Trucking in Othello, at his command center, where he dispatches and keeps track of Flamingo's trucks and equipment.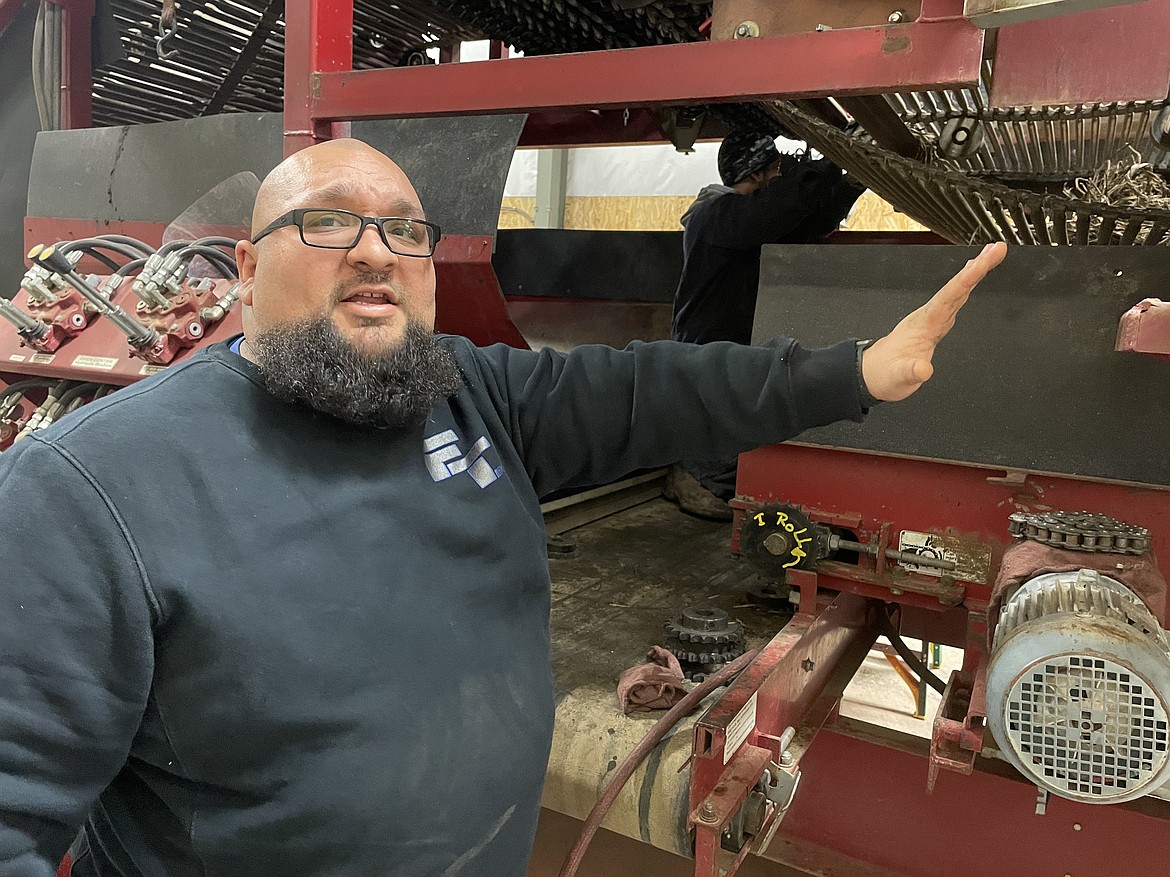 David Garza, the operations manager of Flamingo Trucker, shows how the company's custom eliminator works as Adrian Villareal works to keep the machine repairs.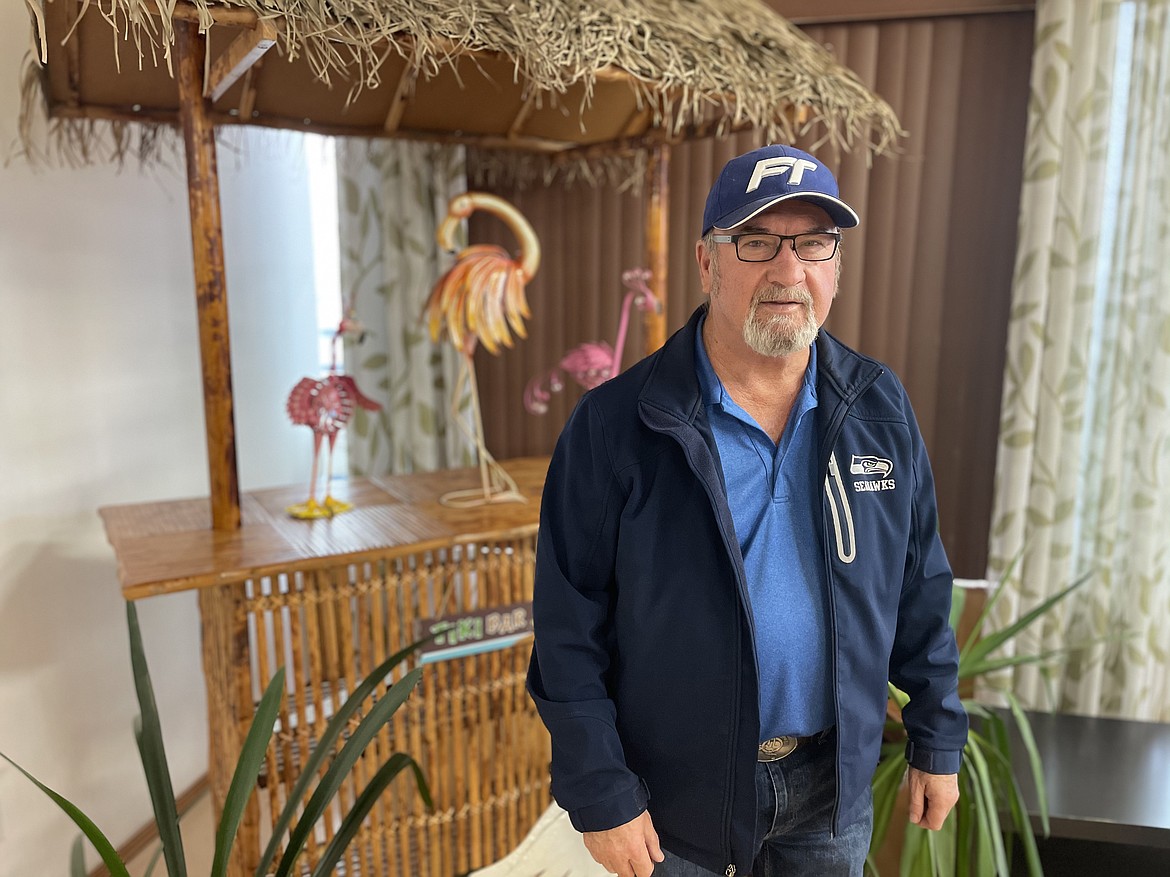 Hector Garza, founder and owner of Flamingo Trucking, at the little "Tiki Bar" in the company's lobby.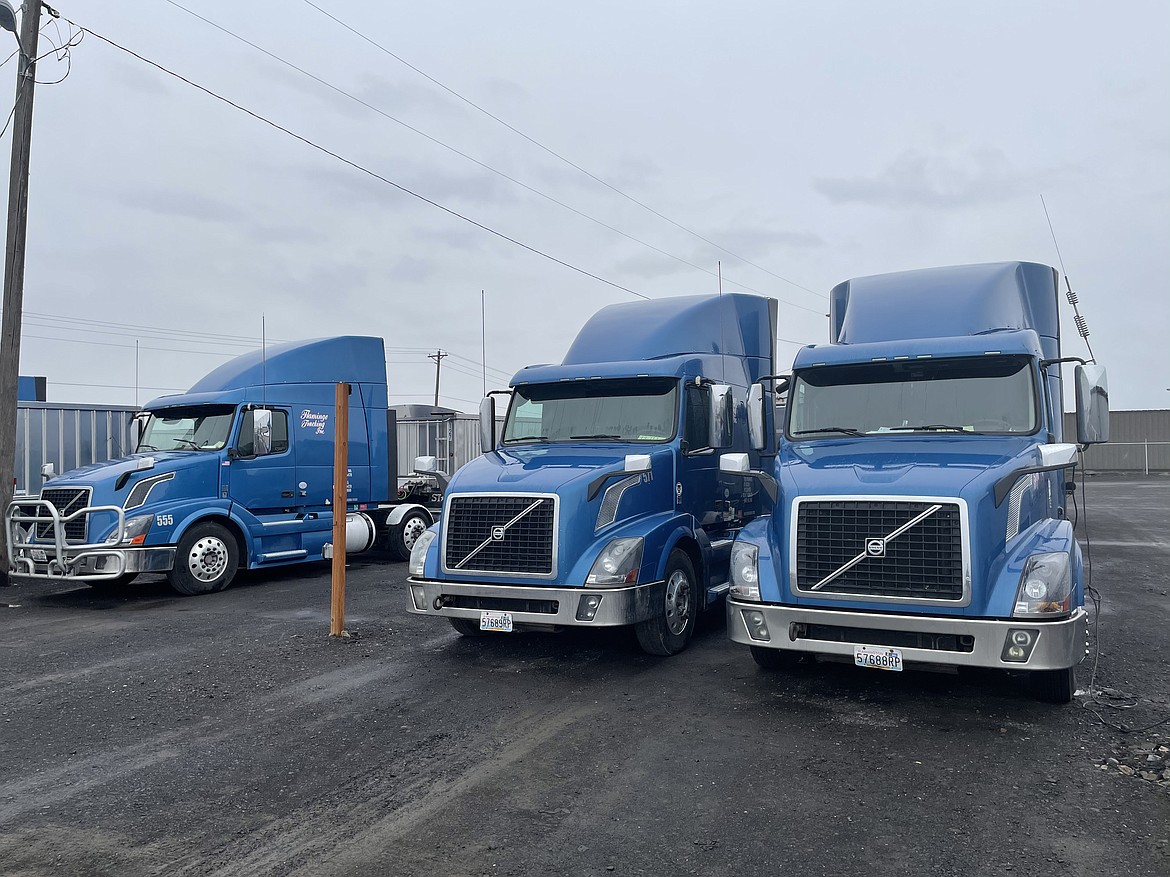 Previous
Next
by
CHARLES H. FEATHERSTONE
For the Basin Business Journal
|
January 21, 2021 1:00 AM
OTHELLO — It all started out in 1985, with one truck as Hector Garza Trucking.
There was, however, a problem — the name.
"There were four or five Hector Garza Trucking companies," said Hector Garza, founder and owner. "We got a lot of headaches involved in that."
So, as a way to distinguish himself from all the other Hector Garza Trucking outfits in the state of Washington, Garza renamed his company — Flamingo Trucking.
It's kind of a pun, in English, on his last name.
"Flamingo is, in Spanish, a garza," he said. "That's how I came up with Flamingo Trucking."
What began as a small, all-purpose trucking outfit over 35 years ago has become a growing family business with 27 trucks, 14 drivers, and a staff of mechanics and welders. The company now devotes itself largely to hauling potatoes and onions for food processors like McCain Foods USA and SVZ USA Inc. in Othello and Skone & Connors Produce in Warden.
And with the $300 million expansion of McCain Foods expected to complete by the end of 2021, it is expected to more than double McCain's processing capacity. As the contract trucking company for McCain, Flamingo Trucking is set to grow massively, as well, as the company takes on new trucks, hires new drivers and buys all of the potato handling equipment it will need to haul potatoes into and out of storage to meet the increased demand for hauling by McCain.
"McCain Foods is our bread and butter," said David Garza, Hector's son and Flamingo's operations manager. "It's going to be a big leap for us, and a big leap for McCain's. They're putting a lot of faith in our company to come in and do this job."
Right now, David said, Flamingo moves around 35 to 40 30-ton loads of potatoes every day for McCain — about 2.3 million pounds of potatoes daily. When McCain's expansion is finished, David expects to haul anywhere from 80 to 115 truckloads every day.
That's around 5.9 million pounds of potatoes. Every day.
"McCain's will be doubling, and we'll be doubling if not tripling our employee base," David said. "Essentially when this happens, our company will be creating anywhere between 50 and 80 jobs."
It's been a role Flamingo has had, with the exception of a few years in the 1990s when McCain Foods tried to establish its own trucking company, since the 1980s. And it has given the company the ability to both focus its core business — David said the long-haul container trucking business was handed over to another family member in mid-2020 — and expand its operations into not merely hauling potatoes, but handling them as well.
It's a process David said is called "hogging" or "scooping." And it means Flamingo is having to get familiar with running and maintaining the huge machines — eliminators, pilers, tables, scoopers and pups — that are used to move, clean and store potatoes. Already, a giant, nearly 500-volt Spudnik custom eliminator sits in one of Flamingo's repair bays as workers slowly go over it to make sure it will be ready for fall.
Flamingo started moving potatoes into and out of storage for McCain this year, in fact.
"It was our first storage," said Pete Garza, David's brother and the company's fleet manager.
"And they had no problem with it," David added. "There was no bruising, and no rot, and that's stuff that just happens."
In fact, David said Flamingo's storage this year was marked on a white board with "A.O.K." and a "big smiley face" because it was so well maintained.
"That felt really good," he said.
The COVID-19 pandemic, and the response, put both McCain Foods' expansion — and Flamingo's expected expansion — on hold.
"They told me in April to stop buying everything, and I think about June, they called me and said we really want you to do this," David said.
All the work for McCain means Flamingo's drivers are having to learn an additional set of skills as they haul what David calls "raw freight."
"Driving a truck is driving a truck. Over the road is over the road," he said. "Unless you're dealing with liquids, if you're hauling fuel, or milk, or something along those lines, that's the only real difference that you're going to get."
Flamingo drivers need to learn how to drive on dirt and mud, and especially how to load a trailer, because drivers will supervise both the loading and the unloading of 30 tons of potatoes.
David said a typical truck trailer is already loaded — usually by professional loaders who know how to arrange cargo and pack a semi-tractor trailer — so all a driver has to do is check to make sure the weight is correct on the paperwork.
"But these raw freight guys, they're in the fields and they're in the storages and they're directly manning the machines that load their trailers," he said. "Each trailer is a little different. So, they've got to learn their equipment."
Because even as each trailer is mass produced in a factory, they are also all a little bit different. Some may have been repaired or modified, or just made non-standard, Pete said. Potatoes and onions need to be spaced out evenly depending on the trailer, and the load might need to be distributed differently if it contains more rocks and dirt than usual.
"You can get yourself in a pickle if you overload those suckers. Because they take a lot of weight," David said.
"It takes technique, and that's all part of the training," Pete added.
But one of the most important skills a driver will need is learning how to back a giant truck and trailer straight and true into a storage shed with a door that may only be 14 feet wide. It's something Flamingo tries to train its drivers to do, even those who have had their commercial driver's licenses for many years.
"Trailers hold anywhere from 30 to 32 tons of potatoes," Hector said. "It takes a lot of coordination to get them down the road and back them into the storage, and sometimes the storage is 300-something feet long. If the potatoes are way in the back, the driver has got to back all the way in."
"It takes skill," Pete added.
It's work all of the Garzas say they like doing.
"I love doing this stuff," David said as he sits in the office that is his command center. "You've got to love what you do to do it efficiently, and we've been very efficient with what we've been doing."
All told, David said Flamingo is not only going to be running trucks 24 hours per day once the McCain Foods expansion is complete, but 11-12 giant storage sheds for the company, as well as another 20-22 for farmers in the region.
And Flamingo will be hauling potatoes from across the Columbia Basin, as far afield from Othello as Quincy, Lind, Marlin, Odessa and even Connell.
"We're running a good operation, we've got a good setup," David said. "So we're all over the place getting spuds."
"It will keep us busy," Hector added.
Charles H. Featherstone can be reached at cfeatherstone@columbiabasinherald.com
---