Moses Lake Roundup Association gears up for return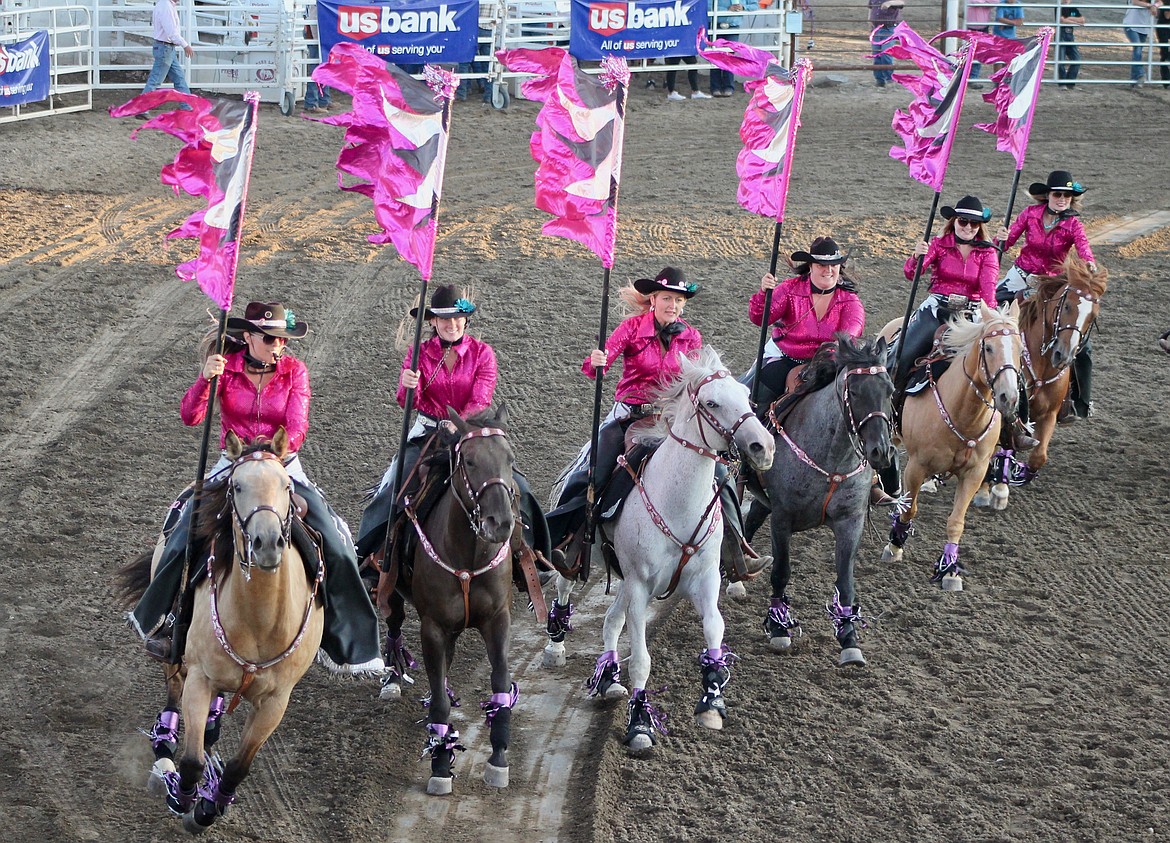 The flag team makes its way around the arena between events at the Moses Lake Roundup Rodeo in August 2019.
File photo
by
CASEY MCCARTHY
For the Basin Business Journal
|
July 4, 2021 1:00 AM
MOSES LAKE — After missing out on last season, the Moses Lake Roundup Association is preparing for the 78th annual Moses Lake Roundup Aug. 17-21, during the Grant County Fair, at the Grant County Fairgrounds, 3953 Airway Drive NE.
Rodney Rosin, president of the Moses Lake Roundup Association, said the committee met June 8, solidifying plans to host the rodeo this summer. Rosin said the committee is making concessions for the "best possible rodeo."
"Everyone has their heart into a great rodeo, they all love it," Rosin said. "We have people who are ex-rodeo people, we've got bull riders, we've got bronc riders, most everybody has dabbled in something to do with rodeo and they enjoy it."
Rosin said for now all plans are moving forward. He said the rodeo this year will be business as usual, with the typical events, such as bareback riding, steer wrestling, saddle bronc riding, tie down roping, women's breakaway roping, team roping, women's barrel racing and, of course, bull riding.
A new addition this year is a second day for the Demolition Derby, now scheduled for Tuesday and Wednesday before the rodeo with time trials set to begin at 6:30 p.m.
Rosin said adding a second day of Demolition Derby is something that's been bounced around for a while and was a decision that didn't come lightly.
"We have upgrades we want to make to the rodeo grounds, so this year we saw it as an option since everybody's been locked up for the last year," Rosin said. "This was an option to bring something fresh to the rodeo program and we make a little bit of money on the side, as well."
Rosin said most everyone involved thinks the venture will be worthwhile, but the association will judge after the event whether to continue the second day of the demo derby in the future.
For now, he said work days will be set to get the grounds fixed and cleaned up for the August event. Rosin said the planning process consists of getting required licenses, Professional Rodeo Cowboy Association permissions and other approvals in place before the event.
In his third year as president, Rosin said his intention is to make this the best possible year he can after missing out on a chance in 2020.
"I'm excited, I just love watching rodeo so I'm excited for that," Rosin said.
2020 and 2021 Moses Lake Roundup Queen Mykiah Hollenbeck missed out on most of last year's events, with most of the major rodeos canceled. She said there were a few parade opportunities, including one around Ritzville last summer.
Hollenbeck was re-elected as Roundup Queen for 2021 and said her event schedule already took off.
"It's like they crammed two years into the next six months," Hollenbeck said. "But it's good, I was in Grand Coulee last month, Coulee City a couple weeks ago and lots of parades and coronations to go to. It's been good."
Hollenbeck said it felt good getting back into the swing of rodeos and learned to never take any of them for granted after having a year off. She said she's been glad to get back to her duties as queen, promoting the sport of rodeo, the western way of life and the Moses Lake Roundup. The support behind her with her Queen board and the Roundup committee has been immense, she said.
She said she grew up around horses, showing animals at the Grant County Fair and always had the dream to run for rodeo queen. Hollenbeck accomplished that feat first in 2017, being crowned Miss Rodeo Othello and falling in love with the process.
For more rodeo information and tickets, visit https://moseslakeroundup.com.
---