Othello Rodeo comes back in mid-September
by
Rachal Pinkerton, For the Basin Business Journal
|
July 10, 2021 1:00 AM
OTHELLO — After its cancelation last year, the Othello Professional Rodeo Cowboys Association (PRCA) Rodeo will return this year. As usual, there will be a rodeo and demolition derby.
"We're planning on doing a rodeo and having just as good a rodeo as we do every year," said Paula Robertson, Othello PRCA Rodeo Association secretary. "We're excited to put on a rodeo."
The 2021 rodeo will be Sept. 17 and 18, with the Demolition Derby on Sept. 15. The feature again will be the special acts visitors to the Othello PRCA Rodeo expect each year.
Because of the cancellation of her rodeo last year, Brianna Kin Kade will continue as queen, along with her horse, Bro.
"She has been going out of state to rodeos and has been trying to fit in some small visits that area allowed," Robertson said. "She's found a few more events to go to, not just our normal rodeos. She has been actively going to parades. She seems really excited for this year."
While the rodeo event itself will be the same as years past, there will be some modifications made with COVID-19 in mind. Those include handwashing stations, social distancing and possibly a limit on the number of demolition derby cars that can participate. Robertson said precautions will be based on the current COVID-19 regulations in place at the time of the rodeo.
One of the biggest challenges for the Othello PRCA Rodeo is getting back into the rhythm of the rodeo.
"We're getting back into the swing of things," Robertson said.
While last year's rodeo had to be canceled due to the COVID-19 pandemic, the association was allowed to have the annual straw maze.
"It helped out with our (financial) concerns," Robertson said. "Our volunteers are up; our sponsors are up. We benefited without having a rodeo. We're not as hurt as we could be."
Last year was not the first time the rodeo didn't happen. The rodeo was not held in 1959 due to construction of new rodeo grounds. The Othello PRCA Rodeo has been in existence since 1948, when it was created to give Othello a fall celebration. The Othello PRCA Rodeo Association began running the event in 1952.
Anyone wishing to participate in this year's Othello PRCA Rodeo or Demolition Derby can submit their entries during the month of August up until the time of the event. More information can be found at othellorodeo.com.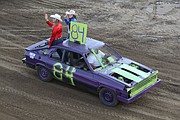 ---