Jamie Jess: Star-Spangled rodeo mom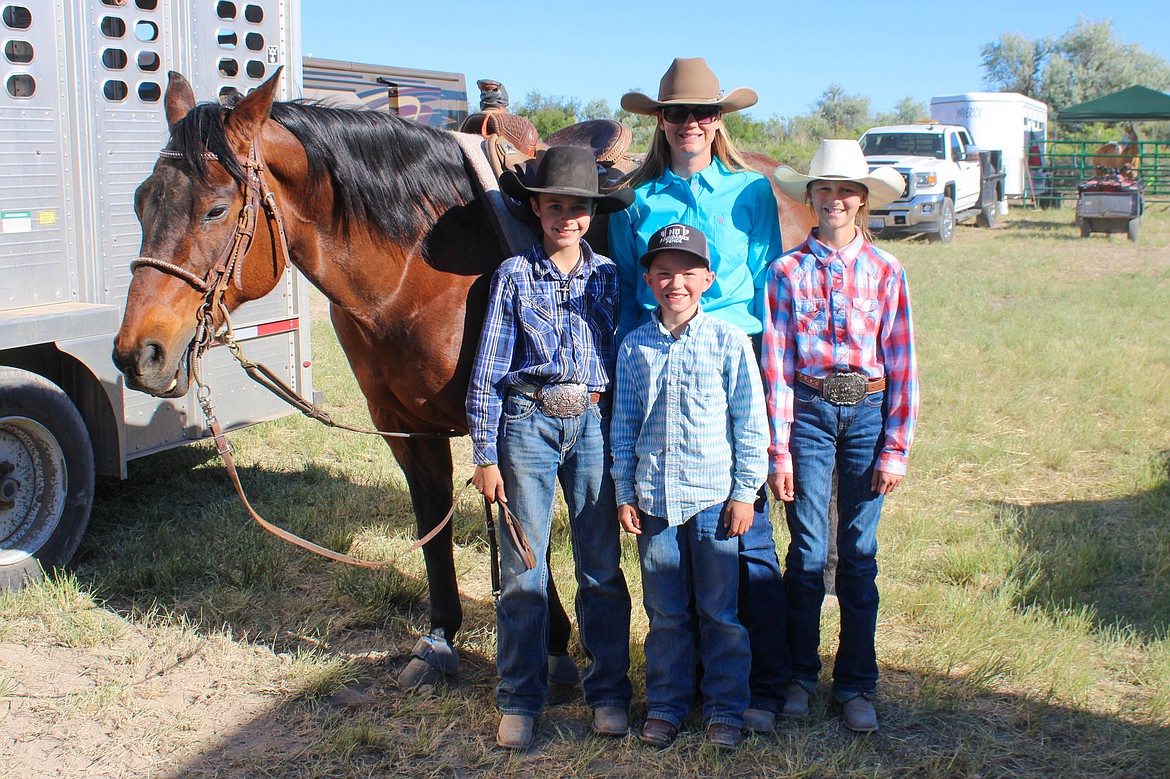 Jamie Jess stands with her three children, left to right, Coy, Cooper and Blayce.
Sam Fletcher/For the Basin Business Journal
by
Sam Fletcher, For the Basin Business Journal
|
July 22, 2021 1:00 AM
Every professional rodeo starts with the Star Spangled Banner – not just the anthem – but a horse and rider waving it proudly across the stadium grounds.
For the past few years in the Columbia Basin, this has been the honor of Coulee City resident Jamie Jess, a Women's Professional Rodeo Association member and president of the Last Stand Junior Rodeo.
Raised in Ephrata, Jess comes from a family of dairy farmers off Dodson Road, she said. While she's been competing in rodeos since she was young, it wasn't always her passion.
"I actually wanted to race dirt bikes," she said. "They said, 'No,' and they bought me a horse."
Jess continued to compete in professional rodeos as a barrel racer, breakaway roper and team roper.
Breakaway roping is like calf roping, but the calf isn't thrown or tied. Lasso secure, Jess halts her horse and ties the rope to the saddle horn with a string. Then, she pulls the rope tight until the string breaks, and the run is over. Fastest wins.
Team roping is the only event where men and women can compete, together or against. One rider ropes the front of the steer, one the back. The front rider, or header, wraps the rope around the saddle horn and turns the steer to the left, while the heeler ropes the hind feet.
Jess doesn't specialize, she said.
"I like them all. I do. I really truly do," she said. "There's not one that's better than the other to me."
Ten years ago, Jess and her family moved to Coulee City and she joined the rodeo board, she said.
Of all her time competing, every proud moment she thinks of is triumphed by memories of her three children, she said, 12-year-old twins Blayce and Coy and her 7-year-old son, Cooper.
She's most proud watching them compete and do well, she said.
"Now it's their turn," she said. "It's their turn to see them go down the road, and their turn to win and just grow in the sport."
---