Cherry growers forecast 'good' but not record harvest for 2021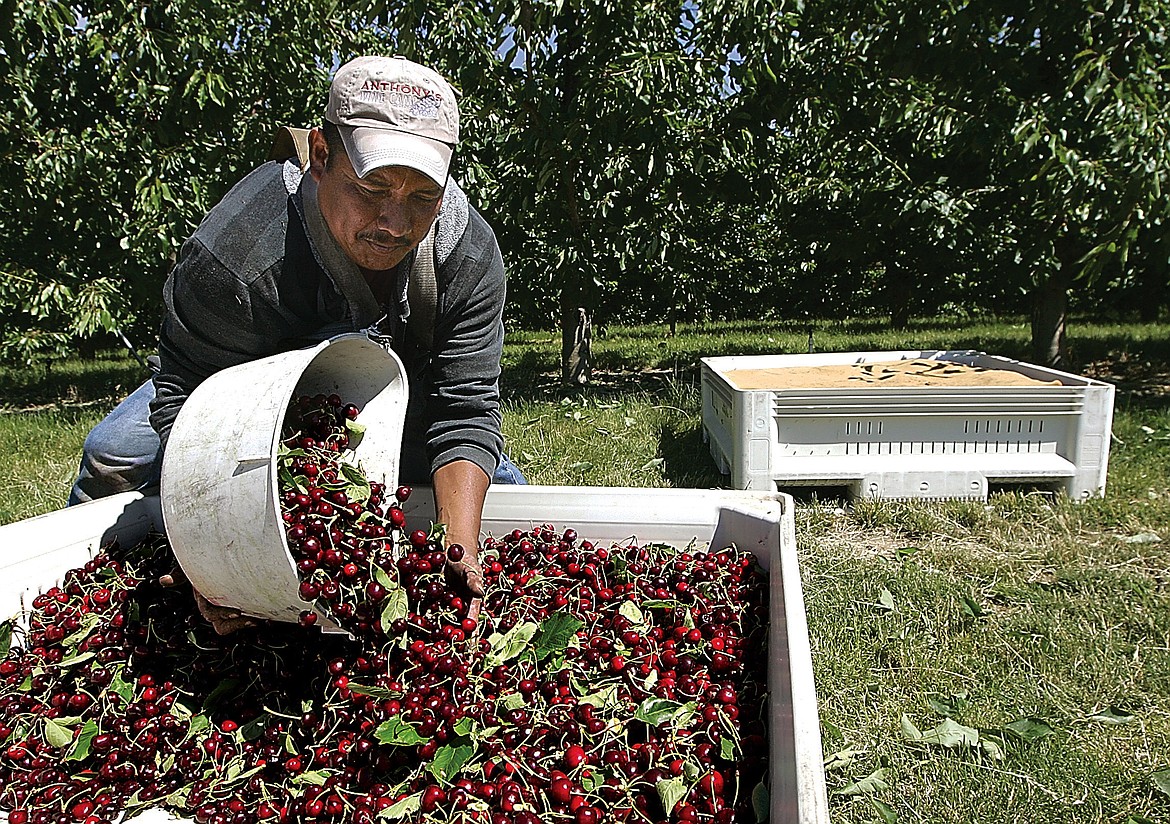 Antonio Alverez places a load of Chelan cherries in a flat on KP Sullivan Farms north of Pasco in 2012. This year's harvest is expected to be plentiful, but not to set any records.
AP Photo/The Tri-City Herald, Richard Dickin
by
CHARLES H. FEATHERSTONE
For the Basin Business Journal
|
June 2, 2021 1:00 AM
YAKIMA — Washington cherry growers are looking at the prospects of a good crop for 2021 with a long harvest time, though neither are expected to be records.
"We're excited about the quality of the crop this year," said James Michael, vice president of marketing for the Northwest Cherry Growers and the Washington State Fruit Commission. "We talked to 40 growers, and they are reporting good crop variations. But no one is talking about a large crop."
In its first round estimate, Michael said the commission was looking at a 2021 Washington cherry crop of 237,992 tons, or nearly 23.8 million 100-pound boxes.
It's a good year, but according to the Cherry Growers Commission, the harvests of 2017 and 2018 were better, with 2017's 26.43 million boxes being the largest in the last few years.
The forecast also said the harvest is set to start on June 1, a few days later than in 2020, when it started on May 28. Michael said they expect a "nice long harvest" this year, but not as long as last year's 97 days — into August for northern cherry growers.
According to the forecast, the late arrival of spring meant that some orchards "were not far enough along two determine how much of their crop will remain on the tree." Cold evening temperatures in the last week or so, combined with some strong winds, also made for some difficult conditions in some orchards, especially for pollinators, Michael said.
"Trees hit by cold took a bit of zap, and we lost a bit of crop there," he said.
A number of growers, especially those at higher elevations, found themselves having to do whatever they could keep their orchards warm as unseasonable frost hit in May. In fact, Michael said those who got some ice on their cherries were lucky, since that would provide a little insulation from the worst of the colder weather.
"Cold is fine, but frost is not," he said.
Michael also said some of the spring's powerful wind storms came right at pollination time, making the work of pollinating in some orchards difficult. Not only because honey bees have a hard time flying through the wind, Michael said, but because the wind also changes the pollen itself.
"Wind dries out the pollen, and it isn't as viable (for pollination) as it is on a calm day," he said.
However, this has an upside. With trees producing fewer individual fruit, the cherries they do produce are expected to be bigger and sweeter this year.
"The fruit is trending larger," Michael said. "Conditions are ideal for cell division — building size and sugar. It should be better than last year's, which was good fruit."
With the COVID-19 pandemic prompting stay at home orders, Michael said cherry sales rose significantly last year. Retailers, who plan 4-6 week ahead, are already looking at how to market cherries to grocery store customers.
And that's important, because most cherries are bought on a whim rather than planned, Michael said.
"We saw incredible retail growth last year," he said. "Cherries are an impulse buy, 70% are seen in displays, and people decide to buy."
Charles H. Featherstone can be reached at cfeatherstone@columbiabasinherald.com.
---