Making the desert bloom: Kooy Irrigation helps keep water flowing
Eliot Kooy of Kooy Irrigation.
Charles H. Featherstone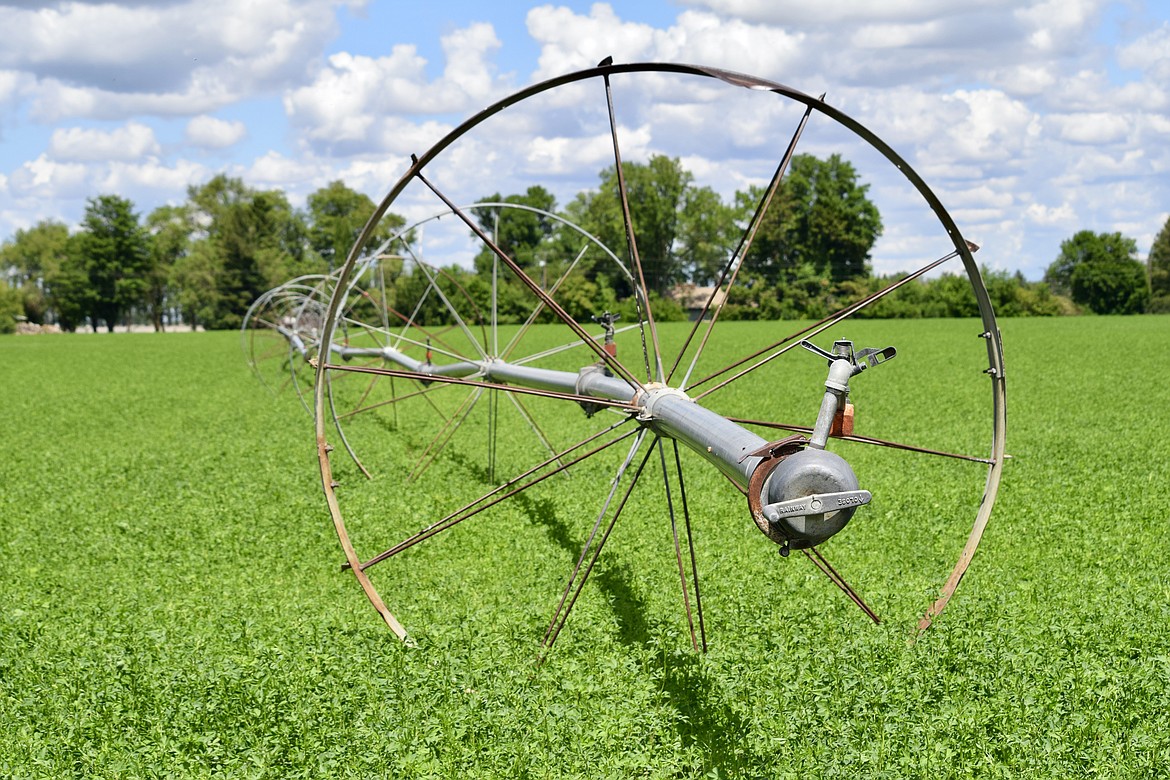 A typical "wheel line" irrigation rig located along Road M SE, south of Moses Lake.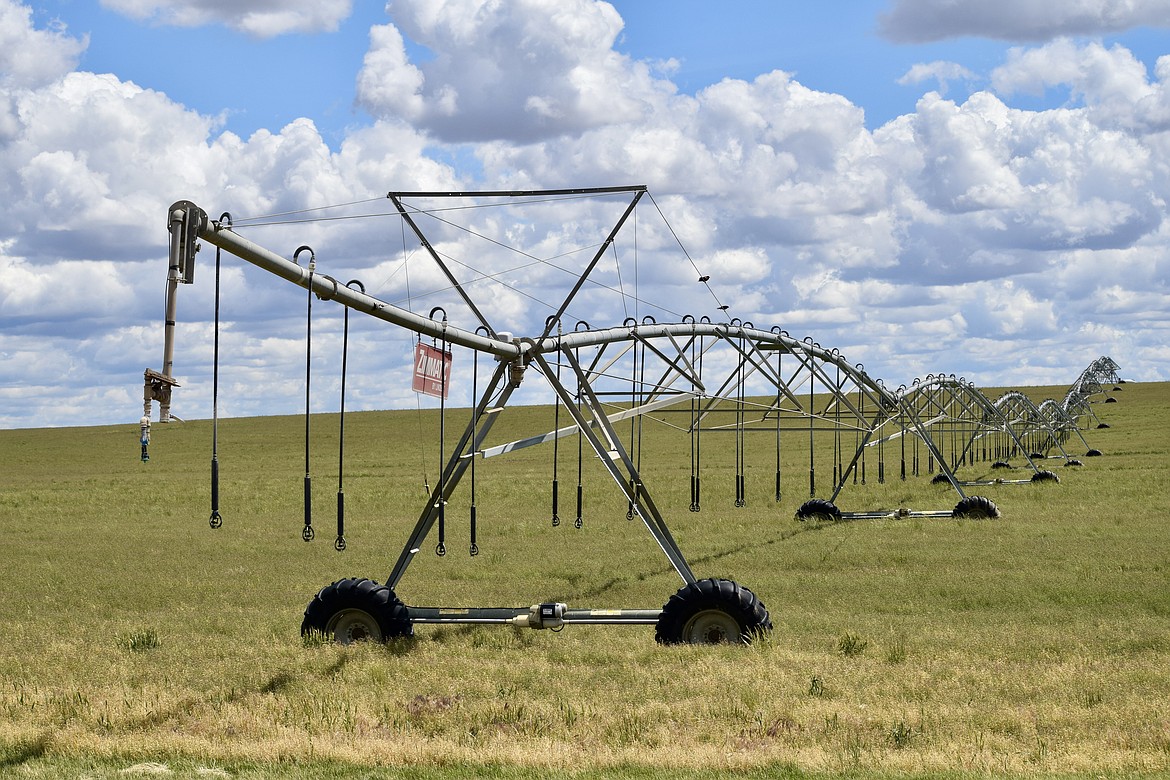 An eight-tower Zimmatic pivot irrigation rig located in a field along Road W south of Wilson Creek.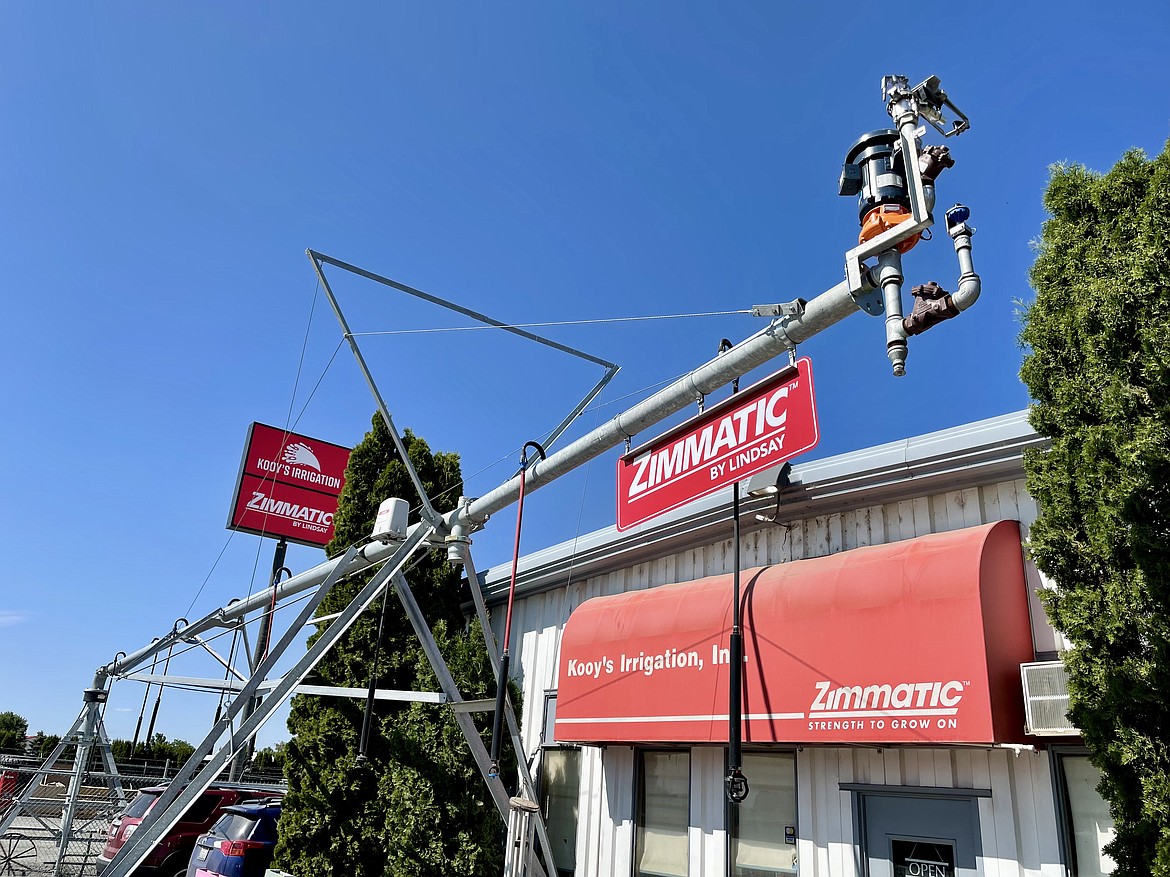 The front of Kooy Irrigation along S.R. 281 between Quincy and George.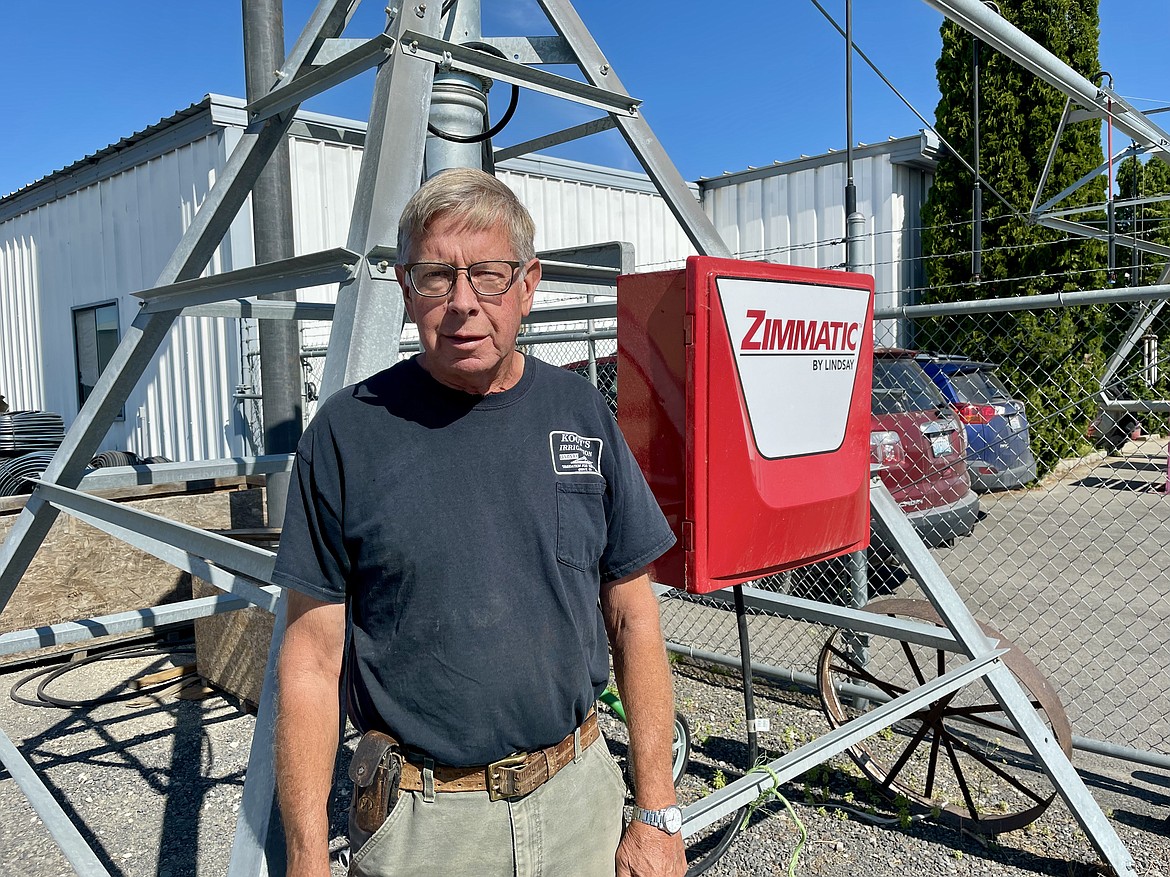 Wes Kooy of Kooy Irrigation.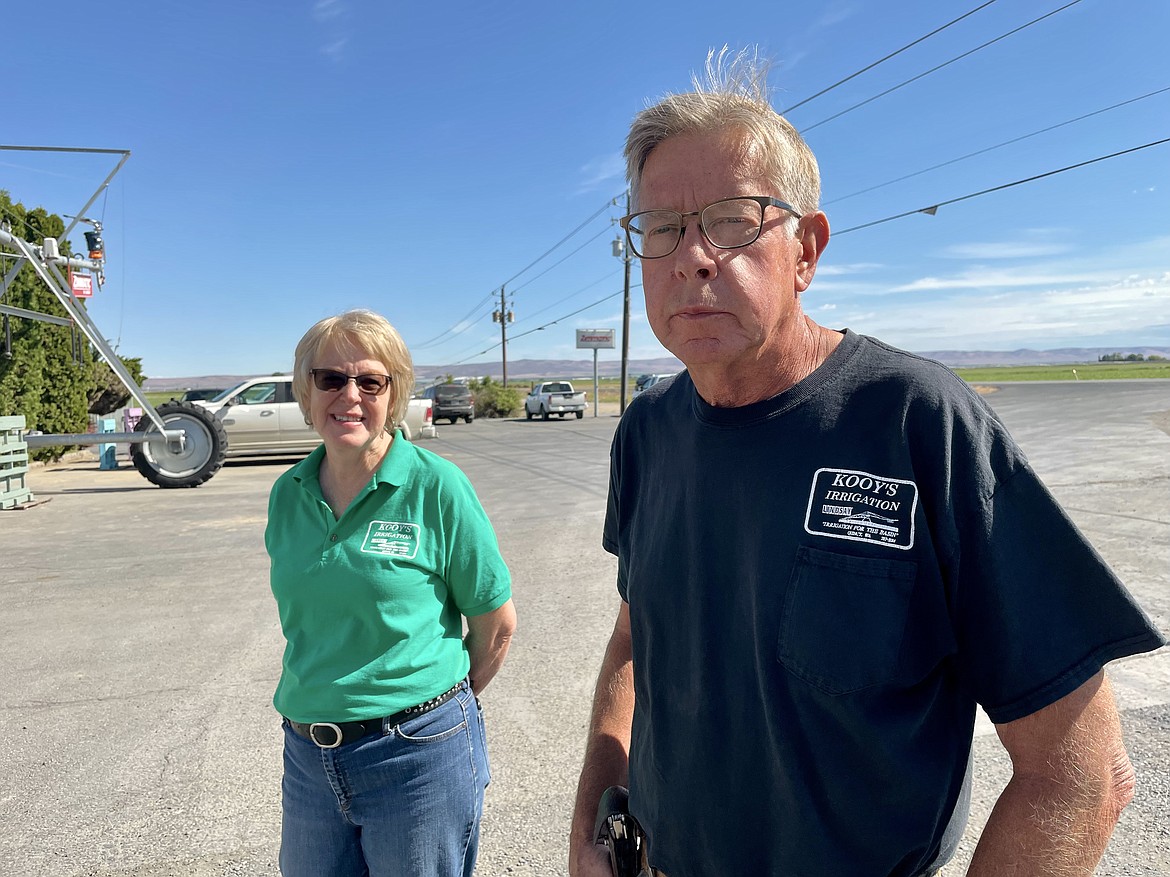 Arlene Keller and her brother Wes Kooy of Kooy Irrigation.
Previous
Next
by
CHARLES H. FEATHERSTONE
For the Basin Business Journal
|
June 28, 2021 1:00 AM
QUINCY — It all started out as something of a hobby.
"We started our business way back in the late 1960s on our farm," said Wes Kooy, as he leaned on a desk in the administration office of the company that bears his family name. "We actually started building wheel lines and selling them off the farm."
Kooy (pronounced "koi," like the ornamental Japanese carp) said his late father Ralph and founder of the company Kooy Irrigation, was a skilled welder who was soon asked by several Spokane irrigation equipment makers to sell their equipment.
"And he said he would," Wes said. "Eventually, he got so busy he decided to quit farming and put this store in. He did that in about 1973-74."
The business, located at 5284 state Route 281 N., just about smack in the middle between Quincy and George, was originally supposed to be a retirement job, Wes said, but it got far bigger than anyone expected, especially after irrigation pivot and circle maker Zimmatic approached Ralph some time in 1977 and asked him to become a dealer.
"He didn't really want to because he was so busy selling wheel lines, but he went ahead and did that anyway," Wes said. "It was a good thing did, because that same year he decided to take on circles I think he sold two wheel lines and 17 or 18 circles."
"And wheel lines were a secondary thing after that. Circles became the dominant thing," he added.
By the early 1980s, Wes said his father Ralph called his six children — Elliot (now company manager and pump specialist), Wes (electrician, service and sales), Keith (welder), Calvin (electrician and service), Clint (front counter and sprinkler repair) and Arlene Keller (parts and front counter) — back home to run what was becoming a thriving business providing irrigation equipment, as well as designing and installing irrigation systems for farmers across the region.
Circles are still the mainstay of the company's business, Wes said, with Kooy Irrigation selling between 40-50 pivots per year, along with the associated spare and replacement sprinkler heads, pipes, pumps, motors and tires. The bigger irrigation circle units of seven wheeled struts — called towers — moving maybe a quarter mile of overhead pipe around a 160-acre, circular field can cost between $80,000 and $90,000 "depending on your options," Wes said.
"And that's just the circle. That's not getting any water to it. That's not getting any power to it. It's just that circle set up in your field," he said.
Getting Columbia River water through the many miles of reservoirs, canals, pipes and ditches is only part of the battle. Whether it's irrigation circles, or wheel lines — straight lines of pipe on wheels that have to be manually moved every few hours to ensure a field is fully watered — irrigation equipment is the final segment of a long and complex system that brings millions of gallons of water every day from the Columbia River.
Because without all the pivots, pipes and sprinklers sold by companies like Kooy Irrigation, it would not be possible to make the semi-desert that is the Columbia Basin bloom with potatoes, corn, onions and all the other things that can now grow here.
"And that weighs on me heavily," said Elliot Kooy, who said he is very aware of the responsibility his company has to those who use their equipment. "The fact that we've got a lot of responsibilities to keep people's crops alive and doing well."
Livelihoods depend on it. Elliot remembered the time when three customers "crashed" their irrigation circles, with two of the wrecks so bad the circles had to be completely replaced because they were not worth rebuilding with the existing equipment. It made for an incredibly busy few days, he said.
"We've got tons of equipment out there, and if it breaks down in the middle of a hot summer, a guy comes to us and says, 'Can you fix this? I'm getting dry, and in about a day my crops are going to be suffering damage,'" Elliot said. "Yeah, we're going to scramble and work overtime."
During the last 40 years, Wes said he's seen a lot of changes in irrigation equipment, especially with computer-aided design of equipment (such as sprinkler heads), and changes in the way farmers employ their irrigation equipment to use less water and use it more efficiently.
"You used to have just a high-pressure sprinkler head and it would squirt the water out as far as it could, and that's how everybody watered," he explained.
But with rising electricity prices — even in Grant County, with its cheap public power — and demand for more efficient water use, Wes said irrigators now strive to do more with less. That has forced a change in everything from where sprinkler heads are placed — rather than sit atop pivot pipes, they now dangle — to the design of sprinkler heads themselves, which can be precisely engineered to produce the most effective water droplet size for their position on the pivot pipe.
"The new low pressure systems put out a finer droplet and they don't impact the soil so hard, they don't compact it so the ground is able to absorb and take in water and nutrients better," Wes said. "It will grow a better crop."
Sensors in pumps and motors allow for equipment only to run as much as its needed, so a motor runs with less power if it has to provide adequate water pressure to one pivot as opposed to three or four.
"So that way you're not running that motor at full speed just to run a little three-tower circle," Wes said.
Computer technology in irrigation pivots, as well as sensors and cellular communication equipment, also allow farmers to save time they used to spend wandering out to check out how their watering rigs are working by simply looking at an app on their phone, tablet or computer, Wes explained.
"It's complicated the electronics of the circle, but it's simplified the job of the farmer," Wes said. "He doesn't have to travel so much and has a lot more time to spend farming."
"You can manage a lot more equipment with less people, really," Keller added.
As big as they've gotten, however, Kooy Irrigation is still a family-owned business, owned by Ralph's children and employing a number of the founder's grandchildren, as well. Despite the personalities, both Wes and Elliot said the six of them have managed to get along and tolerate each other's differences well.
"It's kind of worked out well. I don't know what he (Ralph) did right with us," Wes said. "I have experienced farmers who have two sons and the two sons cannot get along and take over the farm."
"I talk to other people and they say it's rare that that happens, and they don't understand how we can get along OK because we've got six siblings working in the business here," Elliot added. "We don't always get along perfectly, but we don't, I guess, disagree to the point where we hate each other."
"We understand that we have our differences, we understand that there's going to be differences and we accept that," he said.
Elliot said he sees the family business as a bit of a "blessing from God," and has learned not to take differences and disputes within the family personally.
And he also comes back to the sense of obligation he believes he has — to customers, employees and family members — to do business well, and to do it right.
"Until you run your own business, you don't understand the responsibilities and the obligations to do things right in order to make your business succeed," he said. "You can do things haphazardly and dishonestly, a but you probably won't last too long."
Charles H. Featherstone can be reached at cfeatherstone@columbiabasinherald.com.
---