A spectacular fall: Easterday companies file for bankruptcy amid fraud allegations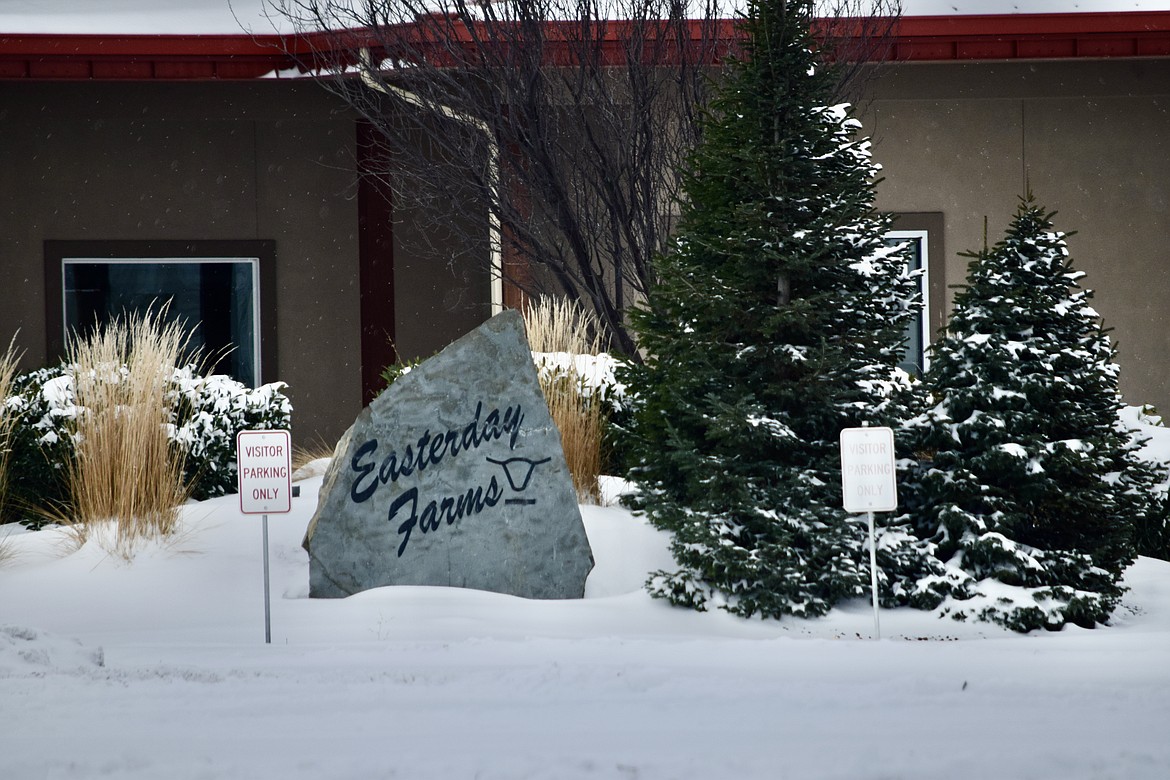 Easterday Farms' headquarters on 5235 N. Industrial Way in the Port of Pasco.
Charles H. Featherstone
by
CHARLES H. FEATHERSTONE
For the Basin Business Journal
|
March 3, 2021 1:00 AM
PASCO — It just may very well be the largest agriculture-related bankruptcy in the history of Washington state.
On Feb. 1, Pasco-based Easterday Ranches filed for bankruptcy, followed a week later by sister company Easterday Farms — both headed by Cody Easterday. The two companies sought federal bankruptcy protection after South Dakota-based Tyson Fresh Meats (TFM), a subsidiary of Arkansas-based Tyson Foods, sued Easterday Ranches in Franklin County Superior Court, alleging Easterday defrauded Tyson out of $225 million over the course of three years by billing for the care and feeding of 200,000 head of cattle that didn't exist.
According to court filings from Tyson in both Franklin County Superior Court and U.S. Bankruptcy Court for the Eastern District of Washington, Cody Easterday allegedly concocted the fraudulent billing scheme after admitting to losing over $200 million trading commodities for nearly a decade beginning in 2019.
"It might end up being the biggest; I can't think of another one that's bigger," said Shannon Neibergs, an agricultural economist with Washington State University Extension. "Not off the top of my head."
Both Easterday Farms and Easterday Ranches are seeking protection from creditors under Chapter 11 of the federal bankruptcy code, which is intended to give a company the time to reorganize its operations and come out from underneath its debts.
A third Easterday family company, Easterday Farms Produce — which sells potatoes, onions and other crops to regional food processors — is not a party to the current bankruptcy proceedings.
Federal Bankruptcy Judge Whitman Holt consolidated the two bankruptcy proceedings "for procedural purposes," noting it was simpler to administer them together.
Neibergs said the bankruptcy proceedings are unlikely to have much effect on the sale and movement of cattle in eastern Washington and Oregon because even if the company ends up being liquidated, its primary assets, such as feedlots, will still exist and will be used by someone.
"The end result is those facilities are still there, and I imagine they will be operated by someone," Neibergs said. "And so long as they are being operated, there shouldn't be too much shift in demand for cattle into those feedlots."
The Easterday companies were founded by Ervin Easterday and his son Gale as a 200-acre farm that eventually grew into a large diversified farming operation. Gale Easterday died on Dec. 10, 2020, in a head-on collision while attempting to enter I-182 using an offramp. He was 79, and is survived by his wife of 57 years, Karen Easterday, daughter Jody and her husband Andrew Wills, daughter Kim and her husband Scott English, daughter Cindy and her husband Brian Goulet, son Cully and wife Shani Easterday, son Cody and wife Debby Easterday, 11 grandchildren, two brothers and two sisters and numerous nieces and nephews.
According to Tyson's lawsuit, filed in Franklin County Superior Court on Jan. 25, 2021, and included as part of the bankruptcy case, Easterday Ranches inked a three-year deal in 2017 to procure and supply 145,000 to 180,500 cattle annually for TFM. Tyson, which became Easterday Ranches' sole customer under the arrangement, agreed to pay "100% of the procurement and growing costs of cattle" under the deal, which was renewed for another year in 2020.
"When Easterday delivers a full lot of cattle to TFM's processing plants (generally in Pasco, Washington), it is paid market value for the cattle grow costs paid for by TFM and interest on those amounts," said Leah Anderson, senior vice president for finance and operations with TFM, in a sworn statement initially included with TFM's Jan. 25 lawsuit.
In her statement, Anderson said according to both TFM and Easterday Ranches records, Easterday had 286,000 head of cattle in inventory valued at around $321 million.
While neither Anderson nor TFM in any of its statements says exactly how it discovered the roughly 200,000-head discrepancy, Anderson said "on or about" Nov. 30, 2020, Cody Easterday — who holds a 25% share of Easterday Ranches — "admitted he did not have approximately 200,000 head of cattle that we had paid for in our inventory."
In her statement, Anderson quotes Easterday as telling Tyson executives "I violated your trust but that is where I'm at" and assured them his company's supply chain was still intact and "there is no jeopardy from a supply perspective."
In a statement provided to the bankruptcy court, Tyson Fresh Meats Chief Operating Officer Shane Miller said the company plans to end its business with Easterday Ranches and get all of its cattle out of the company's feedlots "by the end of June."
According to Anderson, Easterday began billing Tyson for non-existent cattle as early as October 2016, and tracked both actual and fake animals in its accounting system using separate codes.
Easterday is alleged to have contrived the scheme because "he needed the money to pay debt and offset losses that was incurring trading commodities."
Commodities futures allow people to secure a price — either to buy or to sell — to hedge against future risk. For example, a farmer may agree to sell the fall's wheat crop for a guaranteed price today in order to hedge against the prospect the price of wheat may fall. Conversely, a wheat miller may do the same to ensure against the risk wheat prices will rise at a later date.
Buyers and sellers locking in future prices can also buy offsetting contracts to hedge risk further, just in case prices don't behave as expected. But that increases the risk of loss significantly.
Cattle futures contracts for live cattle and feeder cattle are traded daily on the Chicago Mercantile Exchange.
According to a series of 1099-B statements (the IRS form used to report proceeds from broker and barter exchanges) purporting to be from CHS Hedging and provided by Anderson as part of her statement, Easterday Ranches began trading operations with St. Paul, Minnesota-based CHS Hedging in 2011 and posted an aggregate loss that year $13.9 million.
The losses continued from there — only in 2015 did Easterday Ranches report a profit, $6.7 million — peaking at nearly $59 million in 2018, the year after Easterday signed the contract to supply TFM with cattle, when Easterday Ranches had three separate trading accounts with CHS Hedging.
In all, Anderson said Easterday reported total losses of nearly $202 million in trading from 2011 to 2020.
CHS Hedging did not respond to the Basin Business Journal's request for comment.
Mark O'Brien, a commodities broker with Los Angeles-based Cannon Trading, said the $202 million, if true, needs to be understood in the context of Easterday Ranches' total financial situation.
"There's a general 'know your client' and it's indeed that — a very general rule," he said. "You need generally to know their finances, their annual income, liquid income, net worth, and that's all asked for in a standard application whether for an individual or a corporation."
In addition, O'Brien said a brokerage will also ask about a client's comfort with and knowledge of trading stocks, futures, options and foreign exchange, and under National Futures Association guidelines also have to monitor the kind and amount of capital a client is putting at risk in relation to their overall net worth.
"So all these things can come into a conversation that talks about the risks that they're taking in the futures industry or the futures account," he said.
While $59 million seems like a lot of money to lose in a year, O'Brien said it is entirely dependent on just how big an operation like Easterday Ranches is.
"It's a relative term. In a vacuum you can't say that is a number that is big or small without knowing what it behind it," he said. "If it's a billion-dollar company, that's nothing."
In their separate bankruptcy filings, both Easterday Farms and Easterday Ranches are each claiming assets of between $100 million and $500 million dollars, as well as liabilities between $100 million and $500 million.
Neibergs said the recovery of the family companies from the bankruptcy process is going to depend a lot on how bad the fraud situation is and how sympathetic the federal bankruptcy court judge is.
"It's a little more complicated because of the fraud problem and the unsecured $200 million that's out there," he said. "If the rest of the farm has land or assets that, in this case, Tyson could secure, or Easterday could borrow against and pay off Tyson, there's a potential for them to reorganize."
But a lot hinges on the two company's equity, and about that little is publicly known, Neibergs added.
Currently, Easterday Ranches is disputing the $225 million Tyson claims it is owed. Tyson has also petitioned the court to appoint a receiver to operate Easterday Ranches, which is currently being run by Los Angeles-based corporate reorganization specialists Paladin Management.
In addition, Washington Trust Bank has filed a series of motions objecting to nearly every attempt by Easterday Ranches to spend money — including the care and feeding of 54,000 actual cows belonging to TFM in Easterday feedlots and the planting of a spring crop — noting that Easterday Ranches is in default of a $45 million line of credit extended in September 2020, and the bank has first dibs on Easterday Ranches' property.
However it ends, it's quite a mess and will likely take a long time to sort out. And it is quite a blow to a farm and business family who employs hundreds and has done a lot for the Tri-Cities area.
"There's a lot of respect for the family, and the reputation they have built up prior to this," Neibergs added. "People are trying to remain supportive of the family."
Charles H. Featherstone can be reached at cfeatherstone@columbiabasinherald.com.
---