Software helps farmers make sense of their fields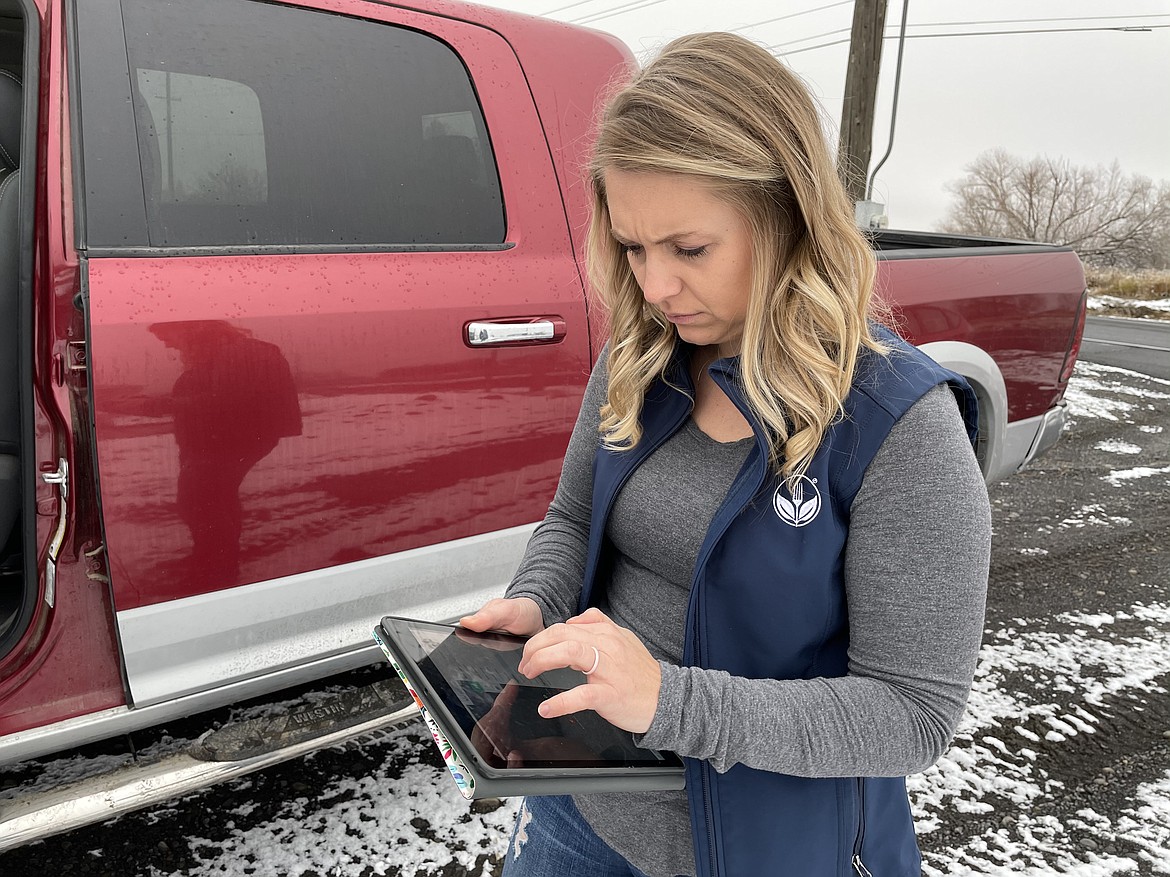 Jessica Chamberlain fiddling with Agrian's app on her iPad at the entrance to one of the fields on her family farm north of Moses Lake.
Charles H. Featherstone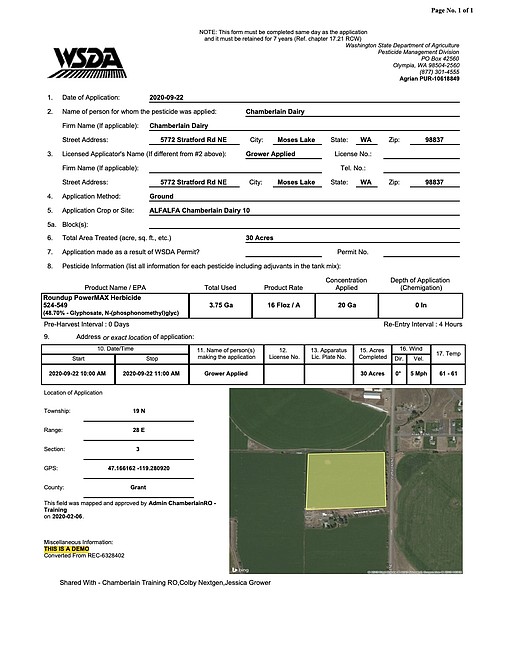 A sample dummy compliance report from the Chamberlain Dairy, showing what Agrian's software does.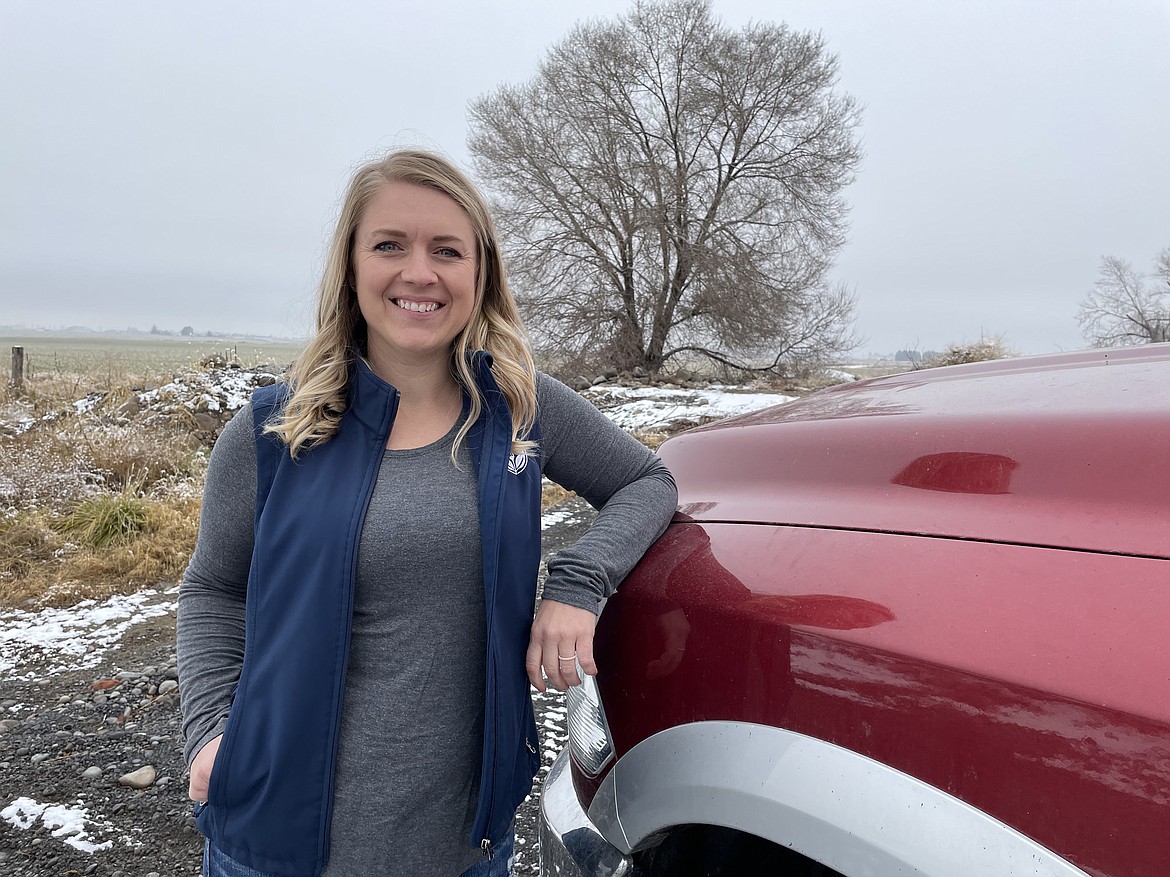 Jessica Chamberlain at the entrance one of the fields of her family's farm.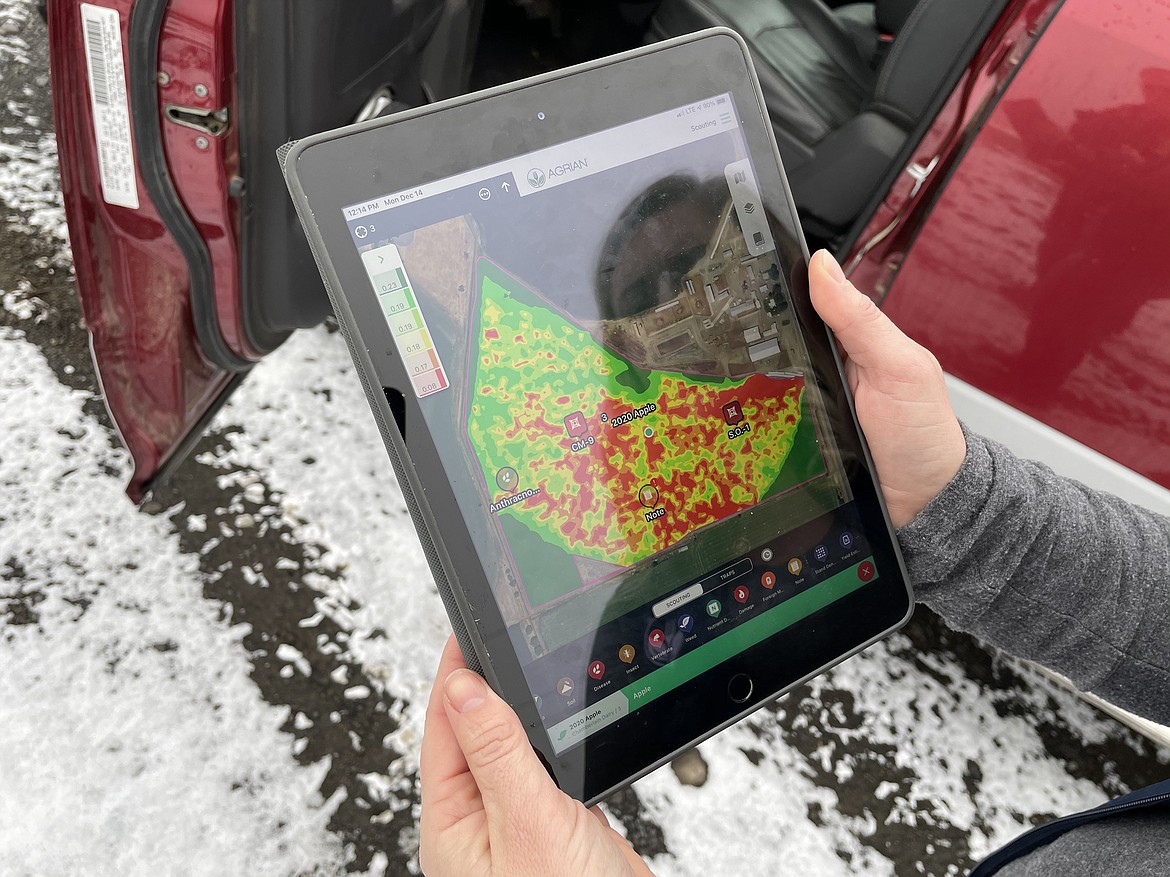 Jessica Chamberlain shows off a soil moisture display of Agrian's software on her iPad. The red spots show, for whatever reason, low moisture. "There are probably a lot of rocks in those places," she said.
Previous
Next
by
CHARLES H. FEATHERSTONE
For the Basin Business Journal
|
March 12, 2021 1:00 AM
MOSES LAKE — There are a lot of precision tools out there to help farmers manage their farms.
And this is important, especially as every nozzle, pump, valve, tank and motor is embedded with sensors and the ability to collect and report gigabytes of information per day, and merged with data from satellite maps, drone images, regular soil samples and weather and climate reports.
It's a lot of data. An awful lot of data. More than any one person can easily collect, sort, analyze and make decisions from.
A few companies have stepped in to provide integrated software control to deal with all this agronomic data. Climate's FieldView, John Deere's MyJohnDeere, and Raven Industries' Slingshot pull this data together and help farmers try to make sense of it all.
Clovis, California-based Agrian Inc. has stepped into that field as well. The company, started in 2004 to provide farmers with the ability to document compliance with federal and state pesticide and chemical regulations, has since branched out.
"We work with Climate and Slingshot and MyJohnDeere and we have an integration set up between them to transfer the data from the monitors into our system," said Jessica Chamberlain, a client success specialist with Agrian in Moses Lake. "We provide harvest, application and planting maps those growers can utilize to either further create fertility recommendation or any agronomic needs based off of those maps."
Agrian Chief Operating Officer Adriana Majarian said her husband Nishan, fresh from the sale of a previous company, took several months off after relocating to Fresno from the San Francisco Bay Area to find out what kind of software applications would benefit them best.
"We learned that there's a lot of difficulty in the electronic transmission of data, or getting that data upstream," she said. "A lot of people were asking questions — how was the food grown, what their practices were, and there was no good way of documenting that. So that's how we started."
Majarian said the company's compliance software easily generates reports, integrates closely with other agronomic software suites and offers a way in for farmer to sign up for the agronomic software because there is little choice when it comes to complying with state laws.
"Regulations aren't going to change. There will just be more of them," she said. "And our users are going to have to comply with that."
To help, Majarian said the company is always expanding its database of 12,000 different agricultural chemicals and products, and how to use them properly.
"So our system provides them the background they need," she said. "If they're going to apply something to potatoes, for example, our system says 'hey, these are all the products that are approved on potatoes, and these are the products that are safe for you to use.'"
The software also helps document practices for farmers growing organic or non-GMO crops, Majarian said, providing transparency for producers who need to show it.
But once there, Majarian and Chamberlain said Agrian wants to help farmers figure out how to be more productive, to save money on crucial inputs, such as fuel, water, fertilizer and pesticide, and can do so with a cell phone or tablet in hand while out walking in a field.
The goal, Chamberlain said, is to fulfill the computer revolution's early promise of eliminating paper.
"It can all be done streamlined and wireless as opposed to, 'Here's a napkin, this is what I think you should do,'" Chamberlain said. "That napkin gets lost in the midst of a thousand other napkins that are in that farmer's truck, and then you don't know what you had to begin with."
Chamberlain should know. She doesn't only sell Agrian's software and train and support farmers in its use. As the co-owner with her husband Kyle of Chamberlain Dairy on Stratford Road, north of Moses Lake, she uses the software, too, to track the crops they grow as feed for their cows.
"We work with a retailer that has a subscription, and he comes out and writes all of the recommendations and product use reports through our software," she said. "It's nice to see things full-circle. I work for the company, but it's nice to know I can trust what our advisor is doing and that he's not going to be making any mistakes. I can trust that it's accurate."
"Having that local connection is really important, because we know that software is only as good as people understand how to use it," Majarian added. "We can think of all these really cool things, but if people don't use it, there's no value in it."
Majarian said Agrian was recently purchased by Canadian telecommunications company Telus, which has been branching into health care and agriculture software to create networks and track the supply chain that can link from farmer to grocery store to the refrigerator and dinner table.
"They have a passion that we're going to have to feed all of these people around the world. How do we do that? Willing to tackle that," she said. "It's a natural fit for us."
Charles H. Featherstone can be reached at cfeatherstone@columbiabasinherald.com.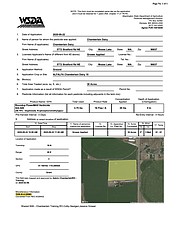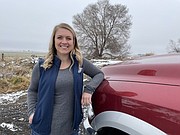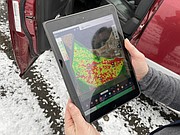 ---