Easterday Ranches headed for possible liquidation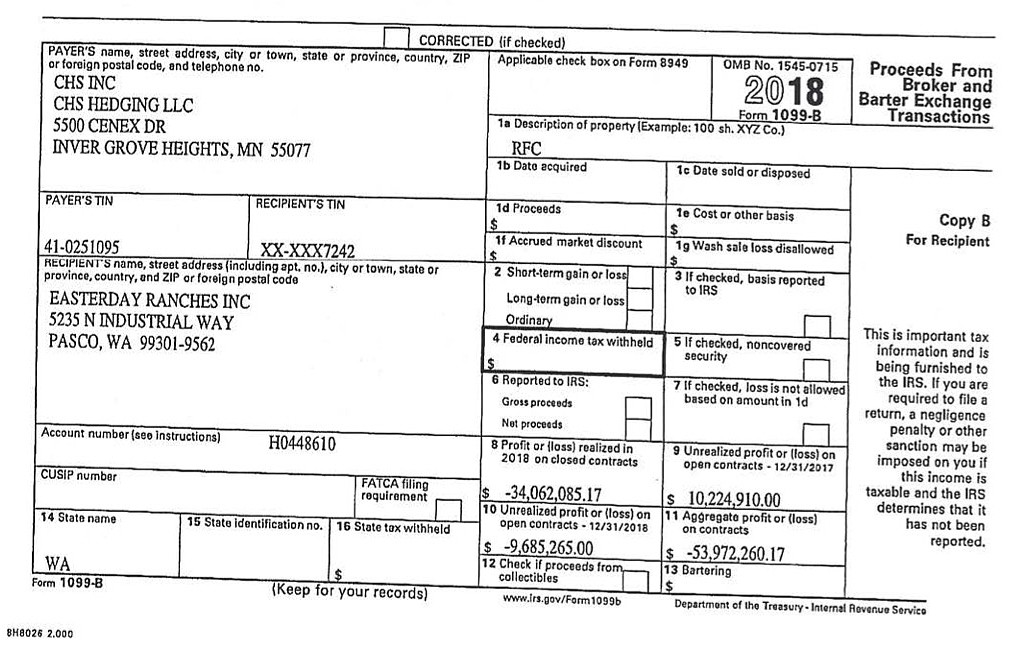 A copy of a 2018 IRS form 1099-B provided by Tyson Fresh Meats executive Leah Anderson as part of a deposition noting that Easterday Ranches lost nearly $54 million on cattle futures -- the code "RFC" in box 1a notes the trade was in a regulated futures or forward contact. That year, Easterday Ranches had three brokerage accounts with CHS Trading, and lost an additional $4.6 million in the other two accounts.
by
CHARLES H. FEATHERSTONE
For the Basin Business Journal
|
March 29, 2021 1:00 AM
SPOKANE — As the joint bankruptcy of Easterday Farms and Easterday Ranches makes its way through federal court, it is becoming increasingly likely Easterday Ranches, and possibly Easterday Farms, will be liquidated, with all assets sold to satisfy outstanding debts.
"The U.S. Trustee has stated that Ranches will clearly have to sell and either the Easterdays, which I find beyond unlikely, or Farms will decide to do a reorganization," Richard Pachulski, an attorney with national bankruptcy specialists Pachulski, Stang, Ziehl and Jones, told U.S. federal bankruptcy court Judge Whitman Holt during a roughly 90-minute-long hearing on March 15.
"There's no possibility of a reorganization here, your honor, unless someone is going to come in out of the blue and put money into the estate. And no one has volunteered to do that," Pachulski added.
Pachulski, whose firm has been hired by Easterday Farms and Easterday Ranches to help the two companies maneuver what has become an incredibly complex bankruptcy of two very intertwined family-owned corporations, had to argue on his behalf being hired was not a conflict of interest, since his firm was originally brought in prior to the bankruptcy filing in late January to advise the company on how best to settle its outstanding debt with Tyson Fresh Meats.
"We were originally retained to help settle with Tyson, but it never got to that point," Pachulski said.
Easterday Ranches filed for bankruptcy protection under Chapter 11 of the U.S. bankruptcy code on Feb. 1, after Tyson Fresh Meats alleged that owner Cody Easterday concocted a scheme to bill Tyson Fresh Meat for the care and feeding of more than 200,000 head of non-existent cattle after losing more than $200 million trading commodities between 2011 and 2020, with more than $54 million in 2018 alone.
Easterday Farms, which is owned by the same family members, filed for bankruptcy protection a week later. The two bankruptcies were later merged to simplify court administration, according to an order from Holt.
Chapter 11 of the U.S. bankruptcy law gives companies relief from their creditors to reorganize their operations. Chapter 7 of the code requires the liquidation of a company to pay as many creditors as possible.
The Monday phone meeting was joined by a gaggle of lawyers representing all of the creditors who are party to the bankruptcy filing. In fact, it took several minutes to introduce all of the attorneys present before the actual hearing could get started.
Gary Dyer and Benjamin Teich, both attorneys representing the U.S. Trustee's office, argued against both Pachulski's hiring and the retaining of Los Angeles-based corporate reorganization specialists Paladin Management Group, and noted both companies had conflicts of interest because they advised the Easterdays prior to bankruptcy filings.
"If both of these companies are headed for liquidation, they have to maximize their returns to their respective creditor bodies," Dyer said. "If these cases are permitted to be presented by the same firm, that will be an adverse impact to those things."
Holt overruled both objections, allowing for the hiring of Pulchaski's firm Pachulski Stang Ziehl & Jones and the retaining of Paladin to oversee either the reorganization or liquidation of the companies. The judge noted, however, this is a very complicated case of two extremely intertwined family corporations that share significant resources and federal bankruptcy law, as written, does not handle that very well.
"The code doesn't deal well with affiliated debtor groups. It assumes a single debtor, and that creates a problem under the law," he said.
While both Tyson Fresh Meats and Washington Trust Bank have asked Holt to appoint a trustee to run the Easterday companies while they are in bankruptcy, the judge has allowed Easterday to continue as "debtor in possession" of the company, though the Easterdays have been removed from their official positions.
Holt also said mere professional advising does not create a potential future conflict of interest, and if it did, it would be difficult to find anyone able to give professional advice.
At the center of the discussion was the sale of Easterday Ranches' North Feed Lot on Jan. 25, for $16 million. According to a Feb. 8 filing from Alan D. Smith and Bradley Cosman, attorneys representing Tyson Fresh Meats, of that money, $7 million was paid to Easterday Farms and Easterday Hay Company (another Easterday family firm not a party to the bankruptcies) to cover outstanding feed costs, $4.75 million to Easterday Farms to pay off a loan, and $1.2 million to professionals like Pachulski and Paladin working for Easterday Ranches.
Pachulski's firm, which bills itself as "the nation's leading corporate restructuring boutique," has offices in California, Texas, New York and Delaware, and has represented clients as diverse as retailer Neiman Marcus, the Roman Catholic Archdiocese of New Orleans, Sports Authority Holdings, and the Boy Scouts of America.
In their filing, Tyson attorneys claim only $2.1 million went to pay creditors, and Easterday Ranches was engaged in an "avoidance action."
Holt, however, said even if the sale of the feed lot — which prompted Tyson Fresh Meats to file suit against Easterday Ranches in Franklin County Superior Court on Jan. 25 — was an "avoidance action," that does not disqualify Paladin from managing the company during the bankruptcy process.
"The ultimate decisions were made by the client, not by Paladin," he said.
Holt also approved a motion from Easterday Ranches attorneys to reject 14 proposed leases of nearly 4,000 acres around Basin City, Washington — including seven oral leases, one of 800 acres with Cody's wife Karen Easterday for $480,000 per year — after Pachulski argued the company does not have the money to farm this spring and cannot find anyone willing to lease the land.
"My client has no financing, no storage to plant potatoes. Farming is just not practical this year," he said. "Even though we didn't want to give these leases up, there are no other options."
Separately, Washington State Department of Agriculture Communications Director Hector Castro told the Basin Business Journal an audit of both Tyson Fresh Meats and Easterday Ranches turned up no discrepancies between what the companies reported to WSDA and what they recorded internally.
Castro said Tyson reports slaughter numbers weekly as part of the state's animal disease tracing program, and Easterday reports how many animals it buys in order to ensure all cattle sales are legal.
"We were looking to make sure information provided to WSDA was correct, make sure it was what we were hearing from Tyson," he said. "They were consistent."
Castro said the department saw no evidence Easterday Ranches' books contained information detailing which cattle were real and which were fake, as alleged in one Tyson filing, but WSDA auditors also weren't looking for that either.
"The numbers they gave us appear to be correct," he said. "That was the extent of what we were trying to confirm. There's no more for us to do on this."
Finally, according to documents obtained from the Chicago Mercantile Exchange, which oversees and sets the rules for trading on the U.S. cattle futures markets, Cody Easterday was fined and suspended from trading twice, in 2015 and again in 2019.
The first time, in October 2015, he was fined $20,000 and suspended from trading for 15 days for entering 12 orders "not made in good faith" between January 2013 and February 2014, to buy both live cattle and feeder cattle contracts "at prices higher than the prevailing bid."
"The entry and cancellation of these orders causes excessive fluctuations" in the cattle futures market, the CME found.
According to 1099-B forms from CHS Hedging provided in a deposition by Tyson Fresh Meats Senior Vice President for Finance and Accounting Leah Anderson, Easterday lost $10.3 million trading in 2013.
In May, 2019, Easterday was fined $30,000 and suspended from trading for 20 days for multiple trades between July 2015 and August 2017, placing orders big enough in attempt to settle outstanding positions that disputed prices across the entire cattle futures market.
According to the same documents provided by Anderson, Easterday reported a profit of $6.7 million on his trades in 2015, a loss of $5.6 million in 2016, and $18.3 million in 2018.
Charles H. Featherstone can be reached at cfeatherstone@columbiabasinherald.com.
---