Central Washington Agricultural Museum open again to public
by
Rachal Pinkerton
|
May 14, 2021 1:00 AM
UNION GAP — After being closed for a year and a half, the Central Washington Agricultural Museum is once again open to the public. The museum opened April 1, after closing for the winter in the fall of 2019.
Because of COVID-19 restrictions, the museum board decided not to open the doors for the 2020 season.
"We're open only for walk-throughs," said Nick Schulz, president of the Central Washington Agricultural Museum. "We don't have any buildings open."
The museum decided to open up the outside facilities because the county is in Phase 3. Shultz said while the county may have to go back to Phase 2, the museum may stay open because of its outdoor nature. The museum sits on 17 acres, with over 1,000 pieces of historic farm equipment and numerous outdoor displays. Visitors to the museum can walk through the exhibits and read about each in notebooks provided by museum staff. It also features a park and several miles of hiking trails.
"We are a recreational area," Schulz said. "The fact that people are recreating, we want to encourage that."
Visitors are able to visit in family groups of four to five people, while wearing masks.
Volunteers have also been able to return and start working on projects around the museum grounds. Schulz had divided them into groups of three to five people.
"Every day when they show up, they have to sign in, do a temperature check and go over a symptom checklist," Schultz said. "Then they are able to go to the job site. We have hand sanitizer in all job locations where they are working. We also have masks available for them."
Schulz said one of the advantages of having 17 acres is volunteers can spread out when working.
Even though the museum grounds are open, the major, large events normally held have either been canceled or are up in the air. So far this year, the Old Steel Car Show, in April, and the Old Town Days, in June, have been canceled. It has not been decided whether the Pioneer Power Show and Swap Meet will be in August.
When asked how COVID-19 had affected the museum's revenue, Schultz said over the last 40 years, the board has been setting aside money for a rainy day. While they are hoping to get grants to cover the lost revenue, there is money set aside for the museum to continue operating without issues.
In spite of the challenges presented by COVID-19, the museum is continuing to move forward with projects. One of the projects is an audio tour that will be available for visitors to listen to on their smartphones. This will reduce the need for docents, who are thinly spread during events.
"It's pretty exciting," Schultz said. "We've been talking about it for a long time. If we have a show in August, we hope to have it up and running. It will really help us out a lot."
The Central Washington Agricultural Museum grounds are open from dawn to dusk. It is located at 4508 Main St., in Union Gap. For more information, visit the museum's website at centralwaagmuseum.org, check out it out on Facebook or call 509-457-8735.
Museum entry is free, with donations accepted.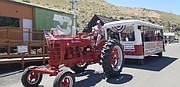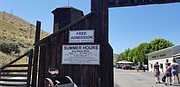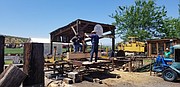 ---