Apple, peaches hold up through heat, other fruits suffer
by
CHARLES H. FEATHERSTONE
Staff Writer
|
November 16, 2021 1:00 AM
ROYAL CITY — During the worst of the summer heat, Kole Tonnemaker said he had a hard time keeping his orchard watered.
"I've been doing this a long time, running the farm for 40 years, and I don't remember having such a hard time getting across the field in time to keep it wet enough," said Tonnemaker, who currently runs Tonnemaker Hill Farm on the north-facing slopes of the Frenchman Hills just north of Royal City.
"It was hard to keep up with the watering," Tonnemaker added. "That was really hard."
Tonnemaker grows over 600 kinds of organic fruit — including a number of varieties of apples and pears — and vegetables on roughly 126 acres, and said he was watering constantly during the worst heat of the summer, in late June and early July, when temperatures topped well over 110 degrees across the Columbia Basin.
Tonnemaker said he doesn't have any overhead evaporative cooling or put up shade cloth to attempt to cool the trees in his orchard. Instead, Tonnemaker said he grows all of his trees on a V-trellis, which both provides a little more shade protection for fruit as it forms, as well as allows for a little more exposure to the sun.
"And, I think, the fruit from day one is growing in the sun, so a lot of time it's a little more resistant to sunburn than if it's being protected," he said.
Still, Tonnemaker said he's a little shocked he didn't see more sunburn on fruit and trees this year. Yields were also down, though Tonnemaker said how the heat affected things is entirely dependent on variety.
"Some varieties are fine, the fruit is big, nice color, other fruit looks like it got stunted a little bit," he said. "We did definitely see that."
According to Tim Kovis, communications director for the Washington State Tree Fruit Commission, the effect of the heat appears to be worst on the early harvest apples — Golden Delicious, Gala and Honeycrisp — while harvesting of later season varies — Cosmic Crisp, Red Delicious, Fuji and Crisp Pink — is "about halfway through," with reports that later season harvests are coming in bigger than expected.
"We still have another month to six weeks to pick, and it depends on long freezes," Kovis said. "It will continue into late November if the weather permits, so a lot is still unknown."
According to Kovis, the commission is still forecasting a statewide fresh apple harvest of 124.85 million 40-pound boxes, a little higher than last year's harvest of 122 million, but down almost 10 million boxes from 2019.
"It's hit and miss, and we try not to get too far in front of ourselves," he said. "Barring unforeseen weather, we think our estimate is pretty close."
Kovis said because much of the apple acres in the Columbia Basin are irrigated, the drought — which clobbered this year's wheat and barley crops — didn't have much of an effect on apples. However, the heat posed some unique challenges even where water was more than adequate, Kovis explained.
"People don't want to work in 100-degree heat," he said. "Lethargic trees are the same way. It disrupts the growing of the fruit and stresses the tree."
Tonnemaker said he used the same amount of water as he would in an ordinary year, but he needed to move it around a lot more frequently to ensure no place in his orchards went without water for too long.
"And so we just had to never turn it off. It had to go from one place in the orchard to another, we kept moving it around as fast as we could," Tonnemaker said. "And we had to watch if there was a particular part of the field that looked like it needed to jump ahead in line."
"We had to be very aware of that all summer long," he said.
While his apples did reasonably well, Tonnemaker said the pears probably took some of the worst of the heat. The Bartlett pears in the giant outside bin aren't very big, and the Bosc pears were a little smaller than normal, as well, he said.
"Those are pretty small Bartletts," he said.
The Washington State Fruit Commission estimates this year's total pear crop will reach 16.1 million 44-pound boxes, up 5% from 15.3 million boxes in 2020, but down around 4% from the five-year average.
Cherries also got hammered by the heat, Tonnemaker said, though very few crops thrive in the temperatures we had in late June and early July.
"I think when you get about 100 degrees, there's nothing that really likes it," he said.
However, Tonnemaker added one crop really thrived in this year's heat — peaches.
"The peaches had a good summer, they didn't get stunted at all," he said.
Charles H. Featherstone can be reached at cfeatherstone@columbiabasinherald.com.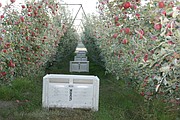 ---