It's all about the stress: Finding ways to make irrigation more efficient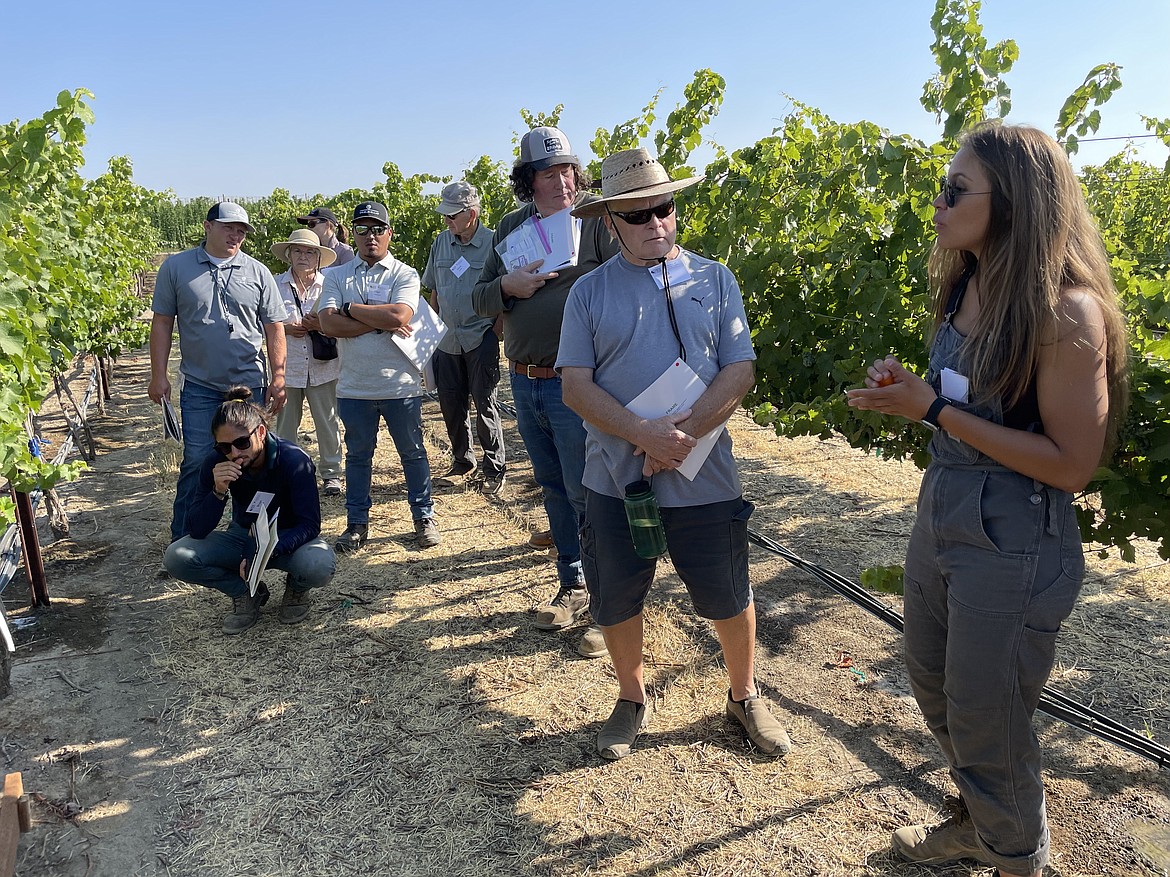 Geradine Diverres-Naranjo, a Ph.D. student at Washington State University, explains her irrigation experiment to a group of visitors at WSU's Irrigated Agricultural Research and Extension Center-Roza Research Farm in Prosser on July 29 during the Viticulture Field Day, organized and sponsored by WSU and the Washington State Grape Society.
Charles H. Featherstone/Basin Business Journal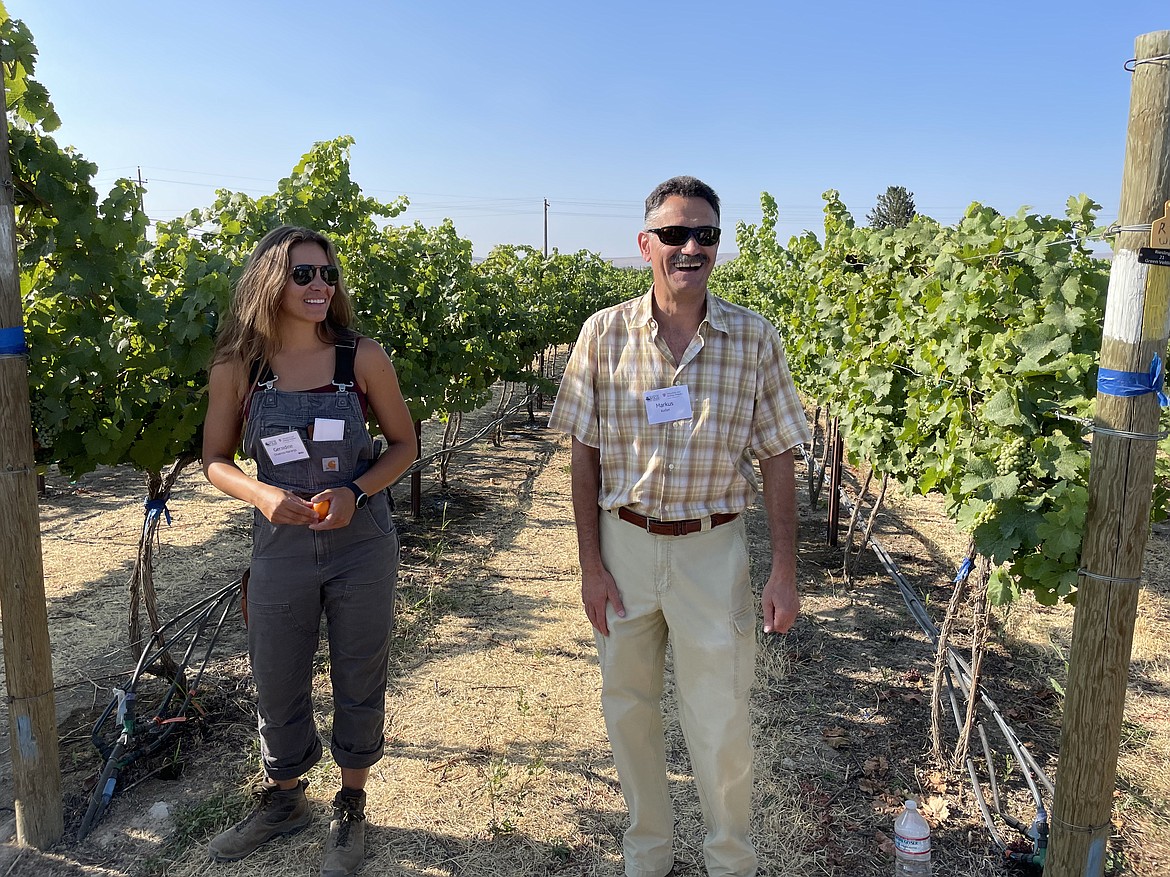 Geradine Diverres-Naranjo, left, a Ph.D. student at Washington State University, and Viticulture Professor Markus Keller stand between rows of Riesling grape vines at WSU's Irrigated Agricultural Research and Extension Center-Roza Research Farm-Roza Research farm in Prosser.
Previous
Next
by
CHARLES H. FEATHERSTONE
For the Basin Business Journal
|
October 20, 2021 1:00 AM
PROSSER — Geraldine Diverres-Naranjo minces no words when she describes her home in the Canary Islands.
"It's paradise on earth," she said as she stands between rows of grape vines at Washington State University's Irrigated Agricultural Research and Extension Center Roza Research Farm here in Prosser.
But the Canary Islands, an archipelago of eight main (and a number of much smaller) islands off the coast of Morocco in West Africa belonging to Spain, have an interesting problem.
There's not enough water.
"Back home, water is scarce and we actually cannot drink tap water where I come from because the water quality is very bad. So, water is an important resource," said Diverres-Naranjo.
She grew up having to watch how much water she used.
"You guys here are incredibly privileged, because you have very good quality water, and the water is excellent when compared with some regions in Spain," Diverres-Naranjo said.
A doctoral candidate in WSU's viticulture program, Diverres-Naranjo said the Yakima Valley's irrigation-dependent vineyards — where she does her research — have something in common with North Africa. On average, 7-10 inches of precipitation fall on the Yakima Valley in a year, not all that different than the 8 inches that fall every year on the Sahara Desert.
"And that's why irrigation becomes so important, because viticulture relies on irrigation, and it also provides a very powerful tool for us to make incredibly good wine in the Yakima Valley," she said.
Using that water effectively is important, she said, and the reason she is standing in the middle of a WSU research vineyard in late July on the Viticulture Field Day organized and sponsored by WSU and the Washington State Grape Society. Diverres-Naranjo is showing off her research, an irrigation method called "partial root zone drying" (PRD) that's designed to selectively stress the test vines — in this instance, a variety of Riesling — in just the right way to create larger grapes that aren't so bitter while still limiting water use.
Diverres-Naranjo said the irrigation method most grape growers use is called regulated deficit irrigation (RDI) and involves irrigating each vine up until the point where the flowers are pollinated and the clusters of grape berries begin to form to control the size of the canopy and save water.
"So, past fruit set, you reduce the water that vines need, and you have all these side effects that for red varieties are incredibly good," she said.
But, as Diverres-Naranjo explained, RDI doesn't work so well for varieties of white grapes like Riesling. So in this test vineyard, Diverres-Naranjo said she waters one side of a grape vine at a time until the dry side falls to 11% soil moisture and then switches the sides she waters.
Watering one side of the grape vine at a time ensures the vine gets all the water it needs, she said.
"This dry side here will be somehow making the vine experience water stress because the roots that are in this dry soil will sense that water availability is very low," Diverres-Naranjo explained. "This irrigated side is able to provide water to maintain the water. The vines are not actually water stressed, but they just think they are."
Soil moisture is measured regularly by sensors that go down as deep as 3 feet into the soil, though in normal weather, Diverres-Naranjo said she typically waters one side of a grape for about 14 days.
"It really depends on weather conditions," she said. "In a heat wave, it can take just five days for the soil to dry down to that point where we need to switch."
But because she measures the soil moisture, Diverres-Naranjo said she doesn't really care how long she waters.
"We just want to make sure that the dry side reaches its threshold and then we switch," she said.
As the experiment goes on, Diverres-Naranjo said she compares the rows of Riesling she's watering with her partial root-zone drying method with a control watered using the RDI method, and then comparing berry size, cluster size, and canopy condition.
In fact, she noted to visitors a clear difference between the RDI row of control vines and the PRD row of experimental vines. There's also a fully irrigated, unstressed row of vines to compare both the control and the experimental vines with.
"Can kind of tell where that starts. Bigger, somewhat healthier, greener," said WSU Viticulture Professor Marcus Keller. "The hope is with the PRD to get the quality fruit that is somewhat similar to non-stress for a Riesling by saving water as we would with an RDI."
"So, this kind of irrigation that many people are still doing, they learn to irrigate with red wine grapes and now they are applying the same strategy to whites, then there is a risk," Keller said. "You get these tiny berries, sun exposed small straggly clusters and the risk is you get a lot more tannins and a lot more compounds that are astringent and bitter."
Diverres-Naranjo also pointed to the canopy on the PRD vines, which appeared to be denser with leaves not as damaged by sunlight and heat. That's important, she noted, because leaves protect grape clusters from direct sunlight, and that can keep acid levels down because acid production is light and temperature sensitive.
"When you irrigate with RDI, you tend to have smaller canopies and more sun exposure," she said.
Keller noted, the goal is to grow better grapes and make better wine. And the RDI strategy, which works well for varieties of red grapes, can result in bitter grapes. And that's because Diverres-Naranjo's irrigation strategy for Riesling grapes reduces tannins and acids by increasing the size of the leaves and the canopy and protecting the grapes from the worst effects of sunlight.
"So, it doesn't really matter how much water is applied, but it matters how much fruit is exposed. And so with the RDI, we see more sunburn, more fruit exposure, smaller canopy, so increased tannins," he said. "It's all about sun exposure."
In the end, Keller said it's about making better wine.
"Something I really hate is a bitter or astringent Riesling. They are supposed to be fruity with some fresh acidity and nice, crisp to drink," he said.
Of course, as much as they can see, measure and show on a hot sunny day in July, no one will really know how well Diverres-Naranjo's experiment here has gone until later this year.
"Make wine at the wine science center this fall and hopefully we'll know. That's the goal," Keller said.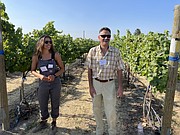 ---