Keeping up a family tradition: Raceways Technology still going strong in third generation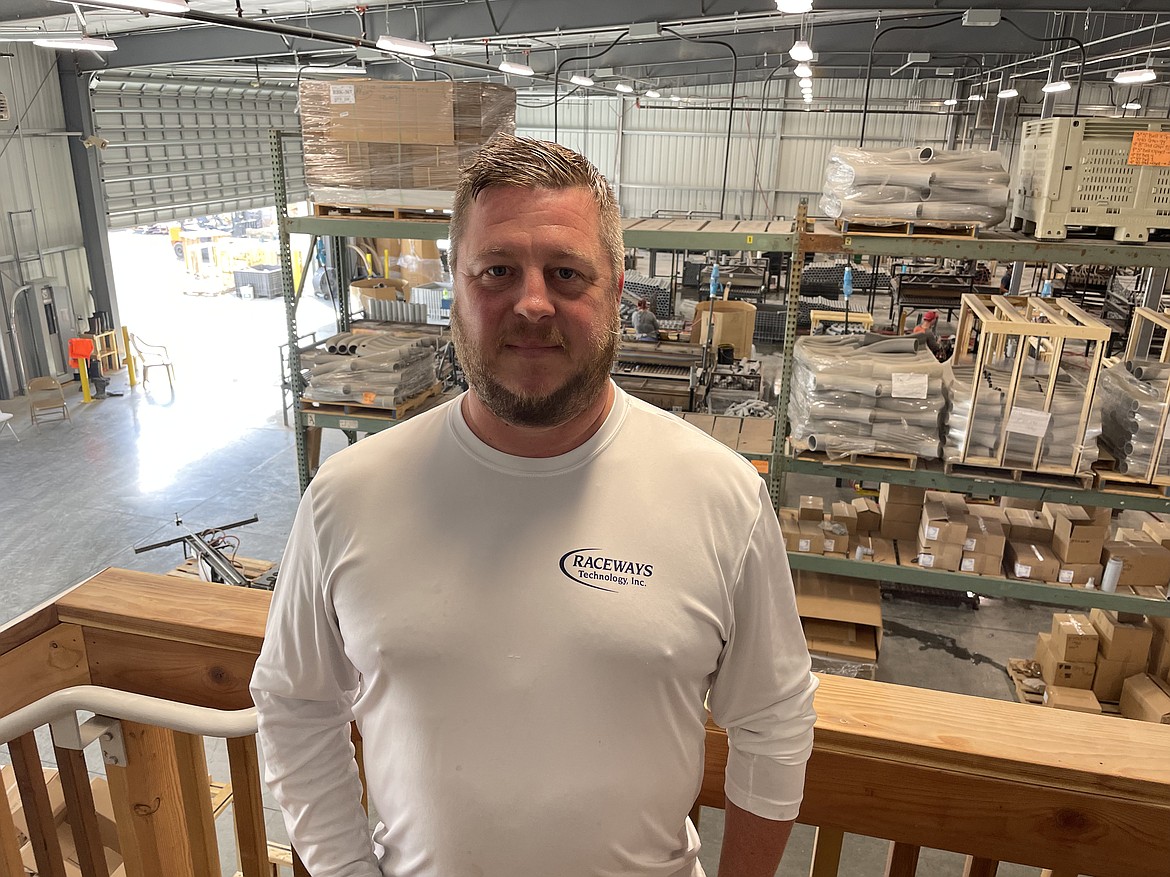 Josh Paul, owner and president of Raceways Technology, stands in the company's new Quincy factory.
Charles H. Featherstone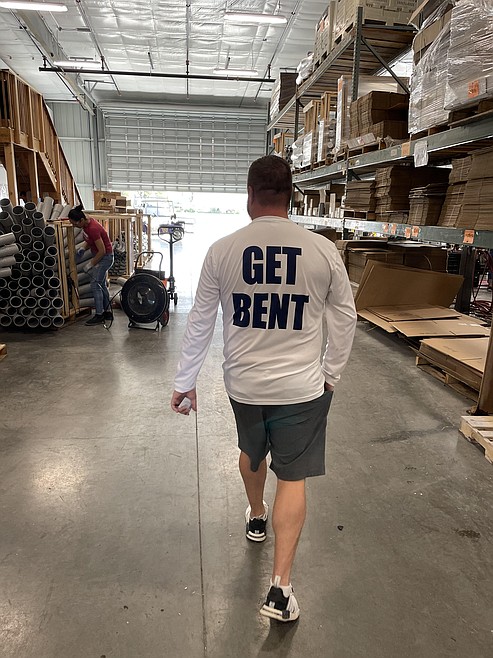 Josh Paul's shirt says it all about his business, which has been in his family for three generations now.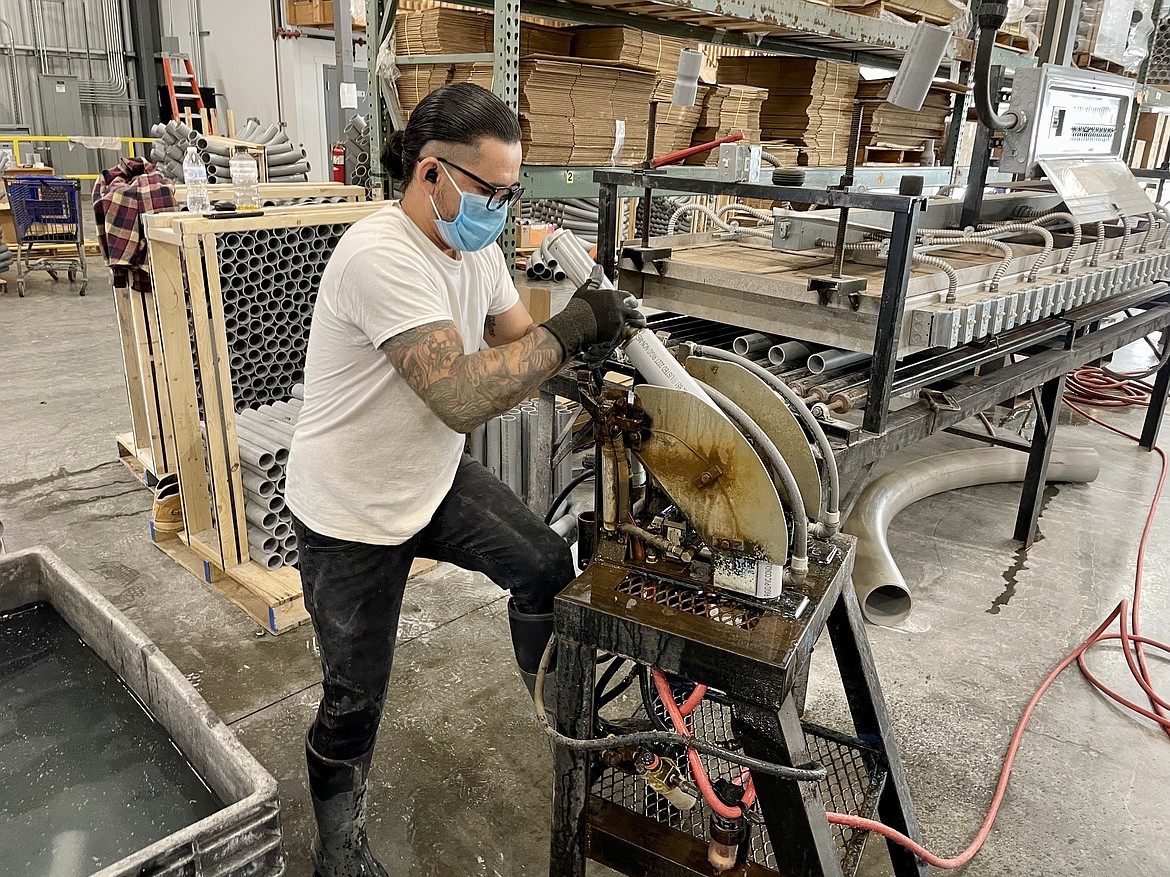 Raceways Technology employee George Mendoza shows how a shorter and smaller section of PVC pipe is bent and cooled into a sweep.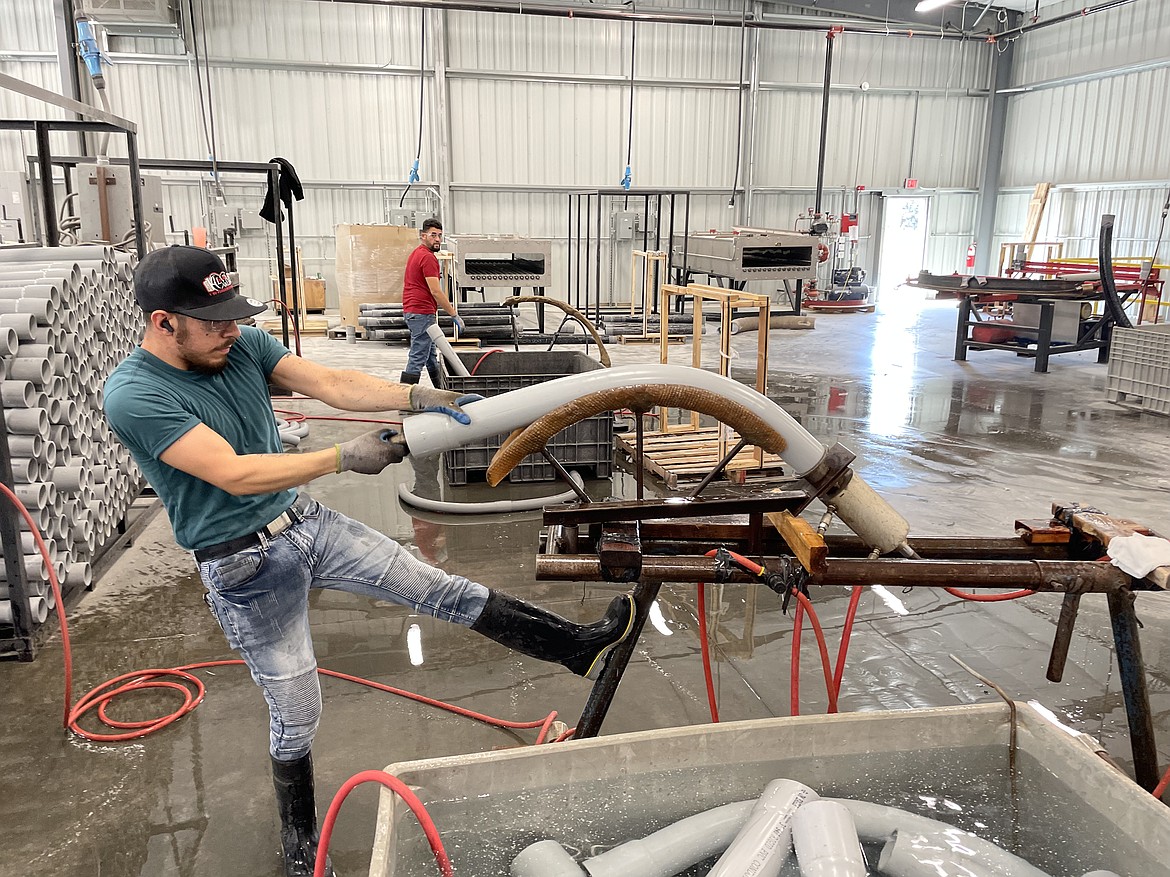 A Raceways Technology employee shows how a large PVC pipe is bent.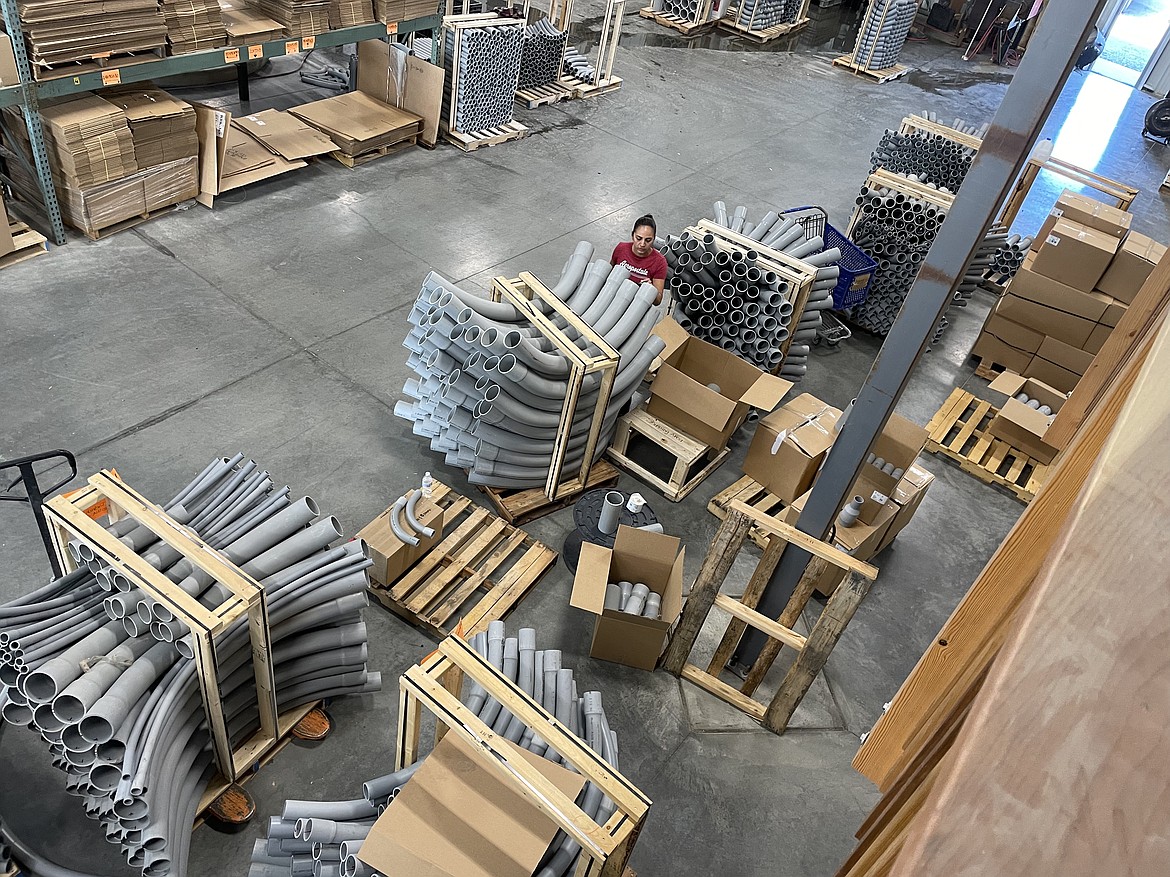 Raceways employee Karla Negrete stacks and moves curved sections of pipe known as sweeps in the company's new Quincy factory.
Previous
Next
by
CHARLES H. FEATHERSTONE
For the Basin Business Journal
|
September 24, 2021 1:00 AM
QUINCY — The words on Josh Paul's shirt — "Get Bent" — say it all.
Because it's exactly what Raceways Technology in Quincy does — bend stuff.
Plastic and fiberglass pipe, to be exact.
"We manufacture PVC elbows and sweeps, PVC fabricated fittings, and we manufacture fiberglass elbows and sweeps," said Paul. "On fiberglass, it's just the elbows. On PVC, it's elbows, sweeps ands fabricated fittings."
The elbows and sweeps — long, curved portions of pipe — are used for conduits to house anything from underground power cables, internet and phone lines, even sewer and water lines. And for buildings of any size, Paul added, from a backyard "he-shed or a she-shed" to one of the giant data centers that have sprung up in Quincy over the last decade.
"Anything for pipes," he said. "It's used all over the place. It's a very unique niche."
Paul is the third-generation owner of Raceways Technology, which recently opened a new, $2.2 million, 50,000-square-foot production facility at the Port of Quincy's intermodal industrial park. The company was founded by Paul's grandfather, Steve Paul Sr., in 1979, and he designed much of the very specialized equipment the company uses to bend both PVC and fiberglass pipes.
"We still build it ourselves at our Tacoma facility," he said. "Excluding the saws, all of it, even the racks that are holding the pipes, the ovens, the molds, all of it we do by ourselves. We'll buy all of the steel and all of the components needed and just do all of the custom fabrication."
As Paul walks around the floor of his Quincy factory, he describes a production process that is fairly simple. Large, flat, open ovens roll and heat PVC pipe until it is soft enough to bend. Workers then put those pipes in special machines and manually bend them as they quickly cool them with jets of water so those pipe segments retain their newly curved shape.
It's the same process for the fiberglass pipe segment, though they are heated in bigger ovens at hotter temperatures and bent mechanically, rather than by hand, he said.
Paul said the fiberglass sweeps are used to house high voltage or high current power cables that would otherwise melt PVC pipe.
"A lot of the data centers when they do the underground power during construction, when they install the underground power, that's our bread and butter," he said.
While Paul said they haven't been the only elbow and sweep supplier to the region's expanding data centers — Raceways is an approved supplier for both Microsoft and the Grant County Utility District — the company does get enough work to keep around 35 people employed in Quincy full-time.
"We're doing good. The big issue right now is the global shortage of plastics," Paul said. "Getting anything plastic has been really tough this last year."
Paul attributed the plastic shortage to both COVID-19 and a series of shutdowns at petrochemical refineries in Texas and Louisiana earlier this year when severe cold collapsed the Texas power grid.
"Two or three out of the four major refineries called for force majeure," Paul said. "So it's been tough. We've turned over stones to get pipe. We're talking to people we haven't traditionally purchased from."
Fore majeure is a legal term included in nearly all contracts that allows a party to abrogate the terms by claiming unforeseeable circumstances prevented them from doing so.
Paul said part of the reason he has located to Quincy is the weekend home his family owns in Crescent Bar. But part of it has to do with how central Quincy and the Columbia Basin are to many of the company's customers in Eastern Washington, Northern Idaho and Oregon.
"I can get to Pendleton and back in a day, I can get to Ponderay and back in a day. We go to Lewiston and back in a day," he said. "Yakima, Ellensburg, Tri-Cities, we've had stuff where we've had to go way north to Okanogan county."
According to Port of Quincy Commissioner Curt Morris, the port signed a long-term lease on the facility with Raceways that gives the company the option to buy it at any time.
"His whole goal is to buy it from us," Morris said. "They're expanding their business, that part has worked out good."
Paul said he's simply grateful that he's still in the family business. After his father died, Paul said he learned from the accountants and attorneys overseeing the probate process only 10% of family businesses make it to the third generation. Many have to be sold off to pay the inheritance taxes.
"At the time, the CPAs and the bankers were trying to make me feel good; 'Hey if you don't make it through this, don't feel bad,'" he said. "But luckily, I grew up in the industry, grew up in the business, I was able to maintain and we're still here."
But not for a lack of offers, Paul said. Because much of the work at Raceways is unskilled — consistent and simple work with a paycheck, insurance and 401(k) plan, Paul said — he's had offers to move the company abroad, where labor costs are significantly lower.
"Got recruited by a company to move to Mexico," he said.
But aside from having a soft spot in his heart for Crescent Bar — where he is building a house and planning on moving permanently next spring — he wants to keep this work in the United States, Paul said.
"This is where I'm from. My grandparents were in the military and I'm a very patriotic American; we've got to keep these jobs right here in our own backyard," he said. "This is where I live, this is where I socialize. I want to support my own."
Charles H. Featherstone can be reached at cfeatherstone@columbiabasinherald.com.
---