'Live in the hay': Three-time Hay King shares the secrets to a good product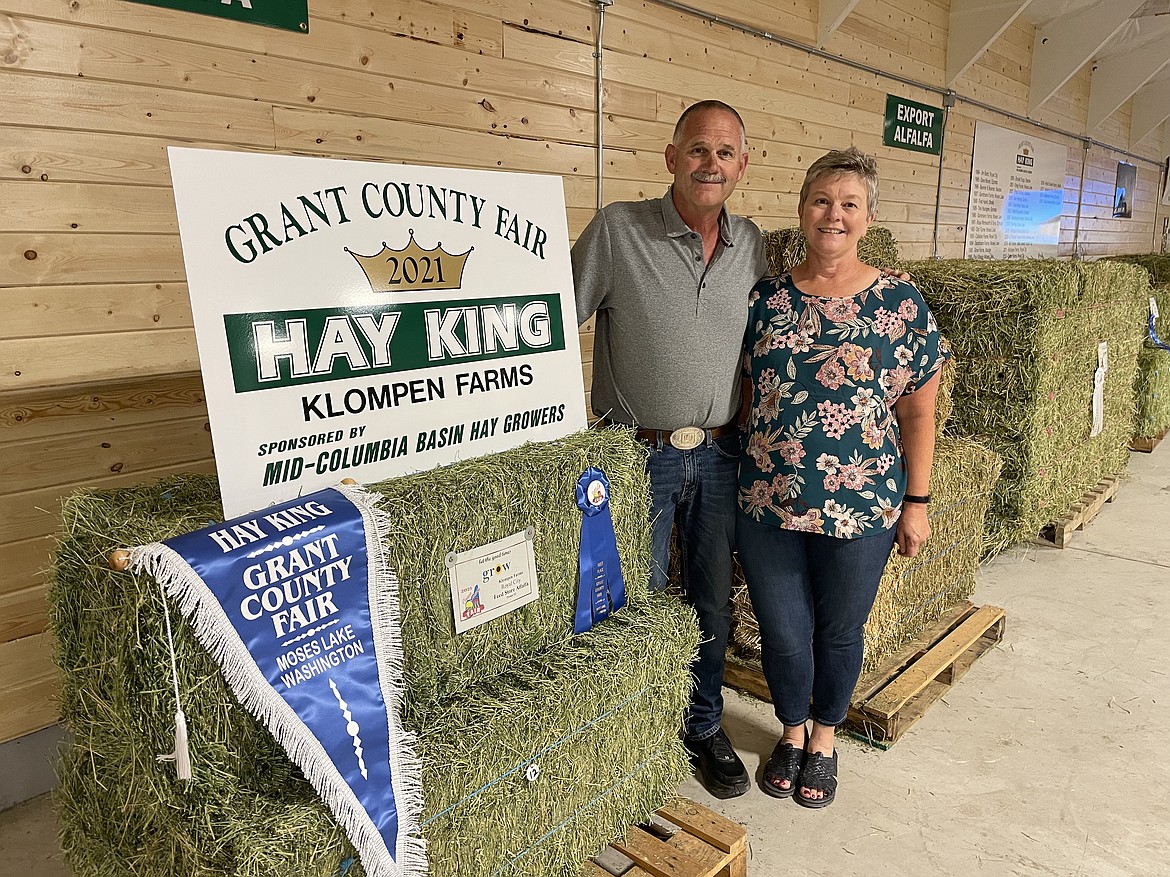 Bob Wieldraayer and his wife, Anne, of Royal City, at this year's Grant County Fair. Wieldraayer was named this year's Hay King, the third time he has won the award.
Charles H. Featherstone
by
CHARLES H. FEATHERSTONE
For the Basin Business Journal
|
September 29, 2021 1:00 AM
MOSES LAKE — Bob Wieldraayer is no stranger to wearing the crown of Hay King.
"This is actually our third win in 18 contests," said Wieldraayer, who farms around 200 acres near Royal City.
Wieldraayer won the award previously in 2008 and again in 2011. He harvests around 1,000-1,100 tons of timothy and alfalfa hay every year, mostly in small, 91- to 100- pound bales.
"We started with small bales and we cater to the horse industry," he said. "Horses for people are sport, and we actually have horses at home. My wife rides, I have my own horse, the girls have their own horses. I liken it to the guy that has the ski lift pass or the outboard motor on his boat, they go skiing or what have you, they go playing with their horses, and that is just what's worked for us."
Focusing on horse owners means he can command a higher price, Wieldraayer said. But it also means he has to produce hay to a much higher quality.
"They're sticklers on quality hay," he said of horse owners. "Yes, they are."
Kirk Jungers, the owner of Firstline Seeds Inc. in Moses Lake, which sponsors the Hay King competition, said even with all the other ways to measure hay — moisture content, protein content, types of fiber — award-winning hay is above all good-looking hay.
"You know, if you go to the store to buy something, if it's pretty, chances are that's the one you're going to want," Jungers said. "If it's got a worm crawling out of it, chances are you not going to buy it."
Wieldraayer said the secret, at least for him, of harvesting and selling good hay, is to store it well. That's why all of his hay is barn stored and covered in tarps if it needs to be stored outside, something he said he's dedicated to until the hay is actually sold.
"We stack it on tarps so we don't have any bales touching the soil on the ground," he said. "The snow blows into the barn, you'll see me out there with a shovel and/or my leaf blower on my back blowing the snow off of the haystack because we don't want it to melt and rundown, and that is an issue."
"Until there's tailights under it, we gotta take care of the haystack," Wieldraayer said.
While his first-cutting timothy is sold internationally, Wieldraayer said much of his second-cutting timothy and his alfalfa is sold in Washington, mostly to horse hobbyists on the west side of the state, especially horse owners on Whidbey Island.
"Our bale sales will consist upwards of 3,000 to 4,000 bales a year of customers like that, and it's neat to be able to sell to the people who are actually using and feeding the hay," he said.
"I should have a map with pins on it to all the little towns," Wieldraayer added. "We get a lot of people who drive two-and-a-half, three hours and go home with 40 or 50 or 60 bales of hay."
Wieldraayer said he only recently added a second three-tie baler to his operation so he and his wife could work at the same time. It meant he could get a little more rest during harvest time between baling at night and stacking hay the following morning.
"I might bale for two or three hours, and she takes my spot and I rest in the truck, or she starts because I'm raking, and she'll bale for an hour or two. I get done raking, I get in the tractor," he said. "After a six- or seven-hour run with one machine, you're both pretty tired."
Wieldraayer said he's looking for a second two-tie baler as well, hoping to be able continue doubling the amount of work they can do next year.
"We've done it this long with a very limited amount of machinery, and I don't like rows and rows of equipment, because you've got to take care of that, too," he said.
But Wieldraayer isn't sure how much longer he can do this work, and how many more times he may be in the running to be Grant County's Hay King.
"We're getting more tired every year. We've been doing it for 30-some years, and with just Anne and I, it's intense," he said. "When it's time to go, you just can't say I don't want to tonight. You've got to go out and live in the hay until it's got strings around it. And out of the field."
Charles H. Featherstone can be reached at cfeatherstone@columbiabasinherald.com.
---