The Southern Gypsie: Local boutique offers 'barnyard chic'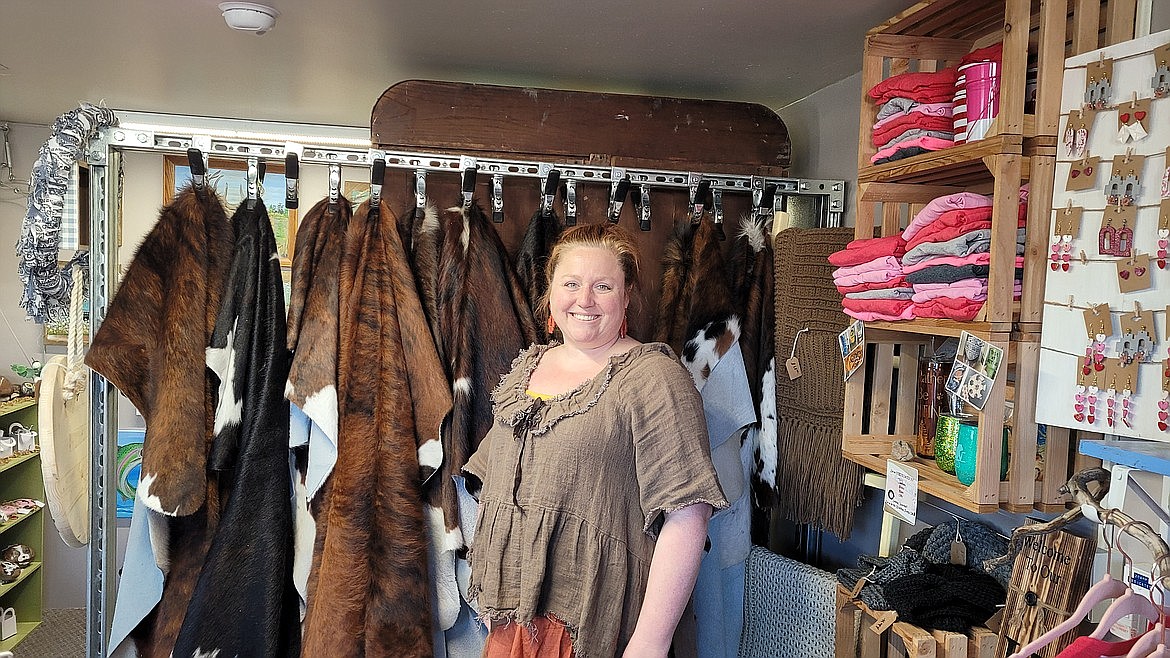 Erin Fruge of The Southern Gypsie said she has been happy to offer cowhide rugs to shoppers in her new boutique. The hides run for about $250 and come in a variety of patterns and colors and are good to hang on the wall or lie on the floor.
R. Hans Miller/Columbia Basin Herald
by
R. HANS MILLER
Hagadone News Network
|
April 20, 2022 1:00 AM
EPHRATA — Erin Fruge opened The Southern Gypsie boutique in Ephrata at 444 Basin St. NW in Ephrata on Feb. 5. The business specializes in gifts, clothing and décor made by Columbia Basin artisans with what Fruge calls a "barnyard chic" style.
"My goal is to have a boutique and gift shop that offers someone a place to buy unique birthday, baby and wedding gifts," Fruge said.
Prices at the mostly locally-sourced shop range from under $10 to more than $300. Fruge said that price range is intentional in order to make sure the shop welcomes people from all walks of life and income brackets.
The shop carries a wide variety of items from more than a dozen area artists and artisans, Fruge said. She is also open to adding more artists that focus on pieces made from locally-sourced and inspired materials. To date, in addition to her own handcrafted items, she has been able to bring in crocheted garden gnomes, painted skulls, custom signs, paintings, locally-printed apparel, jewelry, metal artwork and more.
She added that she is interested in carrying Native American artwork and products in support of the region's Indigenous history. That is as much a part of the community's history as ranches and technology plants, she said.
"The Native American heritage is personal to me because I have Native American heritage on my mom's side from down in the Mississippi area," Fruge said.
Fruge said she's always wanted to open a boutique and after her husband's job brought her family to the Columbia Basin, she fell in love with Ephrata and decided to open her own business. While she loves her southern heritage – she's from Louisiana – she's found a home in Ephrata, she said. The small town charm and friendly people made her want to contribute to and be a part of the community. She said she felt opening a business was a good way to do that.
"When I decided to open a boutique, I wanted it to be unique, but I wanted to support people like me who are passionate about what they do," Fruge said. "Even when tourists come through, they stop and they buy something – it's something that's made here. It's something from Washington, you know? The rocks that we have painted, they're collected from all over Washington."
The community's reaction to the shop has been positive overall, Fruge said. She held an open house on Feb. 10 and 12 just ahead of Valentine's Day. Visitors said they were excited about the new store and were excited about the variety of products offered.
"I love when people come in and they get a big smile on their face and go, 'Oh, this is so neat,'" Fruge said.
Fruge said she plans to have holiday-themed events regularly. The next open house she's planning will be for Easter. It will be held on April 9 and 16 and will feature opportunities for photos with bunnies and chicks, she said. The shop will also be decorated with an Easter theme and she said she hopes to see lots of locals show up and get to know her.
She also hopes locals will shop at the store and that her shop will draw more people to the north end of Basin Street, she said. She feels that people often forget about the small businesses there, but those shops are still a part of the community.
Helping to build a community that she and her family have come to adore is a big part of why Fruge is passionate about her work at The Southern Gypsie.
"I just want people to realize how much we've come to love their community and want to give back," Fruge said. "I hope that we're going to provide something for them that is just as exciting for them as it is for me."
---