Best in herd: Floyd and RaeAnn Lewis named Cattlemen of the Year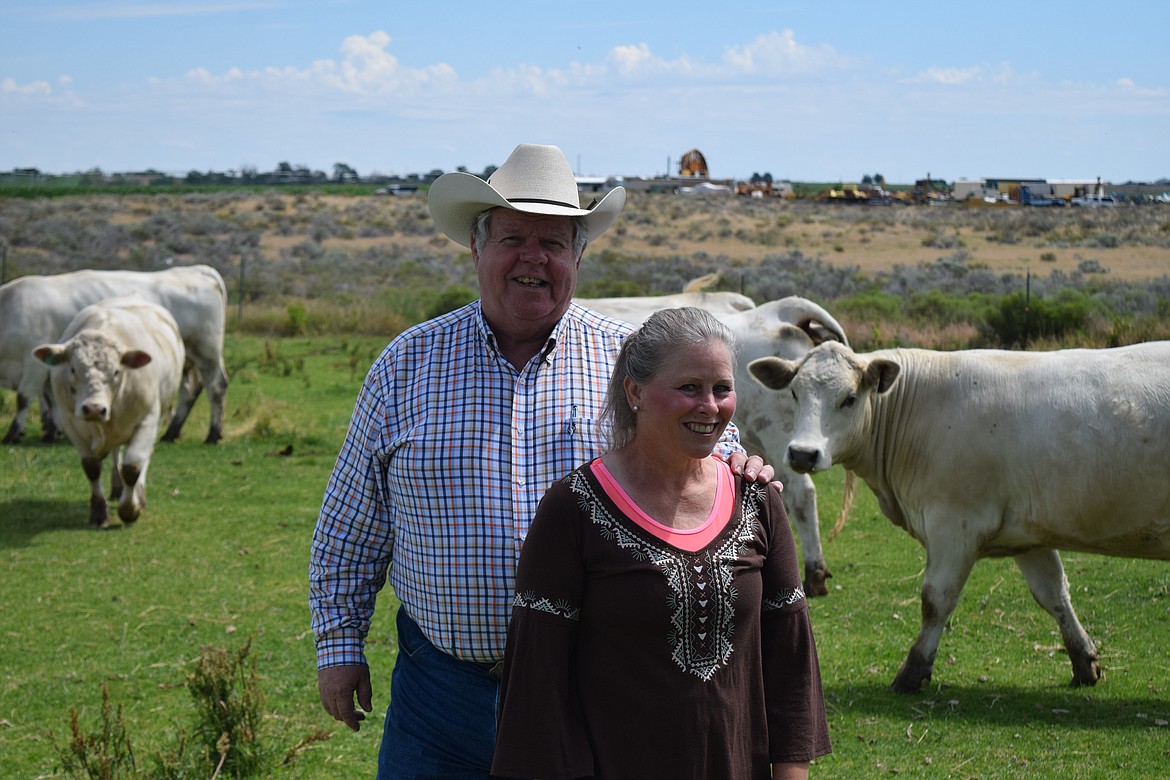 Floyd Lewis and his wife Rae Ann with their herd of Charolais on their ranch just west of Moses Lake. The Lewises were named Cattlemen of the Year by the Grant County Cattlemen's Association.
Charles H. Featherstone/Basin Business Journal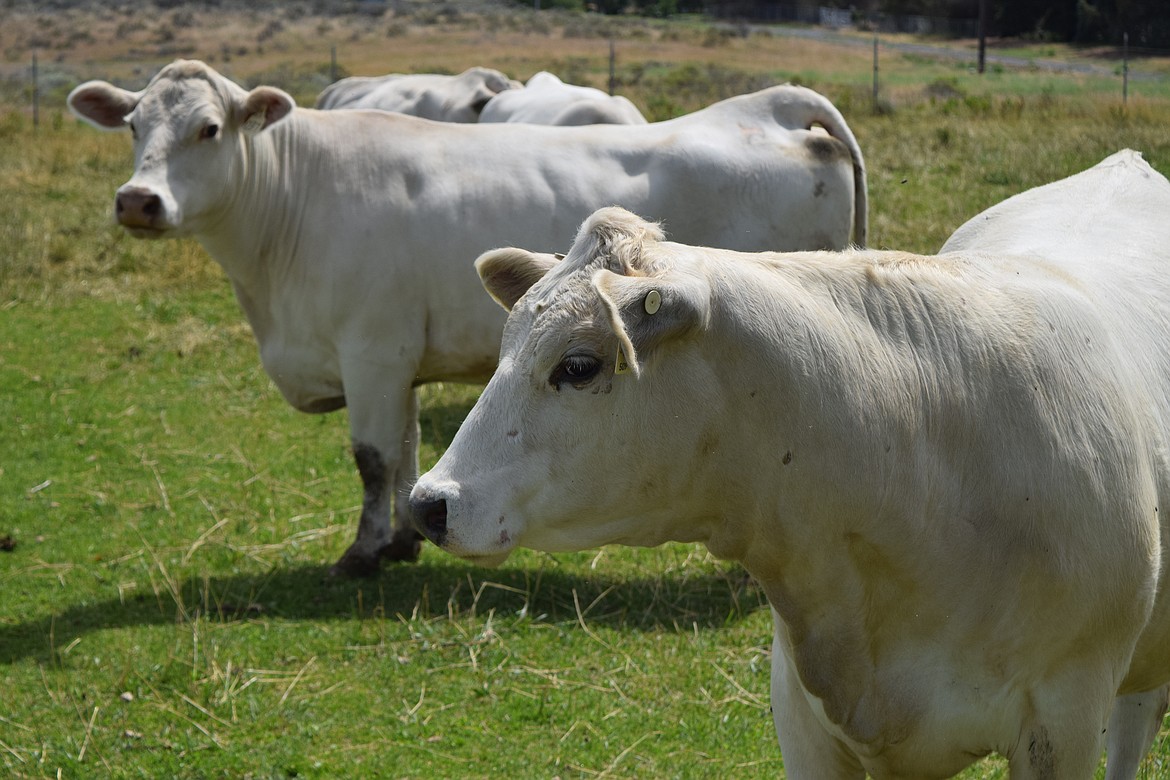 Floyd Lewis has developed this herd of Charolais cattle for several decades.
Previous
Next
by
CHARLES H. FEATHERSTONE
For the Basin Business Journal
|
August 14, 2022 1:00 AM
MOSES LAKE — Rancher Floyd Lewis has no doubts that cattle understand their place in the universe.
"They know they're prey animals," he said as he wandered through a field where a small herd of cream-colored Charolais grazed. "And they definitely know they're delicious."
The cattle themselves grazed cautiously. They knew Floyd, and his wife Rae Ann, but they weren't sure what to make of the stranger with the camera who followed the Lewises through the field, fixing wary bovine eyes and keeping a very cautious distance.
Lewis is unapologetic about his love for cattle. And for the people who raise them. It's one reason he was named this year's Grant County Cattlemen of the Year by the Grant County chapter of the Washington Cattlemen's Association.
"I have loved livestock forever," Lewis said as he sat on the front porch of his ranch just west of Moses Lake. "To have the cows, I mean, that's a great release for me, along with the other careers that I've got going. But you know, I love the people and I love the industry."
In addition to the small ranch Floyd and Rae Ann own west of Moses Lake, Floyd also works for Multimin, a Fort Collins, Colorado-based maker of injectable mineral supplements for cattle, he currently serves as the vice president of the Grant County Cattlemen's Association and is second vice president of the Washington Cattlemen's Association, and he sits on the Grant County Fair's livestock sale committee. He earned a bachelor's in animal science from Washington State University and completed two years of a master's program in animal nutrition.
"I have a significant amount of things to do," he said.
The herd of Charolais warily but contentedly munching away on the grass amidst the irrigation pivots in his back pasture is not the entirety of the family beef business either, Lewis said. One of his daughters bought a portion of the herd and moved it to her home near Shepherd, Montana. Between that and the industry work he's done, Lewis said he's been across the country and developed a lot of contacts with other folks who work with cattle.
"I'm super fortunate in the careers that I have had in being able to meet a lot of people in the ag industry, and to have some friends all over the United States," he said.
Lewis said he's been involved with the county cattlemen's association for the last 25 years, doing a lot of the ordinary work of helping to run an association — chairing meetings, helping to select scholarship recipients, organizing annual banquets and barbecues, meeting with legislators and regulators to help shape the law and rules that affect agriculture. Even more important than that is bringing people together to work, organize, commiserate and celebrate, he said.
"Everything is instantaneous information today," Lewis said. "So sometimes (younger ranchers) don't understand the merit of still belonging to a grassroots organization that not only is tied to a state organization, but tied to a national organization, so that you can solicit information and also help to lobby to keep things on a level playing field."
That's the work that allows ranchers to pass on wisdom and cultivate new leaders, Lewis explained. For example, he noted that he recently coached a younger aspiring rancher who had just bought some baby calves and was having to learn from scratch how to do that.
"Oh, and she needed some help and understanding that it doesn't make any difference if they were 120 pounds. They're still a baby," he said.
Lewis also used the example of water rights and a proposal by the administration of President Joe Biden to revise the definition of "waters of the United States" that could reimpose fairly restrictive rules on agricultural land use. The term "waters of the United States" is used by the Environmental Protection Agency and the Army Corps of Engineers under the 1972 Clean Water Act to describe any navigable water or wetland adjacent to a navigable body of water, and up until 2015, was interpreted by both agencies fairly broadly for regulatory purposes.
"We ran into the issue if it becomes navigable waters and 'waters of the U.S.,' are we still allowed to have cattle consume that water? Do you have a creek, and is that your primary source of stock water?" Lewis asked.
There is a place for government, Lewis said, but there's also a place for farmers and ranchers to organize and be vigilant.
"I'm not anti-government, not by any stretch of the imagination. But we do also need to remember that, especially in the ag industry, we have to be careful of what we ask for from the government," he said.
He also said it's important for ranchers and farmers, both as individuals and in organizations, to represent agriculture and farm life well. Because what growers do is simply too important to the community, the nation and the world.
"We have to remember, we're in the food business," he said. "Being in the food business, you have to be an advocate for that."
Finally, Lewis advised young people to follow their passions, as he and Rae Ann did nearly 40 years ago after he graduated from Washington State University with an animal science degree and two years of a master's program in animal nutrition when they followed the ancestors of those cream-colored Charolais out into the pasture.
"We did it as a couple," he said. "We changed and grew and built that herd."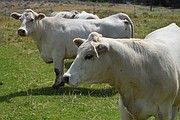 ---