Warden hosts mounted shooter competition
by
IAN BIVONA
Hagadone News Network
|
August 22, 2022 1:00 AM
WARDEN — Twenty-eight riders made their way to Warden over the weekend for the Clean Shooter Buckle Series meet, a mounted shooter match where riders use Colt .45s while riding a horse.
"What we're doing out here is not only gun-handling and accuracy, but it's horsemanship skills too," match director Tara Gokey said. "You have to maneuver through the course properly to hit your targets."
The event was held by Cash Day Productions, LLC and tests participants marksmanship and horsemanship skills. During a ride, the rider attempts to run the course in the shortest time possible. At the same time, they use two Colt .45 pistols with black powder ammunition to shoot balloons in a certain order.
"The fastest times combined overall scores are the winners," Gokey said. "Each rider will ride four times."
The four stages throughout the match change, giving riders a new challenge to face during each run.
"Each stage is a little bit different, so the rules on each stage can vary," Gokey said.
Day one of the competition on Saturday was a Clean Shooter Pot, meaning those who clear all the balloons take a share of the pot. On Sunday was a 4D shoot, which is more of a tournament-style event.
"It's kind of a practice, play day (on Saturday)," Grounds Owner Jeff Boday said. "(Sunday) is a 4D shoot, which gets real serious."
There are deductions that can be made during the ride, such as missing a balloon or shooting a balloon in the incorrect order - giving riders a five-second delay for a miss and a 10-second penalty for shooting out of order, per infraction. Green and white balloons were decorated across the route, with riders shooting them in order
"We shoot two single-action .45s," Gokey said. "We shoot five of one color, and then you have to holster and draw your second pistol and shoot the other five."
The type of ammunition used in a match still fires to hit the balloon but has a decreased range.
"They are black powder loads," Gokey said of the ammunition used. "They have about a 15-foot maximum reach."
The 28 riders in attendance come from across the Pacific Northwest, and bigger meets bring out riders from around the country.
"It's fairly normal for our area," Gokey said of the rider turnout. "These are all within four hours to five hours from here, so it's a pretty central location."
Matches like the one held this weekend typically bring out 30 riders on average, with the same riders attending matches throughout the summer.
"Each event is a little bit different, but we had our big shoot back in May which had $5,000 added to it so that drew 60 riders," Gokey said. "This one is our buckle series, so it's kind of the same 25-30 people playing throughout the course of the summer."
Boday said he appreciates the turnout for events held on his land.
"This is what I live for," Boday said. "I love horses, I love the competition. I got too old to do what I was doing."
The next Clean Shooter Buckle Series match will be held in September, with another following in October.
Ian Bivona may be reached at ibivona@columbiabasinherald.com.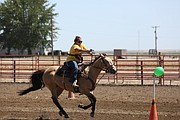 ---