Mosbrucker named WPUDA 2022 Legislative Champion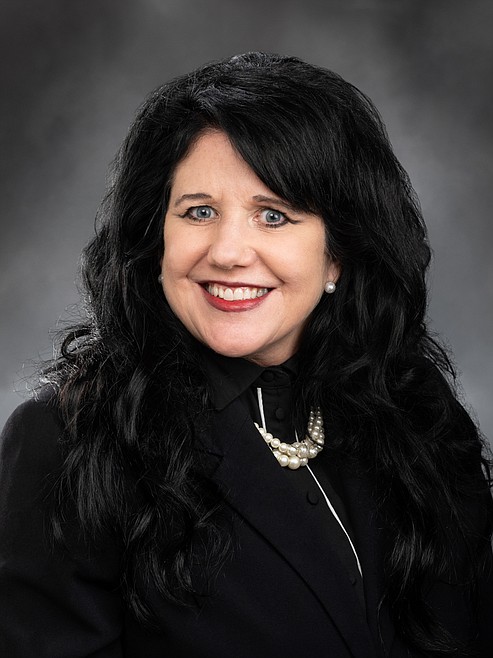 Rep. Gina Mosbrucker, R-Goldendale, was recently named the Washington Public Utility Districts Association 2022 Legislative Champion.
Gina Mosbrucker/courtesy photo
by
Staff report
|
December 5, 2022 1:00 AM
OLYMPIA — State Rep. Gina Mosbrucker, R-Goldendale, was recently named 2022 Legislative Champion by the Washington Public Utility Districts Association, according to a statement from the representative's staff. The award honors a member from the Washington State Legislature or U.S. Congress for their commitment to public utility districts.
"This award recognizes your strong commitment to advocating in the 2022 legislative session for policies that enhance the ability of public utility districts to serve the needs of their communities," WPUDA Executive Director George Caan wrote in a letter to Mosbrucker. "Your leadership as sponsor of House Bill 1623, addressing the risks of rolling blackouts and inadequacy events, demonstrated your expertise in utilizing a collaborative approach between stakeholders and state agencies to address the risk of power disruptions."
House Bill 1623 sought to ensure the state continually plans to help avoid energy blackouts, brownouts or other inadequacies of the electric grid. The bill, which passed the House by a vote of 93-0 and the Senate 49-0, was vetoed by Gov. Jay Inslee.
"I am very honored and humbled the Washington Public Utility Districts Association has named me for this award. The real champions across the state are the men and women who work every day to keep our lights on, warm our homes, and power our state's economy," Mosbrucker wrote in the statement.
Mosbrucker plans to reintroduce her electric grid reliability bill in the 2023 session, the statement added.
---