Growing feed: Focus will be on markets and production costs at NW Hay Expo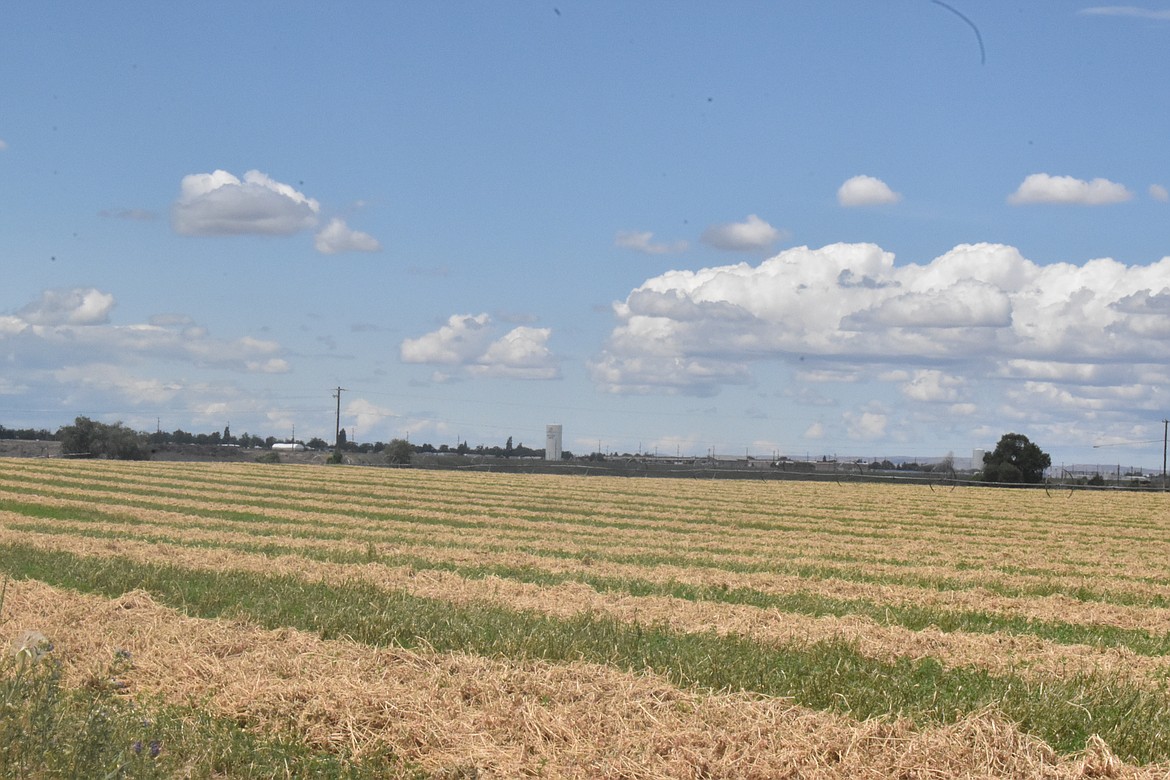 The 2023 Northwest Hay Expo is scheduled for Jan, 18 and 19. A hayfield near Moses Lake is pictured.
File photo
by
CHERYL SCHWEIZER
For the Basin Business Journal
|
December 31, 2022 1:00 AM
KENNEWICK — Combating disease, the state of the fertilizer market and managing inflation will be among the topics at the Northwest Hay Expo, scheduled for Jan. 18 and 19 in Kennewick. The conference is sponsored by the Washington State Hay Growers Association.
Information sessions and the accompanying trade show will be at the Three Rivers Convention Center, 7016 W. Grandridge Blvd. Sessions begin at 8:30 a.m. Jan. 18 and 8:45 a.m. Jan. 19.
About 70 companies are expected to exhibit in the trade show as of mid-December.
Andrew Eddie, 2022-23 WSHGA president, said the conference gives hay growers information that helps them stay current on ways to improve production as well as challenges and opportunities in marketing and growing hay.
"We don't really have an overarching theme, just (saying), 'Here's where we're trying to be, Here's what's going on, and you should stay informed and in the loop about it.' And go from there," Eddie said.
"We'll be discussing soil health, plant health, emerging market trends on Wednesday," he said. "Thursday we'll be discussing the state of the market for both export (and) domestic, the fuel market and then rising interest rates and the costs of that inside everybody's operations."
The surge in inflation has affected hay growers just as it has producers in every industry and the customers that buy their products. Interest rates have gone up in response, and that's important to farming operations, hay growers included.
"It is going to cost a lot more in interest," Eddie said. "If you have to borrow money for your operation, it's going to be a pretty drastic change compared to what it was a year ago."
Most hay grown in the Columbia Basin is exported, Eddie said, and inflation worldwide, as well as the value of the dollar versus other currencies, has had an impact on the hay market.
"I think the things going into 2023 that are going to have an impact on farms – on agriculture as a whole and every other industry as well – is rising interest rates and inflation and a little softening of markets, which are all tied together," Eddie said. "Because the more it costs for our product to get overseas, maybe the less they're going to want it, and they're going to different avenues to get some cheaper feed, whether that's grass seed, straw or anything like that."
Information sessions are scheduled all morning both days, with the afternoon session wrapping up at 4:30 p.m. Jan 18 and 2:45 p.m. Jan. 19. Most information sessions are about 30 minutes. The trade show reception is scheduled for 4:30 to 6 p.m. Jan. 18.
Cheryl Schweizer can be reached via email at cschweizer@columbiabasinherald.com.
---