'Food is medicine': Tree Top CEO talks about what's happening in the fruit industry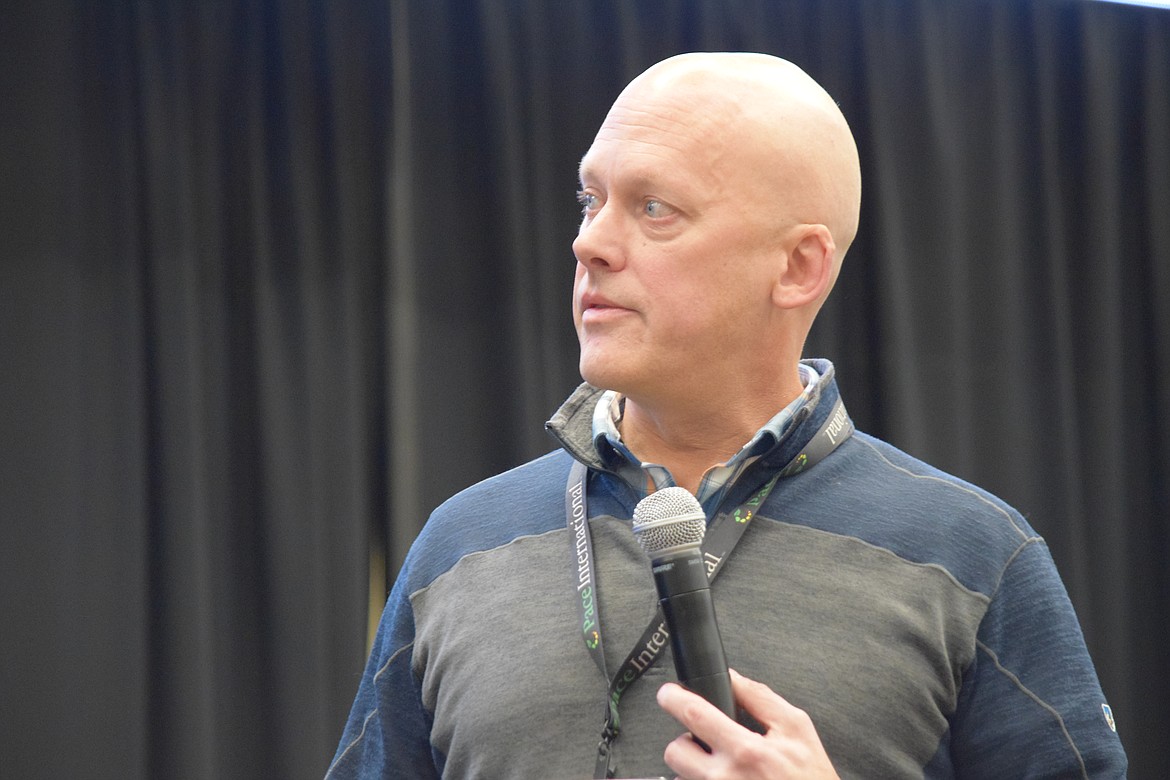 Tree Top President and CEO Craig Green speaking at this year's Northwest Horticulture Expo on how the company is diversifying its product line to thrive in the future.
Charles H. Featherstone/Columbia Basin Herald
by
CHARLES H. FEATHERSTONE
For the Basin Business Journal
|
January 3, 2022 1:00 AM
YAKIMA — Diversification.
That's how Tree Top, the large, Selah-based fruit cooperative, is going to survive and thrive, according to Tree Top CEO and President Craig Green.
"Tree Top has had a couple of tough years, but it's behind us now and in the rear-view mirror," Green said during a speech at this year's Northwest Horticulture Expo in Yakima.
"It took about three years of elbow grease to get it fixed, but in that three years we've grown top line sales a little over 20%," he said. "Working capital is up about 40% and we reduced our long-term debt by about 20%."
"So we finally have the financials in a good position for Tree Top to continue to be a sustainable business," Green added.
Green said Tree Top — which is the number one buyer of fruit in the industry — has kept apple juice, apple juice and fruit fillings (the company makes much of the fruity goodness that is baked inside Pop Tarts) while also expanding its operations into other kinds of fruit and fruit-related products.
In fact, the company is aggressively looking at new markets, new products and new ways to use older products. Because consumers aren't content with simple apple juice or apple sauce anymore, Green said.
Formed in 1960, Tree Top is a cooperative owned by its member growers. The company has Washington manufacturing facilities in Selah, Wenatchee, Prosser and Bothell, as well as Oregon plants in Woodburn and Medford and a California facility in Oxnard primarily to process anywhere from 25 to 40 million pounds of strawberries every year.
"Today's consumer is looking for things I didn't look for. And that my mom certainly didn't look for," Green said. "They pay careful attention to the sugar content in foods of all kinds."
Among the things Green said consumers are looking for today are lower-sugar foods, portable snacks that come in easy-to-carry pouches, easy-to-read labels with very few ingredients, and foods with functional benefits.
"Food is medicine is really kind of the way to look at this. What else do I get from the food that I put into my body? Does it help my immune system? Does it have antioxidants?" Green said.
And these things are here to stay.
"They are trends and not fads," he explained.
Green said Tree Top has leveraged its long experience producing everything from juice to purees to now help major food producers like Kraft, Nestle and Pepsi develop new products. The company has learned how to take whatever apple variety it gets — Red Delicious one day, Honeycrisp the next, for example — and process them so a consistently identical product such as a puree or a filling comes out as the finished product. Which has taken a lot of work, Green said, because each variety of apple is different, with varying amounts of starch and sugar and different handling properties.
"We have a billion-dollar-a-year budget for product development and research," he said.
Among the new products Green said Tree Top expects to launch soon are a new pouch-based protein juice drink that tested very positively with consumers and an applesauce pouch that also has "functional benefits."
"I won't say much more because it's not on the shelf yet," he said.
Green also said Tree Top has been doing some varietal-specific marketing, such as the Cosmic Crisp apple juice and apple sauce the company recently launched. The idea is consistency and brand identity, Green explained, so that consumers can link an apple product to a particular variety of fresh apple available in the produce section.
"When they see Honeycrisp, they know Honeycrisp," he said.
However, Green said Tree Top has struggled this year with its Cosmic Crisp varietal juice, cider and sauce given that type of apple is so new.
"The consumer just doesn't know what it is yet," he said. "So, we have got to spend some time with Cosmic Crisp, we've got to wait for the branding and the marketing to catch up. I'm sure it will come; we're not going to walk away from it."
Green also said that the company's six-ounce, 50-calorie Fruit + Water juice pouches — have become so popular Tree Top launched them in half-gallon bottles.
"This product is doing really well," he said.
But what's done really well in the last few years has been hard seltzer, both the Tree Top brand and the work the company did with Anheuser-Busch to formulate the brewer's Bud Light brand hard seltzer. Because of that, Green said, Tree Top will be launching more of its own brands in the future.
"It is the only hard seltzer on the market that uses real fruit as flavor," he said. "People like the flavor and haven't had any negative feedback on this one."
Green said the company has also started buying and processing pumpkins, making pumpkin flakes and powders from Washington pumpkins, marking the company's first foray into vegetables. While pumpkin is a major ingredient in dog food, Green said pumpkin also "hits all the trends" currently driving food processing, and can be used widely in baked goods, as well.
"Most of the things you can do with fruit we can easily do with vegetables," he said.
In fact, while Tree Top buys a lot of fruit, Green said the company is actively looking for vegetable growers to work with.
"If we have or you know we have growers here in the room, or know somebody who's growing berries or could grow berries, or are growing pumpkin or squash or peas or carrots or would like to, we'd like to talk about it," he said.
About the only difficult news Green had was an announcement the company would be relocating its Medford, Oregon, operations — which mainly produce pear puree — to Prosser. The goal of the move is to save shipping costs by locating production closer to the growers, he said.
"The Medford plant is so far away from the growing regions in Washington, we spend millions and millions and millions of dollars every year shipping apples and pears to Medford and freight's not going down, as we all know," Green said.
"We buy our food locally. We source our labor locally. We do all these things locally when we're competing in a global market," he explained. "So getting our cost of production under control is really important in order to be able to compete in that marketplace."
---