Electric revolution: Basin companies at the forefront of energy change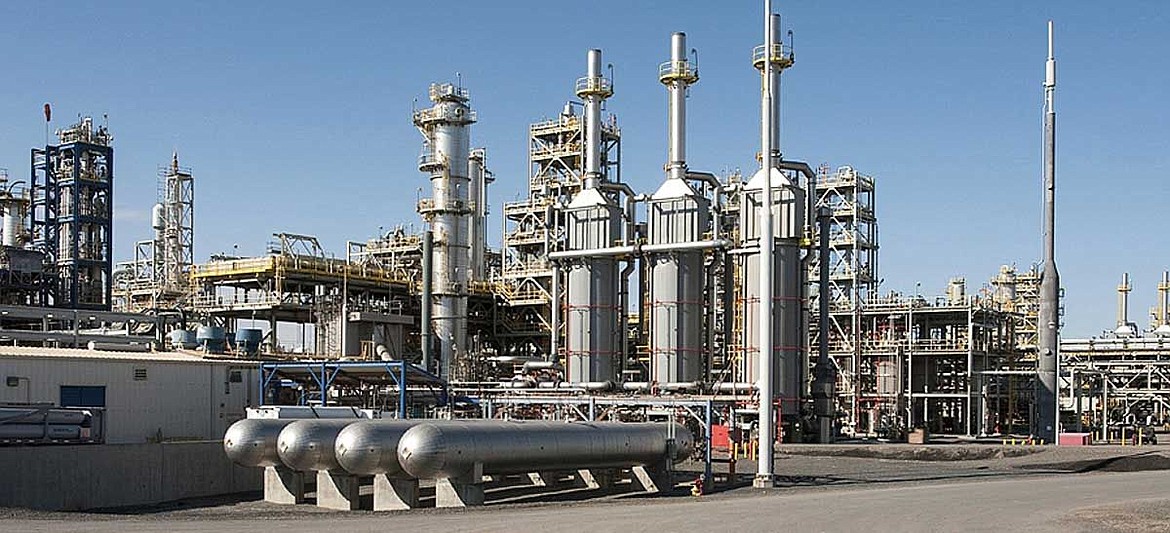 The REC Silicon facility in Moses Lake is expected to begin producing solar-grade polysilicon next year.
File photo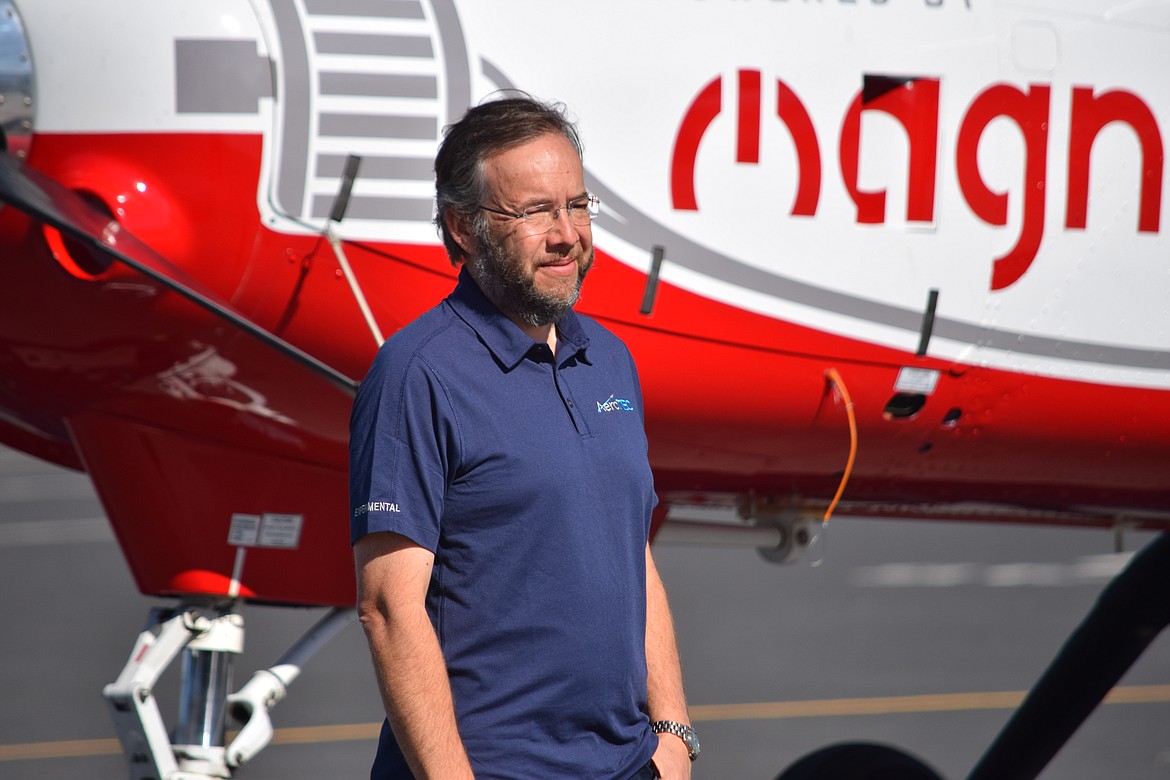 President and CEO of AeroTEC Lee Human following the successful first flight test of an all-electric Cessna Caravan at the Grant County International Airport in May 2020. AeroTEC has taken on a contract with NASA to develop electric aircraft propulsion systems.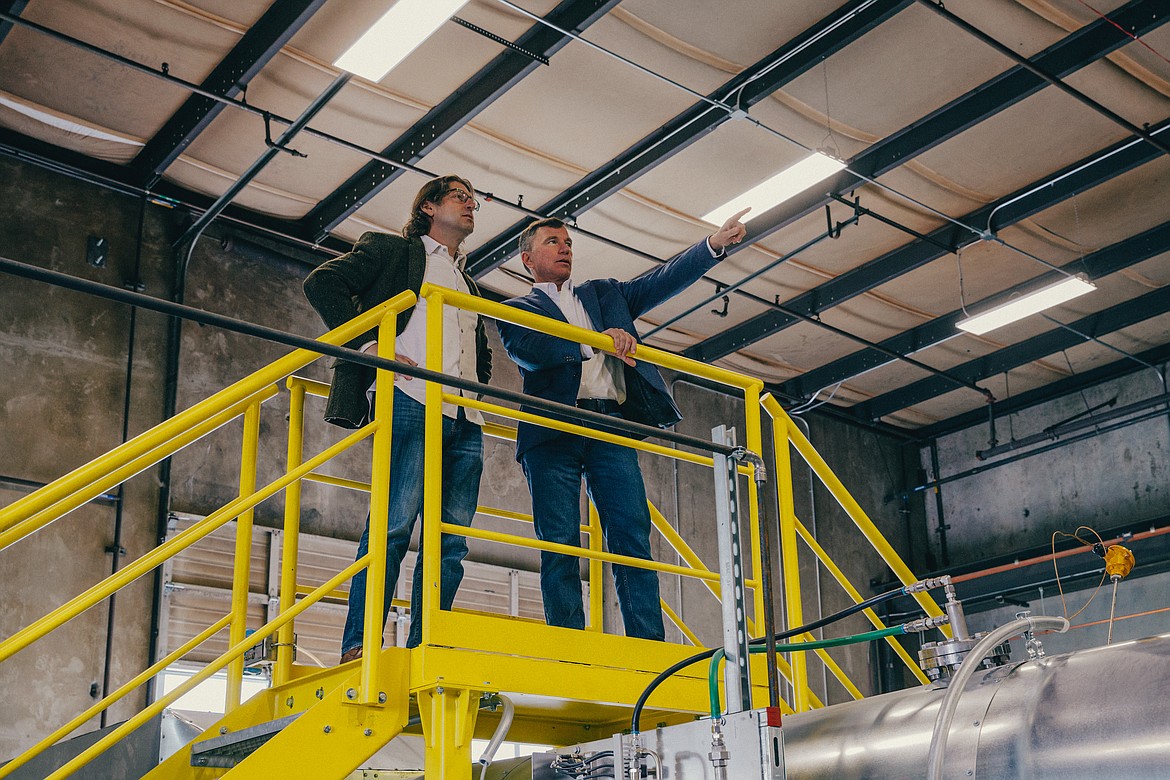 Group14 Technologies co-founders Rick Costantino, chief technology officer, and Rick Luebbe, chief executive officer, in the company's newly completed Woodinville production facility. Luebbe said Group14 is planning to build a much larger facility in Moses Lake.
Previous
Next
by
CHARLES H. FEATHERSTONE
For the Basin Business Journal
|
July 7, 2022 1:00 AM
MOSES LAKE — REC Silicon will resume production of solar-grade polysilicon at its facility in Moses Lake, according to CEO James May. May spoke during a conference call highlighting the company's first quarter 2022 earnings.
"We are going to restart in Moses Lake," May told investors during the call.
May said the company expects to begin producing solar-grade polysilicon in Moses Lake in late 2023 and hopes to be producing at 100% of the facility's capacity by the end of 2024. Previous restart plans, which saw the company resume production in 2023, only envisioned output reaching 50% of total capacity, May said.
The plant has been shuttered since 2019 as the result of a protracted trade dispute with China over tariffs on Chinese-made solar panels. China imposed steep tariffs on REC's polysilicon, used to make the wafers and modules that comprise solar panels, effectively preventing REC from selling its product to Chinese solar panel makers. Chinese manufacturers control between 80% and 90% of global solar production.
May said the plant restart is a direct result of the deal with South Korean solar panel maker Hanwha Solutions, which purchased around 21% of REC Silicon in a series of deals in late 2021 and early 2022. In the United States, Hanwha makes Q Cell solar panels in a factory in Dalton, Georgia, while Norway-based REC Silicon produces electronic-grade silicon and silane gas used in making silicon chips and flat-panel displays at a facility in Butte, Montana, as well as the solar facility in Moses Lake.
In fact, May said REC is currently negotiating contracts to supply Hanwha with both silicon gas and solar-grade polysilicon, and when the Moses Lake facility is up and running again, will focus on providing its output to Hanwha.
"We are talking with other customers, but Hanwha is the priority," May said.
May said that while REC is currently in a good financial position — with $204 million in cash on hand, the company currently has more money in the bank than it owes in debt, according to Chief Financial Officer Douglas Moore — the company will likely need more cash in order to completely resume production in Moses Lake. May, however, would not say how much, or whether the company would issue more shares or borrow to raise that money, or give any details on what it will cost to restart production in Moses Lake.
"As we go forward and complete the project, there will be plenty of time to react," May said.
May said over the last several years, REC has talked with advanced batter-makers Sila Nanotechnologies and Group14 Technologies — both startups are locating production facilities here, and California-based Sila purchased the large, empty building across Road N from REC — but that neither company consulted with REC when they decided to locate in Moses Lake.
REC is the primary source of silane — silicon gas — both companies will need to create their products, May said.
"We welcome both companies to Moses Lake," he said.
In early May, Alameda-based Sila Nanotechnologies, which has developed silicon anodes for rechargeable batteries, announced the purchase of the 600,000 square-foot former Xyleco building at 3741 Road N NE in Moses Lake — just across from REC Silicon's facility — as the company's first big production plant.
"This will be the first automotive-scale production plant, and the biggest silicon anode plant in the U.S.," said Gene Berdichevsky, co-founder and CEO of Sila Nanotechnologies. "We're a leader in this space and intend to keep it that way."
Berdichevsky said buying an already-existing industrial facility will allow Sila to get started quickly, noting the company hopes to be up and running producing silicon battery anodes by the second quarter of 2024.
When it replaces graphite in battery anodes — the positive end of a battery where electrons enter to charge a rechargeable battery — silicon allows for quicker, more efficient recharging, and also allows a battery to hold more electrons. Berdichevsky hopes to to make enough silicon anodes in Moses Lake to build as many as 500,000 vehicle batteries and 500 million cell phone batteries.
Sila has decamped to Moses Lake because of REC and the region's skilled industrial workforce, Berdichevsky explained.
"Moses Lake has an industrial talent base of people who can with these materials," he said.
Woodinville-based Group14 Technologies, which recently completed raising $400 million in capital for an upcoming expansion, also is looking at Moses Lake for sites to build an expanded production facility for its silicon battery anodes. Currently, the company has a small-scale production facility in Woodinville that co-founder and CEO Rick Luebbe said proves the commercial viability of Group14's product.
"We're now ready to go large scale in Moses Lake," said Luebbe said.
Luebbe added Group14 expects to make an announcement at some point this summer as to the location of its Moses Lake production facility.
"We've got a couple of spots we've identified. I can't disclose where those are yet," he said.
As Group14 and Sila compete to make and market silicon anodes for rechargeable batteries, Seattle-based AeroTEC — which has all of its testing and certification facilities at the Port of Moses Lake's Grant County International Airport — has nabbed two major electric aircraft projects, both in conjunction with Everett-based MagniX.
In the first project, the two companies are working on hybrid-electric Cessna Caravan for small regional airlines across the world. The program is intended to create an aircraft certified for commercial flight and aims at converting roughly 100 Caravans.
"This is a very exciting program," said AeroTEC founder and President Lee Human. "We're going to produce a fully certified aircraft for use as a regional (commercial) aircraft."
The program will involve replacing both of the Caravan's combustion engines with electric motors. Human said the aircraft will also have a small generator on board to recharge the batteries, increasing the range and allowing the plane to recharge without needing a dedicated recharging station, much like the hybrid-electric Toyota Prius introduced people to electric cars.
"It will allow for early adoption at airports," he said.
The second project involves working with MagniX to create an electric aircraft powertrain system as part of a big NASA project aimed at introducing commercial electric propulsion to smaller, short range commercial aviation by 2035 at the latest, according to a MagniX press release.
AeroTEC will work with MagniX, which makes electric aircraft engines, to create a hybrid-electric DeHavilland Dash 7, replacing two of the aircraft's four engines with electric motors.
In 2019, AeroTEC and MagniX cooperated to create an all-electric Cessna Caravan, which flew for the first time in the skies over Moses Lake in 2020.
"We're really pleased to have been selected," Human said of the NASA project. "We have a history with MagniX and we have their trust, and to extend that to NASA is a really big deal."
Aviation industry media have also reported that Eviation, an Israeli company working with AeroTEC to design and certify an all-electric airplane, has moved its Alice test plane from its U.S. operations in Arizona to Moses Lake. However, neither Eviation nor AeroTEC would comment to the Basin Business Journal on the reports.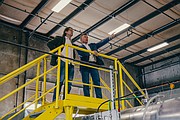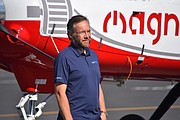 ---