Rain, cost of products bring hay prices up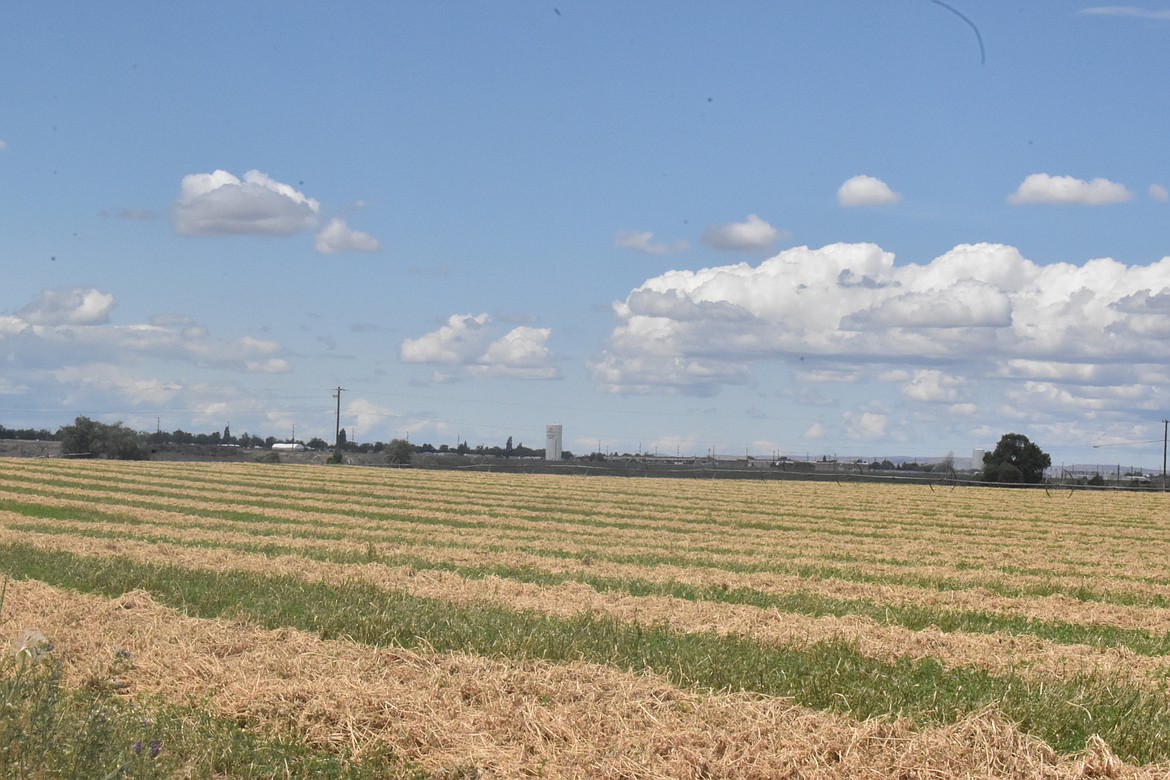 Hay lies cut in a Moses Lake field as it waits to be baled. While it may seem counterintuitive to those not in the business, the amount of rain received in Central and Eastern Washington this year has slowed down the harvest of hay throughout the region.
Rebecca Pettingill/Columbia Basin Herald
by
REBECCA PETTINGILL
Hagadone News Network
|
July 16, 2022 1:00 AM
COLUMBIA BASIN — As costs continue to rise in the current economy, the hit can be felt throughout the market, from consumers to producers — including in the hay industry.
Bob Lawrence, trainer and breeder at Lawrence Horse Racing and Sales, said the horse market this year seems about the same as previous years. The biggest problem, he said, is the cost of hay and grain.
The Washington-Oregon Direct Hay Report for the Columbia Basin issued June 17 by the United States Department of Agriculture states a large square bale (3x4) of alfalfa is selling for about $280-365 depending on if it is good or supreme quality. In this report, the good quality has notes of rain damage.
Jason Gunderson, General Manager of Stevens Hay Exports, said a lot of different factors go into the cost of hay and alfalfa.
The rising costs of hay and alfalfa are impacted by the rising costs of fuel, fertilizer and employees, amongst other things. Some of those costs, Gunderson said, are double or more from the previous year.
According to the Washington Department of Labor and Industries, agricultural employees have historically been exempt from receiving overtime pay under the State Minimum Wage Act but that exemption expired Jan. 1. The new requirement to pay overtime starts at 55 hours in a single work week but will decrease over the next two years to have overtime for agriculture employees begin at 40 hours.
"The problem we're facing is all the costs go up, but as with anything, everything has a price limit," said Gunderson. "You know, we're getting to the point where people can't afford the product. So I will say when the price goes high like this your margins get squeezed smaller and it's harder to make money."
The biggest problem for hay and alfalfa growers in the Basin is the weather, Gunderson said. He said the drought last year made supplies tight but that it didn't really affect the production itself because of the Basin's irrigation system. The problem this year is the unusual amount of rain.
"We don't like rain at all," Gunderson said.
Gunderson said this wet weather has pushed back the production enough that Basin growers may only do three cuts instead of four.
"First cutting alfalfa (in a) typical year, maybe seven to 10 days to get it cut and into the bale. And this year, we're anywhere from 10 to 20 days. Just because the weather is so cool and we keep getting the rainfall," said Gunderson.
"Baling at a higher moisture may result in spoilage from mold and heat unless a preservative or artificial drying is used," said Stephen J. Herbert, a professor in the Department of Plant and Soil Sciences at the University of Massachusetts Amherst, in a scientific research abstract entitled Harvest Management for High Quality Alfalfa Hay.
Gunderson said ideally hay growers would like six weeks of dry weather with a little rain but then when they start second cutting it needs to stay dry.
He did explain, however, that while they don't like the rain, it may be beneficial to other farmers.
"Farm is, one thing is good for one person and bad for another. So, right now dry land people love this rain. We don't like it," said Gunderson.
Rebecca Pettingill may be reached at rpettingill@columbiabasinherald.com.
---