Potatoes and faith: Ag World marks 25 years, looks forward to the next 25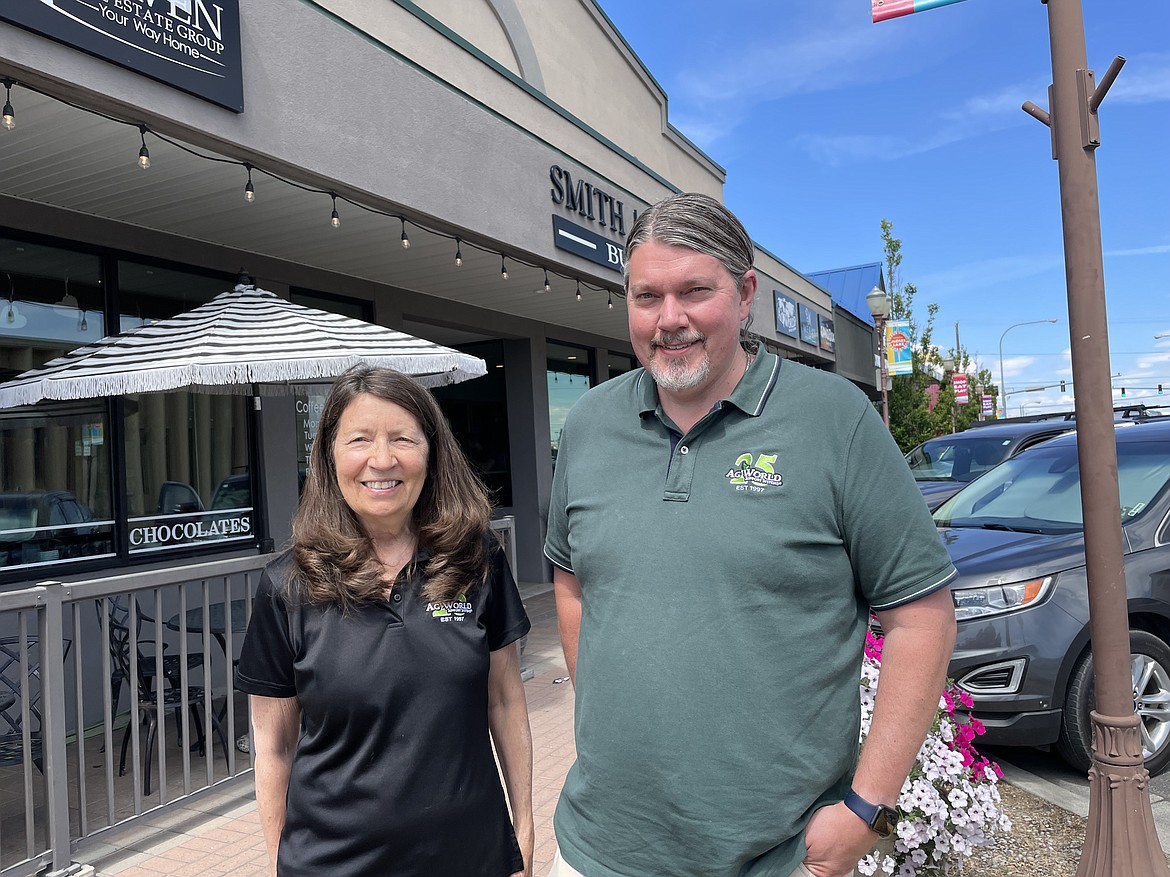 Ag World Support Systems owners Judy Henninger and Bryan Henninger in front of the Smith Martin Professional Building, where Ag World has its world headquarters.
Charles H. Featherstone/Basin Business Journal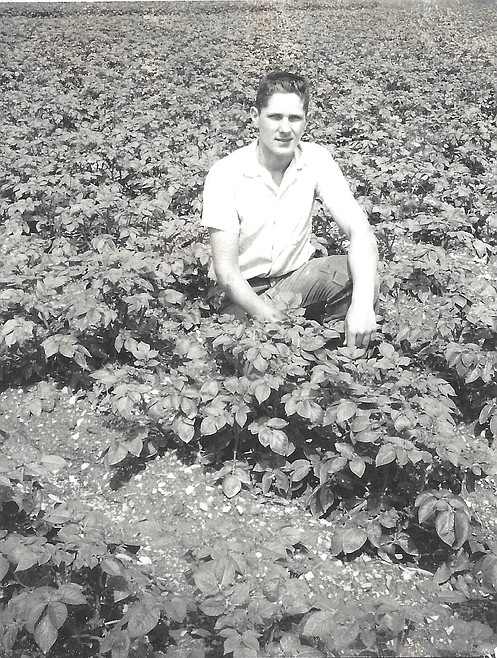 A young Warren Henninger out in a potato field.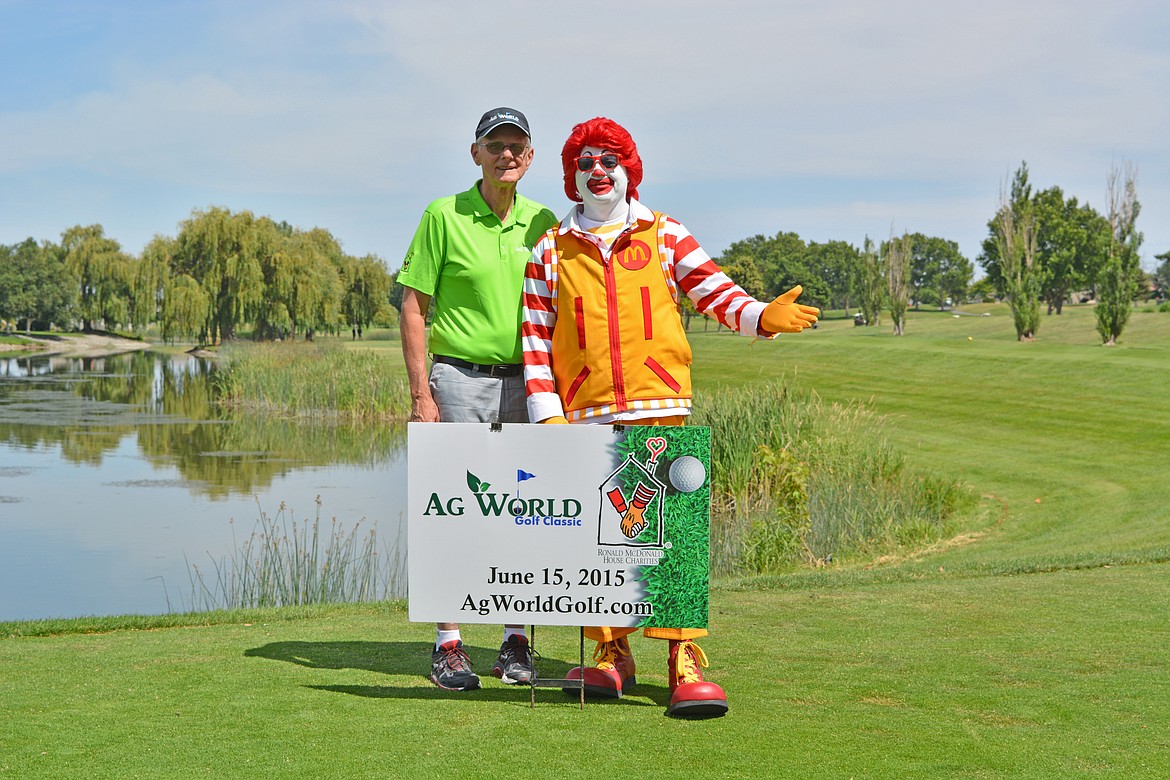 Warren Henninger and Ronald McDonald at 2015 Ag World Golf Classic, a fundraiser for the Ronald McDonald House of the Inland Northwest sponsored and organized by Ag World since 2013.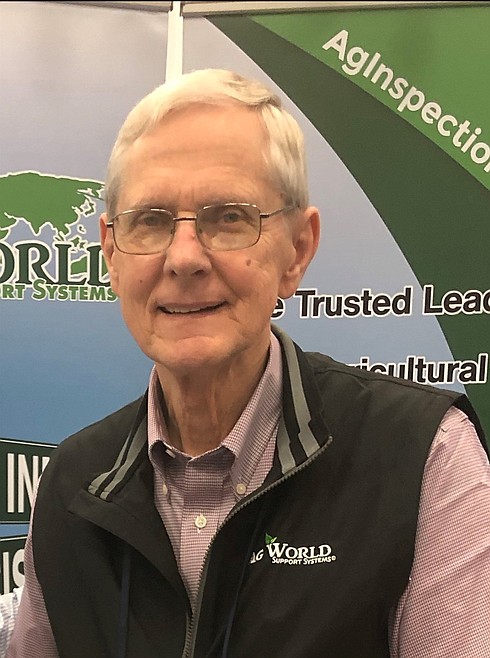 Warren Henninger, the founder of Ag World Support Services.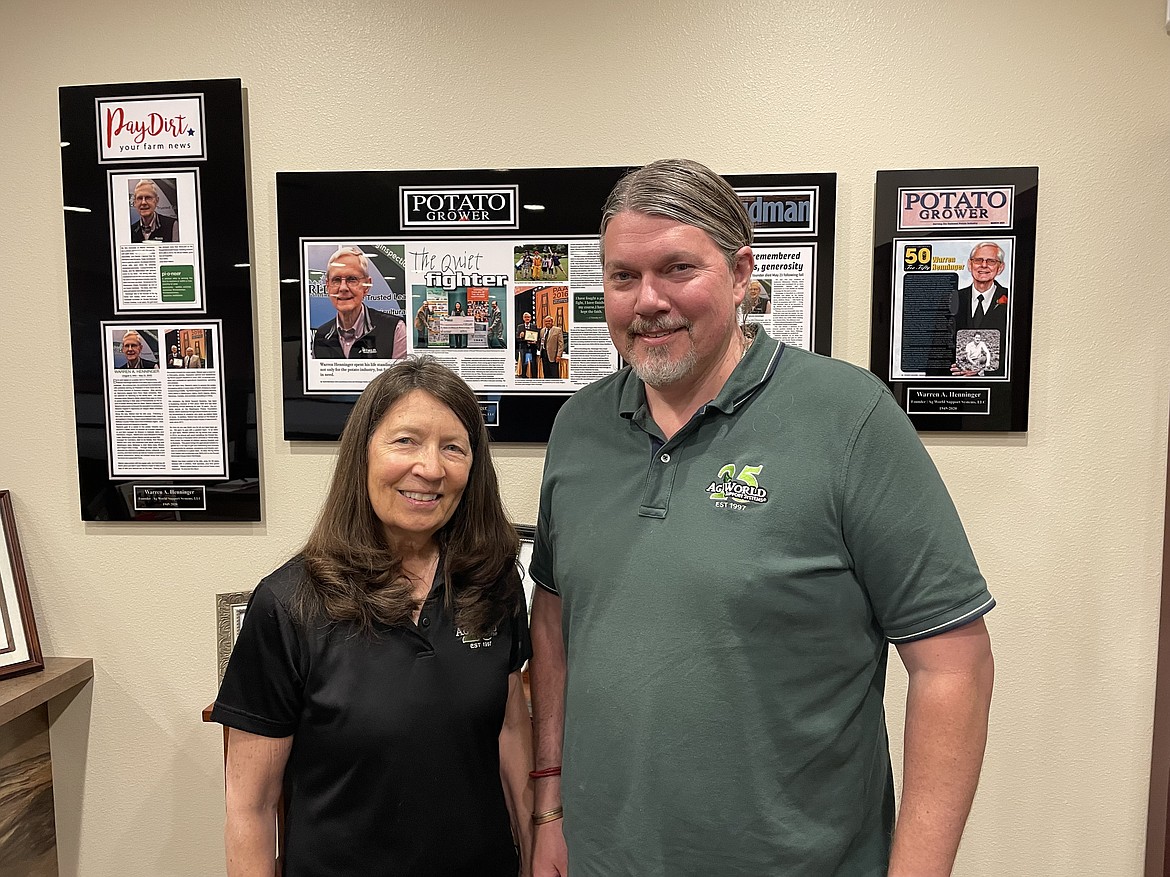 Ag World Support Systems owners Judy Henninger and Bryan Henninger in the lobby of their Moses Lake headquarters, in front of the creche honoring the company's founder, Warren Henninger, who died in 2020.
Previous
Next
by
CHARLES H. FEATHERSTONE
For the Basin Business Journal
|
July 29, 2022 1:00 AM
MOSES LAKE — The heat wave and drought made 2021 an odd year in the Columbia Basin.
So odd that Bryan Henninger, the president of Ag World Support Services, said he saw something he's never seen before in the company's 25-year history. Even irrigated by plentiful Columbia River water, Henninger said not enough of last year's potato crop bulked up because of the heat, so local processors like Simplot and McCain Foods had to import potatoes.
"They were bringing potatoes all the way across North America to the Columbia Basin, and they've never done that," Henninger said. "There weren't enough potatoes here that were harvested."
It was a bit of a role reversal.
"It was crazy," he said. "Because the Columbia Basin has always fed North America, not needing to be fed."
For Ag World, a third-party inspector which tests potatoes and other vegetable crops for both buyers and sellers to help them settle on a crop price, it meant plenty of work. Even with the odd conditions, with all the strange potatoes coming into the Basin, Henninger said the company has been in business long enough, is widely enough known and trusted, that buyers and sellers were both comfortable with its work.
Contract terms, however, were different, and that meant working closely with companies to ensure everything went smoothly in conditions very different from what everyone was used to working under.
"They had different criteria that they wanted us to do on the different potatoes because they're buying them under different contracts. So staying on our toes to make sure we were giving them the information that they wanted under that purchase agreement," Henninger said. "This is always challenging."
The company has faced challenges from day one though.
A leap of faith
Ag World was started in the summer of 1997 by Bryan's father Warren Henninger, then 51, a soil scientist who'd had a long career as a field manager with major food processors like Simplot and Nestle. Warren's widow, Judy Henninger, is an Ag World part-owner who continues to help run the company as its ambassador and chaplain. She said Warren grew up on a potato farm in Pennsylvania, and after earning an agronomy degree at Pennsylvania State University, wanted to come back home to the farm.
However, his father said, "No, there's no future in potato farming in Pennsylvania."
His father told him to go out west, Judy said, so he did, earning an advanced degree at Oregon State University and then working as a county agent specializing in potatoes and onions before going to work in private industry.
"My husband Warren was always in the potato industry, OK. His whole life," Judy said. "He knew the farmers, and he saw this need, and so he kept hoping someone would do it."
The need was inspecting produce for buyers and sellers, Judy said. Most potato inspections in the United States and Canada were either done by government agencies or by the buyers themselves, and were inefficient, lacked transparency and were potentially unfair to the seller. Warren would never have considered founding a company had he not learned in 1996 that his job in Moses Lake was being eliminated, Judy said, and that he could continue with the large company he was working for only if he took up a position in Idaho.
"We're here in Moses Lake because Moses Lake is home," Bryan said. "My family moved here when I was just turning 5 years old. I've been here for a very long time."
Bryan said what Ag World does is fairly simple — they take a sample, maybe 0.2%, from a truckload of potatoes, and then test it to see how it measures up to contract specifications.
"We analyze it for everything from size, shape, bruises, internal defects, external defects, specific gravity fry color for french fries - whatever the customers want us to look for. Because in these contracts, they have a lot of incentives and disincentives based upon different quality attributes," Bryan said.
Bryan said Ag World stands both between and beside the food processors that contract for potatoes — and are seeking to spend as little as possible on their input crops — and growers seeking to maximize how much they get paid for the crops they grow.
"We're a bridge between the grower and processor for the hundreds of millions of dollars that exchange hands. This is a big undertaking. And that's what we do," he said.
It takes a lot of work to earn and sustain the kind of trust that allows Ag World to do what it does, Bryan said, something Warren was able to develop when he started the business. That trust is especially important since Ag World uses lab space that most major food processors have on site to work in. Ag World also inspects more than potatoes now, too, having added corn, onions and peppers over the last 15 years.
"We've got the two customers, the grower and the processor, to sign up for us doing these inspections, and they have to tell us what they want us to do," Bryan said. "They're welcome to come in and watch us anytime."
According to Judy, faith is the thing that makes this all possible, from starting an inspection company in a garage more than two decades ago to branching out in the U.S., Canada and China.
"Apart from God, we would not be in this business," she said. "We had to earn everyone's trust along the way. You just don't take someone's livelihood and take it for granted."
Bryan agreed.
"One of my words is faithful, I try and be faithful," Bryan added. "We try to be faithful as a company. And so that's kind of a cornerstone of who we are."
There are no ugly potatoes
Even though Ag World has grown from its small beginnings in Moses Lake to now employing between 200 and 400 people — the size of the company's staff nearly doubles during harvest time, Bryan said — in three countries on two continents, it still maintains their headquarters in the Smith-Martin Building - a building it also owns - at the corner of Third Avenue and Division Street in Moses Lake. However, Bryan said running a company as big as Ag World has become presents its own challenges.
"The international aspect is always complicated. From treaties changing to tax regulations, different things like that," he said. "It's just, that's a layer of complexity and challenges to just dealing with our customers."
In fact, being the company in the middle sometimes means Ag World is the target of everyone's ire. Because both Bryan and Judy understand the company is working not just with potatoes and onions, but with people's lives and livelihoods.
"You know, there's times where we're the ones in the middle, and we're getting shot up on both sides. Because, you know, nobody has ugly babies," he said. "Your potatoes or your corn, your carrots - they're yours. They're always perfect, right?"
The company's success has allowed Ag World to give back to the community. For the last nine years, the company has sponsored the annual Ag World Golf Classic, a fundraiser for the Ronald McDonald House of the Inland Northwest in Spokane, and raised $100,000 in 2022. Bryan said he was inspired to start the tournament after playing in a similar event in Canada.
"And then my son, who's now 14, when he was born, he had a lot of medical issues in his early years, and so that kind of was the tipping point," he said. "Trying to bring all of our customers in the ag industry together to support kids and their families when they're going through crazy things was important to us."
The next 25 years
Both Bryan and Judy said one of their main goals right now is to foster the next generation of leadership to make sure Ag World Support Systems can last another 25 years.
"We know we'll have to keep pivoting and doing different things as the industry continues to develop," Bryan said. "But I really think there's always going to be a spot for our services to add value between the growers and the processors."
Judy said that many Ag World employees have worked their way up through the ranks, starting out as inspectors, learning the work, and becoming quality assurance testers, field managers, even facility managers and area managers. Despite a global presence that stretches from Inner Mongolia to Central Washington, across the Canadian prairie to the Upper Midwest and Maine, Judy said Ag World employees get to know each other, pray for each other and care for each other.
It's part of how the Henningers see themselves, as faithful witnesses to God who both Judy and Bryan say has given them so much.
"And so we just feel very blessed to be able to help train people too, so that there's a future with Ag World," Judy said. "And, you know, there's opportunities of growth and possibilities of development that we want to encourage people. That is just not a job. We call it Ag World Family."
Charles H. Featherstone can be reached at cfeatherstone@columbiabasinherald.com.
AgWorld Support Systems
102 E. Third Ave., Ste. 202
Moses Lake, WA 98837
(509) 765-0698
---