Drought to return for another year
by
Staff report
|
May 6, 2022 1:00 AM
It's likely going to be another dry year across the western United States, according to the National Oceanographic and Atmospheric Administration's climate outlook for spring 2022.
In its U.S. Spring Outlook, NOAA researchers say the current drought is expected to continue in Washington state east of the Cascades for much of 2022, though normal amounts of precipitation are expected through the end of May.
"Severe to exceptional drought has persisted in some areas of the West since the summer of 2020 and drought has expanded to the southern Plains and Lower Mississippi Valley," said Jon Gottschalck, chief of the Operational Prediction Branch of NOAA's Climate Prediction Center.
Currently, over half the country is experiencing some kind of drought forecasters expect will continue this year, and it's the most expansive U.S. drought in nearly a decade.
"With nearly 60% of the continental U.S. experiencing minor to exceptional drought conditions, this is the largest drought coverage we've seen in the U.S. since 2013," Gottschalck said.
Drought conditions are expected to be extremely bad in central Oregon just east of the Cascades, according to NOAA outlook, with the agency forecasting "exceptional drought," defined by the National Weather Service on its drought classification web page (https://www.weather.gov/riw/drought_index) as a condition of "(e)xceptional and widespread crop/pasture losses; shortages of water in reservoirs, streams, and wells creating water emergencies."
The NOAA three-month forecast also expects higher temperatures across more than half of the United States as well, though temperatures through the end of May are expected to be cooler than normal across Washington, portions of northern Idaho and northwestern Montana, and part of northwestern Oregon.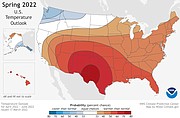 ---