'Insanely large': Future power demand expected to be high for Grant County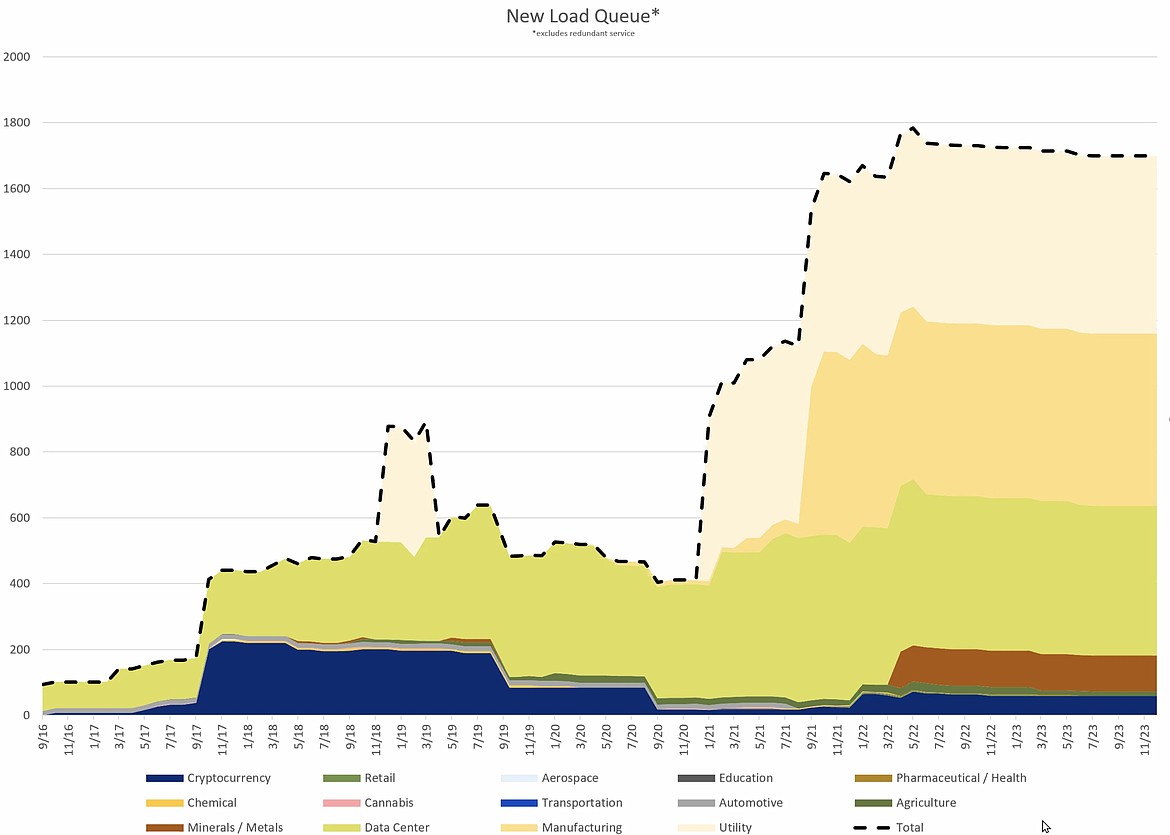 A chart of the Grant County Public Utility District's power queue — requests for future electric power — showing requests for future power since September 2016. The area of the chart in light beige (labeled "utility") refers to power requests from port districts like the Port of Quincy and the Port of Moses Lake.
Grant County PUD/courtesy graphic
by
CHARLES H. FEATHERSTONE
Staff Writer
|
May 10, 2022 1:00 AM
MOSES LAKE — As Grant County grows and more businesses and industries locate production in the area, the Grant County Public Utility District said it is seeing record requests for future electricity.
"We're near system peak," said Louis Szalbya, leader of Grant PUD's large power solutions team and the 2022 president of the Grant County Economic Development Council. "It took us 75 years to get to 950 megawatts (of demand), and now we have requests for 1,700 megawatts (in total, with the existing 950 megawatts)."
Szalbya spoke early Wednesday morning during a monthly online meeting of the EDC to outline how largely-industrial development currently being proposed, including projects in the works by the county's port districts, is driving potential future demand for electricity.
"That's insanely large," Szalbya said of the requests in the PUD's power queue. "It's crazy big, and the growth is unprecedented."
Szalbya said the county's largest power users are data centers like the massive Microsoft campus in Quincy and manufacturers like SGL Carbon at the Port of Moses Lake. According to its web site, the PUD has rated generating capacity of around 2,100 megawatts combined via the Priest Rapids and the Wanapum dams.
The PUD is building new power infrastructure as fast as it can, Szalbya said, but right now it's hard to find enough skilled labor to keep up with all the projects. He also told EDC members that many of the requests for power are "time-sensitive" and if the PUD isn't able to deliver power on time, many of the proposed projects won't be built.
However, neither Szalbya nor any other member of the board of directors overseeing the EDC gave any details about proposed industrial developments in Grant County.
While much of the PUD's focus has been on providing power to Quincy — so much so the district is finishing up a major new transmission line that should be fully utilized when it's completed in 4-5 years — Szalbya said much of the demand interest has shifted to Moses Lake, where industries are submitting requests for power ranging in the 100-200 megawatt range.
"My guess is that between the East Wheeler corridor and the Port of Moses Lake is where most of the load will end up," he said.
Szalbya also said right now the PUD had requests for 122 megawatts from prospective cryptocurrency miners who want to set up shop in Grant County. However, the PUD wants to hold cryptocurrency mining operations to about 5% of total power demand, since cryptocurrency operations tend to last only a year or two but require the construction of power lines and substations that are 30-year investments.
"So we're not so exposed (to losses on building short-term use infrastructure)," Szalbya said.
---