RDO formally celebrates new location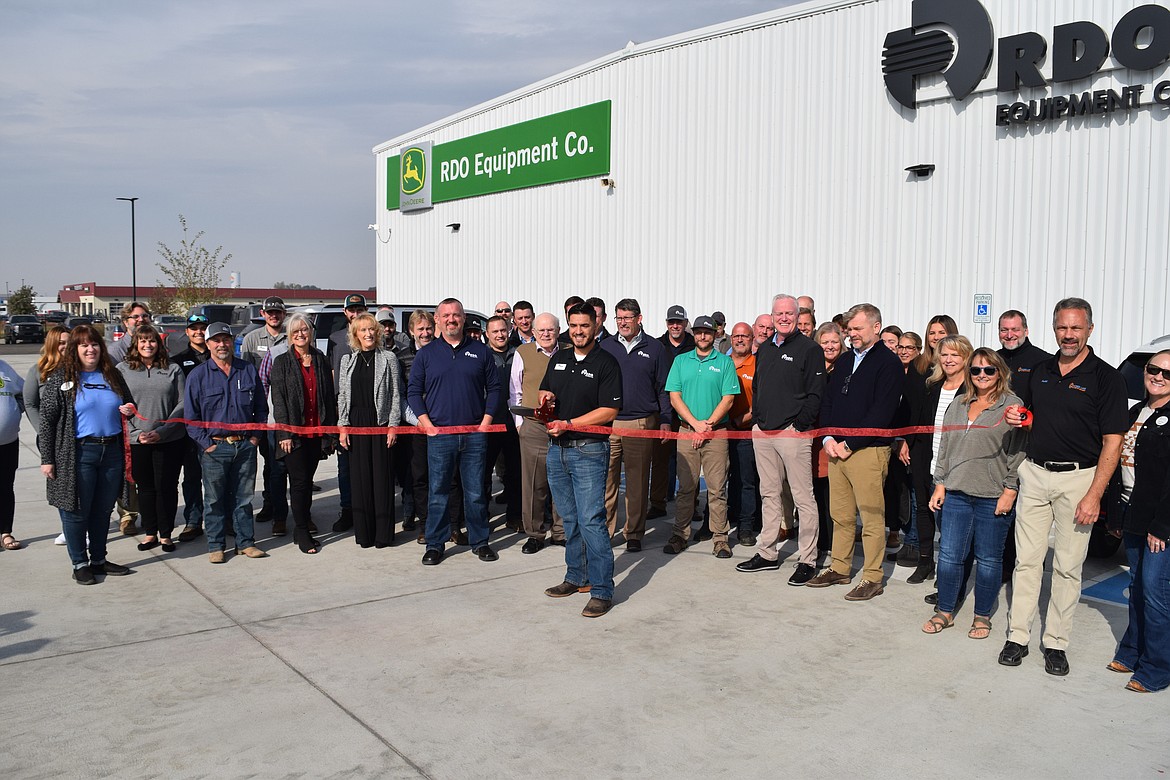 RDO Equipment's Moses Lake store manager Jacob Garza, surrounded by RDO executives, employees, and members of the Moses Lake Chamber of Commerce, cuts the ribbon on Oct. 20 to formally celebrate the grand opening of the company's new Moses Lake store at 12378 North Frontage Road E.
Charles H. Featherstone/Basin Business Journal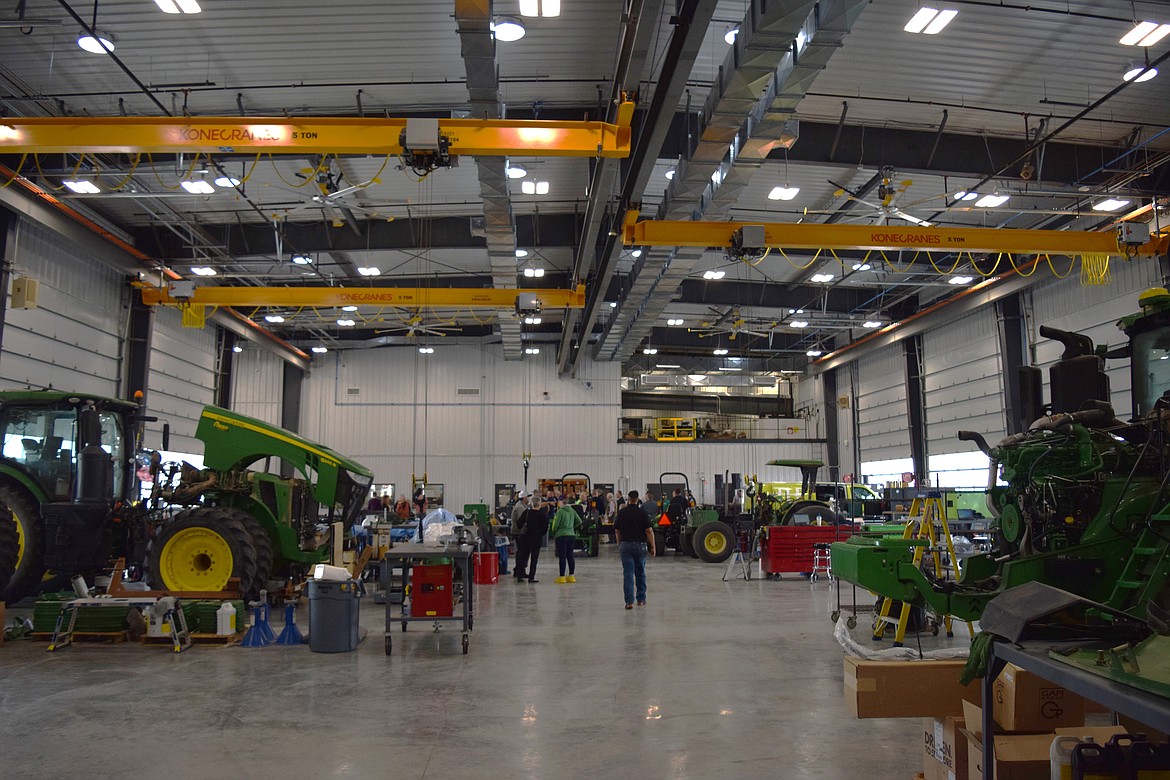 Several tractors sit in the repair bays of RDO Equipment's new shop in Moses Lake.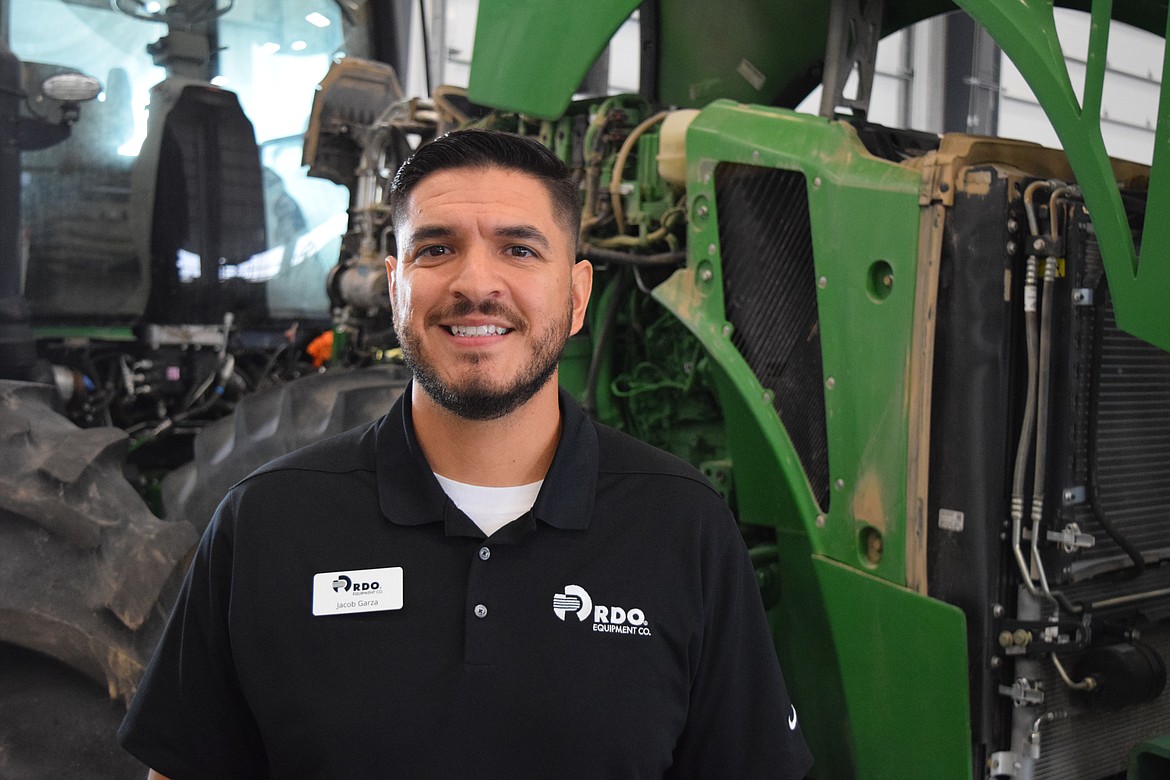 Jacob Garza, store manager for RDO Equipment, which formally celebrated the grand opening of its 12378 North Frontage Road E. store and repair garage on Thursday, Oct. 20.
Previous
Next
by
CHARLES H. FEATHERSTONE
For the Basin Business Journal
|
November 30, 2022 1:00 AM
MOSES LAKE — RDO Equipment may have moved into its new location on North Frontage Road at the end of May, but Store Manager Jacob Garza said the company wanted to wait a bit before formally celebrating its grand opening.
"We waited just to get a better grasp of filling people and being more prepared, and having the parts on hand and everything to support the customers, really," Garza said.
The facility, which replaces the company's cramped building located on South Pioneer Way in Moses Lake, is huge — 31,000 square feet with over 6,000 square feet devoted to spare parts storage, and 10 drive-in repair bays, including one with a giant, 50-foot door that will allow for even the biggest of combine harvest heads to enter for repairs.
"This is really important to us," said Tim Curoe, CEO of Fargo, North Dakota-based RDO. "We have a great customer base, a very loyal customer base. And we really needed to invest in the community to take care of our customers and to make sure that we're providing a great place to work for our technicians and our employees."
RDO Equipment was founded in 1968 by Minnesota potato farmer Ron Offutt, and has since expanded from the first John Deere dealership in Casselton, North Dakota, to over 75 stores across the United States and a number of international locations as far away as Australia, Ukraine and Russia. The company is a licensed distributor and repair station for John Deere and Vermeer equipment and sells a wide variety of Deere farm equipment, forestry machinery, and even lawn and garden equipment.
RDO expanded to the Columbia Basin when it purchased Othello-based Evergreen Implements from that company's founder and longtime owner Roger Thieme in 2018.
Curoe said it was important to create the facility in Moses Lake at 12378 North Frontage Road E. from the ground up as demand from farmers in the Columbia Basin — from the Tri-Cities north — is very important to RDO.
"We're pretty proud of this," he said.
Garza said the move to the new facility has given the company the ability to expand its repair operations, including hiring 15 new technicians to staff the huge repair bays. In addition, the facility has heated floors, an indoor wash bay and four giant overhead cranes to help lift heavy items like engines and harvest heads.
"That's just been the talk of all our technicians, the envy of all shops right now, to have those cranes up," he said.
A trained technician and mechanic, Garza said he started with Evergreen in Othello 12 years ago working on John Deere equipment, wandered off to California to work for a couple of farm implement dealerships there, before coming back to the Columbia Basin and starting with RDO in Moses Lake in January of 2020.
"This is a homecoming for me and it's a pretty good homecoming," he said. "I was welcomed with open arms here and I love the culture that RDO has. I've always wanted to work for them."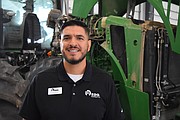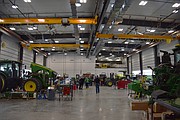 ---