Food fight: Keeping America's favorite vegetable a vegetable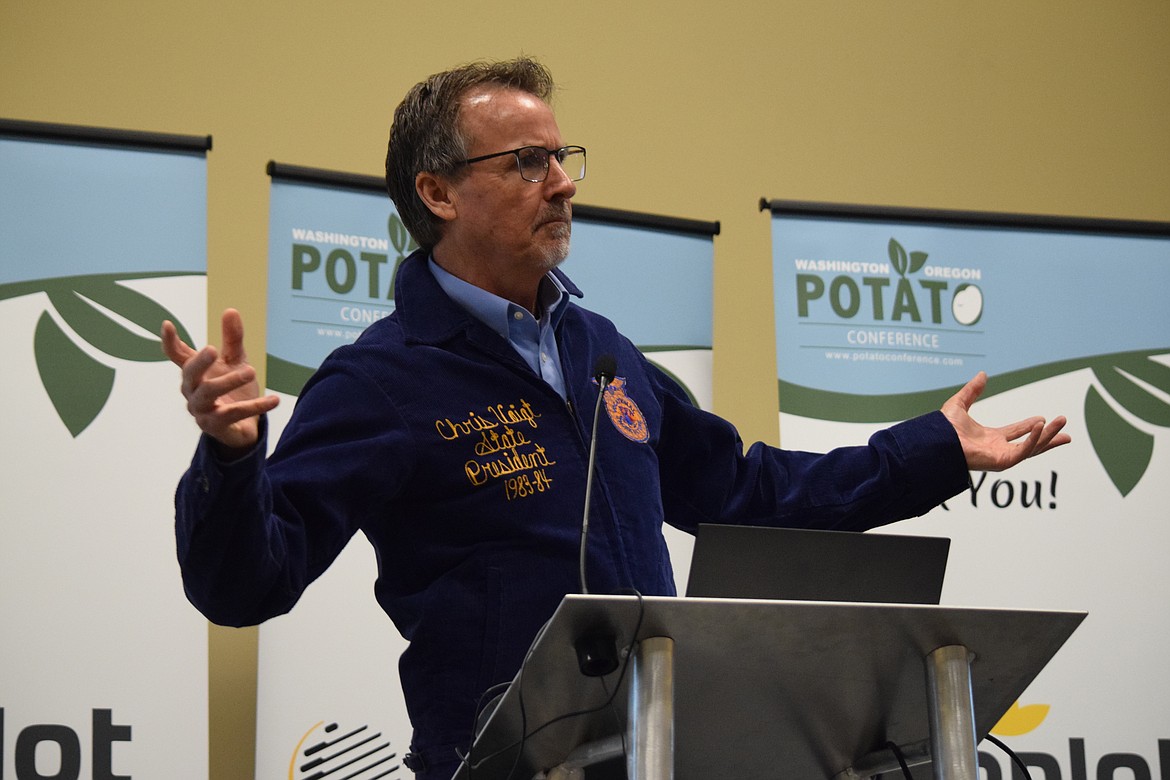 Washington Potato Commission Executive Director Chris Voight speaking at the Washington-Oregon Potato Conference in Kennewick in January, wearing his college FFA jacket from 1983. "It's a little tight," Voight said as he zipped it up.
Charles H. Featherstone/Basin Business Journal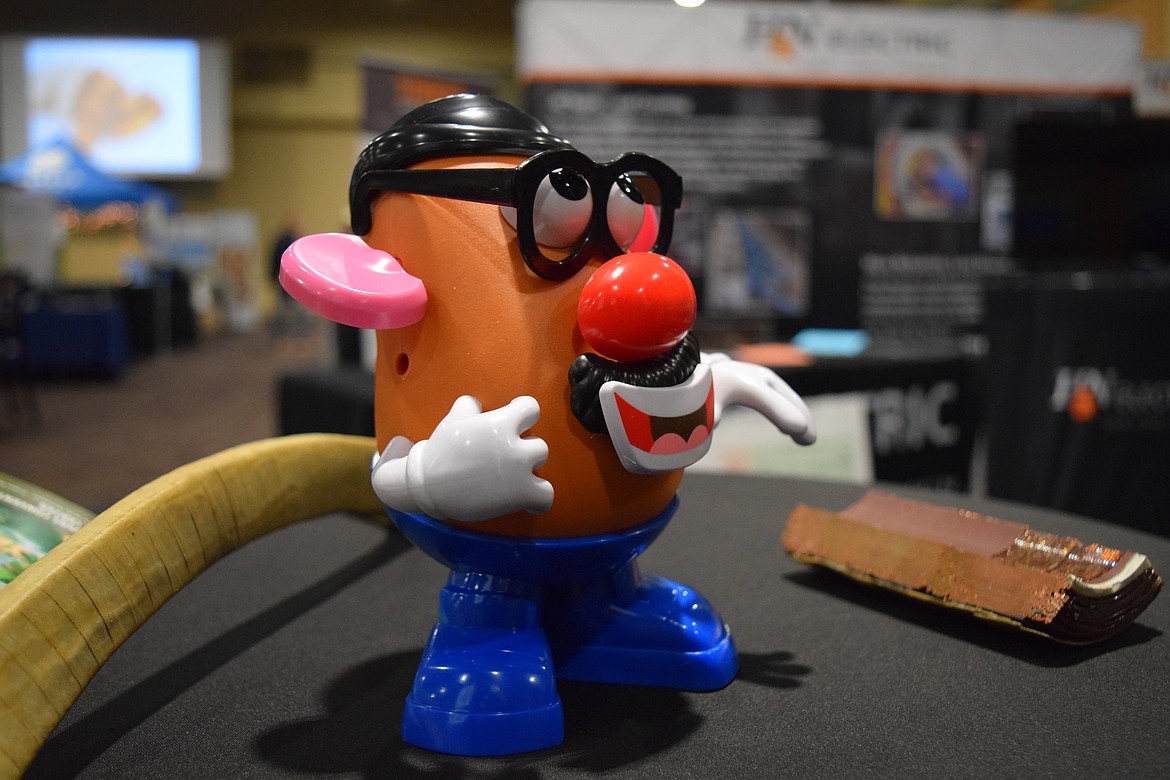 A Mr. Potato Head on display in the trade show pavilion during the 2023 Washington-Oregon Potato Conference.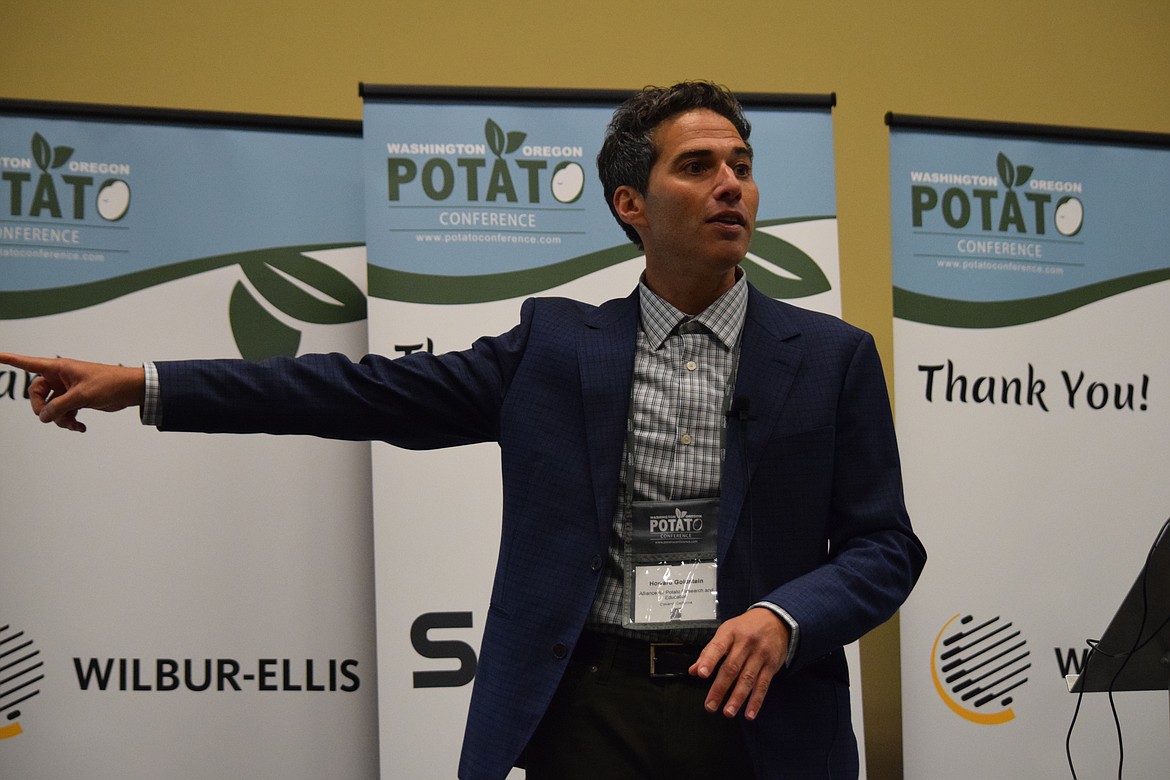 Howard Goldstein, a nutrition researcher based in Chicago, gives the keynote address at the 2023 Washington-Oregon Potato Conference. Goldstein, who has been leading the Alliance for Potato Research and Education, said potato groups are starting to have success in the fight to keep potatoes recognized as a vegetable in national dietary guidelines.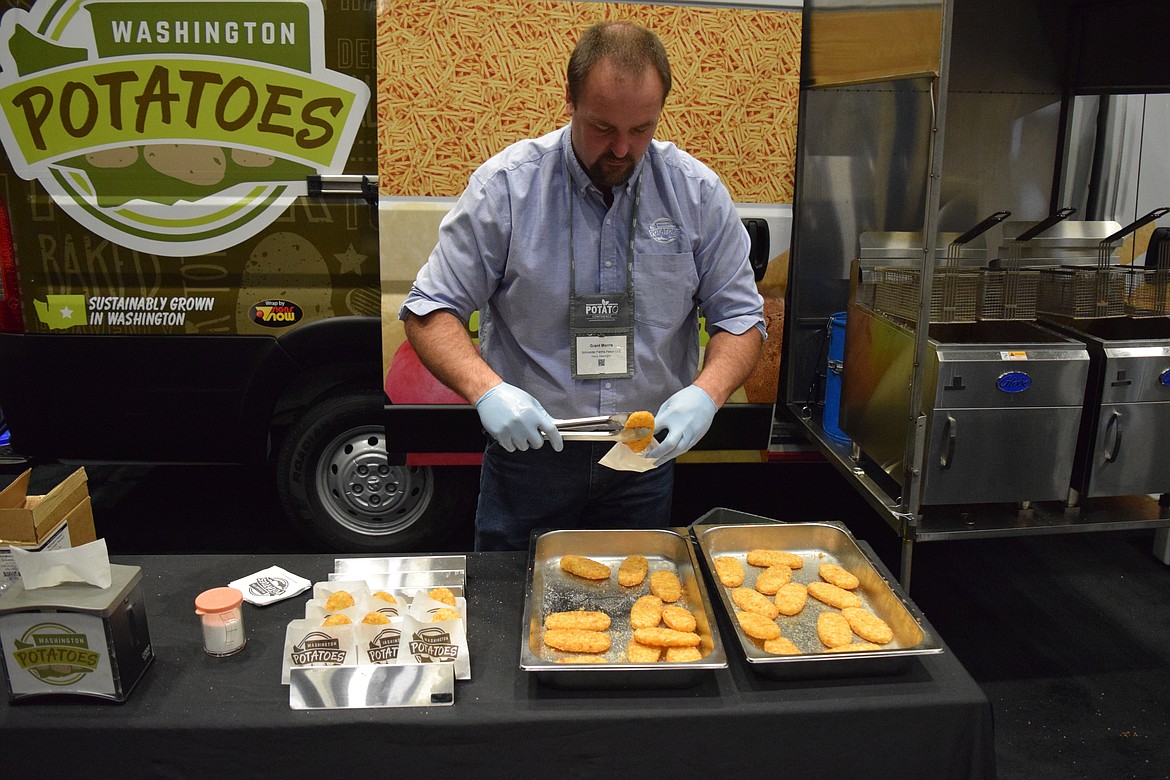 Grant Morris, a potato farmer in Pasco and a commissioner overseeing the Washington Potato Commission, serves up hot hash brown patties on the floor of the Toyota Arena during the 2023 Washington-Oregon Potato Conference.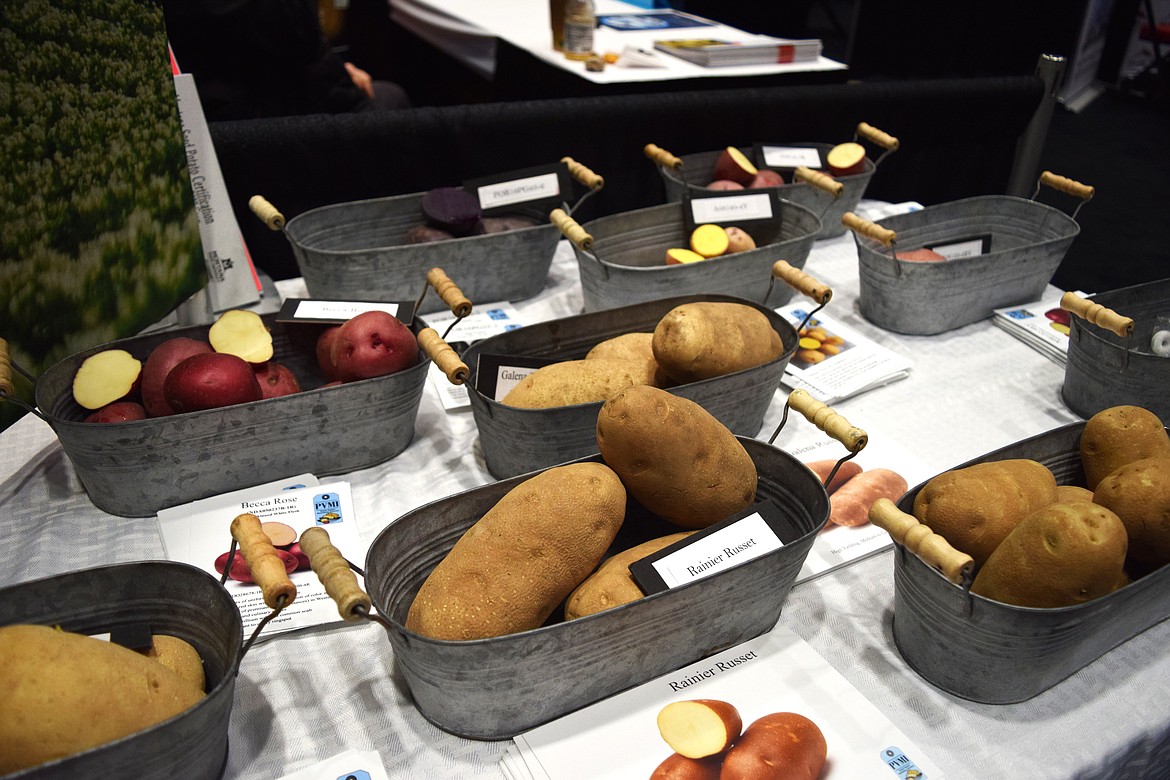 Varieties of potatoes produced by the Moscow, Idaho-based Potato Variety Management Institute on display at the 2023 Washington-Oregon Potato Conference.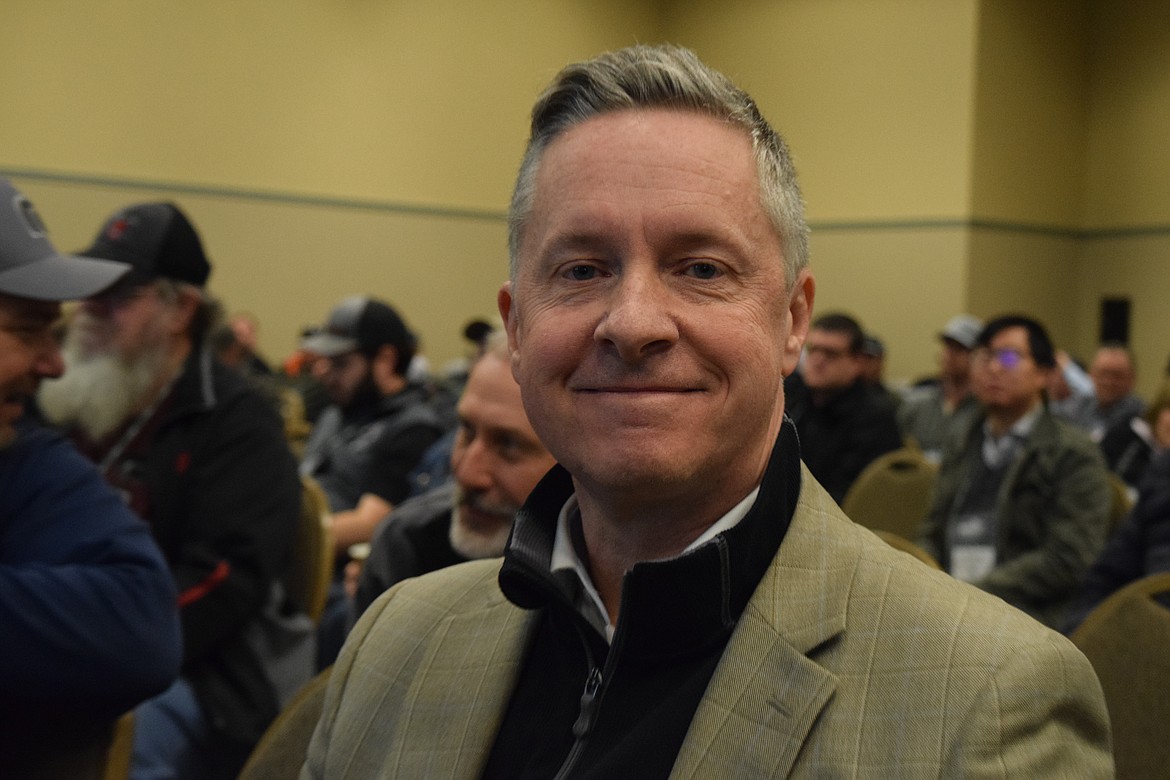 Kam Quarles, the executive director of the National Potato Council, at the Washington-Oregon Potato Conference.
Previous
Next
KENNEWICK — What is a vegetable?
It may sound like a silly question posed by philosophers with too much time on their hands pondering the nature of creation.
But it's a serious query, and one that is mobilizing potato growers and the organizations that represent them as academics and nutritionists from some of the nation's most prestigious institutions prepare to rewrite the Dietary Guidelines for Americans, a document used by the U.S. Department of Agriculture and the U.S. Department of Health and Human Services to implement everything from commodity and crop support programs to the federal school lunch program to recommendations given to doctors about the dietary advice they should give to patients.
"We all know the consumer loves potatoes," said Howard Goldstein, a nutritionist with the Alliance for Potato Research and Education, during his keynote speech at the Washington-Oregon Potato Conference in Kennewick in January. "And you've heard time and time again, they think it's their favorite vegetable. That's what the consumer thinks."
Goldstein warned, however, that regardless of what American consumers might think, there are prominent researchers who want to redefine the potato.
"We have a few nutrition scientists and institutions that don't think potatoes are a vegetable," he said.
Goldstein specifically noted the influence of Walter Willett, a professor of epidemiology and nutrition at Harvard Medical School in Boston, and a program Harvard Medical School has been sponsoring with the Culinary Institute of America that teaches doctors, nurses and other medical professionals to tell their patients to eat more vegetables.
Except for potatoes, Goldstein noted.
"As you can see, they pull potatoes out of produce because they don't think potatoes are a vegetable. And it's the only vegetable that they tell you to limit," Goldstein said as he referenced a PowerPoint presentation displayed for his audience.
At the heart of the dispute is something called the glycemic index, Goldstein explained. Developed to help people with Type 2 diabetes, the index was created to measure the quality of food carbohydrates and rates foods and their effects on blood sugar on a scale of 0-100. The higher the score, the more a particular food raises blood sugar levels.
The way the index has been structured, Goldstein said, potatoes and some sweet fruit like fresh watermelon have been rated higher on the index than candy or chocolate snacks. However, he also noted many nutritionists also say potatoes actually become worse when they are prepared, especially when fried and salted.
"It's only being said about the potato. If you add oil or salt to any other vegetable, it's fine. For some reason only the potato is going to kill you," he said.
Despite its problems, the glycemic index continues to be the "gold standard" for carb quality, Goldstein said, which is why potato producers need to fight back with science and information of their own showing potatoes are actually good food, and that carb-filled foods like potatoes also deliver a lot of essential nutrients and dietary fiber.
Much current research shows that potatoes are actually far closer to other vegetables in the effects they have on diet than they are to refined sugar and processed grains, Goldstein said.
"These are important factors we need to consider when talking about carb quality," he said.
Goldstein also cited a study from Australian Catholic University comparing the effects of basmati rice and potatoes on blood sugar levels in 24 diabetics at bedtime, when previous studies show many people with Type 2 diabetes see their blood sugar levels spike. Potatoes were better than rice at controlling bedtime blood sugar levels, Goldstein said, despite having a higher rating on the glycemic index than basmati rice.
"Right now, it's one study," he said. "We're starting to impact the global community when it comes to GI."
This brewing fight over the Dietary Guidelines for Americans, which will be revised in 2025, is one reason why potato producer groups like the Washington Potato Commission are focusing so intensely on communicating that potatoes are an important part of a healthy, active and nutritious diet, according to Chris Voight, the commission's executive director.
Voight spoke while wearing the same bright blue Future Farmers of America jacket he wore as Oregon state FFA president in 1983, and said many of the issues facing farmers haven't changed in 40 years.
"We were talking about how we've got to tell the agricultural story to the public. We just weren't very good at it forty years ago. And that's why I'm wearing this jacket today because that is an issue that is very important to our industry," he said.
Voight highlighted a number of targeted online advertising campaigns the commission has sponsored, as well as the TV show "Washington Grown," which airs on public television stations across the state and highlights local farmers who grow everything from wine grapes to hops to potatoes. Voight also said the commission has targeted much of its promotional work on the Seattle metropolitan area and is even focusing on legislators during this spring's very busy legislative session and is working with social media influencers to advocate for everything from potato recipes to the environmental benefits of potato farming.
"Not only are we working through traditional media, like television and the website, but we've also got other people working for us like these influencers," Voight said.
A lot is at stake for U.S. potato farmers, according to Kam Quarles, the executive director of the Washington, D.C.-based National Potato Council, which lobbies Congress and federal agencies on behalf of potato growers and processors. Quarles lauded the work Goldstein and state commissions are doing as they focus on the positives of potatoes, but said there are still significant risks, especially if the group working on the next set of dietary guidelines gets potatoes reclassified as something other than vegetables.
"It seems sort of preposterous on its face," Quarles said. "But think about the policy impact if potatoes are no longer classified as a vegetable."
If, under law, potatoes were no longer considered a vegetable, Quarles said potato growers and processors might not be eligible for USDA export promotion grants or for federal aid under the specialty crop programs.
"That's why we've spent so much time and attention trying to get this right. Because if it goes wrong, it handcuffs us for the future, and we do not want that to happen," Quarles said.
Charles H. Featherstone can be reached at cfeatherstone@columbiabasinherald.com.
---