Programs bring resources, awareness to farmer health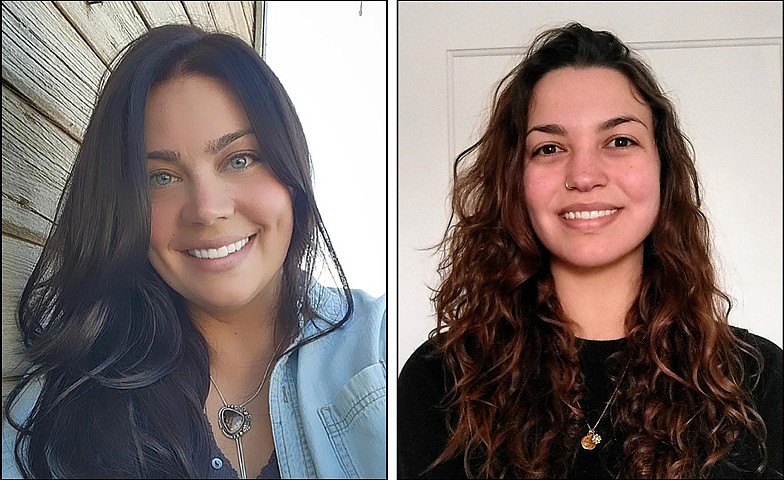 Alyssa Wade, left, and Emily Whittier are heading up a program through the Washington State University Extension to help ag professionals maintain their physical and mental health.
Courtesy photos
by
REBECCA PETTINGILL
|
January 21, 2023 1:00 AM
WASHINGTON — Through Washington State University Extension, with grants from the United States Department of Agriculture and the Washington Department of Health, two programs go hand-in-hand to help give ag professionals the resources to tackle their mental and physical health so that they can continue to farm and provide for their families.
"Through talking to people, and really hearing their stories, we are able to get them to the best resources for them," said Alyssa Wade, Farm Stress and AgrAbility Co-Coordinator.
The programs are called Farm Stress & Suicide Prevention and AgrAbility. While the two programs focus on different aspects of agricultural worker's health, they have similar goals that compliment each other.
Wade and Emily Whittier are only two of the four total program co-coordinators around the state that help bring Farm Stress & Suicide Prevention and AgrAbility to the table of conversation.
The AgrAbility Toolbox is a tool/device loan program that allows ag workers to test out tools, devices or machinery that help them continue to farm and prevent injuries. The program allows them to try the assistive tools out before deciding if they want to purchase those tools on their own.
Some tools include knee pads, animal feeding aids, outdoor mobility vehicles and accessories, and so much more depending on the type of agriculture and the needs of the ag worker.
The vision of AgrAbility is to enhance quality of life for farmers, ranchers, and other agricultural workers with disabilities, so that they, their families, and their communities continue to succeed in rural America, the AgrAbility website states.
The second program, Farm Stress & Suicide Prevention, focuses on the stresses of farming, mental health and preventing suicide in agriculture.
"I don't think that people often think of stress when they think of farming or farmers and I think it's something that needed to come to the forefront," said Wade.
Farm Stress & Suicide Prevention aknowleges that agriculture is the backbone of America and although it's often rewarding it can also come with many stressors, their website states.
Some of the causes of stress for ag professionals include unstable finances, carrying the pressure of multigenerational farm lineage, injury, chronic/acute illness, adverse weather, climate change and recent COVID-19 stressors.
Farming is a way of life for many, not something that they forget about when the clock strikes five, which can add to the toll of an already tough industry.
While mental health is always important, it has become a more prevalent topic since the COVID-19 pandemic.
According to a news release by the American Farm Bureau Federation in January 2021, a recent poll by the bureau showed a strong majority of farmers/farmworkers say the COVID-19 pandemic has impacted their mental health, and more than half say they are personally experiencing more mental health challenges than they were a year ago.
One key finding of the poll is 87% of farmers/farm workers say it is important to reduce stigma about mental health in the agriculture community, including 59% who say it is very important.
"My takeaway from this survey is that the need for support is real and we must not allow lack of access or a 'too tough to need help' mentality to stand in the way," said AFBF President Zippy Duvall in the release.
Wade and Whittier said that through their personal experiences, a lot of farmers don't prioritize themselves when they are struggling. They want to address that farmers can both take care of themselves as well as their farms and families. With all the stress of an agricultural lifestyle, Ag workers don't have to face hardships alone or without help.
They also said they have felt like their program and presence in different agricultural spheres have helped change the conversation around whole farmer health.
"To me, the program (Farm Stress & Suicide Prevention) itself is the biggest value (of the program)," said Wade.
She explained that just having the program brings awareness to the topic and creates the important conversations around mental health and stress in agriculture. It opens the door to normalizing the conversations and making the resources more easily available for those that need them.
According to the American Foundation for Suicide Prevention Suicide is the 12th leading cause of death in the U.S.
Whittier and Wade hope to help prevent ag-related suicide by providing ag workers with resources to help manage their stress before it leads to accidents or suicide and giving those in the industry struggling with suicidal thoughts the resources to get help.
"Even one is too many," said Whittier.
These two programs are not crisis centers or a crisis intervention service. If you are in crisis, please reach out to the National Suicide Hotline at 988 or 1-800-273-8255. In an emergency, call 911.
For any questions or resources about the Farm Stress & Suicide Prevention and/or AgrAbility programs, contact Alyssa Wade at alyssa.wade1@wsu.edu or Emily Whittier at emily.whittier@wsu.edu.
---