Peeling the apple market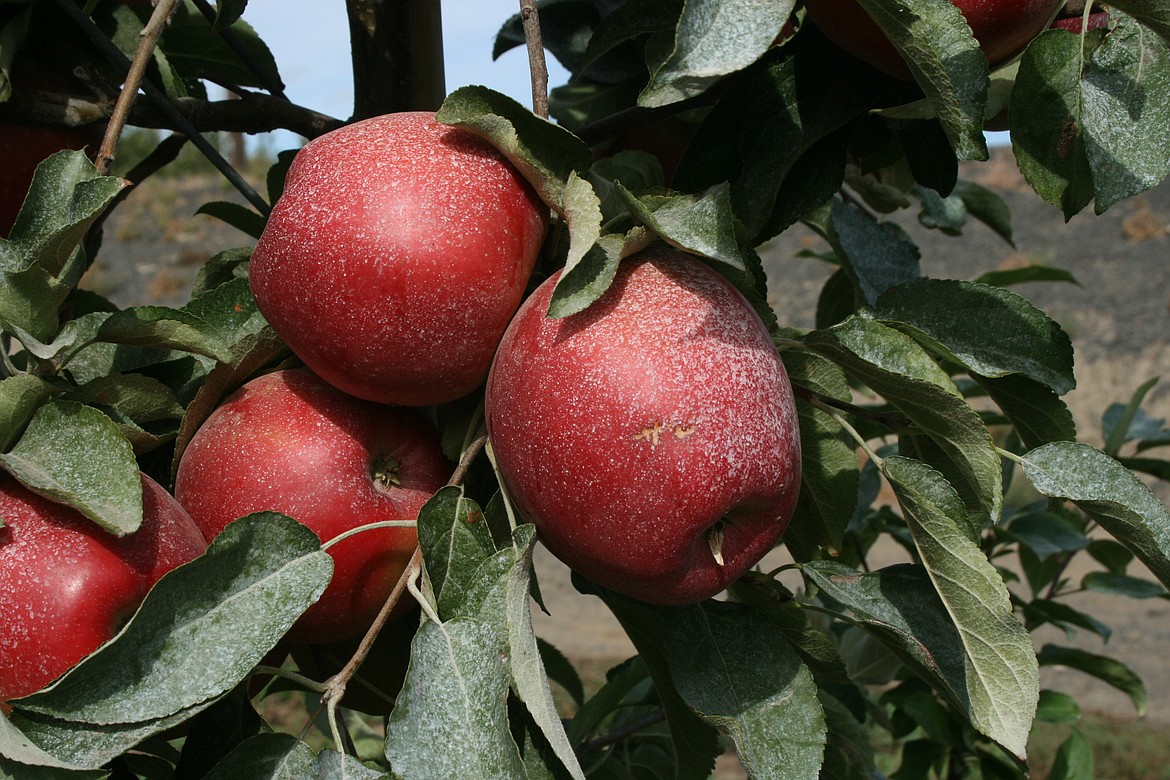 Apples fill a branch in an orchard near Royal City. At the start of 2023, domestic apple sales remain strong, but the export market does have challenges ahead.
Cheryl Schweizer/Columbia Basin Herald
by
CHERYL SCHWEIZER
For the Basin Business Journal
|
January 26, 2023 1:00 AM
QUINCY — Washington apple growers, having survived a wild and crazy 2022, are making the turn into a new year with a market that's looking pretty good domestically, but facing some export challenges.
Riley Bushue, director of Congressional relations and export programs for the Northwest Horticultural Council, cited Washington apple sales to India as an example of the export issues.
"In India, we face retaliatory tariffs on apples," he said. "Those were put in place by India in 2018 in response to the U.S. putting in place steel and aluminum Section 232 tariffs."
Section 232 of the Trade Expansion act provides the President of the U.S. with the power to adjust imports, including with the use of tariffs, if foreign imports are found to be a threat to national security. Then-President Donald Trump utilized that power in March of 2018 to establish a 25% tariff on steel and aluminum from most nations with the exceptions of Canada and Mexico, according to the U.S. Bureau of Industry and Security.
Bushue estimated Washington growers sold about $120 million worth of apples to India in 2017-18 before the tariffs were imposed. He estimated 2022 sales at about $3 million.
"That's in large part due to those tariffs," he said.
"We have a similar situation happening in China, where we have retaliatory tariffs as well," he said. "Combined, between India and China, those have cost our industry over the last four years – a few more than four years now – over $800 million. So that's a huge challenge that we're working through."
Eliminating or reducing those tariffs would be a boon for apple growers in the Pacific Northwest.
"At the end of the day, we need to bring an end to this retaliation. Those are two important markets – just on a pure population basis, the two largest countries in the world. And we're obviously conveniently located on the Pacific to serve those countries," Bushue said.
The entire Washington delegation to the U.S. Congress sent a letter to Secretary of Commerce Gina Raimondo and U.S. trade officials. In the letter, they requested that apple tariffs be on the agenda when U.S. trade representatives met with their Indian counterparts at a scheduled Trade Policy Forum in mid-January.
"The tree fruit industry has suffered significant losses due to India's retaliation for U.S. Section 232 tariffs," the letter said. "On average, 30% of the apples, pears and cherries produced in the Pacific Northwest are exported and India was once a strong market. With retaliatory tariffs in place, Washington state apple growers have continuously lost market share in India."
The export troubles, however, don't stop there.
"The last few years there have also been a lot of challenges with ocean shipping – congestion in the ports, and while that's improved, it can still be a challenge," Bushue said.
Tim Kovis, director of communications and events for the Washington State Tree Fruit Association, said the news is better on the domestic market.
"We're still seeing strong domestic consumption of apples," Kovis said.
A wild and crazy 2022 growing season resulted in one of the smallest apple crops of the last 20 years. Robb Myers, vice president of business development for CMI Orchards, Wenatchee, estimated the 2022 crop at about 100 million boxes.
That's down from 2021's 122.3 million reported by the Washington State Tree Fruit Association.
Jennie Strong, communications and outreach specialist for the Washington Apple Commission, said that means the domestic market takes most of the fruit. And that is both good and bad.
"With a short crop, the domestic market takes priority, meaning we won't be exporting as much this season," Strong wrote in response to an email from the Herald. "Since we are not exporting as much, other (producers) are filling demand in our export markets, and it's hard to get that space back. It's important to remain on the forefront in the minds of retailers, importers and consumers because next season we could see crop volume bounce back, at which point we will need those export markets."
Danielle Huber, senior marketing manager for CMI Orchards, wrote that the short crop gives growers and marketers the opportunity to promote new and different varieties to consumers.
As of Jan. 13, Washington extra-fancy size 80 Galas were selling for an average of about $44 to $46 per 40-pound box, according to the U.S. Department of Agriculture marketing report. Size 80 Fujis were selling for an average of about $37 to $39 per box, and Washington extra fancy size 80 Honeycrisp were bringing an average of $50 to $52 per box.
Apples for the fresh market typically are sold in 40-pound boxes, and the size designation is based on the number of apples it takes to fill a box. So it takes 80 size 80 apples to fill the box. Generally, bigger apples are more desirable and bring higher prices. Size 72 Galas were bringing an average of $46 to $48 per 40-pound box. Size 72 Fujis were selling for an average of $37 to $39 per box, and size 72 Honeycrisp were selling for an average of $60 to $67 per box.
How the fruit looks also matters, and "fine appearance" fruit sells for higher prices.
"The short crop has led to good prices," Strong wrote. "Another question, however, is are these prices good enough? With all the economic challenges and inflation rates, a lot of people are trading down. (Consumers) could be trading down in terms of lower-cost varieties or just moving into different produce altogether. It's an important question because costs for farmers have gone up. The higher pricing in the market right now may not even be enough to cover those costs."

Canada and Mexico remain the top markets for Washington apples, Bushue said.
"Obviously, the advantage that Mexico and Canada have is that they're land transport," he said. "They've always been important markets, but that's certainly been an advantage the last few years."
Scott Agnew, director of export sales for CMI Orchards, wrote that Canada and Mexico are even more important in the current market environment.
"Both markets offer a uniqueness that balances out our offshore programs," he said via email. "Reduced weekly sailings and trade policies in flux, as well as the lack of resources to deliver goods offshore, have impacted the industry's ability to supply fruit to many markets around the globe. That means exports to Mexico and Canada have proven that much more important for our business. We expect those challenges to continue for at least the foreseeable future, as a lot has to happen for us to get back to where we were pre-pandemic."
Cheryl Schweizer may be reached at cschweizer@columbiabasinherald.com. See more of her work at www.columbiabasinherald.com and www.basinbusinessjournal.com.
---