Fresher fruit: Moses Lake plant turning out browning-resistant apples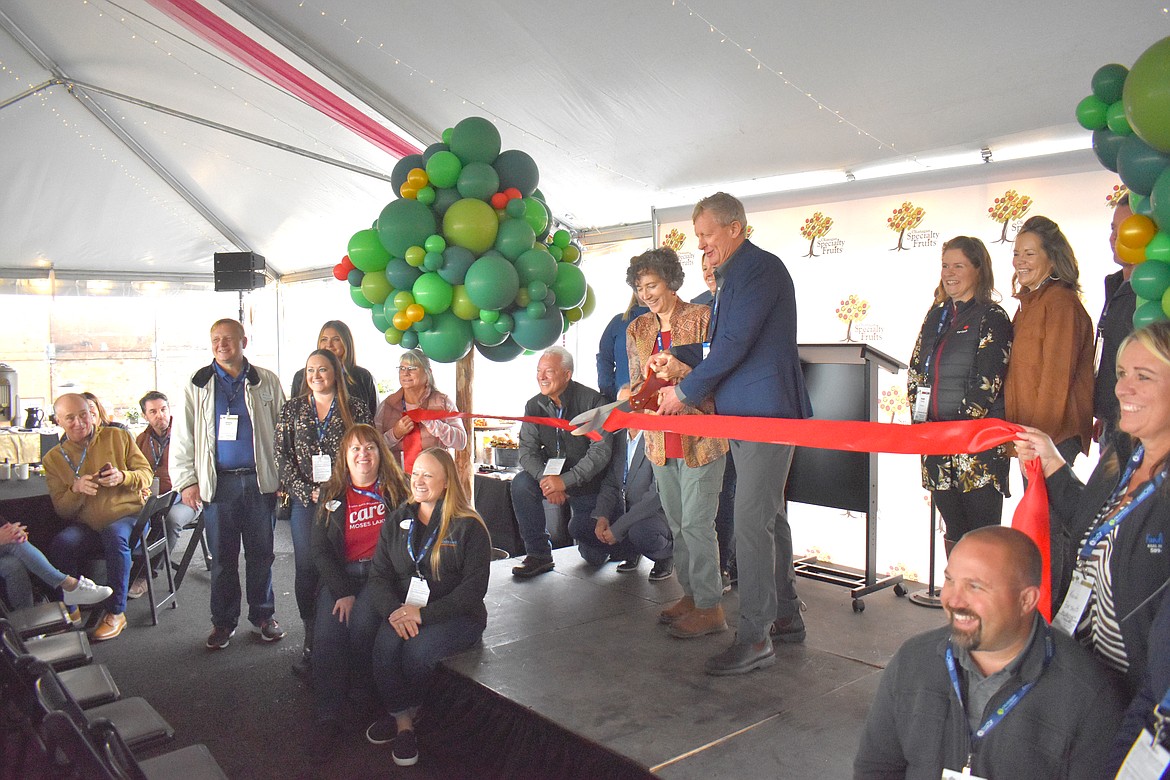 Okanagan Specialty Fruits founder and President Neal Carter, right, and his wife and co-founder Louisa Carter, cut the ribbon at the company's new apple slicing and packing plant in Moses Lake.
Joel Martin/Basin Business Journal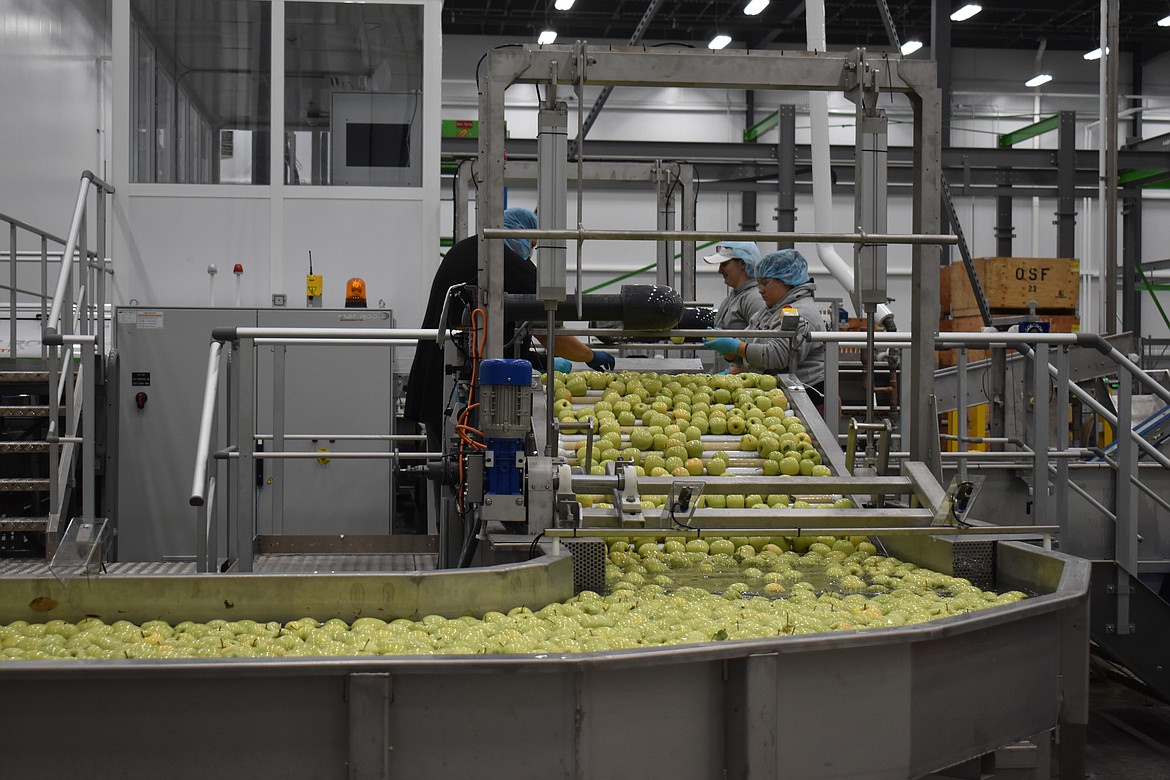 Okanagan Specialty Fruits employees check apples for stray leaves and defects before the fruit is floated into a high-tech camera system and sorter.
Joel Martin/Basin Business Journal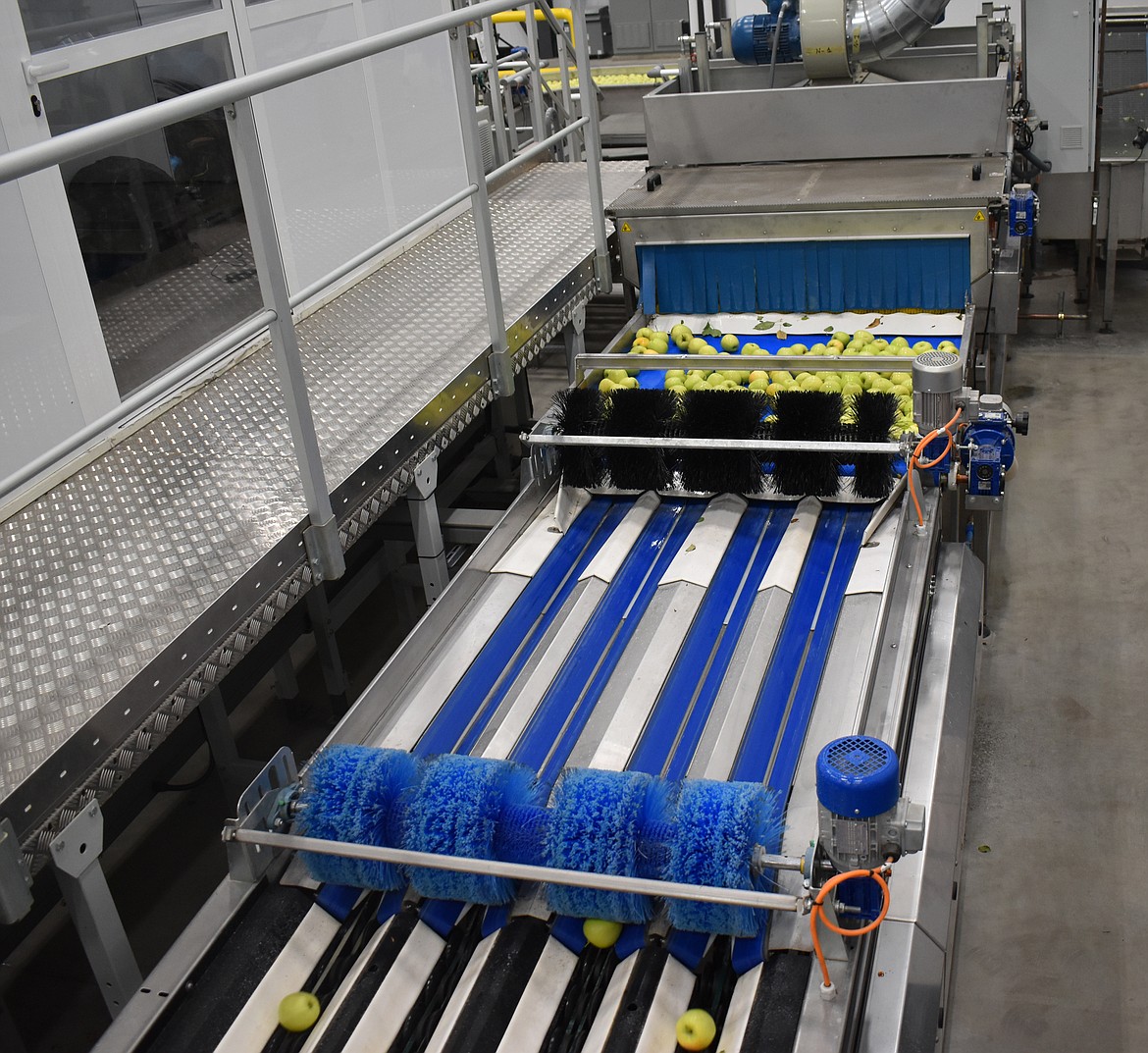 Apples on their way to be sorted and sliced pass through a set of brushes to clean off the fruit's natural wax.
Joel Martin/Basin Business Journal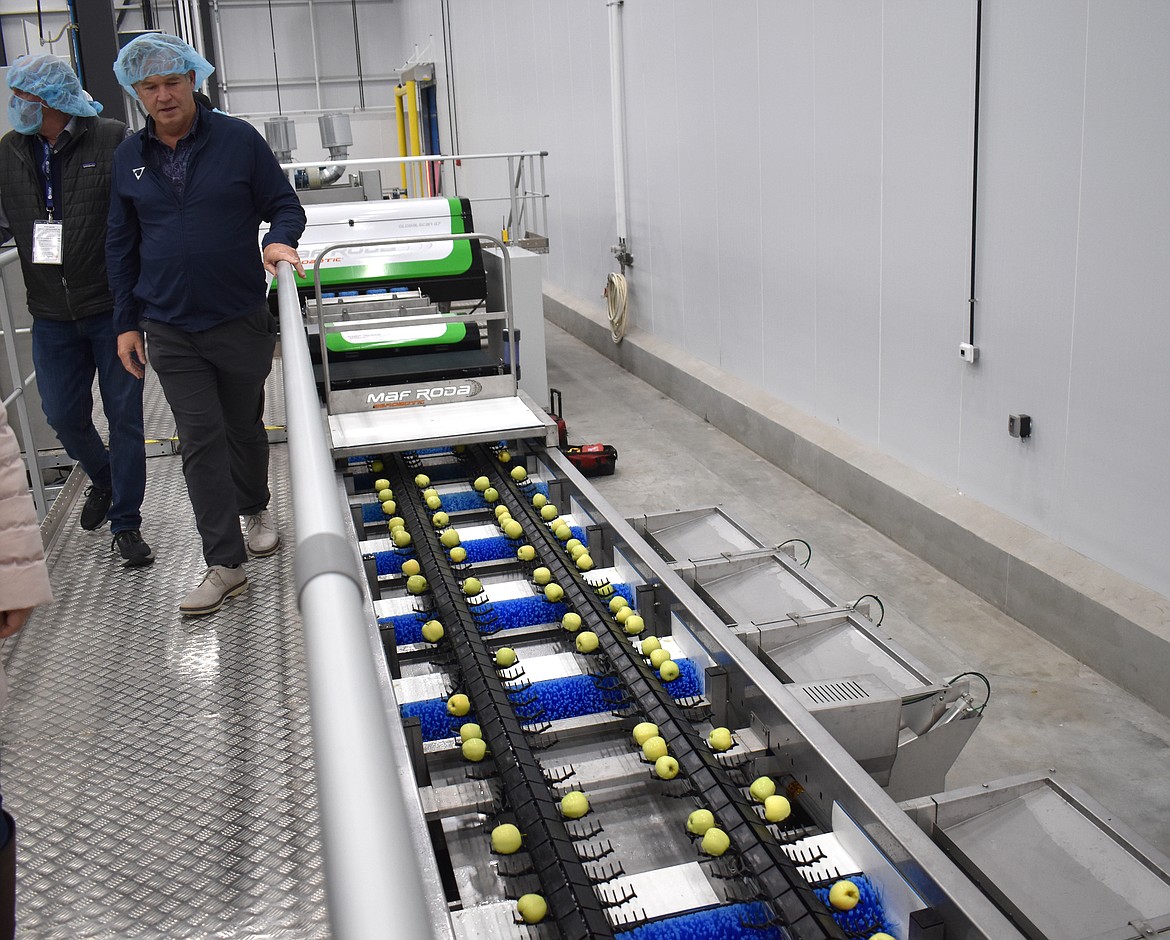 This camera takes as many as 60 photos of each apple as it comes through. The holder the apple is placed on is chosen by very precise size measurements.
Joel Martin/Basin Business Journal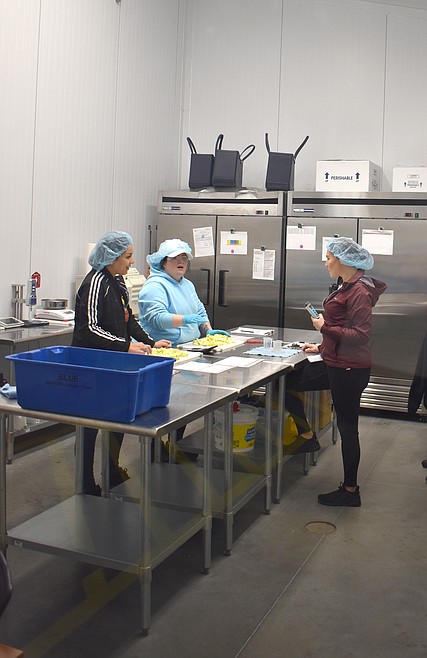 Okanagan Specialty Fruits employees perform quality control spot checks on sliced apples at the company's new Moses Lake facility.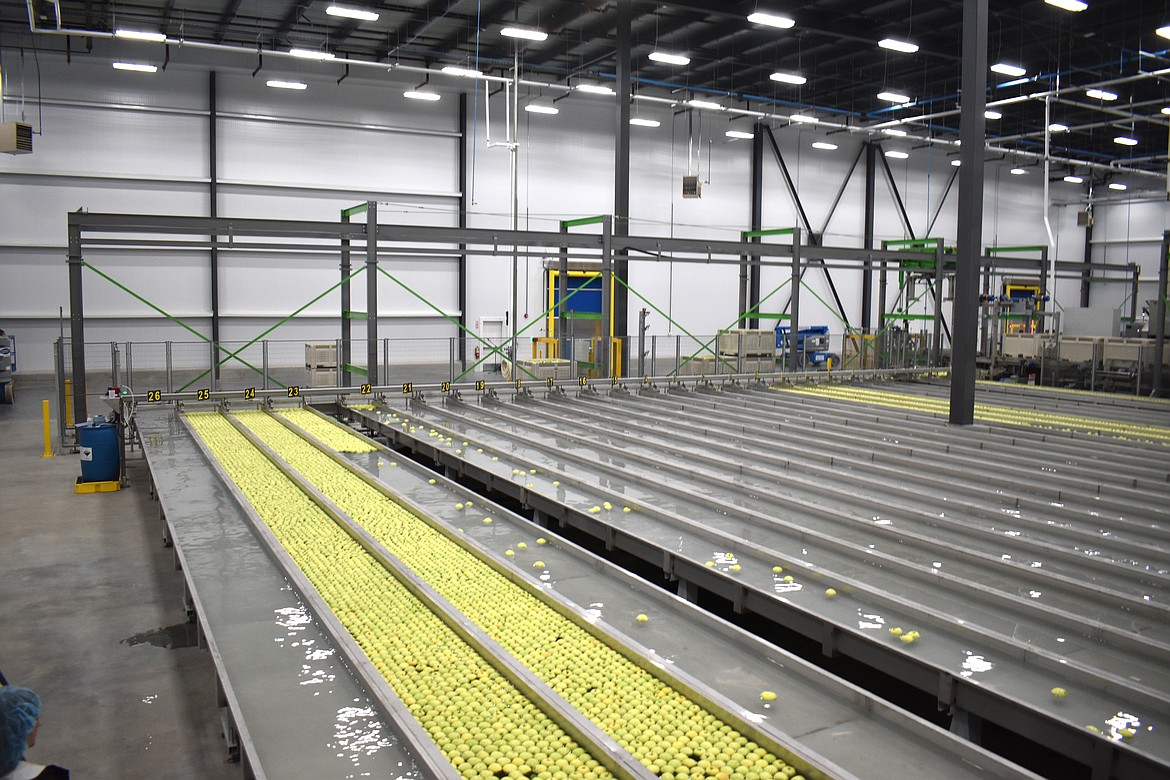 These flumes contain apples sorted by size. As soon as a given flume collects precisely 850 pounds of fruit, it will send them all on to the slicing room.
Joel Martin/Basin Business Journal
Previous
Next
by
JOEL MARTIN
For the Basin Business Journal
|
November 8, 2023 1:00 AM
MOSES LAKE — Apple production techniques turned a corner recently when Okanagan Specialty Fruits opened its new facility in Moses Lake.
The new Okanagan Specialty Fruits facility had its official ribbon-cutting Sept. 27. 
"Today is a special day for our entire group, the entire management team and Okanagan Specialty Fruits, all the way to the staff that are in the facility," said Senior Vice President Don Westcott at the ceremony.
The plant broke ground in January 2022. The purpose of the facility is to process, slice and pack OSF's product, Arctic Apples. The apples are genetically engineered to keep them from browning when exposed to air, and were the first genetically engineered apples approved for sale in the U.S., according to the FDA.
OSF founder and President Neal Carter began developing Arctic Apples in Summerland, British Columbia in 1996, he said at the ceremony.
"We were picking apples and looking at bruised fruit and looking at poor returns (and) declining apple consumption," Carter said. "At the same time, we were watching the fresh-cut produce industry, you know, the cut-and-tumbled carrots, the salad mixes and ready-prepared salads. It was just taking off, explosive double-digit growth. And it's like, apples are not participating in this. Why? It's because they go brown. So how do we fix this?"
Carter, a bioresource engineer as well as orchardist, set out to develop an apple that could stay fresh after it was cut, and had proof of concept in fruit in 2004, he said. The next five years were spent fine-tuning the apple and gauging the market.
"We started talking to consumers to see what they thought," Carter said. "At the same time, there was a lot of anti-GM protests going on, and we spent lots of time getting invited to be the bad guys at conferences. We felt like we had a bit of a bull's eye on our back."
Arctic Apples received FDA approval in 2015, and the first orchards were planted the same year. The company was purchased in 2020 by Radford, Virginia-based Third Security LLC, whose CEO Julian Kirk was present for the ribbon-cutting as well.
The company produces several varieties of apples, including Golden, Granny and Fuji, all with the same anti-browning modification. The fruit is grown on 1,250 acres near Othello and Royal City, according to Director of Marketing and Communications Rebecca Catlett. 
The Moses Lake facility is state-of-the-art. When the apples are picked at the orchard, they're given a lot code that follows them all the way through the packing process to the consumer. With that code, the company can track any apple all the way back to the orchard row it was picked from, according to OSF Director of Sales Bob Wilkinson.
Apples start the packing process in large water flumes, where a team picks off leaves and checks them visually for defects. They then float through a brush that removed the waxy exterior and into an enormous camera, which takes as many as 60 photos of each apple, externally and internally with infrared imaging, scrutinizing them for size, color and any defects the human checkers may have missed. The scanner drops each apple onto a holder pre-programmed to drop the apple into one of 26 different flumes, depending on size. Each flume is set to kick the apples out and start refilling when the apple load reaches exactly 850 pounds.
The apples are then fed into a slicer at a rate of 100 apples a minute, and cut to a preset size. After one more human quality check for oddly-cut pieces, the slices are sorted into bags on a rotary scale, as many as 150 bags per minute, according to a video from OSF. The most popular size is a 2-ounce packet, said Wilkinson, destined for schools and the military. Just-in-time cutting lets the apples stay fresh longer.
"Twenty-eight-day shelf life production, and two- to three-day delivery," Wilkinson said. "That's 10 days better than anyone else."
The OSF plant employs a crew of 120 people, said Production Supervisor John Warr. Currently the plant runs one shift, with a sanitation crew coming in at night. At full capacity, the plant will be able to ship 350 million 2-ounce packages in a season, Wilkinson said.
"These are the best sliced apples out there," Wilkinson said. "It still surprises me (at trade shows) when people come up to our booth and taste them, and say 'Let me go get my buyer.'"
Joel Martin may be reached via email at jmartin@columbiabasinherald.com.
---