Preparing for the future: Workforce education, innovation start locally, Commerce director says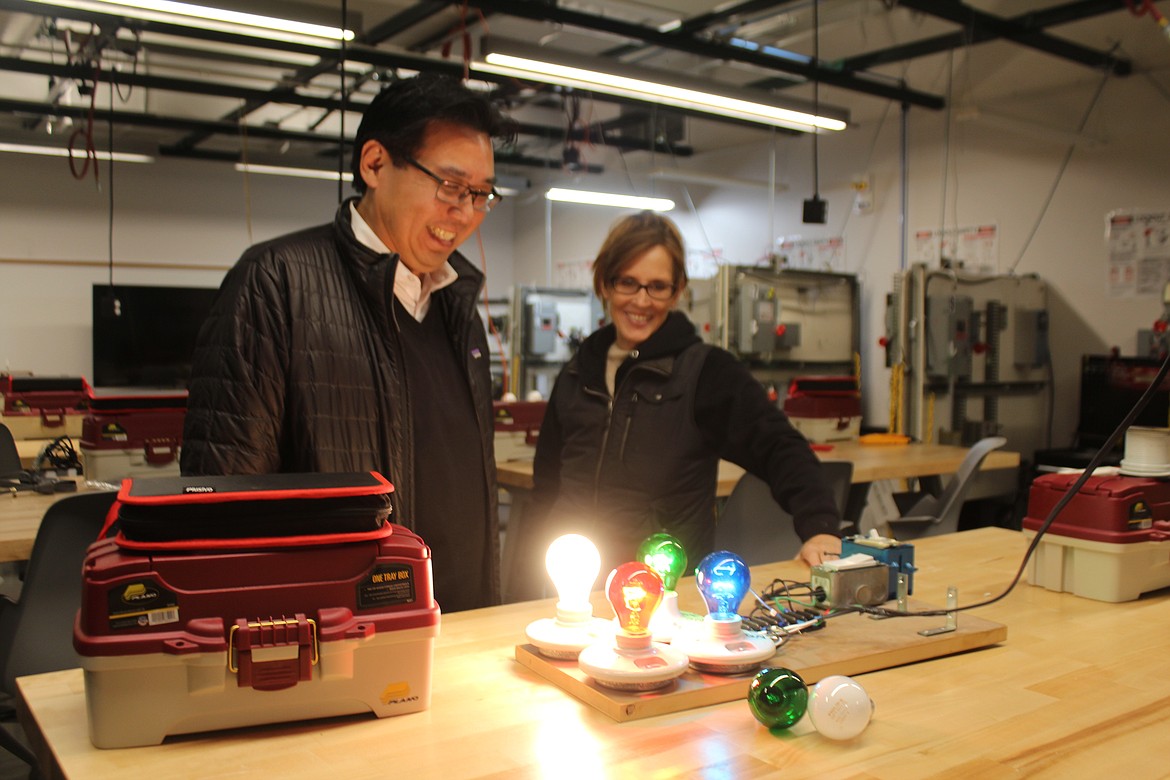 Gina Cutts, right, industrial systems technology instructor at Big Bend Community College, demonstrates a method for teaching three-phase electrical systems to Washington Department of Commerce Director Mike Fong, left.
Cheryl Schweizer/Basin Business Journal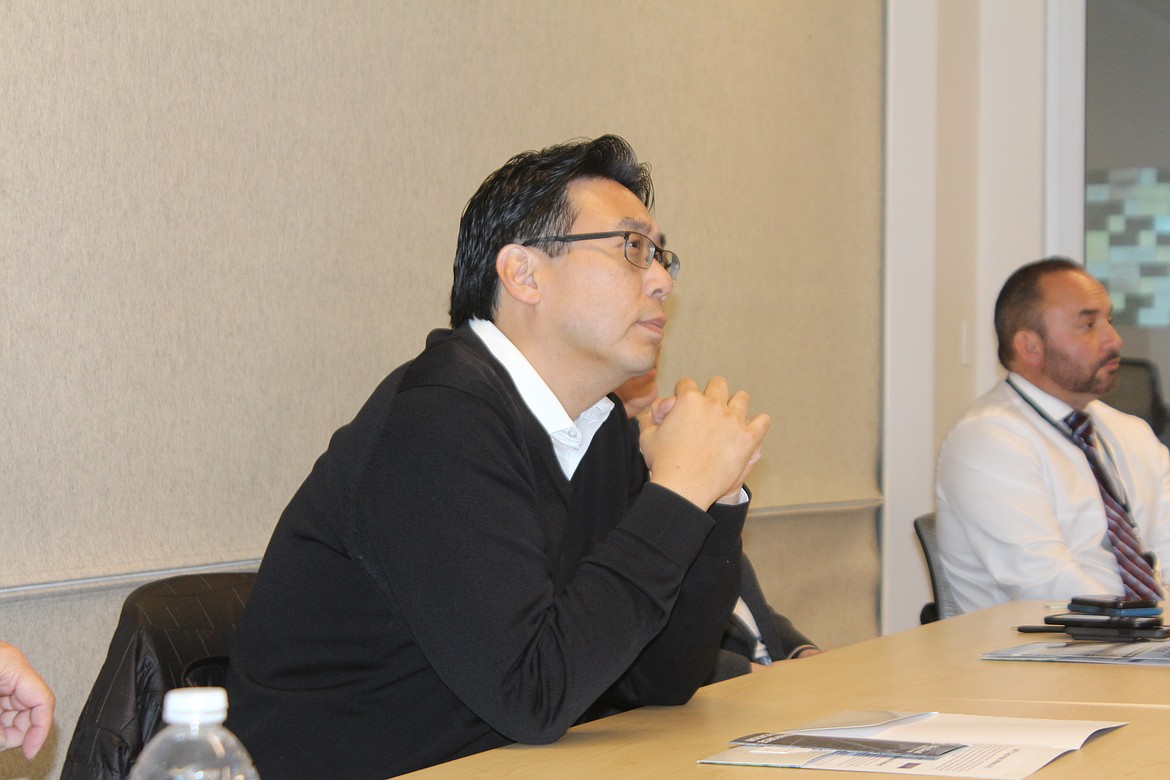 Washington Department of Commerce Director Mike Fong listens to a presentation at Big Bend Community College Oct. 16.
Cheryl Schweizer/Basin Business Journal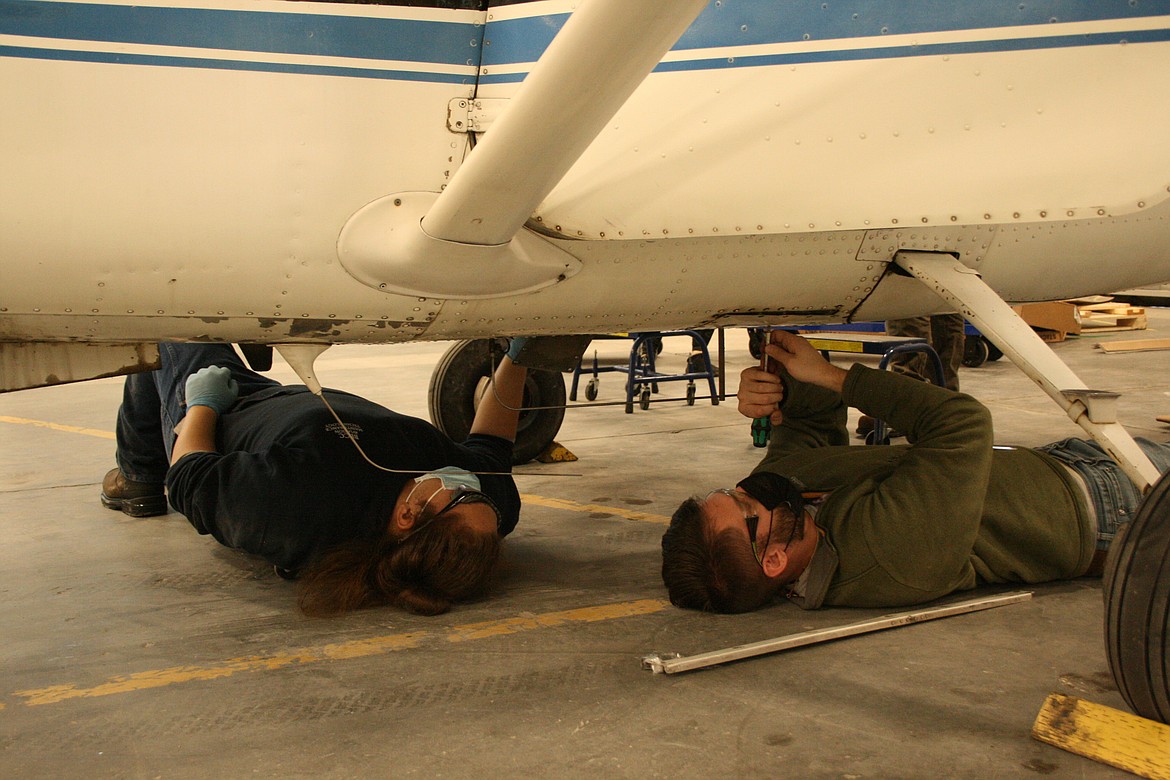 Aviation maintenance technology students work on aircraft at Big Bend Community College.
File photo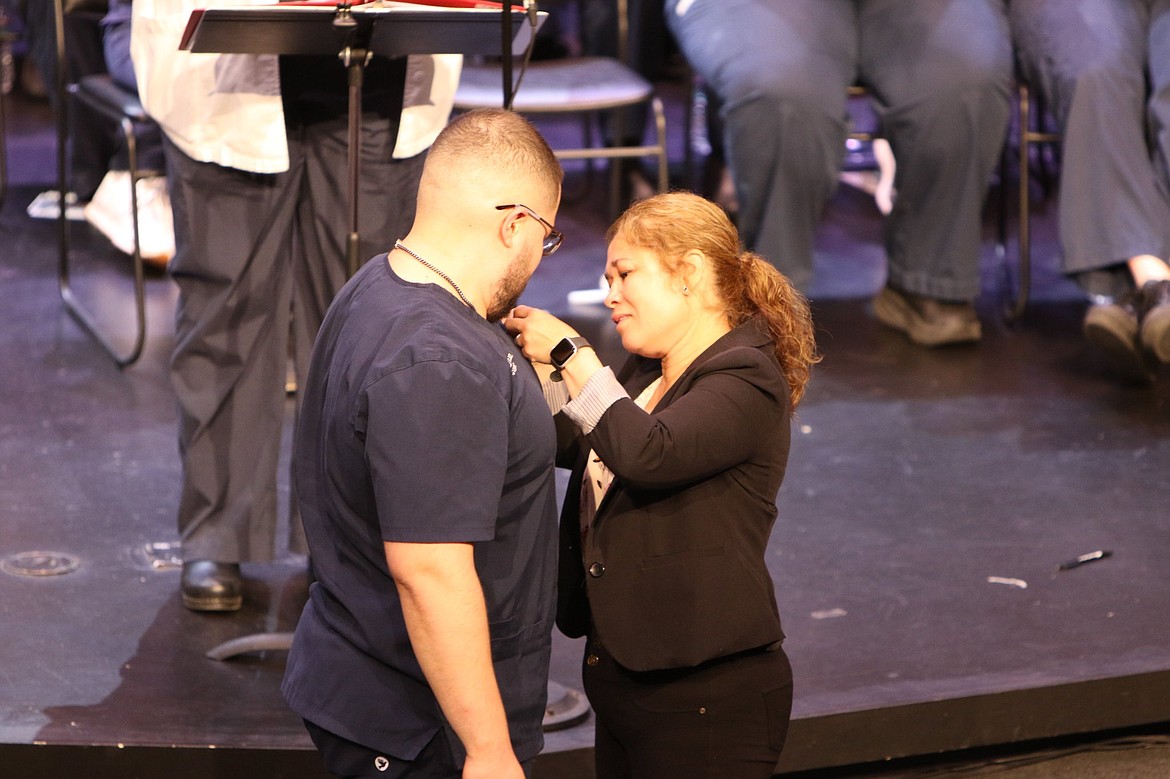 A graduate of the nursing program at Wenatchee Valley College receives his pin in 2022.
Courtesy photo/Wenatchee Valley College
Previous
Next
MOSES LAKE — Mike Fong, director of the Washington Department of Commerce, said workforce training and economic innovation start locally.
"We want to strengthen communities and help communities build their own capacity and potential," Fong said while he was in Moses Lake Oct. 16. "And we don't want to dictate that. We really want to help that vision become reality. And that's a local vision."
Fong was in Moses Lake to learn about economic and business development in Grant County, talking to Port of Moses Lake and Big Bend Community College officials, touring businesses and BBCC's Workforce Education Services facility. 
When talking about Big Bend programs, BBCC President Sara Thompson Tweedy said her own experience highlighted the value of workforce education.
"My background is in management," she said. "However, I did spend six years in the military as a diesel mechanic. Completely changed my life."
Many community colleges in Eastern Washington offer students in their areas education opportunities in classes like welding and fabrication. The Community Colleges of Spokane website offers detailed information on possible careers, job openings and wage scales in a nine-county area. 
Walla Walla Community College operates two campuses, and some programs, welding being one example, are offered both in Walla Walla and Clarkston. The WWCC website includes interviews with students who knew how to weld, but wanted to know more, and others who had never picked up a torch.
Depending on the college, students can get certificates or a degree in a trade like welding. Some, like BBCC and Wenatchee Valley College, offer both in their welding program.
Bryce Humpherys, BBCC vice president of learning and student success, said there's a strong demand for workers with the proper training, whether that's welding or heating-cooling systems, auto mechanics or something else. 
"We have employers knocking on our doors from across the economic spectrum – manufacturing, healthcare, whatever – needing skilled workers. And there are more needs than there are people to meet those needs," Humpherys said. 
There are, however, a lot of people with the potential to fill those jobs with the proper training, he said. The WVC website features a student in the college's environmental systems and refrigeration program, who learned about its existence from a friend. He found a job in the industry while still attending college. 
Regional community colleges offer training in some skills, like refrigeration or welding, automotive technology, early childhood education and agriculture. Wenatchee Valley College also operates two campuses and offers some classes at both its Wenatchee and Omak locations. 
Other course offerings are more specialized. Big Bend is located next to the Grant County International Airport, and has a significant aviation program, both in aviation maintenance and commercial pilot training. 
With the push to find and build cleaner energy alternatives, Moses Lake has attracted companies working on battery technology. Big Bend is working to develop training courses that would give students an entry into that field. Humpherys said BBCC has applied for federal money to build a testing facility for those next-generation batteries, called a tech hub.
Big Bend is working in collaboration with the CleanTech Alliance and the Clean Energy Institute at the University of Washington, Humpherys said. Some local companies have also signed on, including Group14, Sila Nanotechnologies and REC Silicon. Part of the workforce development piece will be the establishment of learning centers in Mattawa, Quincy and Othello.
Fong said he visited a similar testing facility on the west side, and its director highlighted the ability to offer accessible facilities to possible customers in a timely manner. 
"Is that the same concept here?" he asked.
"We would use that exact model," Humpherys said, "and look at other ways to experiment."
He said the goal would be to make the facility available to local businesses, as well as train local students.
"Bringing those resources that are on one side of the state into the Basin,' Humpherys said. 
Innovation is local, and so is workforce development, Fong said.
"You want to create opportunities, you want to get people in those jobs and skills. So I think what we've seen today here at Big Bend, talking to industry folks, trying to align the population with jobs, skills, training, I think that's what you're trying to do," he said.
The job of the Department of Commerce is to support those local initiatives, he said.
"We're in the business of investing in the state's most important asset, its people," he said. 
"Now, we obviously have our broad interests, we want to grow jobs, we want strong safety net services across the state to take care of folks, but at the end of the day, (it's) the local ecosystem, the local industry footprint. We really want folks at the local level to drive that vision, and we're here to support that," he said.
---