Better weather brings rebound in size of apple crop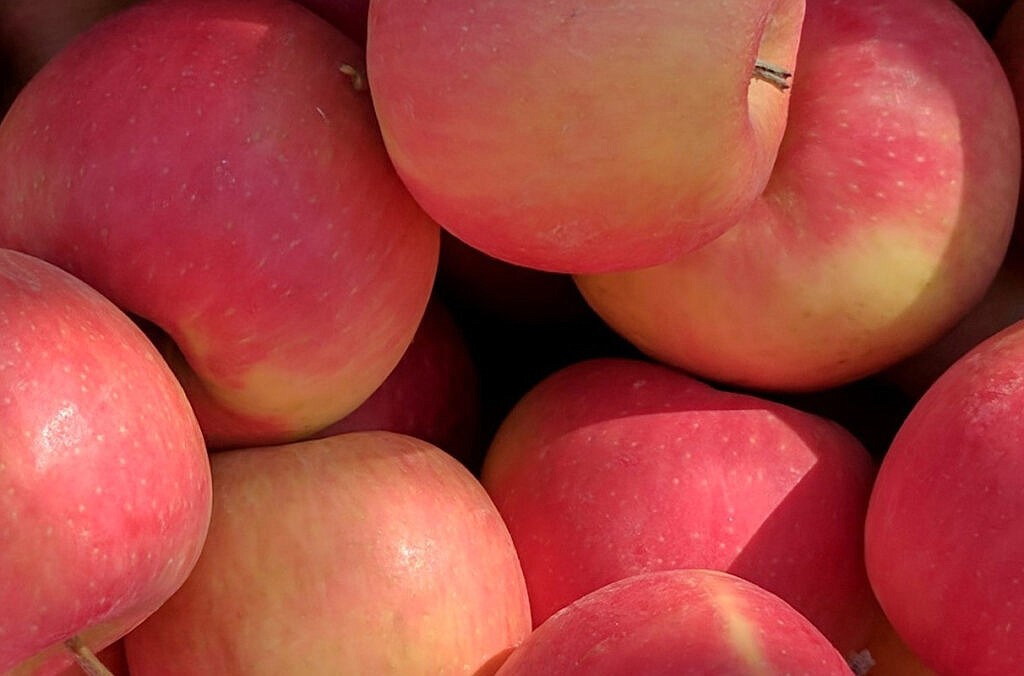 Apples fill the tree in a Grant County orchard prior to a recent harvest. The first estimate for the 2023 apple crop indicates it will be about 134 million boxes,
File photo
by
CHERYL SCHWEIZER
For the Basin Business Journal
|
September 13, 2023 1:00 AM
YAKIMA — Improved weather conditions during the spring and summer should mean a much bigger Washington apple crop in 2023, when compared with 2022.
The first estimate of the season from the Washington Tree Fruit Association forecasts about 134 million 40-pound boxes will be harvested in 2023, although the estimate comes with some conditions.
"Apple harvest typically begins in August and continues into November, and as a result, this forecast is still subject to several months of variable weather which can affect the final harvest total," according to a WSTFA press release.
Nevertheless the news is better, at least in terms of crop size, than it was in 2021 and 2022, when bad weather had severe effects on the crop. Tim Kovis, WSTFA communications director, said that while there has been a little adverse weather, 2023 has been much different from 2022.
"(Weather) wasn't perfect," Kovis said. "At least it didn't snow."
It did snow in April 2022, with the storm coming at a time when fruit trees were coming into bloom. The cold weather also affected the bees that are crucial to pollination. Cold bad weather in 2022 followed hot bad weather in summer 2021, when high temperatures broke records and caused extensive damage to cherries and pears as well as apples.
The 2022 apple crop finished at about 104.7 million 40-pound boxes, which was even lower than the first estimate. The 2021 crop was about 122.3 million boxes.
The 2023 crop is projected to be about 28.8% bigger than 2022, and about 5% above the six-year average, the press release said.
The estimates are based on surveys of WSTFA member growers, and the surveys also show that growers are adapting their orchards to add more varieties.
Galas are still the leading varietal, making up about 19.8% of production. Honeycrisp makes up about 14.6% of the 2023 crop, and Granny Smith orchards account for about 13.8%. Traditionally Washington is known for its Red Delicious production, and Reds still account for about 13% of the crop. Fujis make up about 11% of the crop for 2023.
But growers are always experimenting with new varieties too, and some are making inroads. Cosmic Crisp will account for about 5% of the crop, the press release said. Cosmic Crisp is a proprietary variety grown only in Washington. The Honeycrisp, Cosmic Crisp, Ambrosia and Envy varieties will account for more than a quarter of the state's production, it said.
Organic production continues to increase, accounting for about 21 million 40-pound boxes in 2023, 15.7% of the state's total harvest.
Harvest appears to be on schedule in 2023, with early varieties like Gala starting to come off the trees in mid-August, Kovis said.
"September is really when things begin to ramp up," he said.
Harvest comes with the possibility of a little more opportunity on the export market, with India announcing the removal of tariffs on apples, among other commodities, in June. The tariffs were imposed in 2018, following the imposition by the U.S. government of tariffs on Indian steel.
Kovis said the return of Washington apples to India is a positive development, although Washington will have to work to regain its market share. Exports accounted for about 20% of the 2022 harvest, down from the five-year average of about 28%. Partly that was due to the small 2022 crop, the press release said.
The Washington pear crop is not as big as its apple crop; Grant County, for instance, has very little pear acreage, said Karen Lewis, tree fruit specialist for Washington State University - Grant/Adams Extension. She estimated Grant County production at 600 to 800 acres.
Most Washington pear production is in the Yakima Valley and Chelan County, according to the Northwest Pear Bureau website. Hood River County in Oregon, along the Columbia River, is also an important pear-producing region.
A pear crop estimate usually is issued after harvest begins.
Apple prices stagnated in 2022, at a time when growers were facing increased expenses for fuel, supplies and labor. With harvest just beginning, it's too early to tell what prices, and as a result returns to the grower, will look like in 2023, Kovis said.
Growers are concentrating on what they can control, he said, which is working to produce quality fruit.
"Hopefully the market will respond with good prices," he said.
---