CWU hires new dean of the College of Business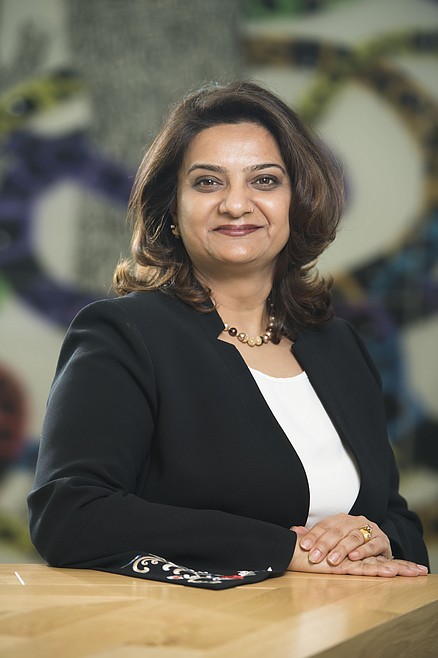 Faiza Khoja, Central Washington University's new Dean of the College of Business. Khoja accepted the position in June and began working at the university in mid August.
Courtesy photo/Faiza Khoja
by
GABRIEL DAVIS
For the Basin Business Journal
|
September 19, 2023 1:00 AM
ELLENSBURG — Central Washington University recently hired a new Dean for the College of Business, Faiza Khoja, who took over for Jeffrey Stinson according to a press release from CWU.
Khoja said she officially accepted the position in June, ahead of the 2023-24 school year. Her first week in the position began Aug. 15.
"It's been busy. I have been on my listening and learning tour," said Khoja. "So, I've been meeting with staff and faculty and other constituents of the university or the stakeholders rather, of the university, to kind of just get a sense of who we are and where we want to go."
According to the CWU press release, Khoja previously served as CEO of a nonprofit school for special needs students, chair of the board of directors of the Nizari Progressive Federal Credit Union, and Dean of the College of Business Administration at Texas A&M University–Central Texas.
"I was at Texas A&M University, Central Texas," said Khoja. "So yeah, I have that experience…prior to that, I was at the University of Houston Downtown. So I have been in Texas for the last, I would say 26 years. This is my major move."
Khoja said that she doesn't have any specific plans for updates or changes to the operation of the College of Business.
"It's too soon to comment on that," said Khoja. "Maybe in a couple of months. And again, you know, that's the whole purpose of the listening and learning tour, is kind of to gauge (that)."
In spite of it being too early for concrete plans, Khoja said there are specific factors she will have to keep in mind that will guide how she plans the future of the College of Business.
"But definitely, I could say that CWU has a new vision, mission, values and strategic plan document that was just more recently approved, actually, in July of 2023. And so keeping that into perspective, together with other factors, right, so the College of Business is (Association to Advance Collegiate Schools of Business) accredited, which is like 5% of business schools internationally are AACSB accredited, and we have to maintain…a certain level of impact, innovation, engagement with the industry and community," she said.
The university strategic plan, accreditation requirements and university stakeholders are all key elements Khoja said she has to incorporate into her plans for her position. She said one of the first things she finds out when entering a position such as this is what staff believe the purpose of the college is. If everyone is not on the same page in that regard she will hold brainstorming sessions to get them there.
"Self-realization comes before vision," said Khoja. "There are a lot of things that you have to keep into perspective and take into account before you kind of develop a vision with the college constituents for the college itself."
Khoja said she dealt with similar factors at her previous position with Texas A&M. The College of Business Administration was also seeking AACSB accreditation, which Khoja helped her prior school obtain.
"So I went in, I worked with the faculty, the staff, to kind of get the college accredited," she said. "As I said, accreditation is a very inclusive process…you have to work with stakeholders, but also you have to make sure you have a strategic plan, you have your finances in order, you have to have your assessment. I mean, it's a whole kind of breadth of things that you have to pull together."
Getting accreditation for Texas A&M's College of Business Administration was a factor in the decision to accept a position elsewhere, said Khoja.
"When I got that accomplished and done, I was looking for my next adventure to see where else can we move," said Khoja. "There was also, in the interim, there was a lot of transition happening at that institution, and I think it would have been a restart anyways for me, and so I thought 'well, let me experience an institution in another part of the world where I've never worked."
Khoja said when she looked at the position she considered whether it aligned with her personal and professional goals, what the leadership situation looked like at the university and the student body because she said she is passionate about first-generation minority students.
"CWU really kind of stood out to me, because I knew that they were working on the strategic plan. I found out about the leadership. I read about the new leadership that they had. And then the whole idea of equity and belonging, and a sense of pride in serving [the] first generation, were key things that got me here," she said.
There are several goals Khoja said that she has in mind for the College of Business.
"I definitely want to see the college grow, but not only grow in terms of, again, enrollment, but also in engagement within the community, to embrace the community as part of the university," she said.
As a proponent of experiential learning, Khoja said she hopes to work with the Ellensburg community to provide opportunities for students to gain hands-on experience and research.
"I'm looking forward to working with the community and the industry in Ellensburg, in its vicinity, as well as in the region…so that we can meet the needs of the industry, and we can have an impact in our community," said Khoja. "Most of our students are from this region, and I'm sure they are very keen and interested in giving back to the community that they come from."
This hands-on experience will help students be prepared for entering the workforce and meeting the needs of that workforce and the discipline that they are part of, said Khoja.
Gabriel Davis may be reached at gdavis@columbiabasinherald.com.
---